Images on the web are in several formats, and we'll be highlighting how to convert JPG to WebP format. Typically, WebP file format compresses image files to much smaller file size than that of JPG without compromising on quality hence improving the loading speed of the website. WebP format made known circa 2010; it provides compression for lossy and lossless images on the internet with the use of predictive coding to encrypt an image. As compared to JPEG, WebP images are about 25-34% smaller at an equivalent of SSIM quality index. WebP images are comparatively easy to apply when the user is merely displaying images in the HTML code. Developed by Google, WebP can create better quality images and consist of VP8 image data, and it uses lossy compression for photographic JPG images. WebP lossless compression is made active by using some parts of the image which have been examined to construct some parts of the picture.
Part 1: Top 5 Online JPG to WEBP Converters
In converting Jpg to WebP, there are some online JPG to WebP converters. Here are 5 of the best online JPG to WebP converting tools, these includes;
URL: https://ezgif.com/jpg-to-webp
Key Features:
EZGIF is online JPG to WebP converter with emphasis on gifs. There are 8 different converting options on the website.
Asides being free and easy to navigate, the site can take a maximum size of 35MB.
Image conversion from JPG to WebP, user can either upload files or paste URL of 35MB max and click on upload. The image appears beneath.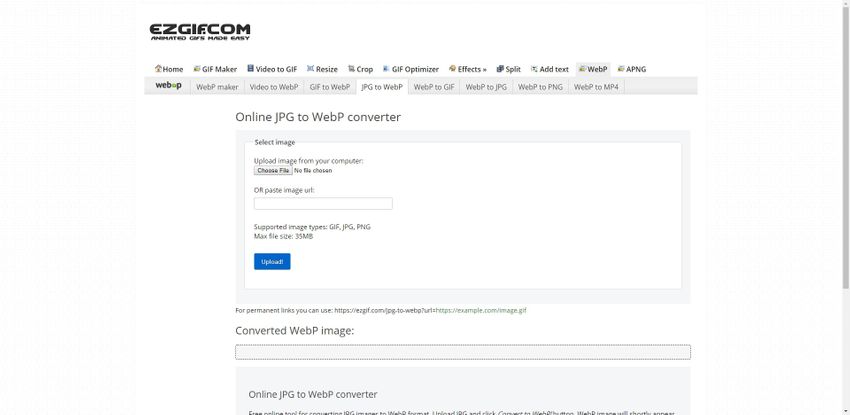 URL: https://image.online-convert.com/convert-to-webp
Key Features:
Online-Convert.com allows the user to convert images from Google to WebP format. User can upload file or link, and click on the convert file button.
Online-Convert provides optional advanced or additional features, e.g., change in pixels' size, change in color options like (Colored, Gray, Monochrome, Negate, the Year 1980, & Year 1990). Also, there's the option of enhancing the image seven other opportunities, and crop re-size settings, as well as preferred DPI, i.e., dots per inch.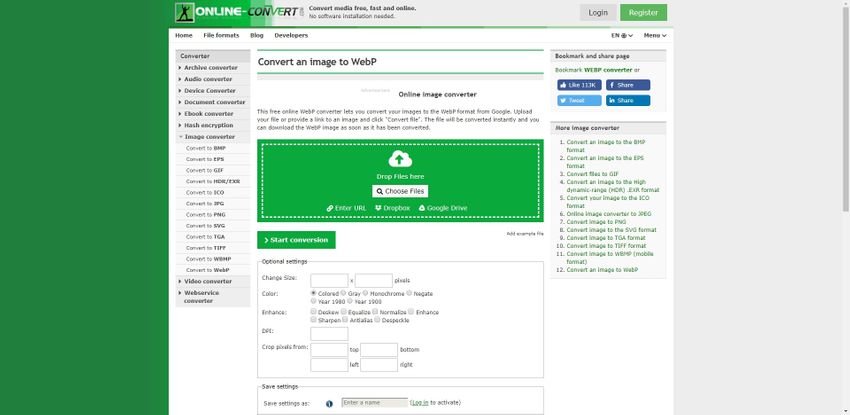 URL: https://convertio.co/jpg-webp/
Key Features:
Convertio is equally a free online JPG to WebP converter with a maximum file size of 100MB for each conversion.
The file can be uploaded via URL links or chosen from computer or online extended storage like Dropbox.
Choose the file you want to convert and drag and drop the data on the page. Choose WebP. Download the converted WebP file.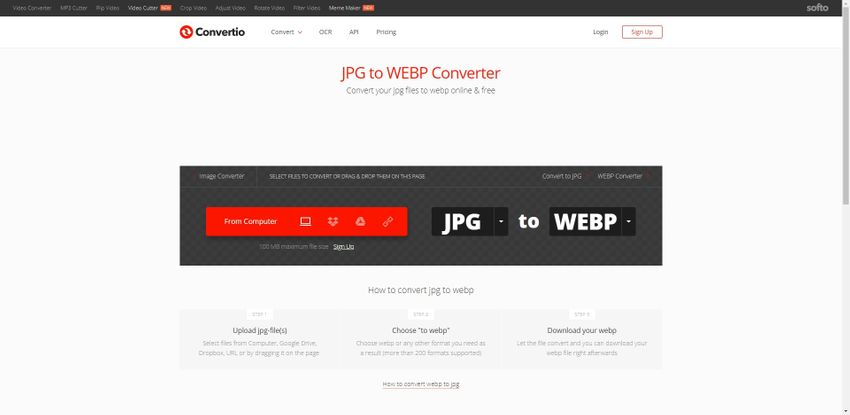 URL: https://www.ps2pdf.com/convert-jpg-to-webp
Key Features:
Free, easy to navigate, and protects the privacy of the user. All uploaded files are wiped out from the system within a few hours.
Permits multiple image files to be uploaded.
PS2PDF claims uncompromising on qualities of WebP images. It detects and converts the best quality of the saved files, which helps maintain quality while compressing images to WebP.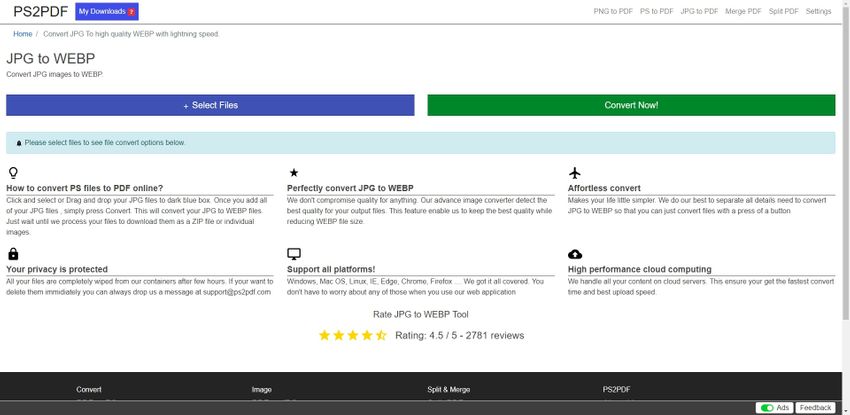 URL: https://www.zamzar.com/convert/jpg-to-webp/
Key Features:
Zamzar has been in the business of file conversion since 2006.
The file can easily be dragged and dropped, or URL can be pasted. Select the WebP format and click on the 'Convert Now' button.
There's an option of sending the converted file to user's email address.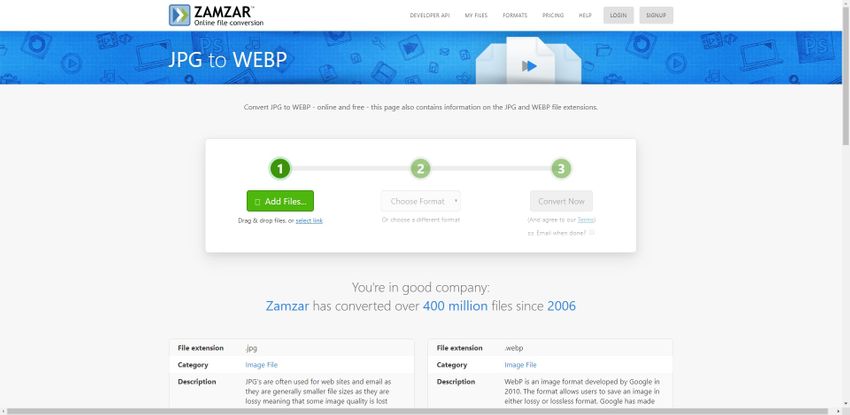 Part 2: Frequently About Questions
Millions of internet users wish some websites loads faster, and WebP image formats are the solution to that. When it comes to image conversion from JPG to WebP, there are myriads of questions to be answered. However, below are some of the most frequently asked questions about converting jpg to WebP.
a. What do JPG and WEBP Stand for?
JPG stands for Joint Photography Group and image file with the file extension (.jpg). It is often used for email and web sites as JPG are quite smaller in size generally, and lossy with its quality reduced when saved and compressed, which means it cannot be recovered. The JPG format is often used in memory cards of digital cameras. The JPEG Community develops JGP. JPG is associated with Adobe Photoshop, Microsoft Windows Photo Gallery Viewer, and Apple Preview. While WebP is also a web image format that permits users to save lossless or lossy format. Google develops WebP. WebP-associated programs include Picasa, Google Chrome, and Adobe Photoshop.
b. Why Should I Use JPG or WebP?
JPG, which means Joint Photographic Group. It is one of the many online or digital image format supported on the web. Essentially, JPG is a lossy compression technique designed to compress grayscale and color continuous-tone images. However, the information cast-off in the process of compression is information that is not noticeable to the human eye.
WebP is a technique of lossy and lossless compression what can be found on a wide variety of graphical, photographic and translucent images on the web. Compression is adjustable to a degree, and the user can predetermine the choice of image quality and size. Basically, with WebP format, images are smaller and better quality hence improving sites loading speed.
c. Which Web Browsers Natively Support WebP?
For website users, and bloggers who are looking to boost traffic and make their site performance better, then the user can create optimized WebP options for the current images on their website, hence serving user on a targeted basis to browsers that endorse WebP. Some of these web browsers supporting WebP natively includes.
Google Chrome for Desktop and Google Chrome for Android.
Mozilla Firefox.
Opera.
Summary
In summary, in converting WebP to JPG can be done online with free and secure online access to several online converters with user-friendly UI. In this article, we understood the primary reason for converting JPG to WebP is to improve the loading speed of websites. By compressing lossy and lossless their images to WebP without compromising on the quality of the photos, Google developed WebP circa September 2010. Convertio, Zamzar, Exgif, and Online-converter are the best 5 JPG to WebP JPG format converter to WebP. As compared to JPEG, WebP images are about 25-34% smaller at an equivalent of SSIM quality index. Both image formats are associated with Adobe Photoshop.
Wondershare UniConverter is good at JPG image format conversion. You could convert different files to JPG.
Wondershare UniConverter
· Support batch processing of photo to JPG conversion.
· Convert images to JPG, PNG, BMP, TIFF, GIF, and others.
· Convert to JPG or specific devices formats without any trouble.
· Transfer converted files from PC/Mac to external devices easily via a USB cable.
· Versatile toolbox combines Image Converter, GIF maker, video compressor and screen recorder, and others.