In this article, you will learn how to convert JPG image format to High-Quality TIFF images using online tools that are also free. For different nature of work, there are different image formats required. JPG or JPEG is one of the most commonly used image format used especially for photography. Similarly, magazine, journals or books use TIFF format.
We are going to list some of the popular online converters for JPG/JPEG to TIFF converter which you can find easily whenever you search for the online converter.
Part 1. Most Popular Online Converter for JPG to TIFF
URL: https://www.onlineconverter.com/jpg-to-tiff
The online converter is a multi-purpose online converting tool that allows you to convert different formats of images, audio, video, and documents. Simple, user-friendly and easily accessible, the only requirement needing an internet connection. In a few clicks, you can convert images, audio, video, and documents to your desired formats. The files are downloaded automatically after conversion. The maximum size for the input file is 200mb.
Step 1. In order to convert the JPG image, first upload the input JPG/JPEG file that you wish to convert.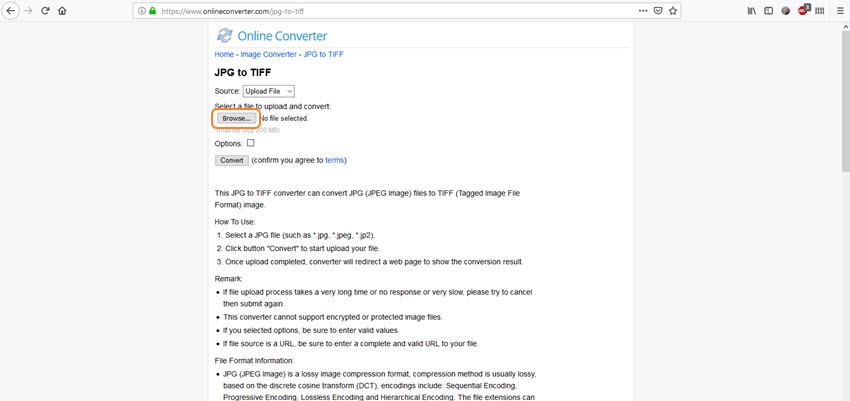 Step 2. Select the Convert button once you have uploaded the input file.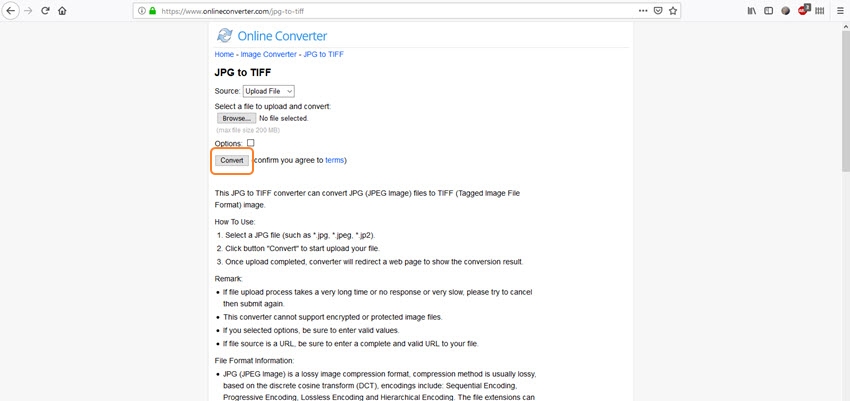 Step 3. Next, you will be prompted to download page and your image will be downloaded after converting.
You have successfully converted JPG image to High-quality TIFF image using Online Converter.

URL: https://www.hipdf.com/jpg-to-tiff
hipdf which is an all-in-one PDF solution for Office products for exp word, excel, and ppt. It empowers its user to perform a different operation on PDFs like edit, merge, split and convert PDFs. It not only converts PDF to Office products but also converts image to different formats including JPG/JPEG to TIFF or to PDF and vice-versa. It is another free online tools and is a product by Wondershare company which offers both desktop based and online software for making user's lives easier.
Step 1. To convert JPG to TIFF images, upload file by either drag and drop or by clicking Choose File button. You can also upload a file using the cloud.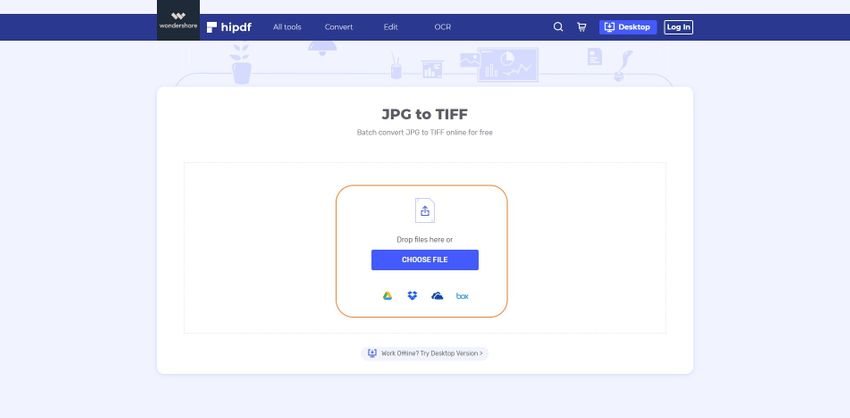 Step 2. Once the file is uploaded, click the Convert button to convert JPG to TIFF.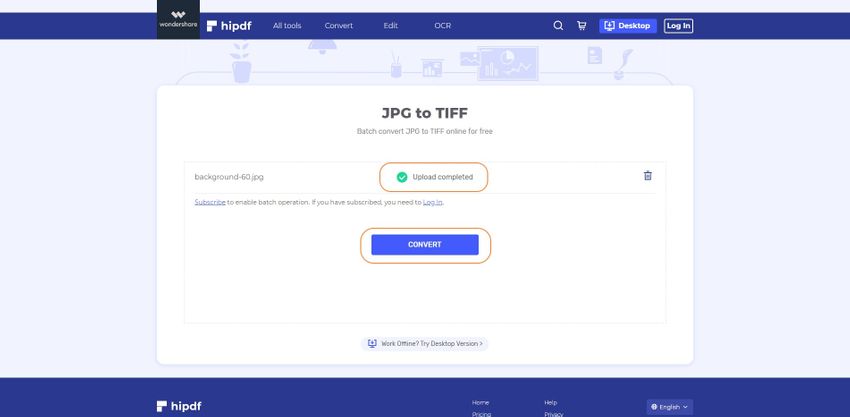 Step 3. After conversion complete, you could either download the TIFF file directly, Google Drive, or other ways.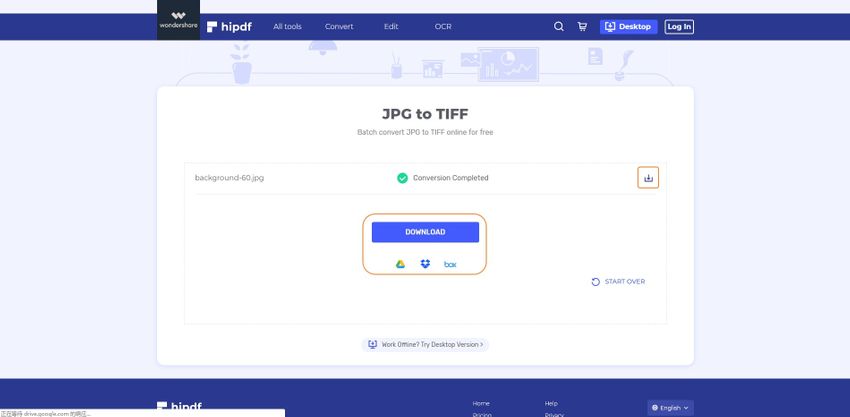 URL: https://www.ps2pdf.com/convert-jpg-to-tiff
PS2PDF is another online free image converter that lets you convert image format to pdf files. It allows you to take input from your computer and support cloud from Google Drive and Dropbox. If previously you converted some files, these will be shown in the download button.
Step 1. To convert JPG/JPEG image to TIFF, upload files by selecting +Select Files button.
There have three methods that you could upload JPG format to PS2PDF, which are From Computer, Google Drive, and DropBox.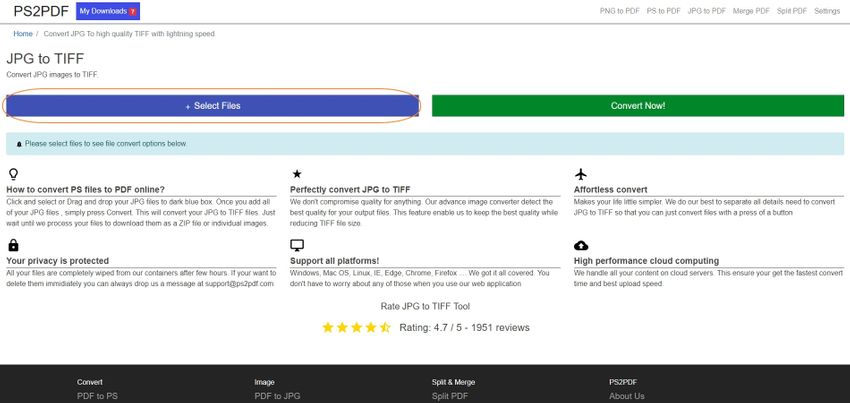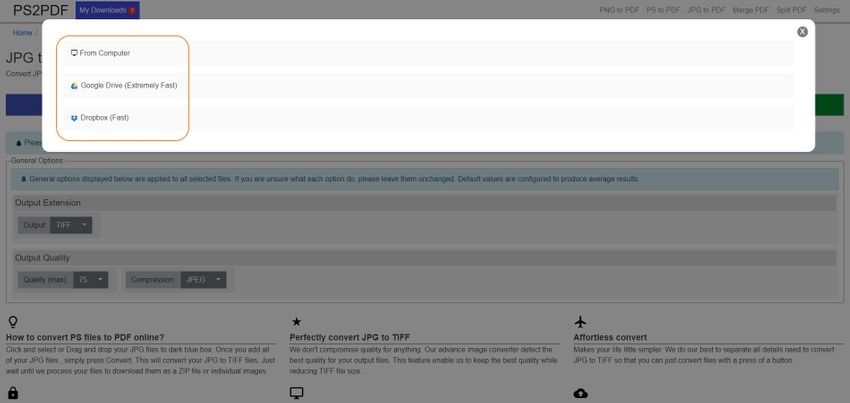 Step 2. Input a JPG image and select output format as TIFF.Click Convert Now button for JPG to TIFF format.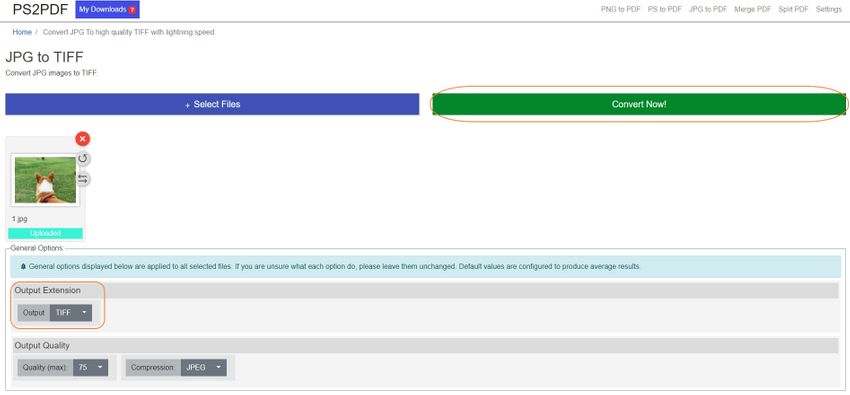 Step 3. Click the blue or green button to download your file.
You will be navigated to download page from where you can download your converted file. Also, a message is displayed on the top-right corner letting the user know if the converting process was successful or not.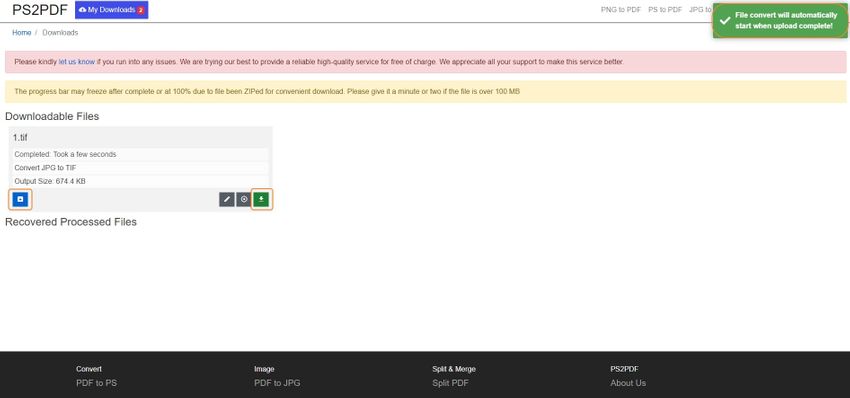 Part 2. Extension Knowledge
a. TIFF VS TIF
.tif or .tiff both represent same file format abbreviated as Tagged Image File Format. However, both use different File System. The .TIF file was used in previous windows version FAT which uses 8.3 naming convention that refers to 8 characters followed by a dot(.) and file extension having three characters whereas the newer file system NTFS doesn't use 8.3 conventions and lets you create files having longer extensions.
TIFF stands for Tagged Image File Format whereas TIF stands for Tagged Image File. Both are similar in nature and support lossless compression meaning during the compression process, data is not lost and are for raster-type graphics.
b. Comparison Table
| | JPG | TIFF |
| --- | --- | --- |
| Use | Web Images, Non-Professional Printing, E-mail, and PowerPoint | Professional publications, Archival Copies, and High-Quality Scans |
| Don't Use | Line graphics and print | Image on web |
| EVector/Raster | Raster | Raster |
| Image Types | Photographs, illustrations, web and digital graphics | Photographs and illustrations |
| Compression | Lossy | Lossless |
| Special Attributes | Can choose the amount of compression when saving in image editing programs | Can save transparencies |
Summary
There are multiple online converting tools for converting JPG to High-quality TIFF. TIFF image format is preferred by Professionals who need to make many changes to image before publishing or printing whereas JPG is used by common people. For smaller size, JPG is preferred while for high-quality and editing, TIFF is preferred.
Wondershare UniConverter could convert JPG to TIFF, PNG, BMP, GIF, and other formats. It could rotate, flip, and resize the image before convert.
Wondershare UniConverter
· Support batch processing of picture conversion.
· Convert JPE image to over 1000 formats, including JPG, PNG, BMP, TIFF, GIF, and others.
· Convert JPG to TIFF or specific devices formats without any trouble.
· Transfer converted files from PC/Mac to external devices easily via a USB cable.
· Versatile toolbox combines Image Converter, GIF maker, video compressor and screen recorder, and others.