Converting the images is not necessary, but sometimes while working with the image processing programs such as Adobe Photoshop, you need the pictures in the RAW formats. RAW format images are those files which are captured directly by the camera without processing. These files are more prominent than the JPG and other image formats. If you are looking to convert JPG to RAW, then this is very easy using the JPG to RAW programs and helpful online websites. Here in this article, we will have a look on some of the best JPG to RAW converters for free, which can help you to convert JPG to RAW without making much effort.
Part 1: Online JPEG to RAW Converters [Free]
URL: https://image.online-convert.com/
Online Convert is a JPG RAW format image converter program which professionally converts JPG to RAW with ease. Using this online website, you can save your files without making any effort of installation of software or apps on your system. Online convert website is free to use and convert mostly all kinds of data such as documents, archive, audio, video, etc. These conversions can be done online without any installation.
Advantages:
This is free to use JPG to RAW converter where you don't need to spend anything.
You can convert the files using website extension as well.
Disadvantages:
The website doesn't support much image output formats.
It won't be able to convert files in batch.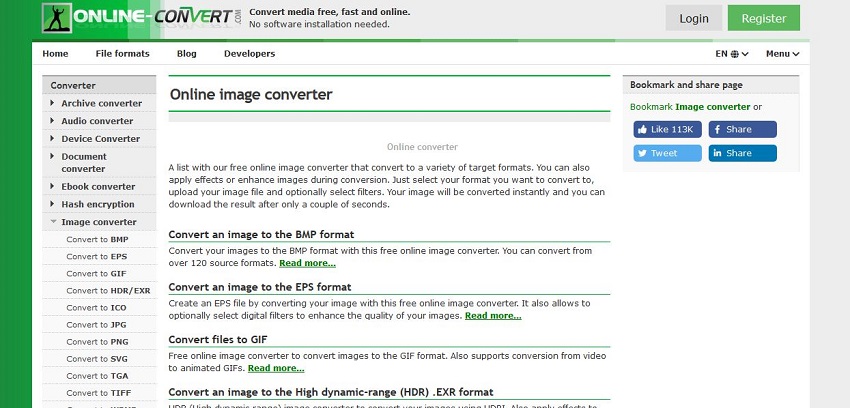 URL: https://www.pictureresize.org/online-images-converter.html
Picture Resize, the name of website indicates that it is a simple picture resizer website, but this is not true. Including the resizing the pictures, it also supports converting files in the several other formats. The picture resize site offers you to resize the images in batch, which is usually not provided in any online resizer website. For the conversion of images, it mostly supports all popular image formats.
Advantages:
The website allows users to convert files in several other formats.
There are near about 100 formats supported by the website for the conversion of images.
Disadvantages:
It only supports operations related to the images.
There is no chance of converting JPG RAW if you don't have internet.
URL: https://www.aconvert.com/image/raw-to-jpg/
AConvert is a very powerful online JPG to RAW format converter where you can convert images by entering them from the local computer, URL or your Google Drive account. Using this website, you can change the format of images, audio, video, archive, webpage, and some other types of files. These conversion options are offered for free, but there is a limitation of size while uploading the images for conversion.
Advantages:
AConvert is a free conversion service and fulfills all your files conversion needs.
It quickly converts JPG RAW format using the browser directly.
Disadvantages:
It is not possible to convert JPG to RAW in batch, so you have to upload files one by one for conversion.
Sometimes you may face the issue of low conversion speed.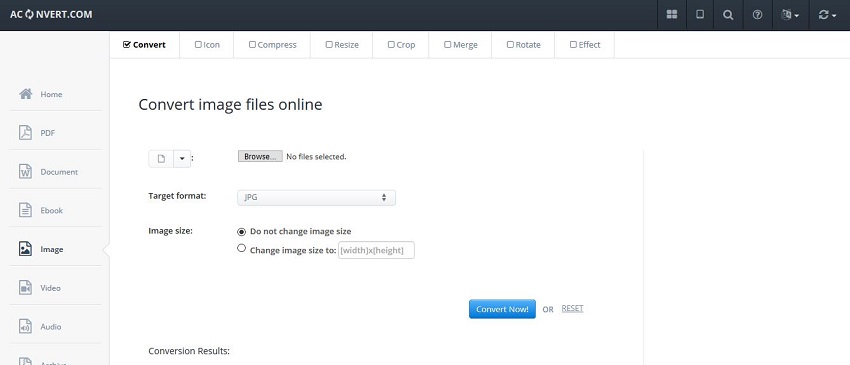 URL: https://www.onlineconverter.com/raw-to-jpg
Online Converter is another website where users can put the image and change the format in the needed one. This JPG RAW converter website also supports several other types of files conversion. There are two more options offered by the site which can be selected during conversion. Using these options, you can resize the image in respect to the height and width and get the output quality according to the percentage.
Advantages:
Online Converter is easy to use the website and converts your files in just two steps.
It converts JPG RAW format directly in the browser.
Disadvantages:
Sometimes the website takes a very long time to upload the images for conversion.
You can't convert protected and encrypted images.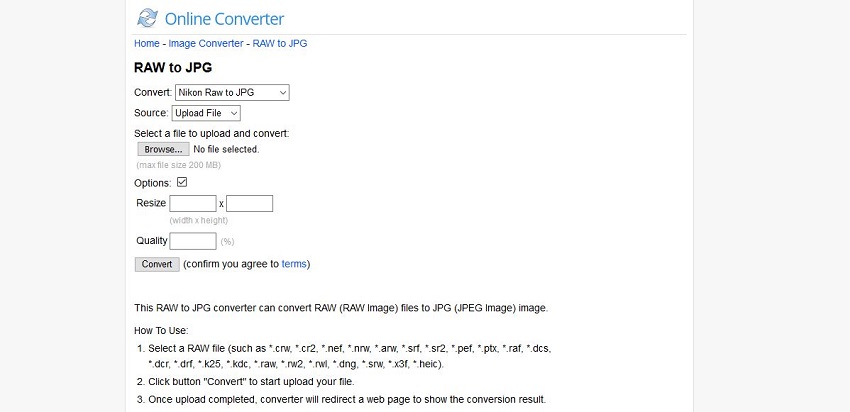 URL: https://raw.pics.io
RAW Pics website mainly focuses on the operations related to images and converts the files from one format to another. This website allows users to view and edit the RAW format images as well or you can convert JPG to RAW format or from the RAW form to JPG as per your need. The RAW Pics website also offers users to store the image on their computer in the PDF format after processing and applying all your needed effects.
Advantages:
The website mainly works for the RAW image formats.
You only need to follow a couple of steps to view or convert JPG to RAW.
Disadvantages:
This is not easy to use as compared to the others.
You won't be able to do other files conversions such as audio, video or documents.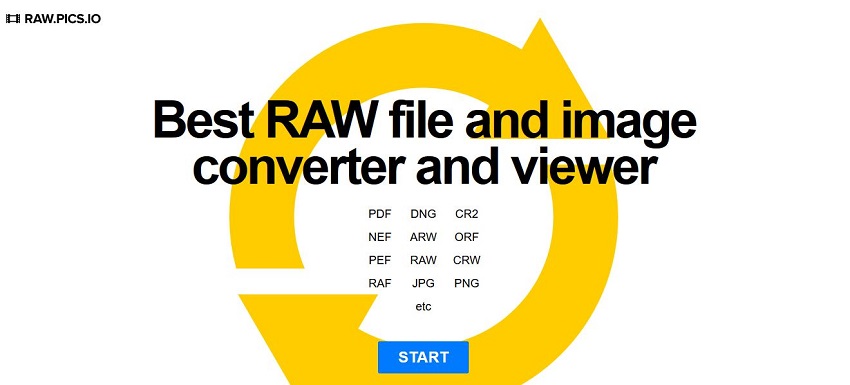 Part 2: Extension Knowledge
A. What is RAW and why should I use it?
Whenever you click any picture using the digital camera such as Nikon or Sony they store the images in the RAW format without processing them. Camera record the light which hits its sensor and sometimes the cameras limit that light. The aperture of the lens also defines how much amount of light will cover the sensor, and then it understands how much scene is there in focus. Camera shutter will also take care of how much light is hitting the sensor and check the moving objects are getting blurred or stay sharp. The sensor captures the images and saves them in the RAW format. RAW is not an extension of the picture. It is a name which is used by the different camera manufacturing companies for their different RAW image formats.
When you save then images in RAW format instead of JPG, then you have lots of opportunities to edit the photos. You can easily adjust the white balance of photos up to any level after clicking the pictures to make them a perfect one. The best thing is that you can go back to the original condition at any time. So, whenever you need to create beautiful photos and need to do changes using Photoshop or other images processing programs, then the best thing is that use RAW format to capture the images. The moves you have applied to the RAW format files will never be permanent until you export them in the form such as JPG or PNG.
B. Why JPG's are Hard to Post Process?
JPG images are processed images. When you click any picture, and it directly saves it in the JPG format, then the camera automatically chooses the settings, and light will be transformed into pixels. The converted light will be locked in the pixels of JPG. The JPG files never contain any information such as how to light was hitting the sensor at the time of clicking photos.
This is true that you can use any image processing software such as Photoshop or gimp to edit the photos but as pixels are locked in the JPEG image so you won't be able to select the pictures correctly. When you try to modify a dark shadow in the picture, it will merely end up with the lightness by missing lots of critical information.
If you use RAW files, then the situation is different because RAW files contain information about the image, including the things behind the dark shadows. These files can also include the information about the light hitting the camera sensor when you clicked the photos. It means you can easily open the clicked pictures in the RAW editor and edit the white balance of the image.
Summary
This is about how to convert JPG to RAW format and what are the benefits of using RAW file formats to capture or edit the images. To convert JPG to RAW, the online websites are an excellent choice because there is no need to do any installation or you don't have to pay anything. You can use any of the websites what we have discussed in the article but make sure to choose the best one with fewer limitations.
Wondershare UniConverter has image convert, video convert, audio convert, image compress, video compress, and other useful functions. Please check the below and try to download free.
Wondershare UniConverter
· Support batch processing of photo conversion.
· Convert picture to JPG, PNG, BMP, TIFF, GIF, and others.
· Convert RAW to JPG or specific devices formats without any trouble.
· Transfer converted files from PC/Mac to external devices easily via a USB cable.
· Versatile toolbox combines Image Converter, GIF maker, video compressor and screen recorder, and others.