GIF images are very popular nowadays due to the social media sites. People like to share GIF images on social media sites to impress their friends and family. The reason for the popularity of GIF images is that these images play like videos but without any voice and take very less space as compared to the video files. This image format uses lossless compression which allows you to save one image multiple times without losing its originality. If you have several images in JPEG format and looking to join them together in the GIF format then you can do it very easily as there are many tools available to get the work done. In this article, you can learn 6 methods on how to convert JPG to GIF via best free JPG to GIF converter online and desktop program.
Part 1. Top 5 Free JPG to GIF Converters Online
URL: https://www.media.io/image-to-gif.html
Online UniConverter is the best online free GIF maker which can both convert images to GIF and video to GIF, so you can easily make a GIF from JPG pictures with it. This is a totally free and online tool so that you don't need to download anything and pay any fee. Also, it provides unlimited qualification to paid members. But you can try to make several JPG GIFs without any watermarks or ads with Online UniConverter. More functions like converting JPG to PNG or other formats, compressing JPG file size, and more others can also be found.
Try to convert JPG to GIF here now!
[没有发现file]
Ezgif is an online website which enables users to convert JPG to GIF animation online without any installation on their computer. This JPG to GIF maker website is free to use and you can access in mostly all major browsers. You can easily convert JPG to an animated GIF using this website without doing much effort. This website offers you some other services as well such as resize, crop, optimize GIF, add text, apply special effects and convert video to GIF, etc. These all services are offered for free of cost by the website.
URL: https://www.iloveimg.com/
ILoveImg website mainly developed to solve the issues related to photos. This website offers you many options related to the images including JPEG to GIF conversion. You can select any number of images from the computer and turn them in a single GIF. You can compress, crop, resize, watermark images and generate a meme using this website for free of cost. This website fully based in the browser so you can access it in any of your favorite browsers.
URL: https://www.zamzar.com/convert/jpg-to-gif/
Zamzar is also a very powerful and very old website which offers users multiple options for converting files. You can use this website to convert audio, video, images, documents and some other types of files from one format to another. There is a 3 step process you need to follow for converting files. Open website, select image from computer, select the output format and then click the convert button. After some time it will convert the images to GIF format. There is one issue with the website that it converts the files very slow as compared to other online converter sites.
URL: https://gifmaker.me/
GIF maker website is mainly developed to create GIF files from the JPG format images. You can select any number of JPG files from your computer and then turn them in the GIF format with this website. It allows you to upload up to 300 images for a single GIF file and supports JPG, PNG and GIF format to convert the files. The other functions of the website allow you to compress images, resize images, convert audio and generate a password for your files. Other features have different URL but you can access them from the website interface directly.
Part 2. How to Turn JPG into GIF by Software UniConverter [Free Download]
UniConverter is a desktop software which is a very powerful tool that enables users to quickly convert .jpg to .gif format with ease. UniConverter is a cross-platform program which is fully compatible with the Mac and windows both types of platform computers. This software is a fully featured program that enables users to convert the audio, video, images easily in any format of user's choice. Moreover, it allows you to edit the videos, transfer and burn and download videos from the internet. These all features are available in this single program.
Wondershare UniConverter
· The program is fully compatible in converting JPG to animated GIF with just few clicks.
· The interface of the software is super easy as compared to other desktop converter programs.
· It supports download and editing of videos as well.
· It supports efficiently transferring videos from Android and iOS devices.
· You can download videos from over 10000 sites with just one click to watch them offline.
How to Convert JPEG to GIF with UniConverter
Step 1: Download the UniConverter software from the website and install it on your windows or Mac computer.
Here we are using the windows version of the program. Once installed, launch it.
Step 2: Now simply click on the Toolbox from the top right side and then hit GIF Maker thumbnail.
Now a box will be there on your screen. Here click on the Photos to GIF option and then click Add Files button at the top left side of the popup box.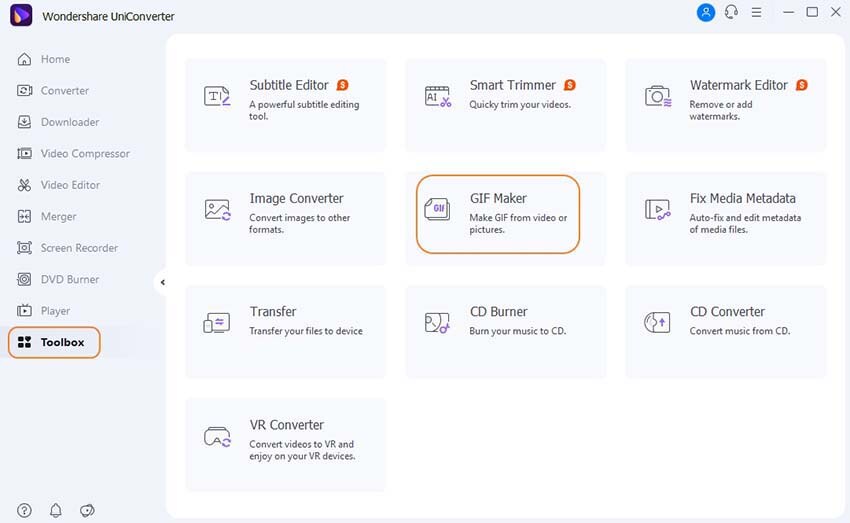 Step 3: When you click on Add Files option a window will open that allows you to browse photos to create GIF from your computer.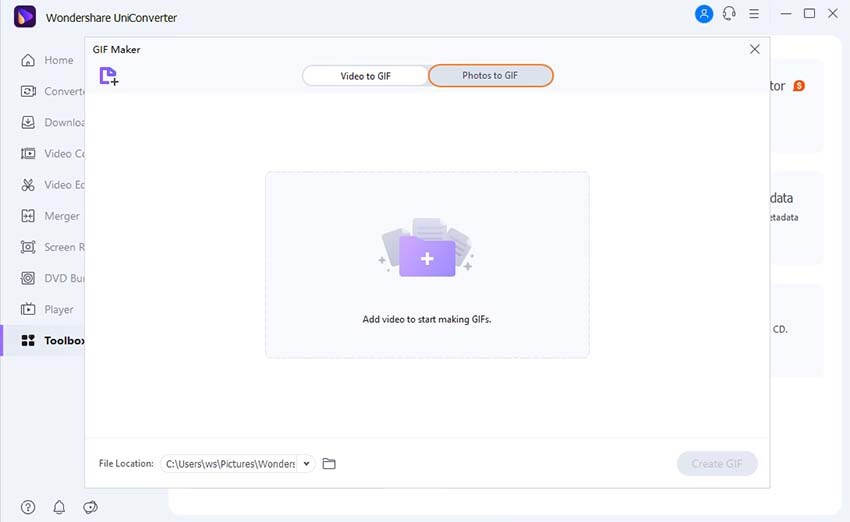 Step 4: Customize the GIF's Output Size, Frame rate, and the File Location you'd like to store. Lastly, hit on the Create GIF button to start JPG to GIF process.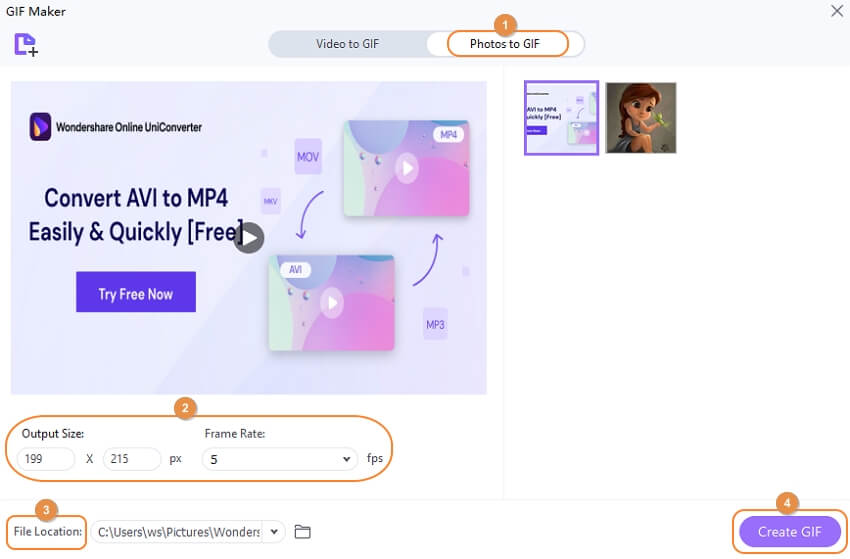 Once the process is finished, you can access your GIF file. This is how to convert JPG to GIF format using UniConverter program.
Wondershare UniConverter could be downloaded here.
Part 3. Know More about GIF
A. What is the difference between a video and a GIF?
GIF is an image format but the main difference is that these files are encoded in the graphical format. This image format can contain so many images together and play them as a video. The difference between the GIF images and videos is that you are unable to play sound in these files and you don't get an option to forward or backward the GIF files. It is a very easy way to share GIF files on social media sites because these files work as a video in very small size as compared to the video files. GIF is always loaded faster than compared to the videos.
B. When should I use a GIF?
GIF images are used in many areas now a day because of their popularity. Most people use these files in emails, social media sites, and brand marketing. These files are small in size so people don't face much issue in sharing them on social media sites because GIF loads faster. If you are looking to promote your brand over the internet and facing issue of lengthy and larger size videos, then you can use GIF files instead of sharing the videos. The only drawback is that you won't be able to use audio in your promotional video.
Summary
Well, these are few best JPG to GIF converter online websites and the best program that quickly turn your JPG images in the GIF files. You can use any online website which we have discussed above to get the work done but we would like you to try UniConverter program. The reason of using desktop software is that you don't need any internet connection as it works offline and the other thing is that you get so many other features available in the program such as edit video, download, record, transfer and many other options in the single software.