The JPG format is a very common image format that is mostly used by end users to store or view images on the computer or mobiles. This format files can be easily viewed in any image viewer application even on windows, Mac, iOS, or Android devices. If you are working in Photoshop, then you may need to convert JPG to EPS format because these programs support EPS and AI format while working on vector graphics. If you are also looking to convert JPG to EPS, then you can go through this article to learn about the best ways to convert JPG to EPS.
Part 2: Top 5 JPG to EPS Online Converters
URL: https://image.online-convert.com/convert-to-eps
Image Online Convert as the name of the website implies it allows you to convert JPG to EPS format without doing any effort and installation on your system. This website is very popular and millions of users use this site to convert their files from one format to another on a daily basis. Not only JPG to EPS but also it allows users to quickly convert documents, audio, video, EBook and many other types of files online without any cost and installation on the system. There is a browser extension is also offered by the website which can directly convert images from URL without visiting the website again and again.
Pros:
Powerful converter with several types of file conversion.
The website is free of cost to use.
Directly provides you with download links.
Con:
Sometimes user confuse in finding the right converter for their need.
So many limitations on uploading the size of file.
Unable to convert without internet.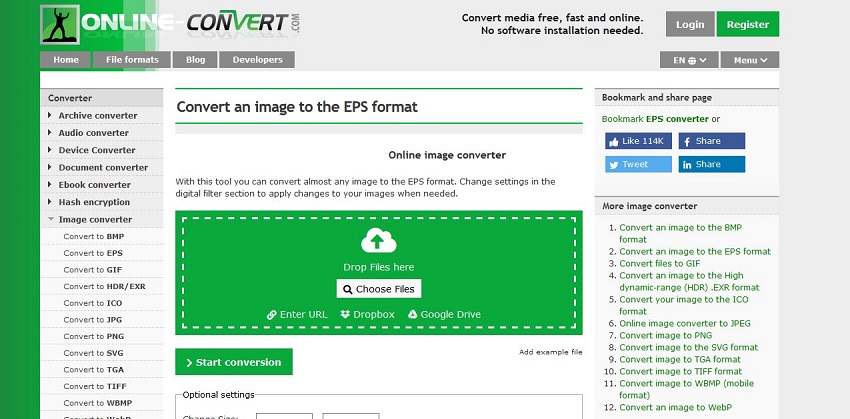 URL: https://convertio.co/jpg-eps
Convertio is also an online file converter where you can convert JPG to EPS in few seconds just by browsing the site and uploading JPG files on the website. This website offers some other conversion services as well such as audio, video, documents, archive and presentation, etc. You can use this website for free but while converting make sure your file size does not exceed 100 MB for uploading because it only supports 100 MB file size.
Pros:
Different converters with several compatible formats.
Easy to use interface so everyone can use it with ease.
Supports mostly all browsers and operating systems.
Con:
The output quality is not good.
Sometimes users face issue in finding the right format.
You can't convert images in batch.
URL: https://www.aconvert.com/image/jpg-to-eps/
AConvert is also an online converter website where you can upload the JPG file from computer to convert in the EPS format. This website is also used by millions of people worldwide and converted more than 6 lakh GB files. There is an option offered which enables you to convert the webpages as well so you need enter the webpage URL simply and then you will be able to download that webpage in PDF, PNG or JPG format.
Pros:
Website is very simple and popular among millions of users.
Free to use and convert files.
Support several files types for conversion.
Con:
The website is unable to convert the files in bulk together.
You need to upload file one by one to convert.
No offline support.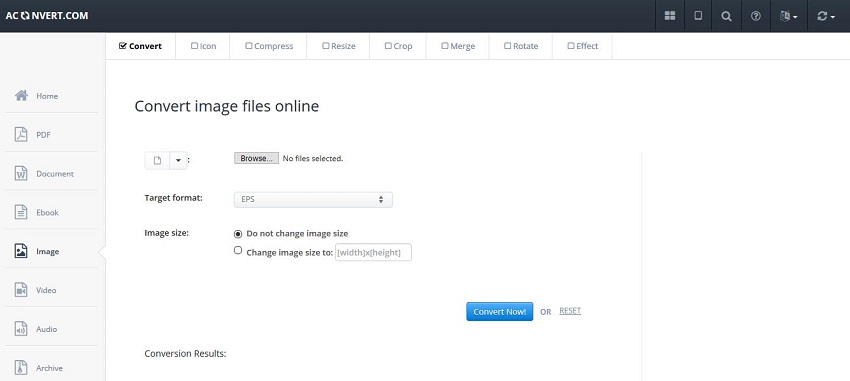 URL: https://www.systutorials.com/tools/jpg2eps/
Sys Tutorial is mainly a tutorial sharing website where you can get solution of your different tech problems but there is a tool offered by the website which enables you to convert JPG to EPS for free of charge. There are some other tools also offered on the website such as know your IP, BB Code editor, etc. This site is very simple to use so simply you need to upload the image from your computer and then hit the upload and convert button. In some time, it will provide you link to download your converted file.
Pros:
There you can convert EPS to JPG for free.
You can get tech tutorial on the website.
Browser based website works in all browsers.
Con:
Supports very less images formats.
You can't do any changes to the image size.
Actually not a converter website. Converter is just one tool from the website.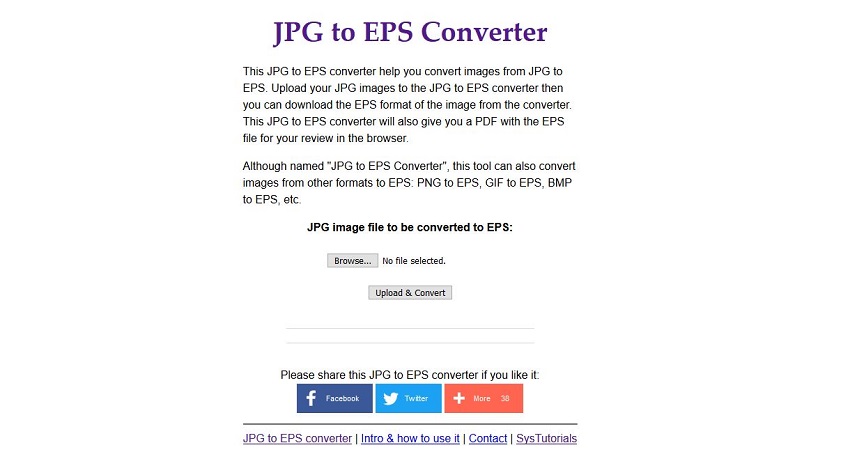 URL: https://www.online-utility.org/image/convert/to/EPS
Online Utility website is another option which enables users to convert the JPG to EPS format online. This website allows you to do various tasks related to the computer and daily life tech problems. You can perform these tasks directly without any installation of software or app on your system. The website offers you to perform mathematic calculation, learn English, text writing in English, etc. This website support near about 120 images formats for converting the files from one format to another.
Pros:
You can convert images on the website very quickly.
Supports all operating systems and browsers.
You can also learn English on the website using the tool.
Con:
This is actually not a professional converter website.
The interface is not easy to use.
Sometime you may lose the original quality of image.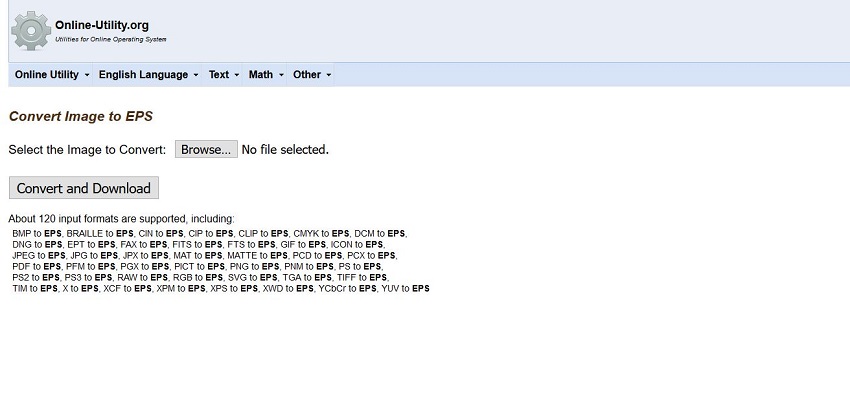 Part 2: EPS Extended Knowledge
a. What's an EPS File?
The EPS file format is an image file format which is used while working on the vector graphics. If you have worked with the vector graphics then you may know about the EPS. EPS stands for Encapsulated PostScript and this format is used for the vector images only. This is mainly used in the Adobe Illustrator just like the JPG format of Photoshop.
b. When Should I Consider an EPS File Rather Than a JPEG?
Vector images usually come with the mathematical equations. Vector images can be zoomed at any level depending on your need. So, whenever you need to zoom without pixel disturbance then you can use EPS files instead of jpeg images. EPS file vector images contain bitmaps which tell every pixel about their color and size so you can easily make your images nearly any size. This is mainly used for large printing such as building decal wraps and billboards on the highways.
Summary
Well, if you are facing issue in working with vector images due to the wrong image format then you can use these websites and convert JPG to EPS. These websites work perfect but every site is different from each other. Some website converts the files faster and some works very slow. Few things depend on your internet speed as well so make sure to use a high-speed connection while converting your images to get the conversion faster.
Wondershare UniConverter is the most powerful and useful software for image and video converter. It does not only convert function, but also it could video compressor, screen recorder, and other functions.
Wondershare UniConverter
· Support batch processing of pictures conversion.
· Convert images to over 1000 formats, including JPG, PNG, BMP, TIFF, GIF, and others.
· Convert photo to JPG or specific devices formats without any trouble.
· Transfer converted files from PC/Mac to external devices easily via a USB cable.
· Versatile toolbox combines Image Converter, GIF maker, video compressor and screen recorder, and others.