A quick search on the internet for file formats with the best compression ratios will yield JP2 and JPG at the top. JP2 file format is not typically highly compatible with most devices and browsers. It is, therefore, necessary times to convert JP2 to JPG to achieve maximum results. There's a top software that does that; Wondershare Uniconverter.
Par1. Wondershare Free Download Application---Convert JP2 to JPG Easily
Do you want to convert your file format from JP2 to JPG? Don't worry as there is an easy tool to use that will make the conversion process simple while maintaining quality. UniConverter is the top JP2 to JPG converter present today with other added features like converted-content editing.
Wondershare UniConverter
· UniConverter supports JPG, PNG, BMP, TIFF, and GIF format conversion.
· You can also edit files with the built-in editor available.
· Provides smooth transfer of data to Hard Drives, external storage devices, USB Drives, and to Apple and Android devices easily and faster.
· Users can compress files like videos, and there is no loss of quality.
· Supports screen recording and also voice recording.
Step by Step to Convert JP2 to JPG in Wondershare UniConverter
Step 1. Open Wondershare UniConverter
If you don't have the application, you can download and install the application. There's a menu at the top bar called Toolbox. Click on it and then later on Image Converter.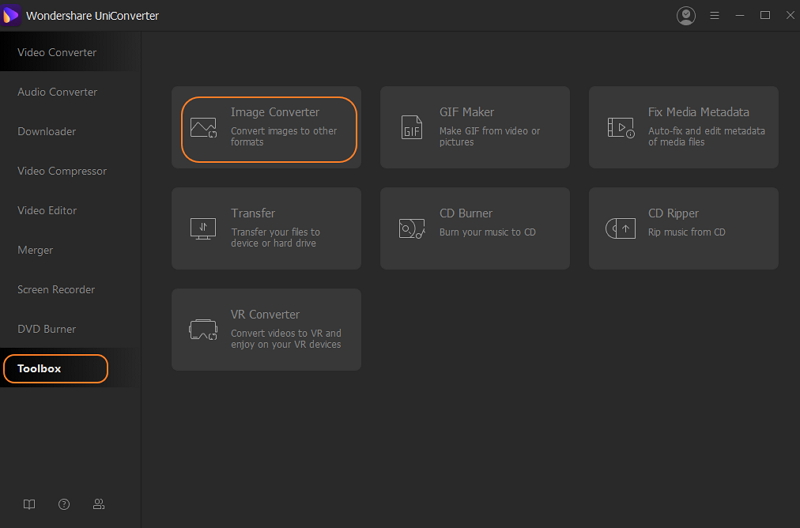 Step 2. Insert JP2 Pictures to UniConverter
A new window will pop up after that. Click on + Add Image at the top left bar to upload the file to be converted. The Drop and Drag feature also works here, so users can also upload many images. The uploaded images can be edited, resized, and customized.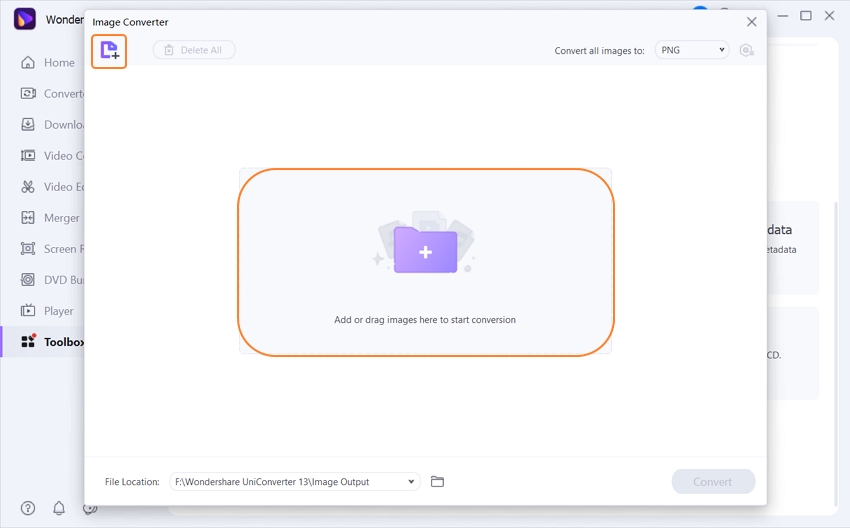 Step 3. Choose Output Format (JPG)
Go to Convert All Images to: and a dropdown menu will appear. Select JPG. After selecting the JPG, you can edit the file with resizing and editing features to suit your needs.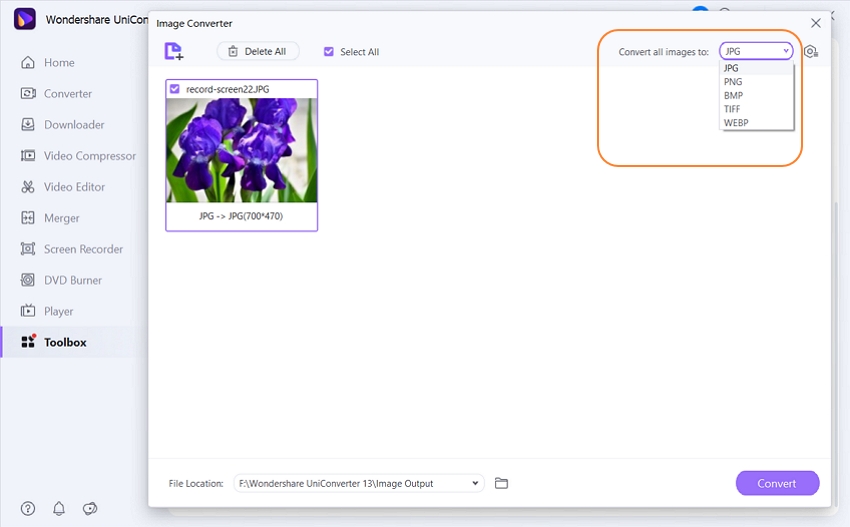 Step 4. Finish JP2 to JPG Conversion
You can change the output storage location by clicking on the File Location button. Then hit the Convert button to finish the convert process.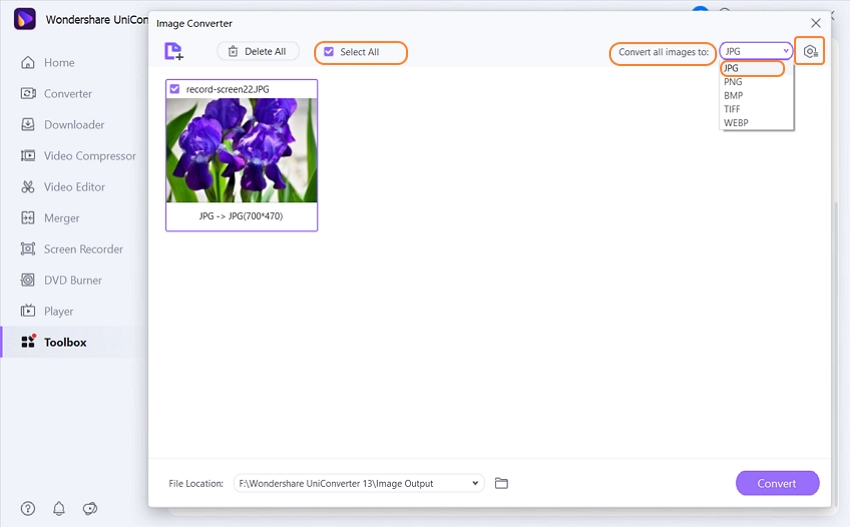 Wondershare UniConverter supports JPEG (.jpg, .jpeg, .jp2, .jls) image format convert to JPG. You could upload multiple pictures at one time, and convert it by one-click. Download your computer system version of UniConverter, and try it now.
Part 2. JP2 to JPG Converter---Online Free
URL: https://www.media.io/image-converter.html
Online UniConverter is a web-based online tool for you to convert and compress images, videos, and audio files for free. There is a free trial area below, and you just need to upload or drag and drop your JP2 file to the function area, select the JPG image file as the output, then click the Convert button to start the JP2 to JPG conversion.
---
Part 3. JP2 vs. JPG
a. What's the Difference Between JP2 and JPG?
The JP2 file format was an upgrade of JPEG. But several years down the line, the form is not supported in digital cameras with no office application, painting program, or web browser supporting it directly. Many users even prefer the original JPG file format as JP2 has got lots of visual distortion. Though the two do share names, their similarities are almost non-existent.
The format has their specific strengths and weakness. JPG (Joint Photographic Expert Group), came into picture in the year 1986, and is still widely used today. Converting images to jpg is normally accompanied by some loss in quality because of its lossy format. However, the format delivers decent quality and has good ratios when compressed, a feature that has made it gain wide popularity in digital conversions. The format is compatible with almost all devices because it has been present for a long time.
JP2 came into picture 8 years later after JPG and was then considered as the ultimate successor of JPG. The format allows user to make a choice between the mathematical lossy compressions, and the lossy compression, in just a single architecture. JP2 was not however widely implemented as its developers had anticipated. The format was more complicated and required a lot of computational ability to function smoothly. Its speed was therefore very low because computer capability in the early 2000s was still down. Presently, JP2 image format is widely used in satellite images, cinemas, devices used for digital images, scanners, and big devices used for technical images. All is however not lost for the file format as there are still chances for growth and popularity.
| JP2 | JPG |
| --- | --- |
| It has great compression ratio for images. | It is flexible in that it can run in all the web browsers. |
| The format is resistant to errors. | It is also supported by all the images. |
| It decodes progressively making it even more flexible. | Whether the format is run on CPU or GPU, its processing speed is perfect. |
| Can perform both the lossy, and non-lossy digital compressions. | |
b. JP2 Features & JPG Features
JP2 Features
The architecture for performing conversions, with or without data lose, is the same.
The format can support huge amount of file sizes, big ranges dynamically, and a number of devices.
You get to deliver images with different quality or resolution in just one file.
There is extremely low loss in quality when performing either encoding or decoding, across the different cycles.
Low chances of error occurrence as the formats is keen with the bits when changing formats.
Easy to work on specific parts of an image when working when using this format.
The format supports high compression of files especially when the bitrates are low.
JPG Features
Performs file size reduction with thin quality degrade signs. This is achieved by JPG's change of space color feature that makes it possible to separate the chrominance and brightness components.
Makes it possible to control the amount of size a file can be reduced to.
Provides coding for DCT to make it lossless.
Allows the low quality files undergoing encoding be encoded progressively after its byte stream has been decoded partially.
Each of the two file formats is critical in its diverse tasks, with both having their advantages and disadvantages. As mentioned, JPG is popular because of its fast speed and compatibility with many devices used today. JP2, on the other hand, is useful for maintaining high-quality file formats and is therefore used in areas like satellite image and TV contents streaming.
In conclusion, Wondershares UniConverter is helpful when you want to convert files from JP2 to JPG. The software provides an easy to follow steps as shown above, and with just a few clicks, you'll get your desired file format ready so that you can continue with your activities well.