Converting images to a repeated slide of pictures in a loop, i.e., an animated GIF is straightforward and performed by many todays. However, most programs that edit images supports convert images to GIF format, although this is dependent on the supported conversion format. Nonetheless, there are thousands of free online tools that can create gif from pictures. To make GIF from live photos, all you need is an online supporting tool that converts image to GIFs as well as dedicated image converts which support GIF. PNG, as well as other image formats, can also be converted into GIF for website objects, logos, buttons, headings, etc. However, JPG is still the most preferred. You will learn the top 7 desktop and free online image to GIF converters.
Part 1. 6 Online Converter Tools to Convert Image to GIF
URL: https://www.media.io/image-to-gif.html
Online UniConverter is the best free online image to GIF creator, which converts images in JPG, PNG, JPEG, and BMP formats to GIF with customized settings. You can add multiple pictures one time and choose the output size you want. To create a funny GIF free online, you can add text watermark or still image watermark to make you GIF interesting. Online UniConverter provides free plans and premium plans without any conversion limitations.
Key Features:
Totally free to use without any download, installation, watermark, or ads.
Customize GIF output settings with duration, output size, pictures order, and more others.
Multiple features including image converter, image conversion, video conversion, video editing, etc.
Try to create a GIF from images using Online UniConverter below:
[没有发现file]
URL: https://imgflip.com/gif-maker
ImgFlip is a free online tool with the simple user interface can create GIFs from images in no time. User can make animated GIFs from YouTube, video files, images, and video websites. Saw a short-expression from a movie or music video you would like to mirror digitally? Try ImgFlip now.
Key Features:
User can make high-quality animated GIF images online for free, with powerful and straightforward customization options.
Features include cropping, rotating, resizing, reversing, adding text and images, enabling sound, enabling motion of text and images, etc.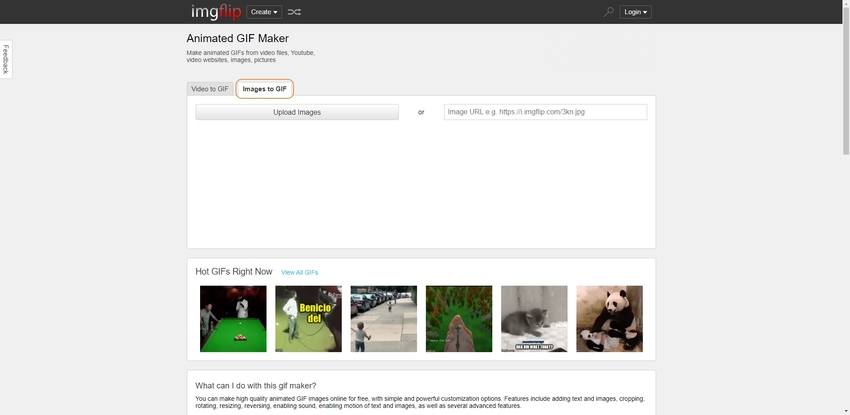 URL: https://ezgif.com/effects
EZGIF is a popular free online GIF creation tool with amazing features and tools; hence, making it easy for the user to create the best-animated GIF. With EZGIF, you can create GIF from images to GIF, and you can add filters, change colors of an image, and replace the color with transparency. Additional features of this online tool are rotated, reverse, as well as transform GIFs. In just three easy steps, the user can create magic with this tool, i.e., upload images or paste URL, add effects, and click create button.
Key Features:
Supports multiple image formats, such as GIF, JPG, PNG, BMP, WebP, APNG, FLIF, MNG.
Limited file size upload, maximum file allowed is 35MB.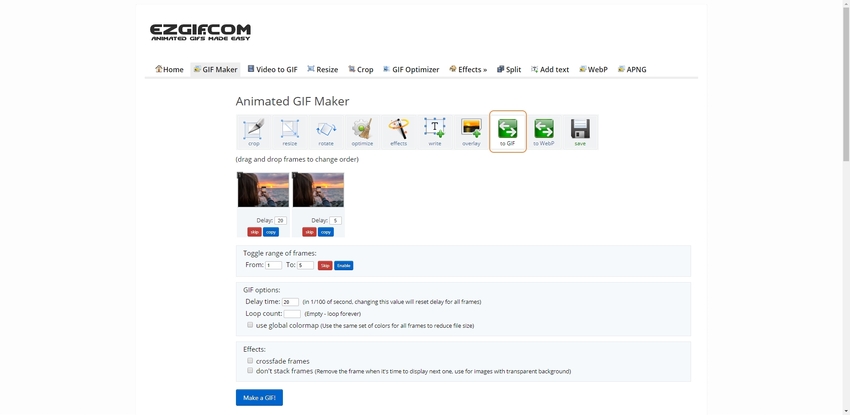 URL: https://convertimage.net/convert-a-picture/to-gif/
ConvertImage is another free online tool with an attractive user interface with a beach theme. User can create their funny GIF from live pictures with this website. Supports about nine image formats and offers some more online photo tools.
Key Features:
Has a fun, beginner-friendly user interface.
Lots of amazing online photo and GIF editing tools.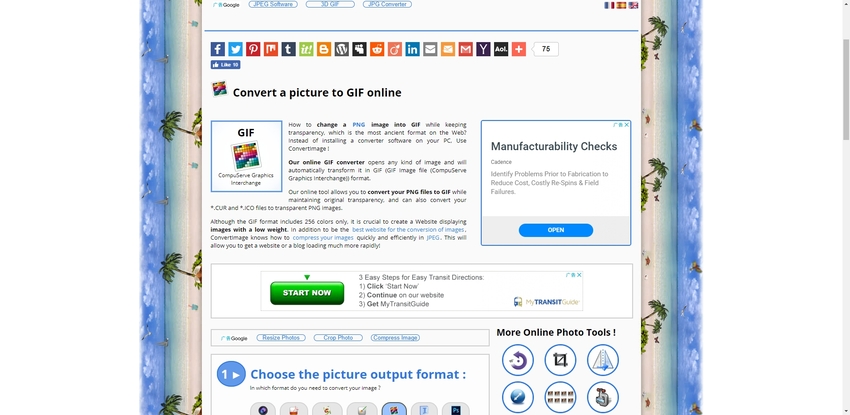 URL: https://image.online-convert.com/convert-to-gif
Online Convert is a free online tool that could help convert images to GIF. Videos can also be uploaded as well as images to animate GIF with this converter. Alternatively, the user can choose options to apply digital effects or improve the image. Online-convert supports more than one hundred image formats, and another fantastic feature is it supports audio conversion as well, hence if you want to add audio to your GIF, online-convert can make that happen.
Key Features:
Supports more than 100 image formats.
Supports audio file conversion.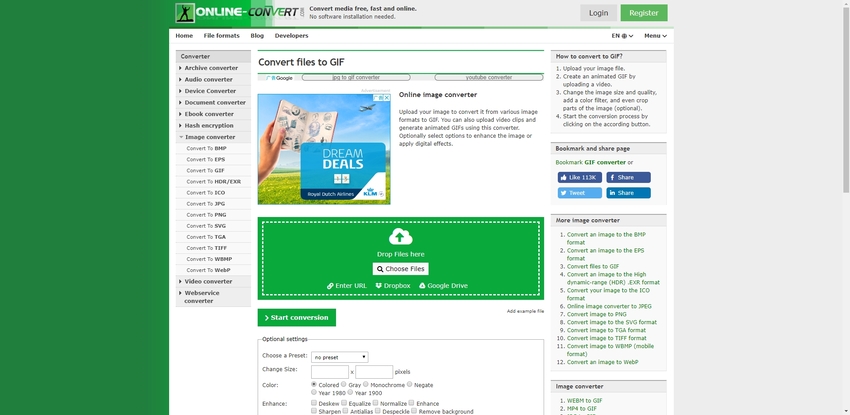 URL: https://gifmaker.me/
GIFMAKER is a free online gif editing tool that permits a user to create animated gifs, video animations, and slideshows with music online quickly with no registration required. User can create animated avatars and icons, resize GIF, crop GIF, merge or combine two or more GIFs, separate or split GIFs, etc. It is compatible with Linux, Mac, and Windows devices; however, be sure the browser used has a flash player installed. Animated GIFs can be compressed at ResizeImage.net, where GIF can be shortened, and background image removed hence making it transparent.
Key Features:
User can create animated funny gif with GIFMAKER user can upload images or paste URL to the box of up to 300 images, choose the size of the canvas, determine animation speed, and repeat times.
User can add music to the funny gif by uploading the YouTube URL and choosing the seconds it starts from.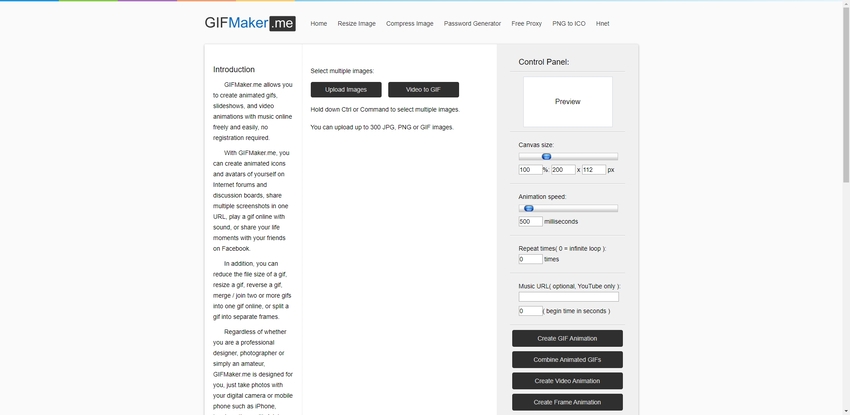 Part 2. Converting Pictures to GIF by Using Offline Software
Wondershare Uniconverter is a free offline GIF-making tool to help you to create a funny GIF from videos or photos. Also, you could upload to edit your video at video converter function first, then save the changed. After that, you could use it GIF-making function to turn the edited videos to animated GIF. Wondershare Uniconverter software is an all-in-one package, just upload, edit, and export. It also includes several editing options, i.e., cropping and trimming then exports in several resolutions and formats.
Wondershare UniConverter
· Resourcefulness: this free online software is an all-in-one package, just upload, edit and export.
· Supports more than 1000 image and video formats and quality is not compromised.
· It can be used either offline or online.
· Easy Advanced Features: it avails user with integrated search engine for easy access to your most preferred videos online.
· Several range of editing options i.e. rotating and trimming and exports.
How to Convert Photos to GIF?
Step 1. Launch Wondershare UniConverter and Open GIF Maker Option
Download, install and run Wondershare Uniconverter application in your computer. Then go to Toolbox at the top of the software and click on GIF Maker option.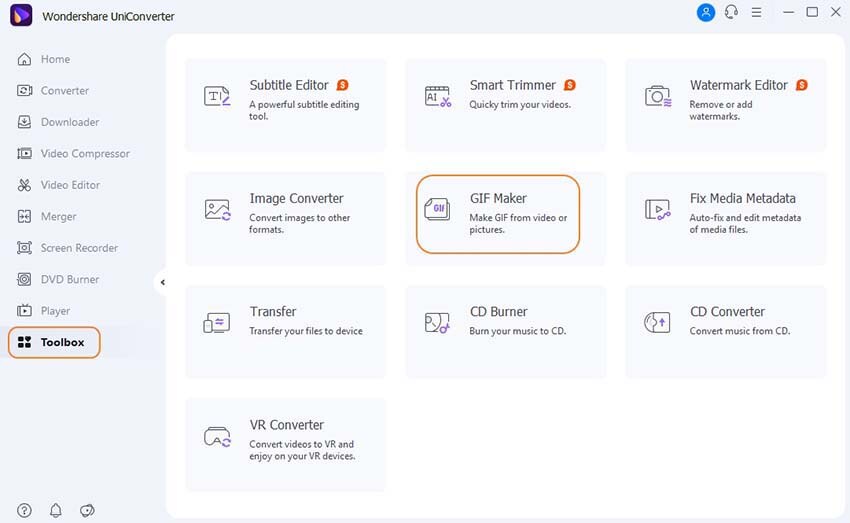 Step 2. Upload Photos to UniConverter
Choose Photos to GIF option, then click on the + Add Files to add the images that you want to convert to GIF.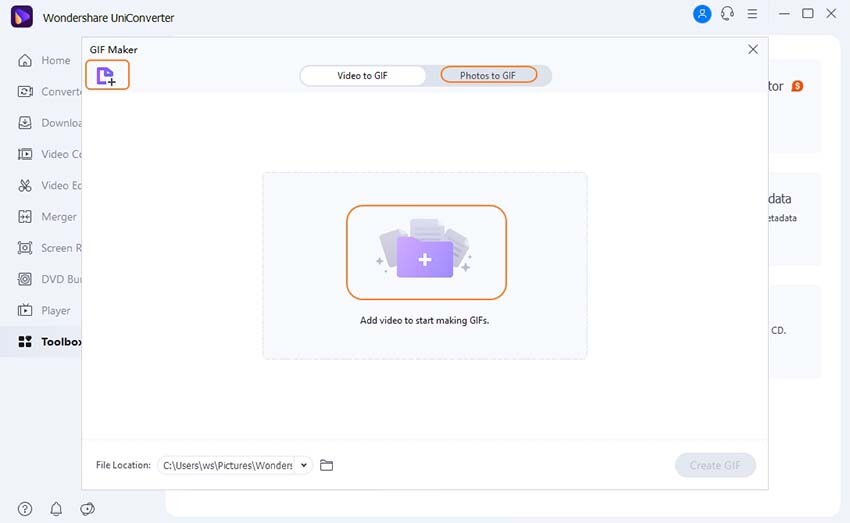 Step 3. Customize Before Convert to GIF
Determine the frame rate, output size as well as file location in the bottom-left area.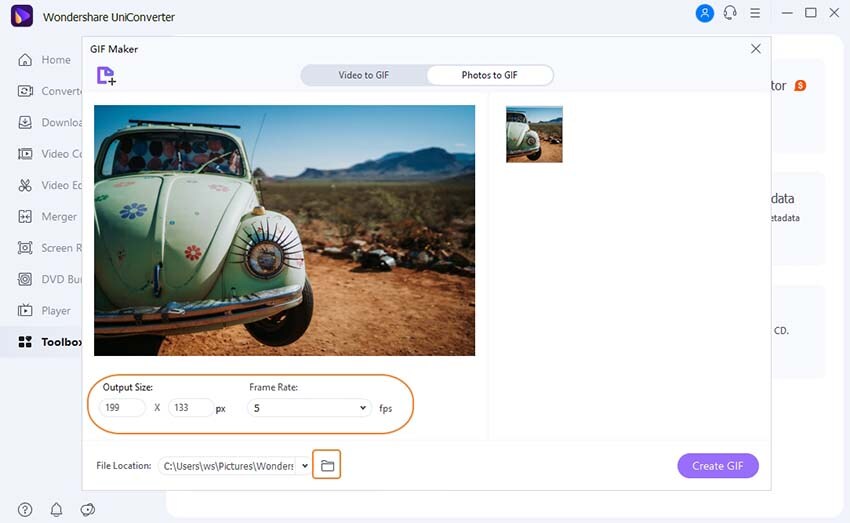 Step 4. Complete Images to GIF Conversion
After setting the dialogue box to determine your preferred setting, then click on Create GIF button to convert the images to GIF.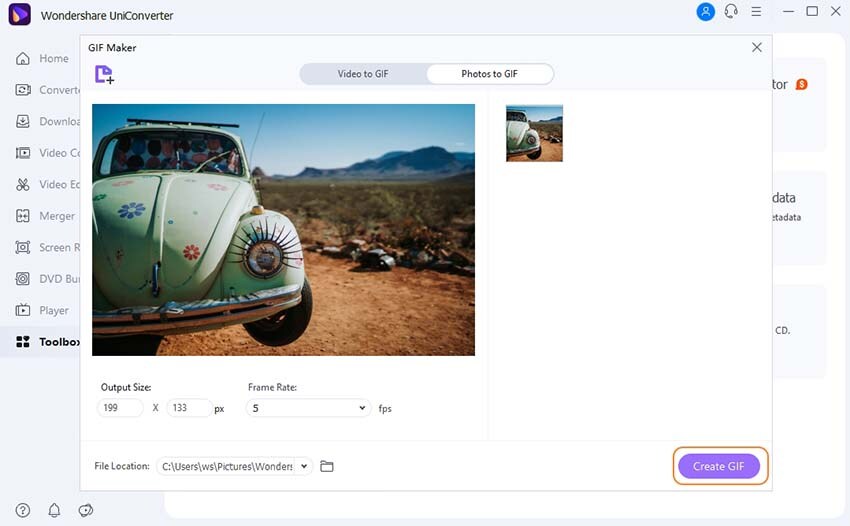 How to make gif from live photos and to gif converters to create funny gifs is just made easy. You can determine the number of repeated loops you want and other features of choice. We strongly recommend using Wondershare Uniconverter to create your gifs as it is readily available offline due, and its features are available offline.