Sometimes when you get a GIF image that you like and wish to save it as a picture but it could be little frustrating to take the snapshot of the perfect frame that you want from that mini loop video. A GIF is a compilation of many frames so technically it is possible to take out anyone frame from it but for that you will need a converter to convert your GIF into an image, more precisely to convert GIF to JPG. There is various GIF to JPG online converters in the market and some of the top ones are discussed below.
Part 1. Online GIF to JPG Converter for Free
Online UniConverter allows you to change GIF to JPG very quickly and easily just by using your browser without any installation. Also, it does not have computer system restrictions. Thus, it very suitable for those people who don't want to waste time to download and install the software. You could test its features directly---turn GIF into JPG.
---
URL: https://ezgif.com/gif-to-jpg
Egif is a very simple and handy online tool with which you can not only convert GIF files but also can edit it. This online tool is specially designed to manage all your GIFs. Also, this online platform provides you tools for editing the other videos in which you can convert them into many other formats like WebP, FLIF, MNG, PNG, etc. However, this online tool is basically one of the most famous platforms for GIF tools.
Features:
Can convert GIF and other videos to PNG and hundreds of other formats.
Can cut out the exact frame from the GIF that you want.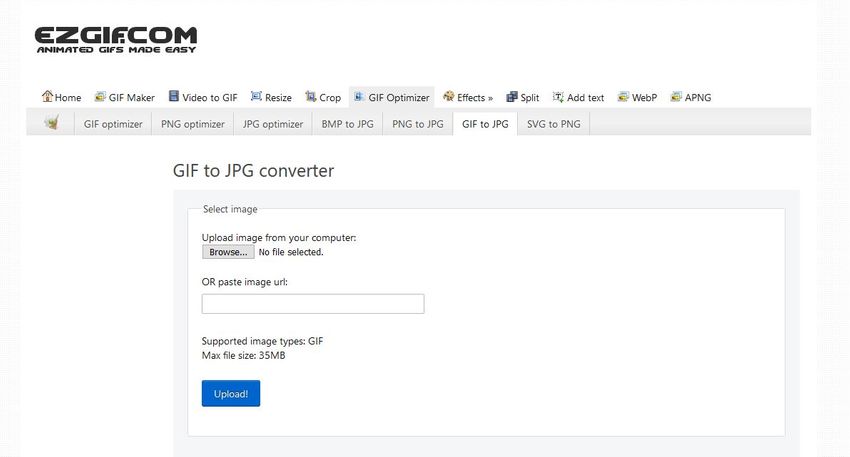 URL: https://www.browserling.com/tools/gif-to-jpg
It is known as the world's simplest option to GIF to JPG and besides that, it also provides various other tools that might be very useful for you. Like, Web tools, Encryption tool, Password tool, Image tools, and various other useful tool and the best part it all this is for free. Since the website is specially designed for the convenience of users for their daily work thus you can get lots of features and tools on this website.
Features:
Can covert videos and images into any other format you want.
It has 12 tools to make the work easier for web developers as well as regular users.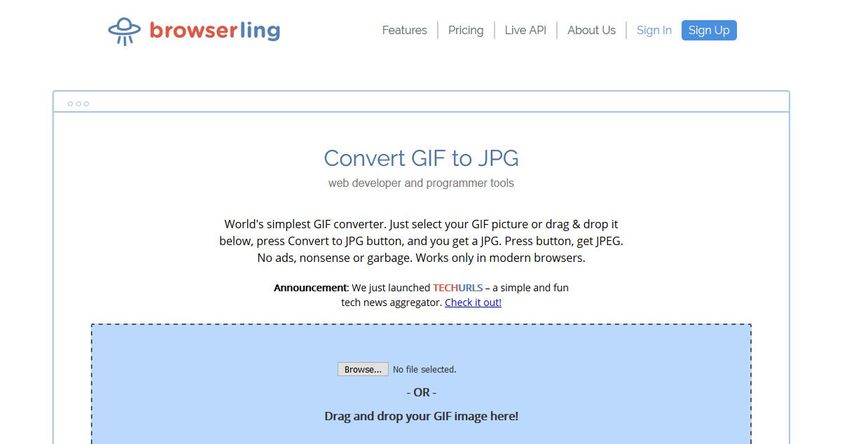 URL: https://www.zamzar.com/convert/gif-to-jpg/
The website is specially created for quality and high-speed conversions like GIF to JPG, JPG to PNG, MP4 to GIF and thousands of such other conversions. If you are looking for a converter to convert your GIF file without losing its quality then you can always rely on Zamzar. It will also convert other big video files at a very fast speed and that is a big plus point for using this online tool.
Features:
Can covert unlimited number of files everyday for free.
Can convert and download the video of up to 2GB at 5times faster speed.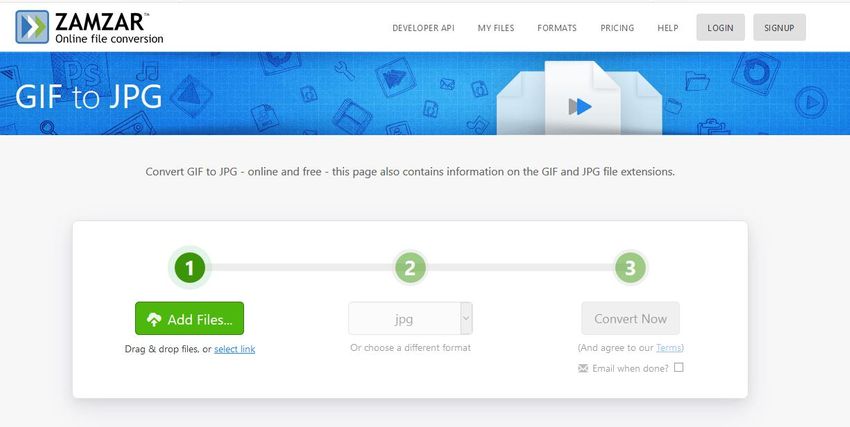 URL: https://www.iloveimg.com/convert-to-jpg/gif-to-jpg
If you are a social media blogger or even an active user then this website could be a great help for you. You can not only convert your GIF file into JPG from this free online tool but also you can do a lot of other stuff that you need to post attractive and creative media content on your blog or social media page.
Features:
You can generate memes and also edit them for free.
You can also add you own watermark on GIFs, Images and Videos before you share them to the world.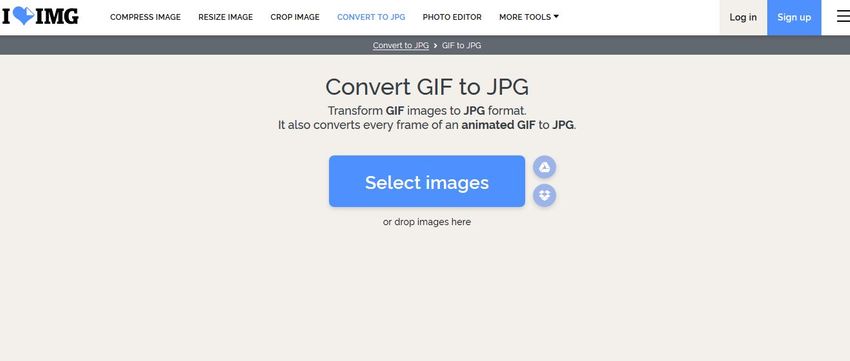 URL: https://convertio.co/gif-jpg/
Another one of the best online tools for converting your GIF files to JPG image, Convertio is a very user-friendly website. You can sign up on the website and use its other useful tools too to convert various other kinds of files into their respective formats like document files, eBook, image, videos, audio, etc.
Features:
You can convert almost all kinds of files online and free with this converter.
You can edit and convert the fonts in your image, GIF, video and doc files.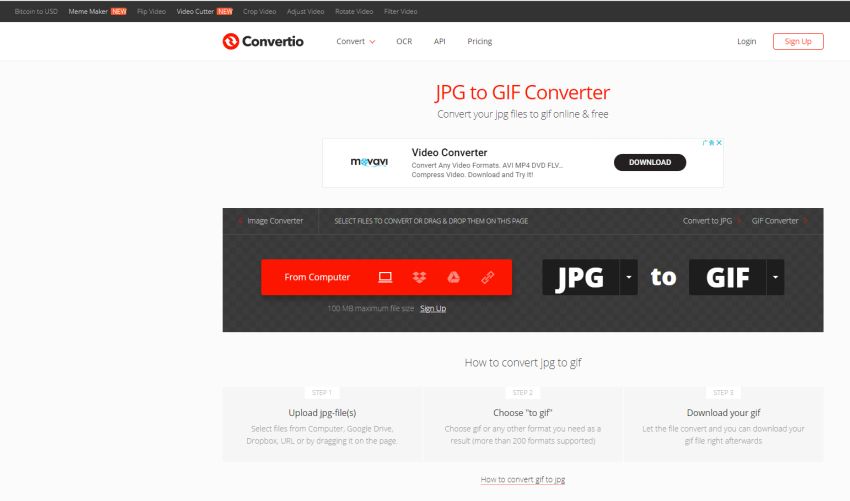 Part 2. Convert GIF to JPG in Wondershare UniConverter
If you are looking for a reliable way to convert you're your GIFs into a JPG image then you should check out the most amazing software on the internet to manage, edit and convert all kinds of videos i.e. WonderShare UniConverter. It is software that you can download for free from their official website, https://www.media.io/video-converter-desktop.html. It is available for both Mac as well as PC, so you can use all of its features without paying a penny.
Wondershare UniConverter
· Convert videos to more than other 1000 formats without degrading its quality.
· Edit the video with many useful features like cropping, rotate, adding filters, edit music, etc.
· Can burn all high quality DVD, Blu-Ray Disc, etc.
· Can transfer the videos between Mac/PC, iPhone, iPad, iPod, Android.
· Can download free videos from thousands of online streaming and paid websites.
How to Convert GIF to JPG with WonderShare UniConverter?
Step 1: Install WonderShare UniConveter
As motioned above you can download it for free from their official website. However, the free software is a trail version so after trying you find it worth spending money on them. You can buy this very cheap software which gives free life time access to all its features. After downloading the software, install it.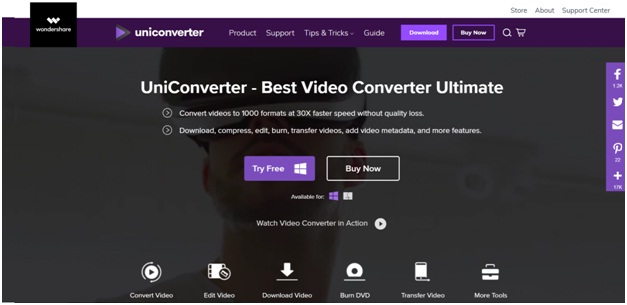 Step 2: Launch the UniConverter
When the software is successfully installed then launch it and switch to the Toolbox section. The Toolbox icon is given at the top of the window as you can see in the picture given below. You can see here that how many other tools are also given on the software which could be for great use but since you are converting a GIF file to JPG then simply hit on the first tab i.e. Image Converter.
Step 3: Add the GIF to be Converted
Now you will get this big icon of a folder with a plus sign on it. You can simply drag and drop the Gif file on it or you can also select it manually by clicking on this big icon.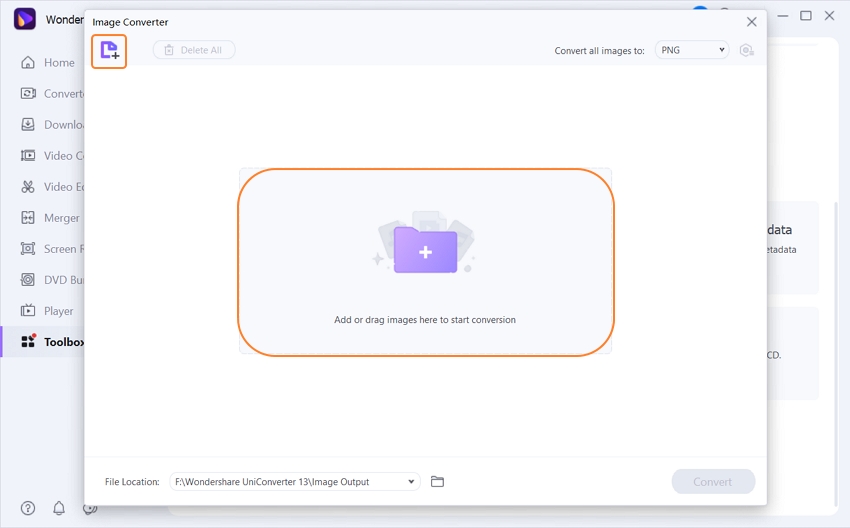 Step 4: Select the Files
After clicking on big Add icon you will get another small window to select your file. Select the file from its destination and then click on Open button.
Step 5: Convert the GIF to JPG
When you have selected and added the file then hit on the Convert button. This will start the conversion process and you will get your JPG image converted from GIF file, within seconds.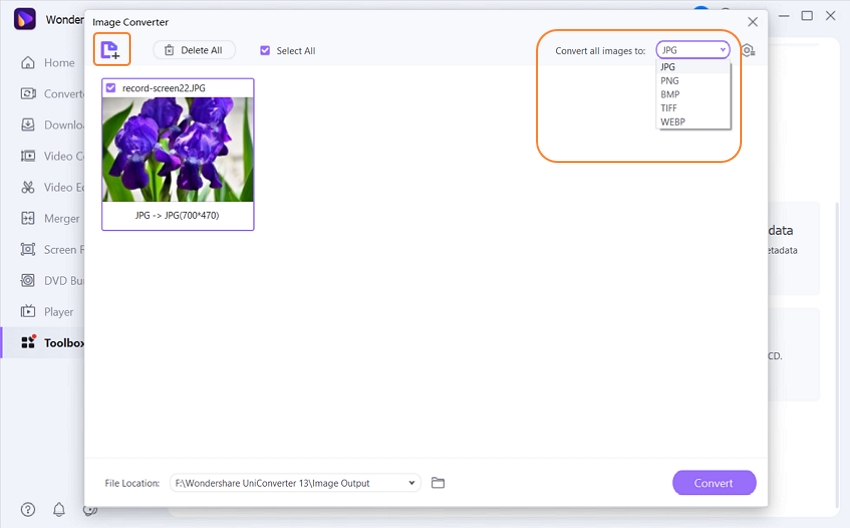 Windows and Mac version for free download, please check the below.
Summary
So, after going through some of the best conversion and GIF management tools on the interest you can easily estimate that which one is the best for you. However, if you look at the features, then undoubtedly WonderShare UniConverter is the best of all because it does not give you a lot of features but also you can use it free for lifetime and don't even need any internet connection to use it. Moreover, you can edit all kinds of videos and images from this software.