In this article, you will learn how to convert images and videos to JPEG format using some free online tools. For different nature of work, there are a different image and video format required, and JPEG is one of the most commonly used forms. JPEG or JPG stands for Joint Photographic Experts Group.
Part 1. Converting Image Formats to JPEG File
Image files having.PNG, TIFF or any other file extension, are not supported by many apps and browsers, this can be super frustrating for you because many websites and apps won't allow you to upload a photo unless it ends in.JPEG or JPG format. JPEG strikes a delicate balance between quality and usability and also offers lossy compression, in simple terms its means that it can convert large image files size to smaller file size by compressing the image with quality.
So, here we are listing some accessible and easy to use online converters which you can find easily when you search for online image converter to JPEG/JPG.
URL: https://image.online-convert.com/convert-to-jpg
This online JPG converter is straightforward to use, user-friendly, and easy to access. The only requirement and need for this converter is an internet connection. You can convert more than 120 image formats, and the upload size is 100MB per image. In this converting tool, you have some more optional settings which include quality setting, change the size, color, DPI, enhance crop pixels' environments. In a few clicks, you can convert files into JPG format.
Let's get started with converting images to JPG/JPEG format using Online-Convert.
Step 1. To convert different image formats to JPEG/JPG. Firstly, you select the Choose files option to upload a picture.
Step 2. (Option)Before you click the Start conversion button, you could adjust image quality, change the size, color, and crop.
Step 3. After uploading file/image, click on the Start Conversion for converting into JPEG file.
Step 4. After this, you will be prompted to download page, and your image will be downloaded. Now your conversion is completed click on the download button for download JPG format image.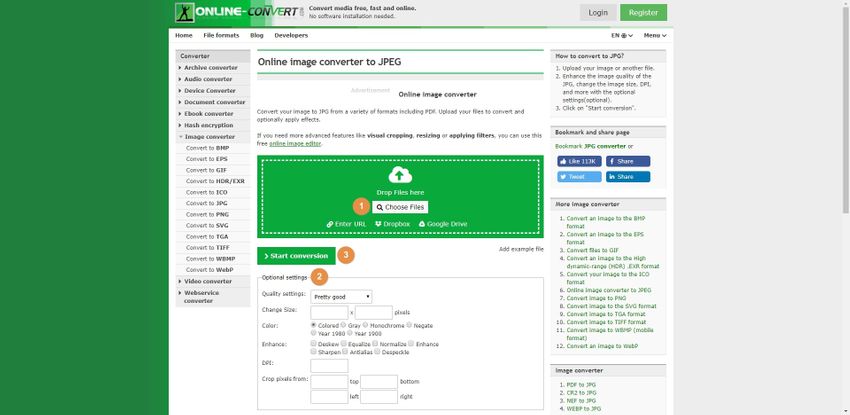 URL: https://onlineconvertfree.com/convert-format/jpeg-to-jpg/
It is another online tool for converting photo files into JPG format. The site offers converter for converting books, archive, images, documents as well as audio and video conversion. The process for conversion is straightforward and require a few steps. The site also provides detailed information about input file format and output file size you wish to convert your files to. After conversion, you can share your converted JPG image file to social networking sites as well.
To Convert JPEG Image to JPG by Onlineconvertfree
Step 1. Click on the choose file button to upload images you wish to convert to JPG image format.
Step 2. Select the Convert button once you uploaded images.
Step 3. Click the Download button to download the converted JPG file.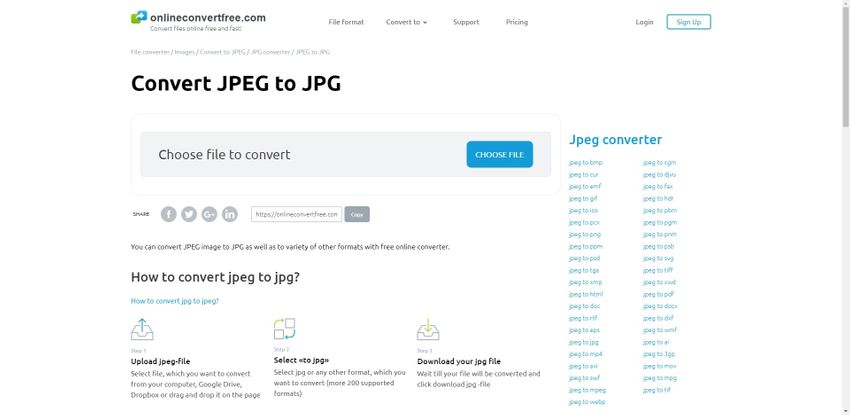 URL: https://www.online-utility.org/image/convert/to/JPEG
This online tool is another free and easy to use tool for converting different image files into JPEG format. It claims to convert and download about 120 forms, including BMP, GIF, PDF, XPM, and much more. For conversion, you must have an internet connection. Not only that, but the site also offers different tools for converting various measurement units, analyzing and teaching the English language, providing keyword suggestion for improved SEO for websites and much more. In this article, we will use the site for converting JPEG image format to JPG file format.
Online-Utility Conversion Steps
Step 1. Click on the choose file button and upload a photo.
Step 2. Once you have uploaded an image, select the Convert and Download button. The file will be automatically downloaded once converted.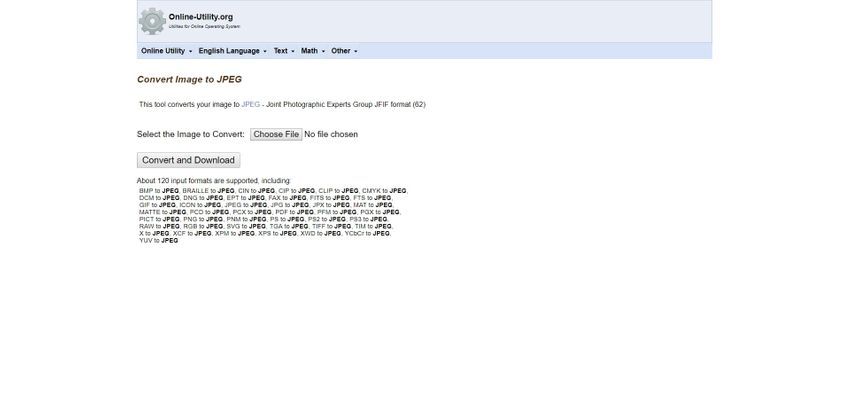 URL: https://ezgif.com/webp-to-jpg
The tool EZGIF is another free tool for creating GIF images, but it also provides converting tools for WEBP image format to different file formats. The WEBP file format is a new file format by Google. It isn't supported much by many browsers and apps yet, which is why we need to convert it to JPG image file format. The site also provides basic video editing features. In this article, you will learn to convert WEBP image file format to JPG file format.
To Convert WEBP to JPG Image Format in EZGIF
Step 1. Select the image or upload an image from your computer. For this, click on the Choose File button. You can also paste image URL for conversion.
Step 2. Click the Convert to JPG button for converting the process to start. The converted image will be displayed below Convert to JPG! Image.
Step 3. Click the Download button to save your JPG file.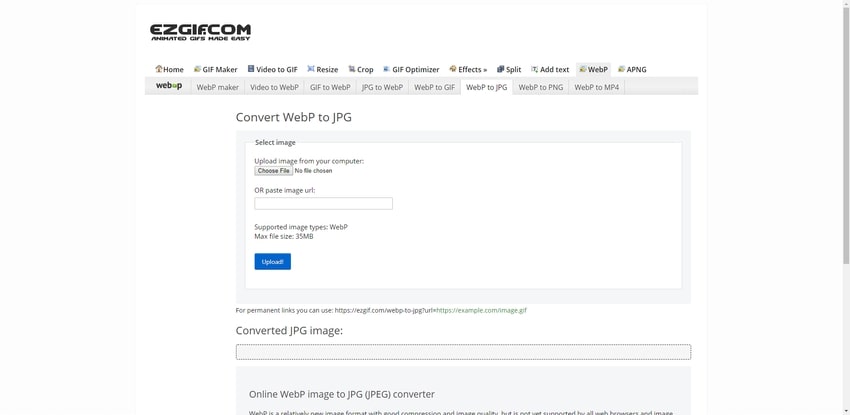 URL: https://convertimage.net/convert-a-picture/to-jpg/
ConvertImage is an online, free tool that lets you convert, edit, and watermark your photos. The site is easy to use and suitable for starters or beginners. Multiple image formats are supported by the site, including pdf and PSD. You select the file format for output and upload file, and you are ready to convert your image. The site asks permission for collecting data. If you aren't comfortable with sharing your data, you can change your settings in the browser. Maximum supported size for input file is 25MB.
To Convert Image to JPG image file format in ConvertImage
Step 1. Select JPG from picture output format.
Step 2. Upload Image File you wish to convert by clicking the Select your Image button.
Step 3. Click Yes to agree to terms of use and then click the Convert this Image button. The file will be automatically downloaded after the converting process. It takes 5 minutes for downloading.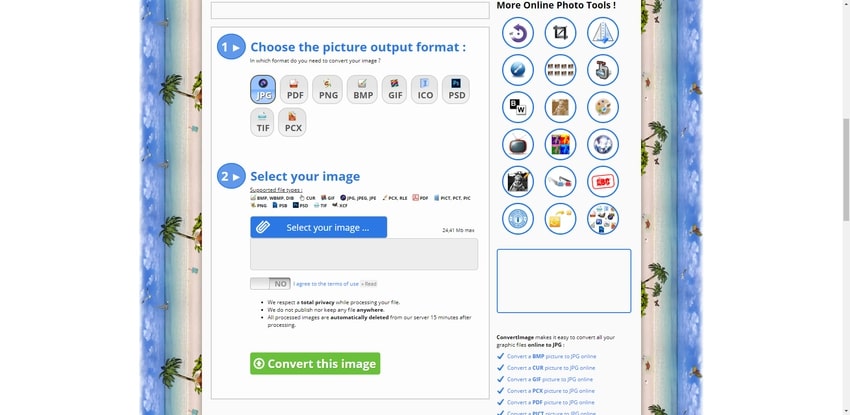 Part 2. Video File to JPEG Format Converter--Online and Free
In this part of the article, we will enlist tools and techniques for converting video files to JPG image file format. The video format is used to store digital video and widely used multimedia format. JPG image file is used to lossless compression. Below mentioned are some of the tools that let you convert Videos to JPG image file format online.
URL: https://www.onlineconverter.com/video-to-jpg
An online video converter is a tool which converts all format of videos to JPG/JPEG image. It claims to convert MP4, M4V, Rmvb, 3GP2 and much more to convert with good quality and speed. Maximum size for videos is 200MB. It gives many other options, such as cut video clip, frame size, and quality. You can also paste a video URL by selecting the source button option. The site is simple to use and provide a guide for converting.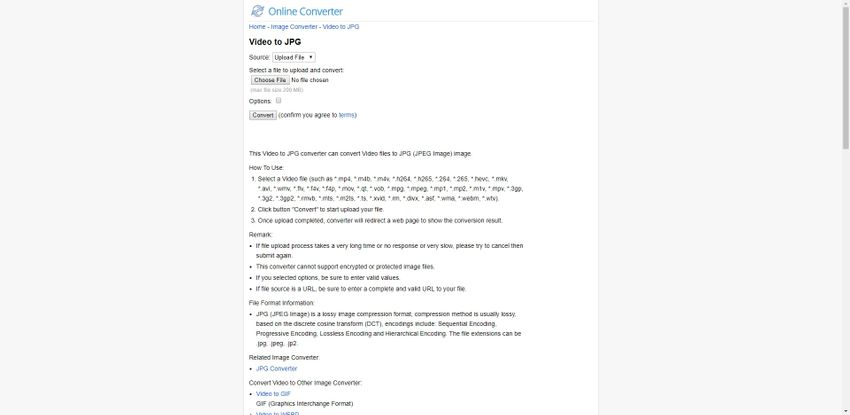 URL: https://www.filezigzag.com/mp4-jpeg-en.aspx
Here is another online tool/website name as Filezigzag, which converts MP4 video format to JPEG image format. This website is very user-friendly and very fast for the conversion of MP4 videos into any form. Select the way which you want. You can edit your videos and images on this website very quickly.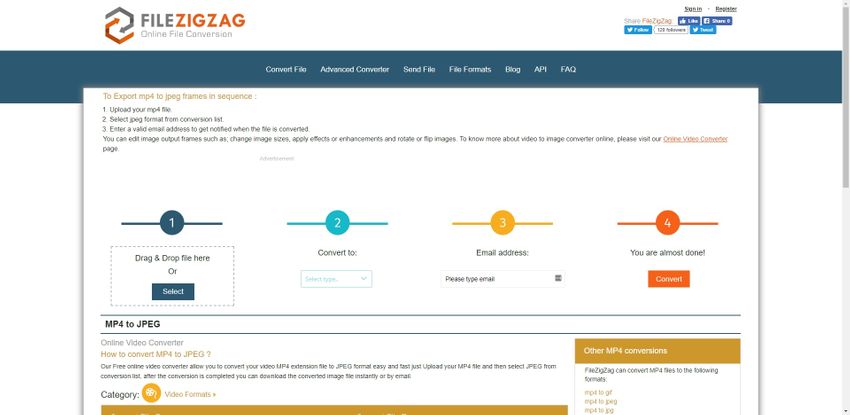 URL: https://www.online-convert.com/
Here now introducing a new online free video converter. From this converter, you can convert your videos into different high-quality video formats. In the MP4 video format, the quality is not so good. You can't put those videos on your blogs and websites due to average video quality, but now you can convert your videos to high-quality video formats. It can save more than 35 source formats like MKV, 3GP, etc. By using this converter, you can get other converters such as an audio converter, device converter, document converter, image converter hash encryption, etc.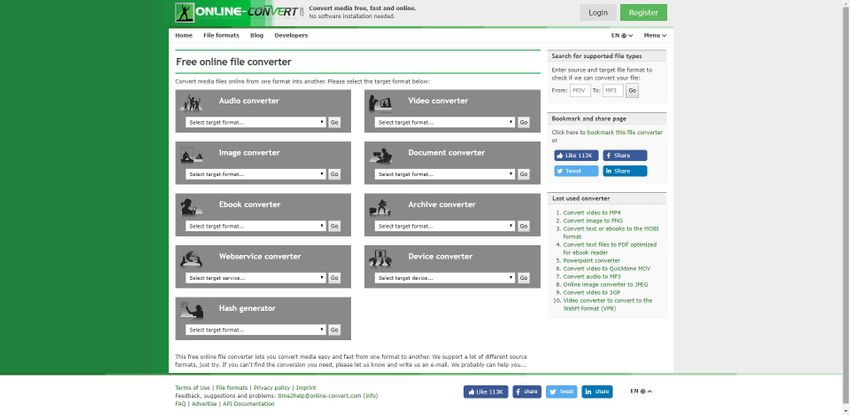 URL: https://www.img2go.com/convert-to-jpg
Img2go is online free converting website which converts videos and images to JPG format. The JPG format is so-called raster image format which converts files in small size so that you can upload your files on websites and also used posting, sharing your data. This tool can convert many formats, including SVG, NEF, CR2, and more.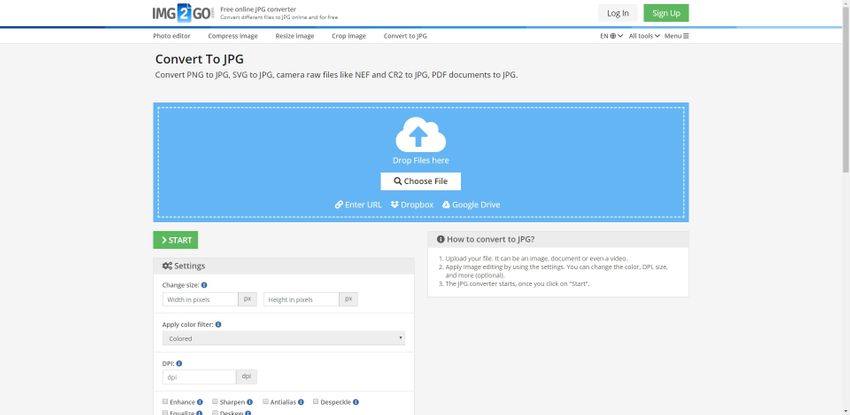 URL: https://www.aconvert.com/image/mp4-to-jpg/
Aconvert is a multipurpose online editing and converting tool that supports conversion for Image, Video, Webpage, eBook, Documents, and vice-versa. Not only that, but it also supports multiple formats for formerly listed file types. The site lets you select files from your local computer and cloud. The section also compares both input file format with the output file format.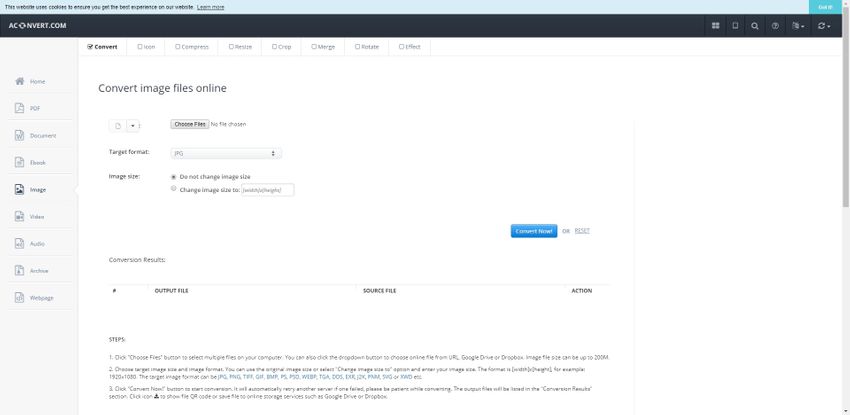 Summary
JPG/JPEG image format is most preferred for its small size and lossless compression property. Over the internet, there are many converters available for converting Images and Video format to JPG file format. This article enlisted a few considering ease and simplicity for users. This concludes tools and techniques for converting different image and video files to JPEG/JPG format.
Wondershare UniConverter supports video, audio, and image converter function. You could convert your files easily by using UniConverter. Try it now.
Wondershare UniConverter
· Support batch processing of file conversion.
· Convert images, videos, and audios to over 1000 formats.
· Convert pictures to JPG or specific devices formats without any trouble.
· Transfer converted files from PC/Mac to external devices easily via a USB cable.
· Versatile toolbox combines Image Converter, GIF maker, video compressor and screen recorder, and other functions.