You already know that there are different types of image formats that you use or see in everyday life on your screens. PNG is one of the most common image formats that you come across every day. The reason for its more extensive use is because it can be used for all kinds of methods that need a JPG or GIF image. So, you can instead use just one format, i.e., PNG. If you are wondering how to convert the file to PNG, then you can take a look at these top six converters that are available for online use.
Part 1. 5 Best Converter for File to PNG
URL: https://www.zamzar.com/convert/doc-to-png/
Zamzar is one of the most popular online tools with which you can easily convert files to PNG at five times faster speed than any other online conversion website. If you have any doc file and want it in image form, then do it within few easy steps with Zamzar. At Zamzar, you can also convert unlimited size and numbers of files every day registering from its paid account. However, you can also use an unpaid account which has a limit of 200MB of uploads. If your doc files are at any website or on any of your cloud storage account, then you can directly upload it from to covert.
Pros:
It converts doc files into high-resolution images.
You can cloud store up to 100GB of files on your paid account.
Con:
Unlimited features will cost you a few bucks.
You have to sign up to use this tool.
Conversion Steps in Zamzar
Step 1. Start with opening the conversion page by clicking on the link given above. There, you will get a screen like it is given in the picture below. Click on the Add Files button and select doc files to have to be converted in PNG format.
Step 2. Next step is to convert the files for which all you have to do is hit the Convert Now button.
Step 3. When all files will be converted then you will get be redirected to the page where you can download the image. Click on Download button to get converted PNG image.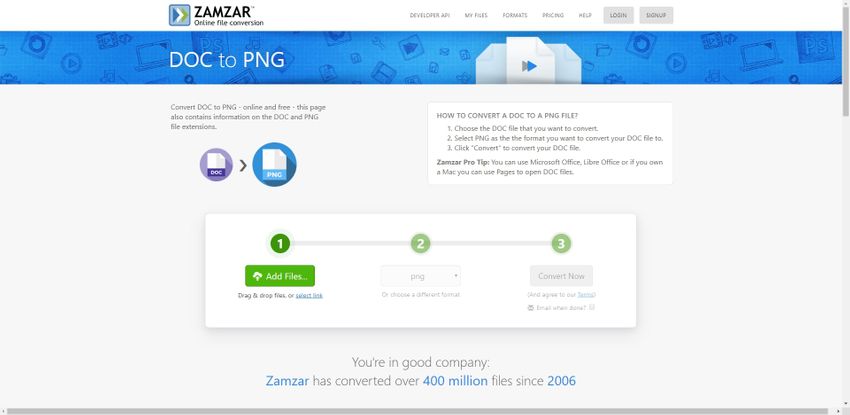 URL: https://www.pdfpro.co/pdf-to-png
PDF Pro is a platform where you can convert PDFs into other convertible formats in seconds. So, if you want to convert a PDF file to PNG, then you use PDF Pro. This online tool is available in free and paid online tool versions as well as you can download its premium desktop version. You can not only convert PDF files on this online platform but also edit them like re-arrange the pages, rewrite whatever is written, etc. You can add your signature on any PDF, or you can also password protect it.
Pros:
You can create, edit, and convert PDF for free.
You can convert your PDFs into PNG, Word, JPEG, TIFF, PPT, EXCEL, and vice versa.
Con:
If you are not going to use it much then paid plan will be little but much costlier for you.
You cannot directly upload the files from URL, Google Drive, etc.
Conversion Steps of PDF Pro
Step 1. Visit the file conversion page of PDF Pro by clicking on the link given above and there you will get Click to Upload PDF. This button will browse the window from where you will have to select your PDF file which you need to convert into PNG.
Step 2. Once the file is uploaded then select the "PDF to Image" panel which will pop up a small window as shown in the image. Here, you have to select the PNG format as your output file. After that click on Convert to Image button to start conversion.
Step 3. When the conversion is done, then you will get your converted file and also download icon given as Download File. Click on it to download your new PNG images.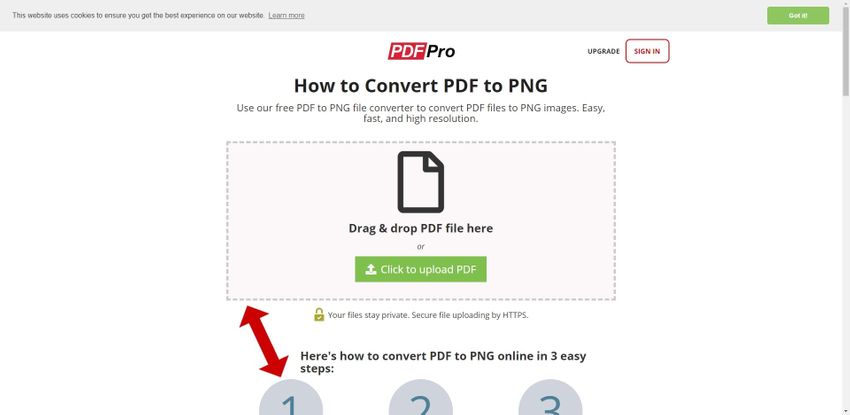 URL: https://image.online-convert.com/convert-to-png
Since PNG is one of the most used image formats due to its lossless and high-quality feature, you can convert your other image formats into PNG by using Image Online Convert. You can turn any image format be it form Vector, RAW, Graphics, etc. You can use this online tool to convert files to PNG and also set your preferences of the output's quality, etc. Although it is free to use if you want to access various other useful features, then you have to register with a paid account.
Pros:
You can convert any image format from this online tool like JPEG, GIF, TIFF, BMP, etc into PNG.
You can scan QR code to directly download the output on your phone.
Con:
This only works online so you need to have good internet connection.
You cannot access a download file link after 24hours of its creation.
Conversion Steps by using Image Online Convert
Step 1. Open Image Online Convert's page by clicking on the link given above in the title. It will land you on a page as it is given in the picture below. There you can convert any kind of image file into PNG format. Upload the image from your desktop by clicking on Choose Files button and if you want to upload it from any online source then click on any of the three options i.e. URL, Google Drive, Dropbox that are given below.
Step 2. In the given picture, the user has uploaded a GIF image. You can upload as many images as you want from any picture format. You can also pre-set the dimensions, resolution, color scale, sharpness, and pixels from the Optional Settings box. Once you are done with settings and uploading all images, click on Start Conversion.
Step 3. When files will be converted, they will be automatically downloaded to Downloads folders of your desktop. However, if you specifically want all of them in zip file then click on Download file as ZIP button. Also, if you want them to save on it on any Cloud Account then click on Cloud Store icon.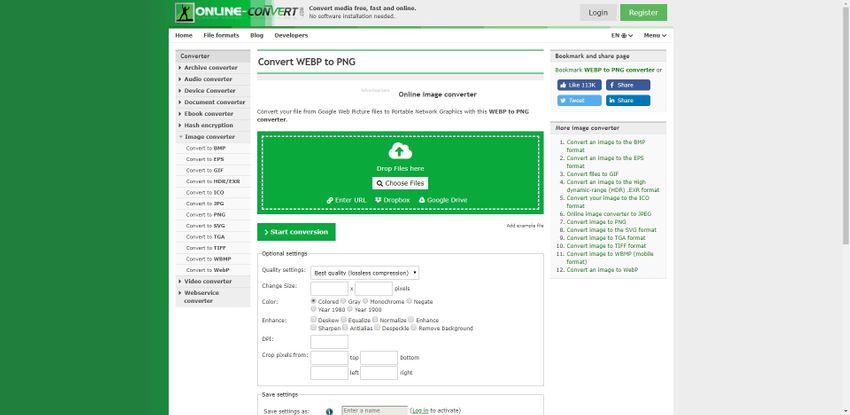 URL: https://jpg2png.com/
If you are looking for any online platform to convert your JPG file to PNG in hassle-free and straightforward steps, then you should use JPG2PNG. This online tool is specially made to save JPG files into PNG format, and there are be no hidden charges or paid versions of their services. You can translate the whole conversion page in 12 different languages, including English, François, etc. You can upload up to 20 JPG files at once and convert them altogether.
Pros:
Very easy and simple to use.
There are no charges or registration fee to convert your JPG files into PNG.
Con:
It only takes JPG image format as input but not any other.
You can upload only 20 files at once.
JPG2PNG Conversion Steps
Step 1. To convert JPG file into PNG, click on the link given above in the title. You can see that there is an option to change language from the button given at the top. You can add file or files by clicking on "UPLOAD FILES" button.
Step 2. When you will click on the UPLOAD FILES button, it will pop up a new window. You can select the JPG files from it. However, you need to make sure that your JPG file is in your computer because it won't upload files from any online source.
Step 3. After uploading the files wait for a few seconds to get them converted into PNG files. When it is done, you will get DOWNLOAD button on every image, so that you can separately download the one you want. You can also download all of them at once by clicking DOWNLAOD ALL.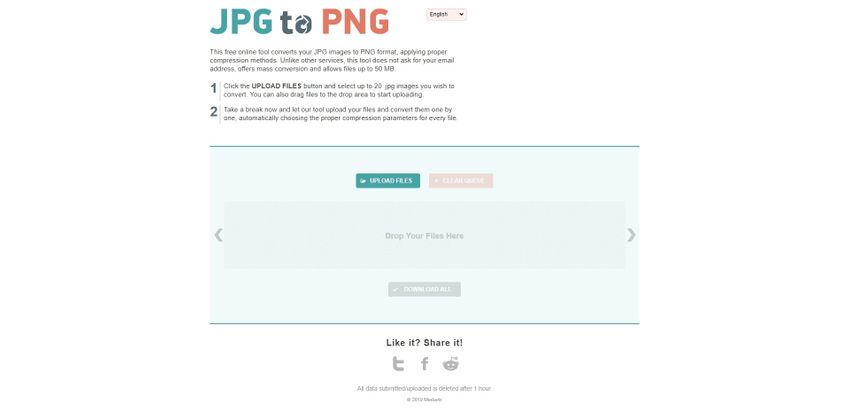 URL: https://convertio.co/png-converter/
One of the most popular online file converter to PNG is Convertio that will take all kinds of files as input which you can convert to PNG. So, if you want to convert a lot of files into PNG format then Convertio is your one stop solution where you can convert any file from PDF, JPEG, TIFF, AI, etc. You can convert 100MB of total file in free account and unlimited size in paid version. This online tool is ultimate place for all your PNG conversions because it offers approximately 250 types of PNG conversions.
Pros:
You can upload files from online sources like URL, Drive, Dropbox, etc.
High quality image conversions.
Con:
You can upload only up to 100MB of files in free version.
To get advantage of all features of this converter, you need to register with paid account.
Conversion Steps for Convertio
Step 1. Get to the image to PNG conversion page of Convertio by the link provided above. There is no need to sign up; you can directly add the file to convert it into PNG. Either drag and drop or click on From Computer to upload files from the computer. You can click on online source upload options that are given next to it; those are Dropbox, Google Drive, and URL.
Step 2. You can add any type or kind of file like EPS or encapsulated post script file in the image given below. You can add as many files you want but they should be a maximum of 100MB in size. After uploading all the files, you want to convert in PNG, click on Convert button.
Step 3. Now, simply click on Download button which will appear when files will be converted successfully.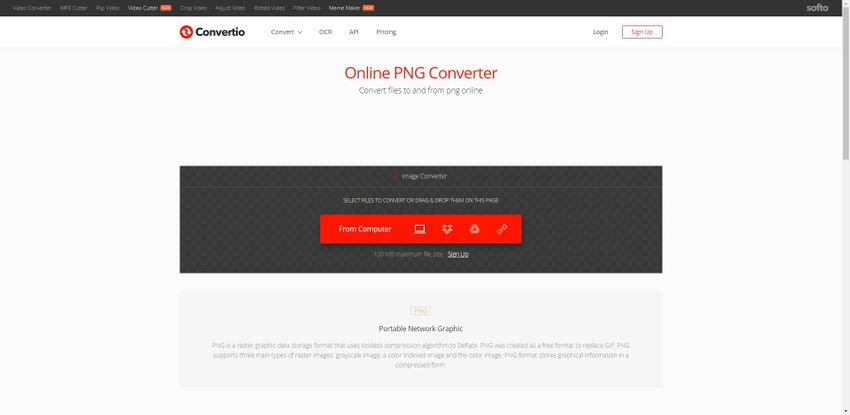 Part 2. PNG Extension Knowledge
a. What is PNG File?
A PNG file stands for Portable Network Graphic discovered for the combined use or images with JPEG format and GIF format with the lossless and high-quality feature. Nowadays, the PNG format of pictures is widely used in web designs as it gives in the transparent or semi-transparent background to the image. Although PNG has gained the same amount of popularity as JPEG and GIF, it doesn't support animations. However, it is widely used by people because it retains the higher quality of the image. Even if you transfer or resave, the contrasts and color bands will remain the same. It is a widespread image file format, and you can access it on almost every image viewing or editing software as well as application.
b. How to Open PNG?
If you are a Windows user, then you don't need to worry about opening a PNG image because Windows Image Viewer has a default setting of an opening PNG image. However, you can use many other ways to open a PNG file like you can use your browsers, Internet Explorer, Chrome, Safari, Mozilla, etc. Internet browsers have automatic settings to load a PNG image, and this means if you have any PNG image on the web, then you don't have to download it to view it. You can easily see it on the browser itself. Also, if you want to view any PNG image in your computer on your browser then select the model and use shortcut Ctrl+O. Apart from Windows Image Viewer, there is various other standalone software which you can use to open PNG files like Google Drove, Adobe Photoshop, and Windows 10 Paint 3D.
c. When to Use PNG Format?
The PNG format is widely used because it can be used for GIFs as well as JPEGs. However, both may need different versions, i.e., PNG-8 and PNG-24, respectively. If you want to use the image for any sort of web images, like logo, etc. then PNG should be your only option as it has excellent transparency and fade feature. Also, if you are editing any image then do it in PNG format because it has a lossless quality feature so neither your image will be compressed nor degrade its quality. If you are a photographer or have a high graphic or broader color band images, then use them in PNG format because they retain their high quality, as well as they, will be accessible on every device and software.
Summary
Among various image formats, PNG is one of the most used, and at the same time, its lossless and accessible feature makes things easier. So, you can convert all those non-PNG format files into PNG and keep them easily in your offline or even cloud storage with the help of converters discussed above. You can choose the best online converter that you find the best for your use from all the top converters that are listed above.