GIF has become an essential medium for sharing brief and mostly funny video clips. As social media grows, more and more people are sharing GIFs regularly. Everyone should be aware of tools that can be used to custom GIF. GIFs are available to be downloaded on different websites as well. There are a lot of tools that are available both online and offline and can be used to create your own GIF. In this article, you will be introduced to some of the best ways to make GIF online as well as offline. You will also be told about various sources from where you will be able to download GIF files.
Part 1. Make Custom Animated GIFs Online Free
There are many tools that allow you to create awesome GIFs online without having to download the software on your device. The following are some of the best tools available online that can be used to make GIFs.
Online UniConverter - Customize GIF Online Easily
URL: https://www.media.io/gif-maker.html
Online UniConverter allows you to create GIFs by yourself from images and videos. You can also custom GIF with frame rate, output width and height, resolution, and watermark easily with real-time preview. Online UniConverter is totally free to use, without any ads and watermarks added to your created GIFs. You can also find more other functions like video/audio/image converter, editor, compressor, etc.
Main Features:
Supports image formats like JPEG, PNG, BMP, JPEG, etc. and video formats including MP4, MOV, 3GP, AVI, WMV, FLV, etc.
Free to use without any watermark or ads.
Customize GIF with multiple output settings.
Benefits:
Create GIF from video, including paste URL.
Preview the GIF results by real time.
Drawbacks:
Videos up to 500MB or images larger than 10MB are not free.
[没有发现file]
makeagif is a great tool that allows you to make GIF out of videos and images. This tool will enable you to browse through a library of thousands of GIFs. You can also use it to convert various videos and pictures into GIF. This tool will allow you to save images or videos by directly pasting the URL to it. This is a speedy tool that is easy to use and requires no skills. It is completely free to use and you can visit the site with the link above.
Main Features:
It supports various formats of images like JPEG, PNG, RAW etc. and videos formats like 3gp, MP4, WMV, FLV etc. to be converted into GIF.
No limit over no. Of conversions per day.
It also serves as a GIF library.
Benefits:
It is free to use and has minimum ads.
You can browse through various categories of GIFs and even download the one you want.
Drawbacks:
There are fewer customization options in this tool if you are a free user.
All the files you convert into a GIF from this site will have its watermark until you pay for their premium services.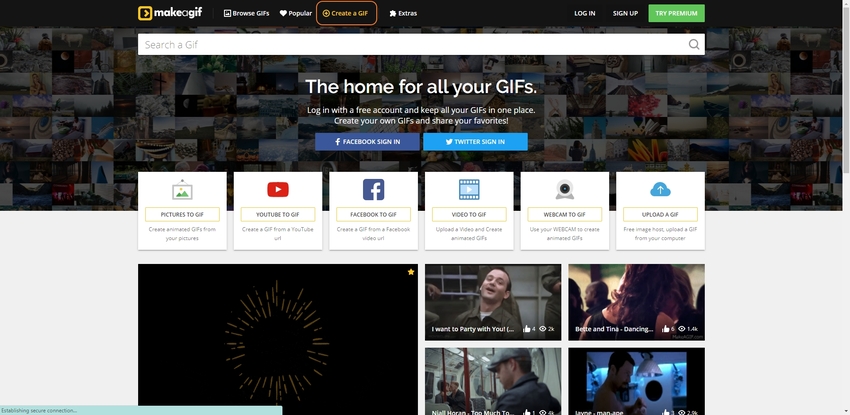 URL: https://giphy.com/create/gifmaker
GIPHY is undoubtedly the best GIF related tool of all times. GIPHY has a plethora of high-quality GIF files in their collection, and they are divided into different categories. This tool has its browser and mobile keyboard application extension, which allows you to share GIF with your friends easily. It also provides a competent GIF-making tool that is very simple to use and can help you create high-quality GIFs easily. There are no ads on this website, and it is entirely free to use a well.
Main Features:
It allows you to merge various images together and create a Slideshow GIF.
It is the biggest GIF library available on the internet.
You can create high quality GIFs out of images as well as videos by using this tool.
Benefits:
There is a very minor loss in quality when you convert an image or a video to GIF.
This tool is completely free to use and there are no additional subscriptions.
Drawbacks:
The user interface is extremely heavy which makes the processes slower and the download speed is slow sometimes as well.
There are limited sets of stickers or editing that you can apply over a GIF.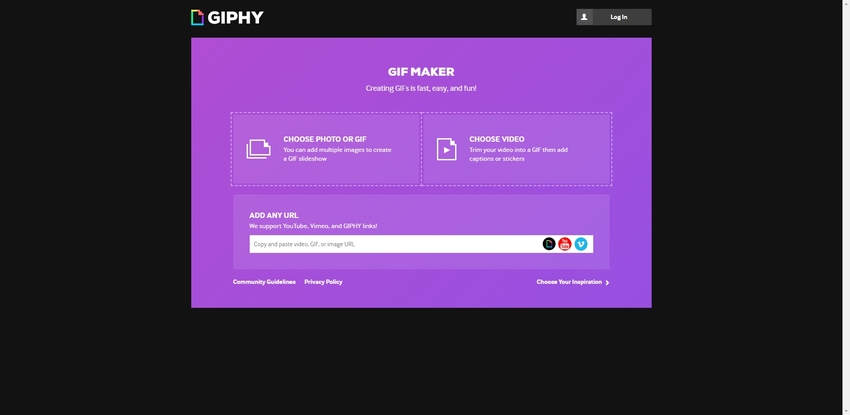 URL: https://imgflip.com/gif-maker
IMGFlip is simple and easy to use tool that can be used to convert images and videos into high-quality GIF files. This tool boasts of a simple user interface that also allows you to save your creations on their cloud server under your account. It supports video formats like MP4, FLV, WMV, WEBP, etc. And also image formats like JPEG, PNG, RAW, etc.; so that they can be converted into high-quality GIF files. It is entirely free to use and doesn't require any installation. You can save files present in your local store, or you can directly paste the source URL of the file, and it will convert it into GIF.
Main Features:
You can store your creations online by simply logging into their site.
It allows you to convert various types of images and videos into GIF.
The editing doesn't take a lot of time as it is very fast.
Benefits:
It is a great tool for beginners as it is very easy to use.
There is a support for image formats like JPEG, PNG, BMP etc. and video formats like MP4, FLV, QuickTime etc.so that they can be easily converted to GIFs.
Drawbacks:
This tool leaves its own watermark on every GIF you make by using it.
The GIF library of this tool isn't regularly updated hence there aren't a lot of GIFs in there.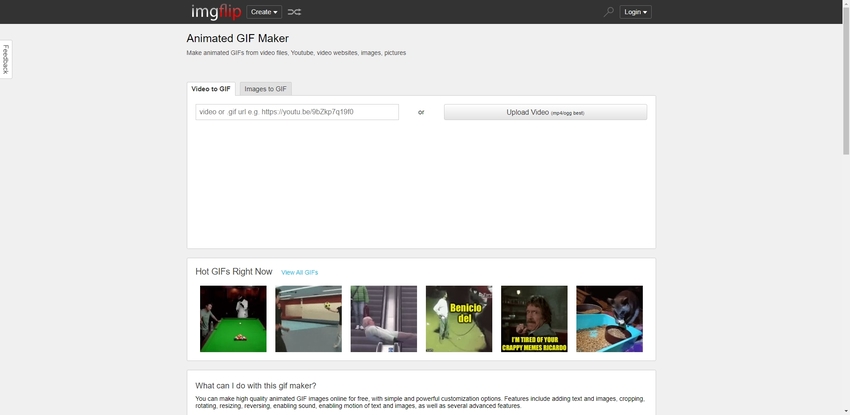 This is one of the most underrated GIF editors and makers available on the internet. This tool is entirely free to use and is capable of editing, making, and optimizing your GIFs. You can edit various video and images formats using this tool. It offers editing features as well so that you can crop, resize, flip, and add effects with your GIF files. It allows you to upload multiple images together and also to upload .zip image files and create a GIF out of it. This tool supports up to 6MB sized videos and pictures to be converted into GIF. This tool is straightforward to use, which is why beginners, as well as experienced editors, use this tool regularly.
Main Features:
It allows you to cut, trim, crop, rotate, add text and optimize your GIFs very easily.
It can help you to create GIFs out of all the major video and audio formats.
This tool is completely free to use and has a very clean user interface which enhances the user experience with its versatility.
Benefits:
Support multiple editing and conversion features for GIFs optimization.
This tool is completely free and extremely versatile.
Drawbacks:
There are a lot of ads on the website which may be confusing for some people.
There are a lot of ads on the website which may be confusing for some people.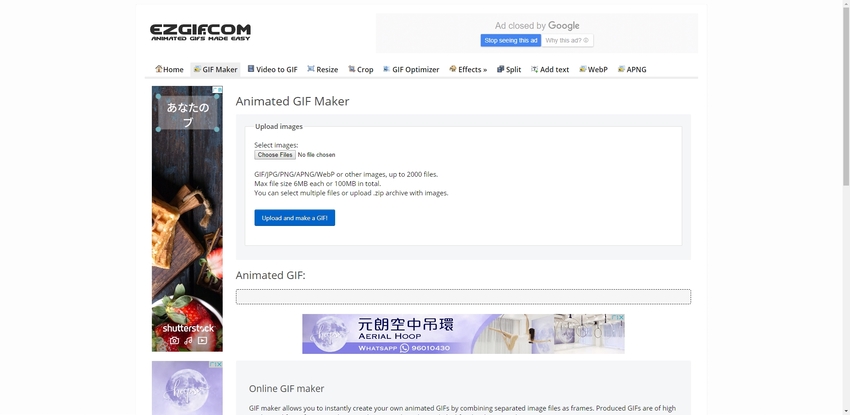 Part 2. Creating a Special GIF in Wondershare UniConverter
Wondershare UniConverter is a potent online tool that can be used for a lot of significant editing and conversion processes. One such feature is creating GIF. You can create GIF from photos as well as videos, and it also gives you an option to create GIF with sound as well. Wondershare UniConverter can also be used to record your screen, and it also has a cast feature, which allows the user to cast their device's screen on a smart television. All these features make it a potent and versatile tool that is capable of handling nearly everything you throw at it. It supports conversion for all the primary image, video, audio, and text format and can be used for cropping, trimming, merging, and speed manipulation of videos. This is free to use tool that can be downloaded from the official website for various platforms like Mac, windows, etc.
Wondershare UniConverter
· Capable of basic editing features for videos.
· Supports conversion for videos, images, and audios.
· It can be used to create stunning GIF.
· It is up to 30X faster than regular online tools.
· It supports batch file conversions.
How to Make a GIF?
Making a GIF using Wondershare UniConverter is very easy and convenient; you can follow the following step to convert a video clip into a GIF.
Step 1. Download, Install and Run Wondershare UniConverter
Download, install and run Wondershare UniConverter, click on the Toolbox icon and select GIF Maker option.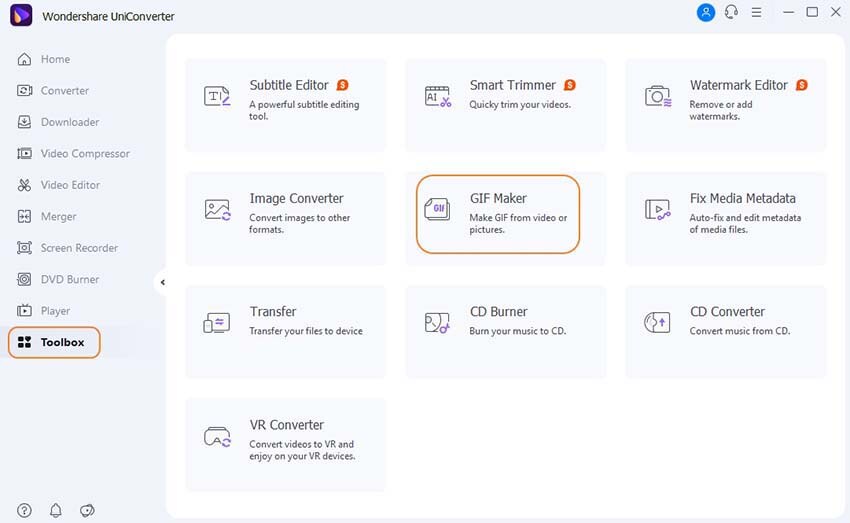 After clicking on GIF Maker, you will be redirected to a new window. Here you will notice two options on top, Photos to GIF and Video to GIF, select your preferred mode (for this guide the way is set to Video to GIF).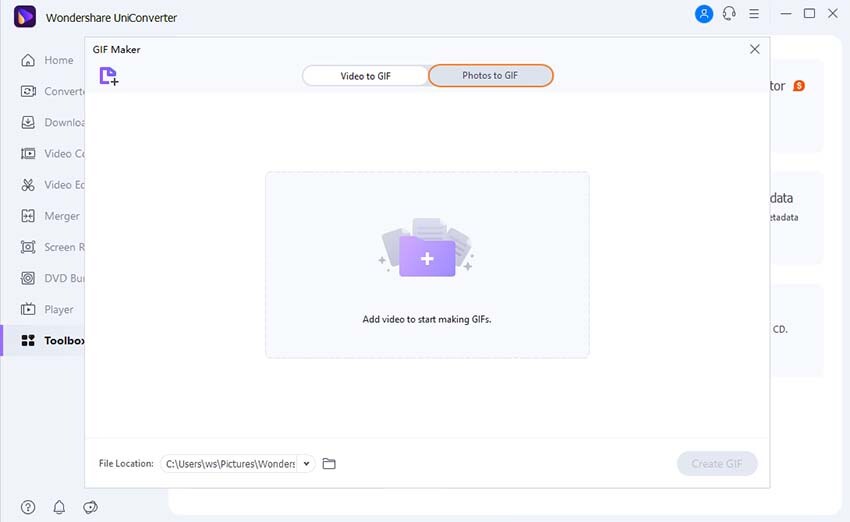 Step 2. Add the Video You Want to be Converted into a GIF
Click on the + Add Files button and choose your desired video that you want to convert into GIF.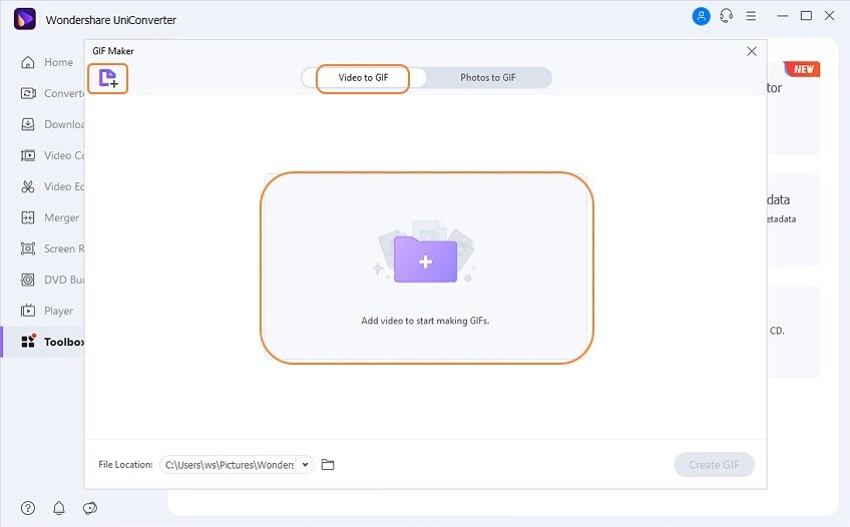 Step 3. Set Your Preferences
On the right-hand side, you will notice various aspects like output location, frame rates, and output size. You will also see the timer setting. Set the start and end of the clip you want as a GIF from the video and other aspects according to your preference.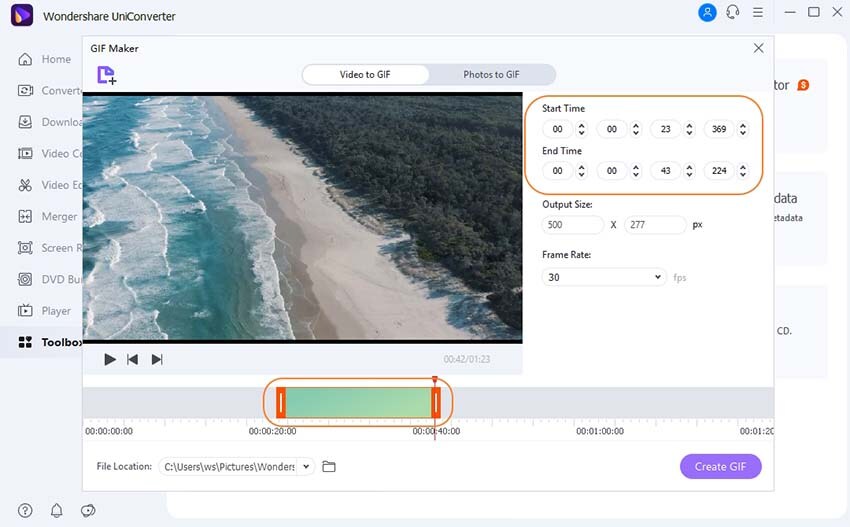 Step 4. Create and Save Your GIF
Now, click on the Create GIF button present on the bottom right corner and your GIF will be created and stored in your hard drive.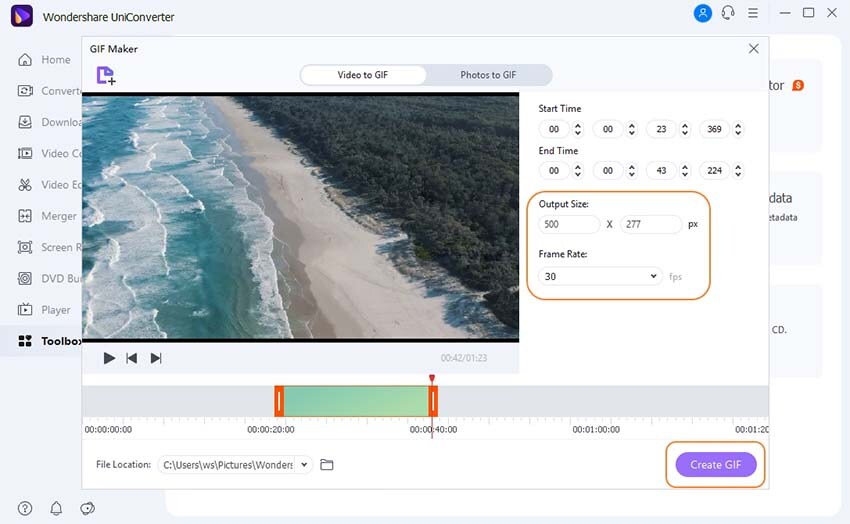 After reviewing all the steps for Wondershare UniConverter, you could try it by yourself now. It is effortless to create a GIF in two ways, which is photos to GIF and video to GIF.
Part 3. Free Sites to Download Animated GIF
URL: https://tenor.com/search/animated-gifs
Pros:
Tenor has got a great recommendation system that suggests you GIFs according to the latest trends.
Tenor is completely free to use and users can also upload their own GIFs for free.
Con:
This tool doesn't allow the users to make or edit their own GIF file.
The website is a bit slow at times.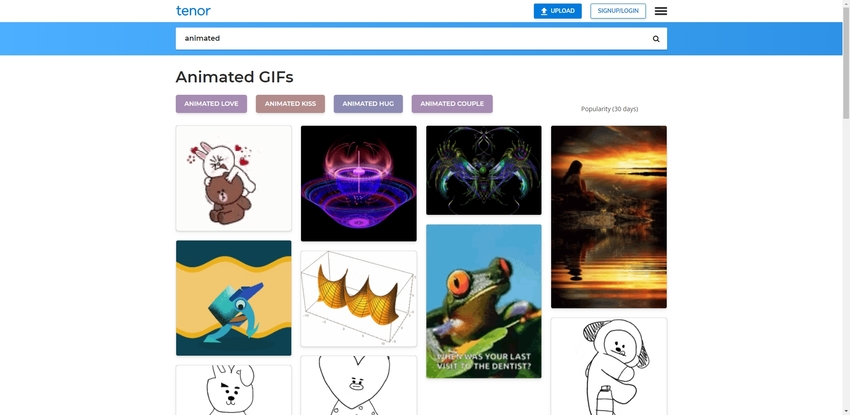 URL: https://giphy.com/explore/animated-gif
Pros:
Giphy has got the largest collection of latest GIFs available online and that too for free.
It also allows the users to create and upload their own GIFs on their website.
Con:
A lot of features on this tool are paid.
GIFs made with tool can sometimes lose quality.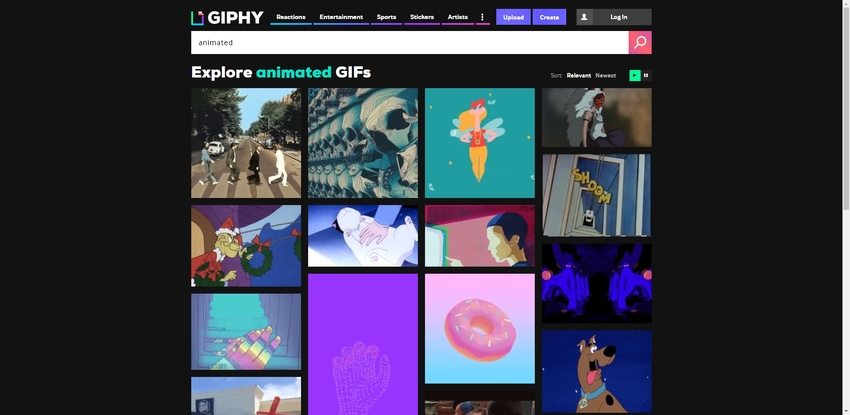 Summary
If you ever came across the question, how to make high-quality GIFs, then all the tools mentioned above will be of great help to you. The online and offline tools mentioned above are free to use and can be used without specific skills. The links to all the online tools are mentioned above only. The two websites mentioned for downloading and sharing GIF files can be used to avail the best and latest GIFs according to your needs.