A lot of people use DSLRs nowadays, which can be for professional or private use. These single-lens reflex digital cameras are best to capture high-quality images, and that is why people prefer it over any other digital camera. If you are using a Canon camera, then you will get image files in CR2 format. CR2 stands for Canon Digital Camera Raw Image Format. It is not so common for regular use, or you can say that you have to covert this image format into any other standard forms to open them on a smartphone, Microsoft image viewer, and others.
The best option is to use a CR2 to TIFF converter. There are a lot of software and online websites that provide the services of converting files from CR2 to TIFF format without losing their quality. Those tools do it with a quicker and easier process. To save your data, you can choose the best and suitable converter from some of the top-rated ones that are discussed further in the article.
Part 1. Online Methods to Convert CR2 to TIFF for Free
URL: https://www.media.io/image-converter.html
Online UniConverter is a web-based online tool for you to convert and compress images, videos, and audio files for free. There is a free trial area below, and you just need to upload or drag and drop your CR2 image file to the function area, select the TIFF as the output format, then click the Convert button to start the CR2 to TIFF conversion.
---
URL: https://convertio.co/cr2-tiff/
Among various online CR2 to TIFF converters, Convertio is one of the leading platforms to convert images online with easy and simple steps. You can upload a file from your computer as well as cloud storage platforms, i.e., Dropbox or Google Drive. You can directly enter the URL of the image if it is on some other website. This platform is so effective that you can easily convert up to 100 MB of image files within just a few seconds. It also has other tools like Video Converter, Document Converter, Ebook Converter, Audio Converter, and few more.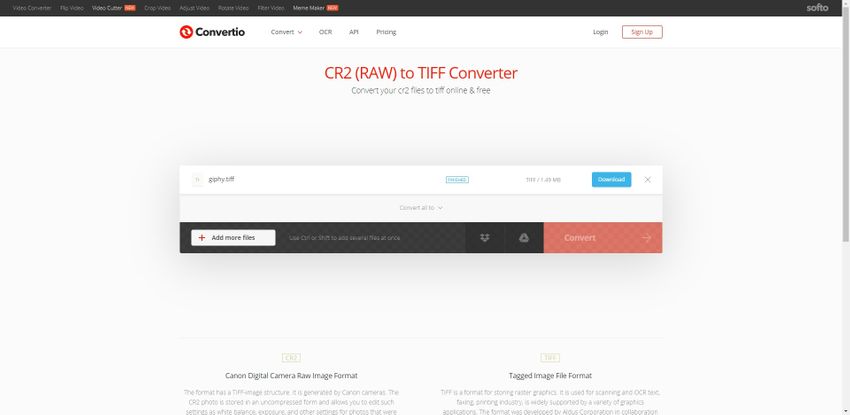 URL: https://www.zamzar.com/convert/cr2-to-tiff/
Another best and easy to use online CR2 to TIFF converter is Zamzar. This is very popular among people since its existence on the web and currently has millions of registered active customers. Like Convertio, it also has the feature of converting offline as well as online files, i.e., from cloud storage or any URL. This popular conversion platform supports more than 100 formats which you cannot find in any other online or offline format conversion tool. You can make unlimited conversions on this website, and the files can be up to 2GB in total size. Their conversion process is five times faster than any other conversion platform.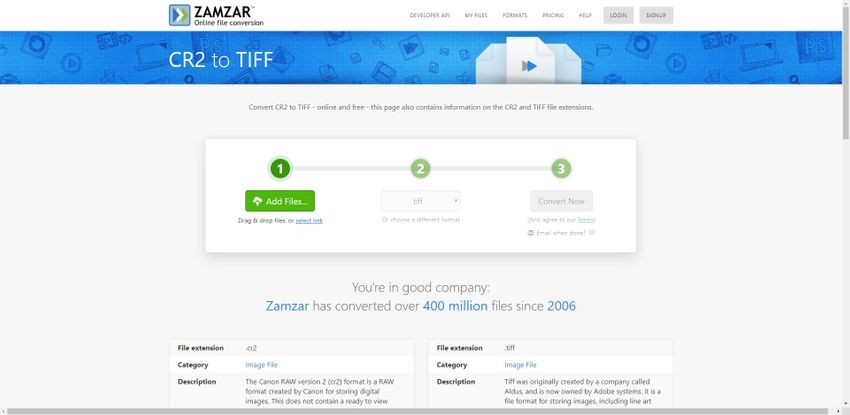 URL: https://www.onlineconverter.com/cr2-to-tiff
Online Converter is a straightforward online conversion platform to convert files from CR2 to TIFF. This platform assures high-quality conversions i.e.; you won't be losing the quality of the images. Also, this platform allows input files of up to 200MB and output of up to 1GB. The maximum file conversion execution can be of 15 minutes. However, if you are converting multiple large files, then it would slow down the process or take a few extra minutes. You can also convert EBooks, videos, documents, and audio files.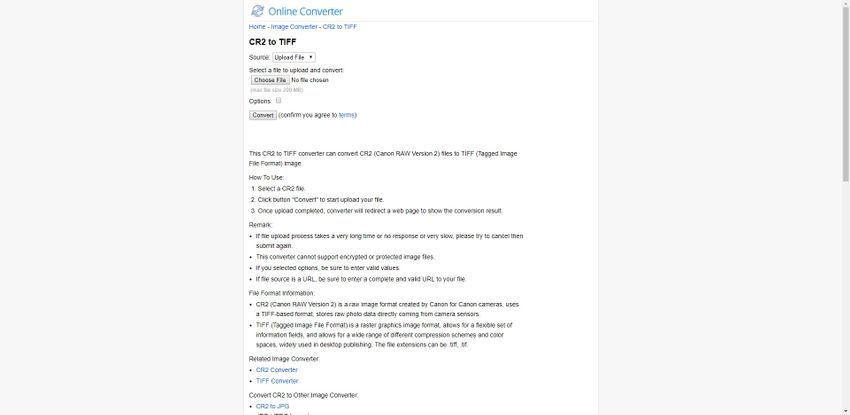 URL: https://www.coolutils.com/CR2-to-TIFF
CooUtils is a CR2 to TIFF converter software to convert the format of your images from CR2 to TIFF in a few and simple steps. This software is reliable to convert your CR2 photos to TIFF and many other formats within a few seconds. You can use it on Windows Vista, 7, 8 and 10. However, unlike other platforms, it is a paid version, but the charge is too minimal for all the features it provides to its users. This software is efficient enough to convert all kind of graphic files without compressing its quality.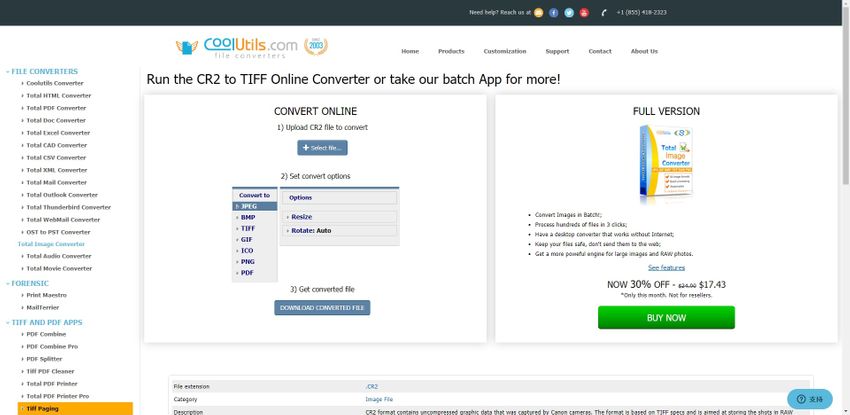 URL: https://www.freefileconvert.com/cr2-tiff
Free File Convert is an online platform to convert your images from CR2 to TIFF. This online platform provides you quick and bulk conversion services in which you can upload up to 5 files at once, and they should be of a maximum size 300MB combined. The website offers you more than 8300 output formats, which include an image, video, doc, audio, ebook, archive, and presentation files. The site is also famous for PDF conversions and other services like PDF compression, encryption, decryption, and split. You can do all of these things in straightforward steps without any error or delay.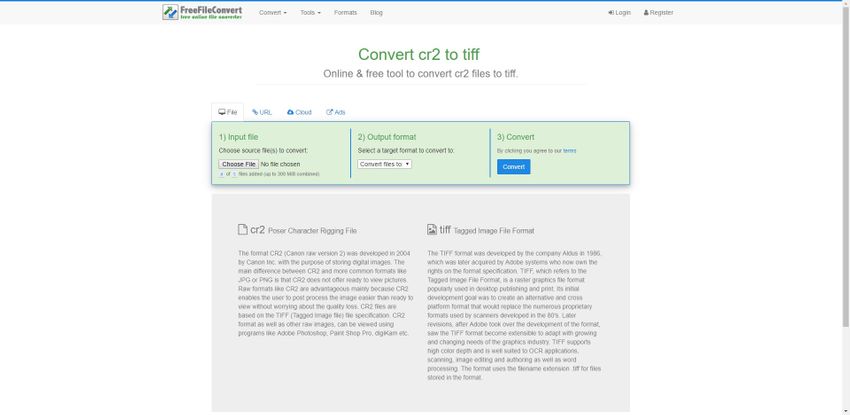 Comparison Table
| | Convertio | Zamzar | Online Converter | CoolUtils | Free File Convert |
| --- | --- | --- | --- | --- | --- |
| Online Free Converter | YES | YES | YES | NO | YES |
| Converter Software | NO | NO | NO | YES | NO |
| Convert cloud stored files | YES | YES | NO | NO | YES |
| Unlimited Conversion | YES | YES | YES | YES | YES |
| Faster Conversion | YES | YES | NO | YES | NO |
| Multiple File Upload | YES | YES | NO | YES | YES |
Part 2. Effective Converter for CR2 to TIFF Convert
If you are looking for the best software to convert your image files from CR2 to TIFF, then you can try WonderShare UniConverter. It is one of the most popular software that is available for free to download. You can convert or edit your images on this software without losing their original quality. Apart from CR2 files, you can save 60 other formats of files on this software.
Wondershare UniConverter
· It can convert images of 60+ formats into four most common forms, i.e., JPEG, PNG, BMP, and TIFF.
· It has an inbuilt image editor with which you can crop, resize, add and adjust effects on your image.
· You can add yours or organization's name watermarks on the images with this software.
· You can convert and edit videos from thousands of formats.
· You can transfer image and video files between PC or Mac and devices like smartphones, iPad, iPod, etc.
How to Change CR2 to TIFF
Step 1. Download and Install the Software on your Computer
At first, you have to visit their website, i.e., https://www.media.io/video-converter-desktop.html, where you will get the option of downloading the software for free. They are available in both the formats, i.e., Mac and PC. After downloading the software, install it on your computer.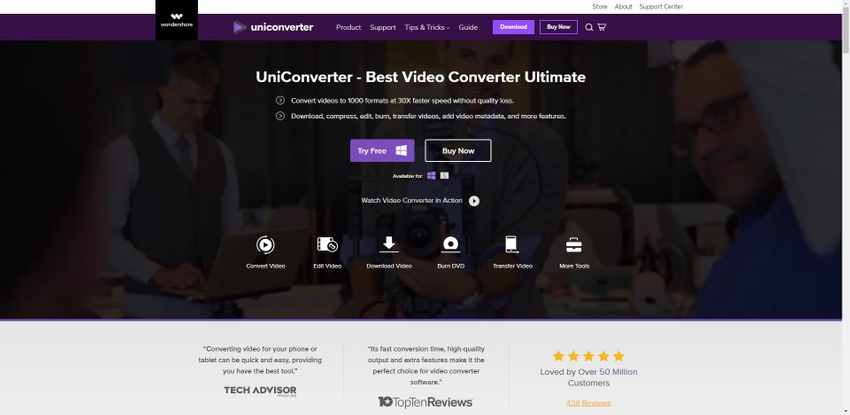 Step 2. Launch the Software
Once the software is successfully installed, launch it and jump to the Toolbox section to convert your images from CR2 to TIFF. There you will get the tab of Image Converter which you have to select to enter the image converter panel.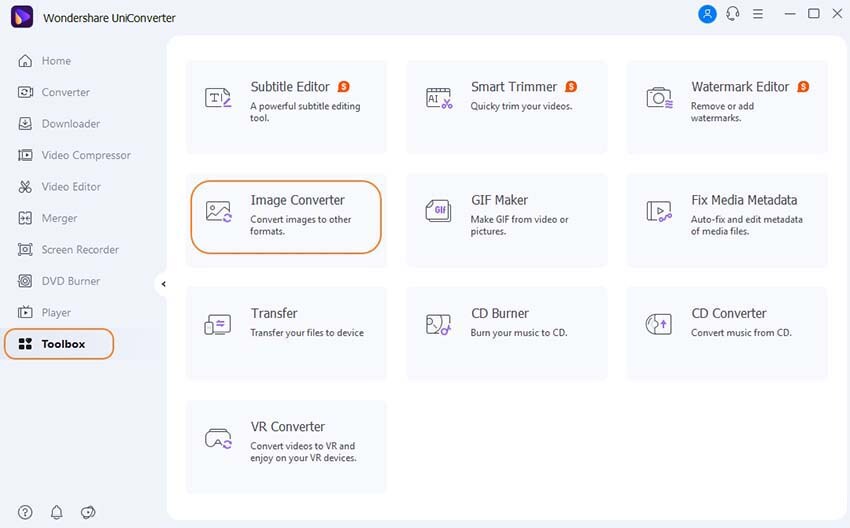 Step 3. Add Images to be Converted
When you enter the Image Converter panel, you can see a large + icon in the middle of the screen which you have to click to convert your files. By clicking on this icon, you will get a window to add images from your computer to the software. Once all the pictures are selected, click on the Add button.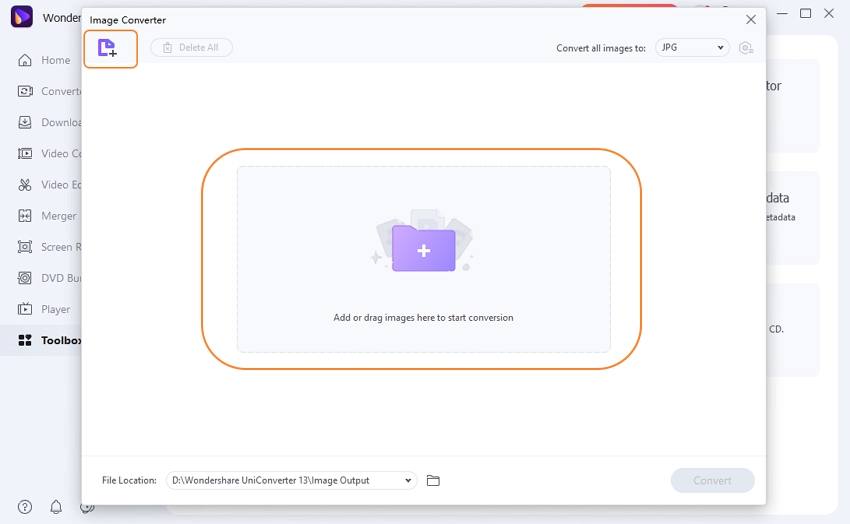 Step 4. Choose the Output Format as TIFF
When all the images are added, you can convert all of them at once. Just select the Select All button given on the top and then choose the TIFF format from the drop-down menu of Convert All Images to. As you can see in the picture, there are four output formats, and that means you can choose any of them to convert your images, but right now you need TIFF images, so click on the fourth option from the list.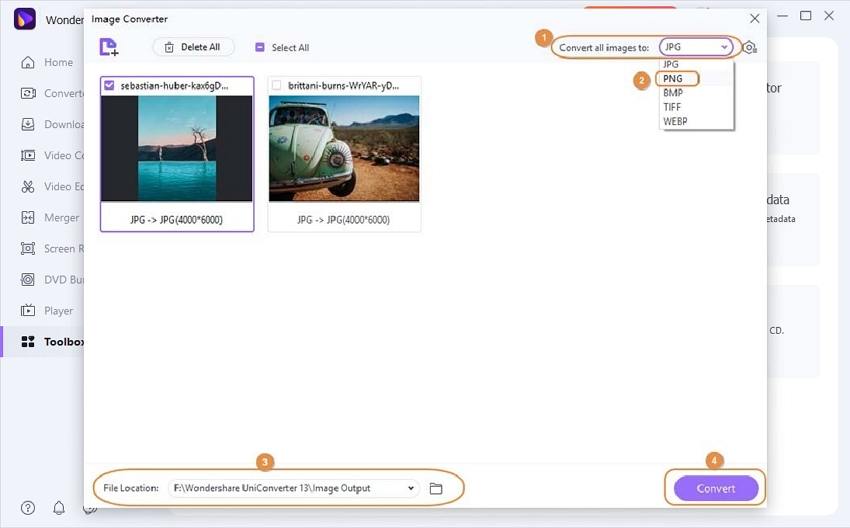 Step 5. Adjust the Quality Setting
To adjust the quality of the image, you have to click on the Settings icon that is given on the right side of Convert all images to menu. This will provide you with a small window where you can either select "keep original size" button to keep its quality unchanged or you can also adjust it by yourself. Once you are done with it, click on the OK button.
Step 6. Choose Output Destination and Convert Images
Now the last step is to choose a destination to save converted files which you can select by clicking on the Folder icon given at the bottom of the window. However, the software automatically creates a new folder for output files, so if you don't want any specific destination, then you can skip this part and let the images be saved in the software's output folder.
When everything is set according to your preferences, you can convert the files by clicking on Convert button given at the bottom right of the window. This will immediately start the process and will turn the data within seconds.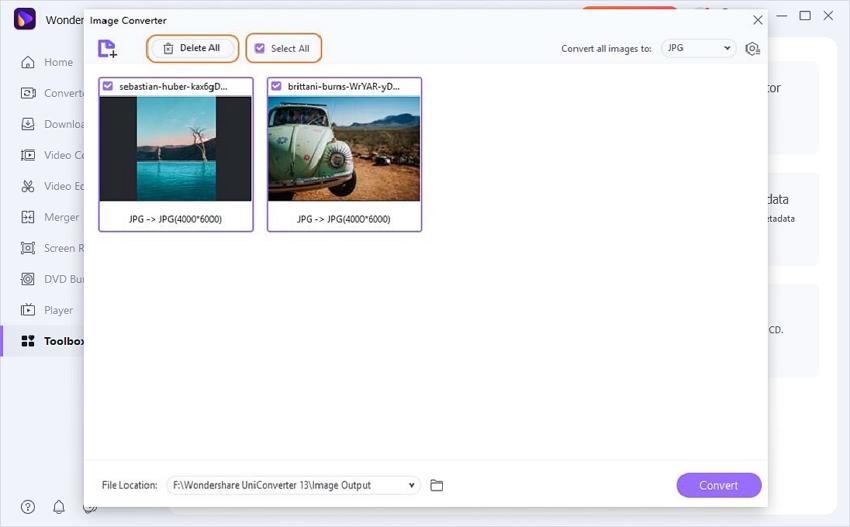 Free Download Windows and Mac version of Wondershare UniConverter. Try it now!
Summary
Thus, if you want to convert raw files clicked from your Canon, then you have various options from online tools to computer software that is discussed above. However, if you want to use the best one, then you should go with WonderShare UniConverter which is available for free limited use as well as paid unlimited use. This will be the best tool to have in your computer because you can not only convert CR2 to TIFF format but also other formats and you can also edit images, save videos and share all kinds of files.