If you are unable to view or use any picture in your computer, tablet or smartphone that you clicked from your Canon Camera, then you will need an excellent image converter to convert the current format of the file into one that will support your devices. The images shot from Canon are saved with the extension of CR2 (Canon RAW version 2). Canon Inc. develops this extension, and it doesn't support some ordinary image viewers and editors like Android Image Viewer, Microsoft Image Viewer, etc. although it is the RAW form of image and stores one of the highest quality of vision, it creates difficulty for users when it comes to access it in different devices.
Thus, you can use an image converter to convert CR2 to PNG format and then access it quickly in any software or application. You can get an excellent CR2 to PNG converter as an online tool as well as free software. If you are looking for the best ones in the market, then check out these fantastic converters discussed further.
Part 1. Top 6 Free CR2 to PNG Online Converter
URL: https://www.media.io/image-converter.html
Online UniConverter is a web-based online tool for you to convert and compress images, videos, and audio files for free. There is a free trial area below, and you just need to upload or drag and drop your CR2 image file to the function area, select the PNG as the output format, then click the Convert button to start the CR2 to PNG conversion.
---
URL: https://www.onlineconverter.com/cr2-to-png
Online Converter is a very useful tool where you can convert CR2 to PNG image formats. This online platform is free to use and that means you can convert unlimited number of files without paying a dime. Online Converter is used widely used all over the world and there are millions of active users on this site. Due to its high quality conversions as well as free availability, people prefer it more than any other online converter. You can upload up to 200 MB image files and get maximum output of 1GB, total in size. No matter how big or how many files are there to convert, it will do the job within a few minutes.
Pros:
Unlimited number of CR2 to PNG conversions for free.
Simple 3 step process to convert all kind of image formats.
Con:
You cannot convert multiple numbers of files at once.
You cannot convert secured or encrypted image files.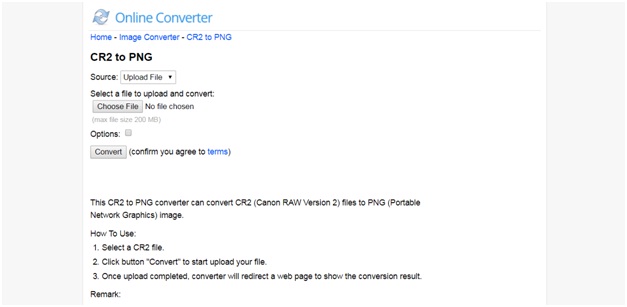 URL: https://www.zamzar.com/convert/cr2-to-png/
Zamzar is a standard online conversion tool where you can convert unlimited image files and it could be as big as 2GB in total size. You can easily convert your CR2 file in PNG and various other image formats within in few seconds. Zamzar is so popular that it has millions of active users and you can not only convert image on it but many files like videos, doc, audio, etc. The best feature of Zamzar is that it converts the files so quick that no other platform can do that.
Pros:
Downloads at five times faster speed than any other online conversion tool.
Converts an unlimited number of files, every day.
Con:
To use unlimited conversion feature, you have to register and buy an account.
You cannot use it offline. There has to be functional internet connectivity.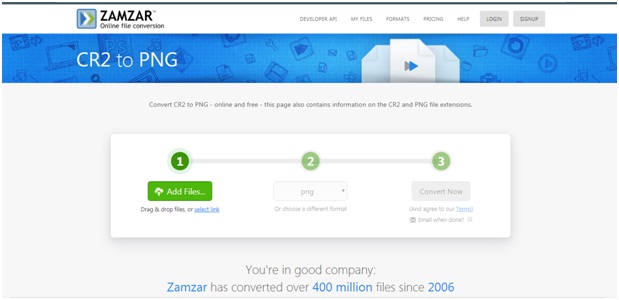 URL: https://convertio.co/cr2-png/
To convert your CR2 files for free, you can sign up on Covertio as this online tool offers free services of image conversions. However, if you want to use more features, then you can buy the paid account. The paid report provides an unlimited number of conversions every month, and there will be no threshold for the maximum files size of conversions. You can also use the free service that offers up to 100MB of total conversions every day.
Pros:
You can convert your CR2 files for free and get a high-quality conversion.
You can also convert files directly from any URL or any cloud storage site like Google Drive or Dropbox.
Con:
You need to pay every month for unlimited conversion.
Free service only allows up to 100MB of conversions.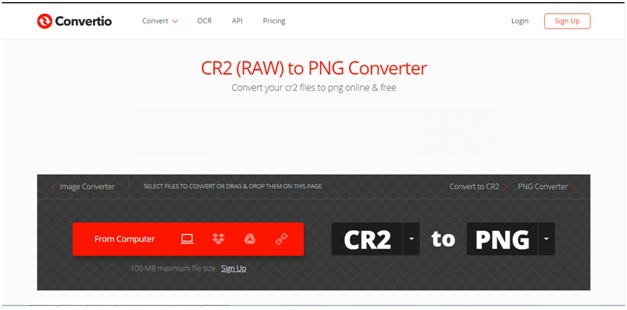 URL: https://cloudconvert.com/cr2-to-png
If you want to use proper online CR2 to PNG converter without buying paid accounts, then you can rely on the services of Cloud Convert. There are free as well as paid plans available on the site. You have to sign up with anyone to use this fantastic tool. The Free Plan offers up to 1GB conversions, and you can use it for 25 minutes in a day. However, if you need to convert files in bulk or more than five files at once, then you might have to buy a paid account because Free Plan allows only five concurrent conversions.
Pros:
Free version allows total 1GB of conversions which you won't get at any other online tool.
Can upload and convert unlimited size file with paid account.
Con:
Free plan is comparatively slower than the paid plans.
You need to have good internet connection to use this tool.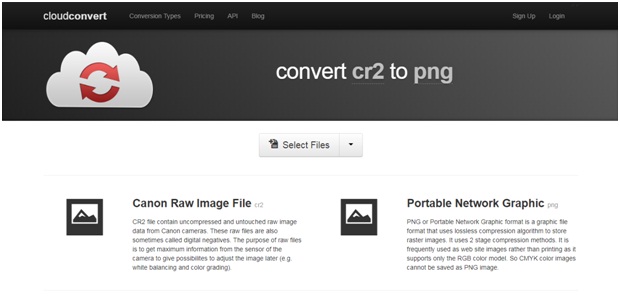 URL: https://www.freeconvert.com/cr2-to-png
If you are looking for an online CR2 to PNG converter which doesn't require any signup or paid account to use all the features, then you can visit Free Convert. This website offers unlimited conversions of your CR2 file into PNG. The maximum limit of bulk files is 200MB, and you can use multiple secret data at once. You can upload files from your computer, or you can also upload and convert files directly from your Google Drive or Dropbox a well as you can enter the URL of files' location.
Pros:
There is no requirement of signup or installation for using this online tool.
With functional internet connectivity, you can convert files easily from your PC, Mac, or Mobile browser.
Con:
Output images may not be high quality or the same as before.
Although it is free to file conversions might take a little longer than usual. It is slow.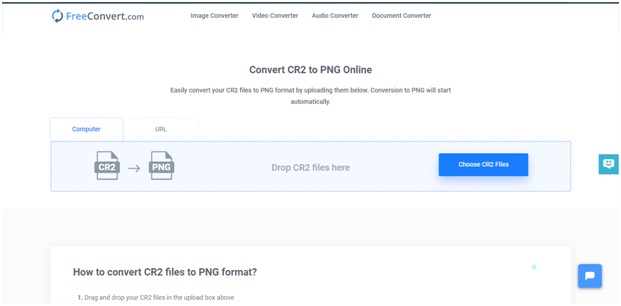 Part 2. How to Convert CR2 to PNG
Wondershare UniConverter is a CR2 to PNG converter software, and it is trendy among PC and MAC users. This is a pro-image converter, and this is all you will ever need because apart from converting image formats, you can also convert videos and documents in it. The best thing about this software is that you can edit your images while converting them and make them the way you want them to be. You can add more than a hundred types of formats in it and transform your picture into four most commonly used forms, i.e. JPEG, TIFF, PNG, and BMP. Other features of this software are Screen Recording, GIF maker, File Media Metadata, CD Burner, VR Converter, etc.
Wondershare UniConverter
· Support batch photo conversion.
· Convert picture to JPG, PNG, BMP, TIFF, GIF, and other image formats.
· Convert image to PNG or specific devices formats without any trouble.
· Transfer converted files from PC/Mac to external devices easily via a USB cable.
· Versatile toolbox combines Image Converter, GIF maker, video compressor and screen recorder, and others.
Pros:
You can edit the image with features like crop, filter, add watermarks, rotate, adjust the height, etc.
Transfer all kinds of files from your PC or MAC to any iDevice or Android Device.
Download unlimited videos for free from online streaming sites.
Con:
Unlimited use is only allowed in a paid version of the software.
You have to buy the premium version to unlock all the features of the software.
Only works on a PC or MAC but not on any Smartphone or Internet Browser.
Convert CR2 to PNG with Wondershare UniConverter, step by step process
Step 1. Download Wondershare UniConverter
The first step is to download it on your computer. To download it, you can visit https://videoconverter.wondershare.com/. Here, you will find two versions, i.e., Windows and Mac. You can download your compatible version. Also, there are both paid and unpaid versions for the software. Download the free one; once you are satisfied with the features, then you can buy it.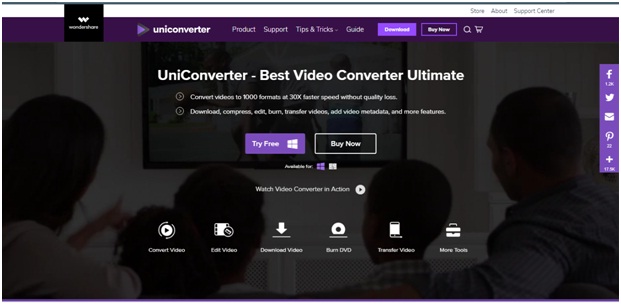 Step 2. Install and Launch it on your computer
When the software is downloaded, install the file. Once it is successfully installed, launch it. Switch the Toolbox section given on the top bar of the window.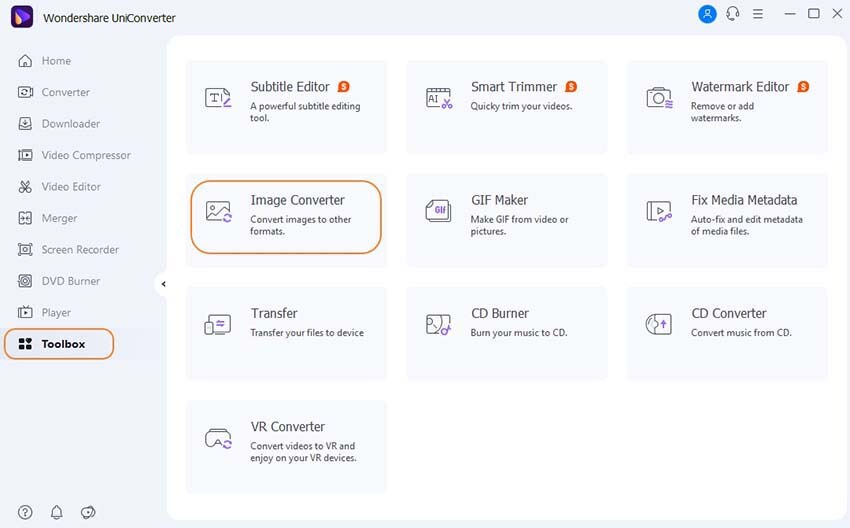 Step 3. Open Image Converter and Add Files
You will get a lot of boxes in the Toolbox section. The first option is of Image Converter, click on it to convert your images from CR2 to PNG. Now, add the images that you want to convert by clicking on the + icon given in the center. You will get a folder browser from where you can select as much CR2 image files as you want.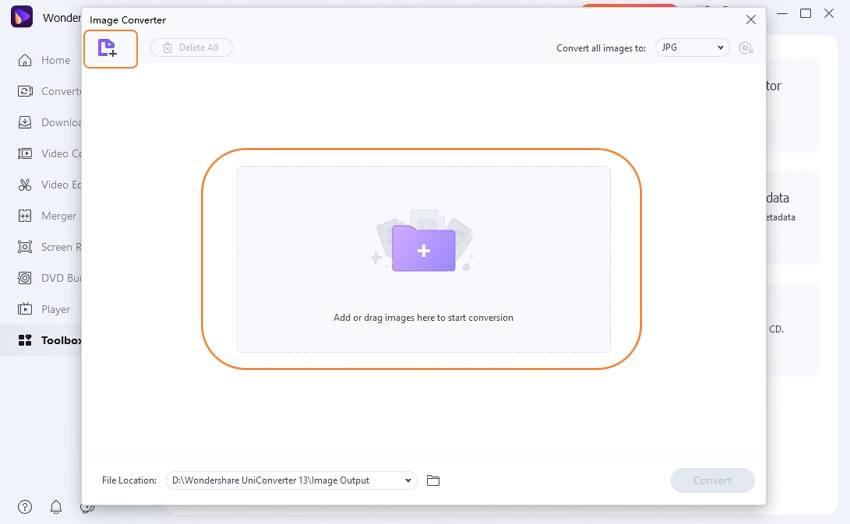 Step 4. Choose the images' output format
When you have added all the images that you want to convert then you have to choose the output format of your CR2 image which is JPG. Click on Convert all images to: You will get a drop down menu, select "PNG"in it.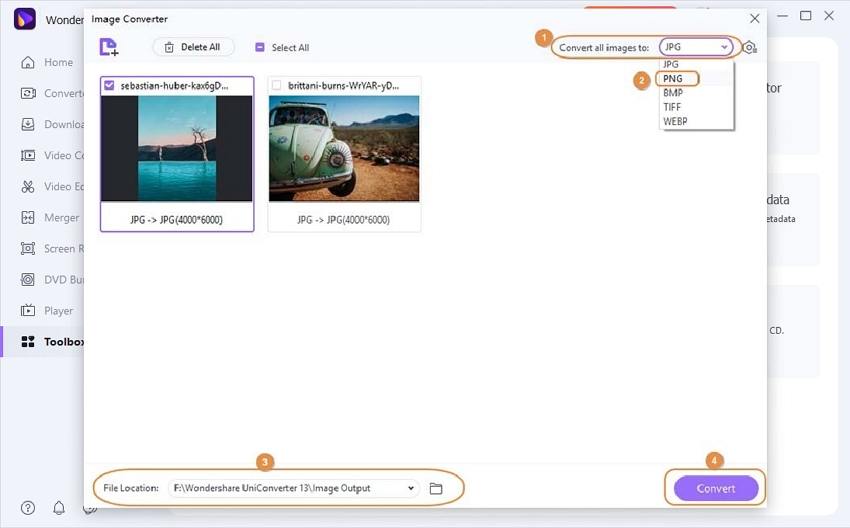 Step 5. Select Output Destination and Convert
If you want to save the converted files at any particular destination, then you can pre-set it from the Folder icon given in the bottom panel. However, you can skip this change if you don't want any specific destination because the software will automatically save it in the software's image output folder. When everything is set the way, you want, then click on Convert button given at the bottom right.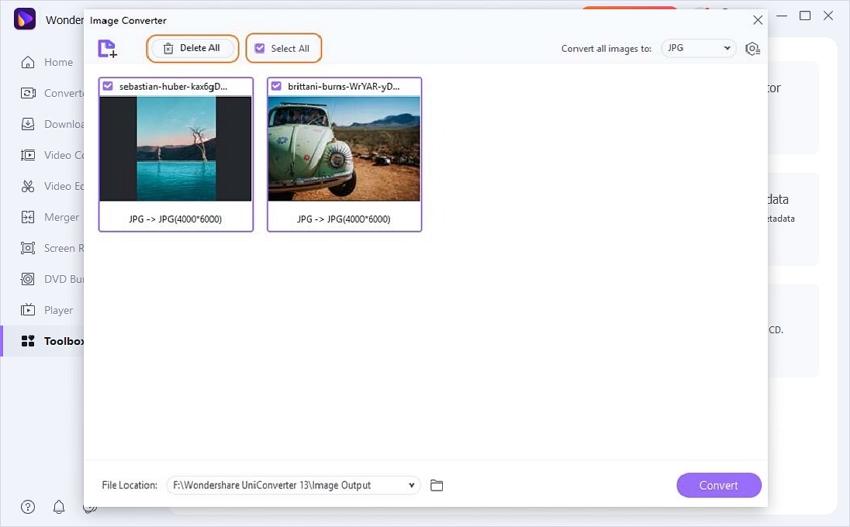 Are you looking for an image converter software? Wondershare UniConverter could be download in Mac and Windows system now.
Summary
You might have read about the best CR2 to PNG converter available in the market, and you can choose the best one among all, for your use by analyzing their features, pros, and cons. However, choosing Wondershare UniConverter would be the best option as you can convert image, video, audio, doc, and other files' formats from it and you can use its other useful features.