GIF or Graphic Interchange Format is a type of image extension although it isn't necessarily a still image, as there are multiple frames of a scenario encoded into one single image which may make it look like a video. There are a variety of funny animated GIFs out there, and a lot of people want multiple GIFs combined. As of how to merge GIFs online, that can be done using a variety of powerful tools, for your convenience. This article is going to tell you about the most popular free online devices that allow users to combine two GIFs.
Part 1. 4 free tools to combine GIFs online you should know
URL: https://ezgif.com/combine
EZGIF is a potent and free online tool that allows you to easily combine two GIFs into one. The program is fast and very reliable and offers a variety of other accessories related to GIFs like making your gifs, editing you gif and a whole lot more. The reason of its popularity is that it was made primarily for making GIFs and writing them which makes it a specialized tool which is easy to use and doesn't confuse you while you are trying to do anything.
Advantages:
This is a high-speed and reliable tool.
Allows up to 100 MB sized files for conversion.
Variety of editing features make it a lot versatile than others.
Disadvantages:
A lot of ads can be seen there on the website.
No options are there to store your images online for future references.
The editing features are buggy at times.
How to combine 2 gifs into 1 using Ezgif:
Step 1. Select the GIF files you want to merge from the Browse option. Click on Open.
Step 2. Now click on the Upload button.
Step 3. On the next screen drag & drop photos as per your choice and then click the Combine button.
Step 4. Now Scroll down and then click the Save button which is the last option to download it in your computer.
URL: https://gifmaker.me/
GIFMaker is an excellent online tool that allows you to create, edit, and compress GIFs along with a whole lot of other features related to a lot of different things. This website has a clean and easy to understand UI that is powerful enough to help you get through all the tasks you have to do. This website allows some necessary conversions along with making GIF, editing them, and even sharing to your friends or colleagues on different social media.
Advantages:
It has a neat UI that helps new comers to easily perform the required tasks.
It allows processing of up to 300 images at a time which makes it very powerful.
Can be used to create basic animations out of normal images.
Disadvantages:
Excessive ads can be a significant problem for you if you want uninterrupted usage.
There are constant server issues.
A lot of essential features for editing are missing like resizing, cropping, etc.
How to merge GIFs online using GIFMaker:
Step 1. Click on upload images and choose the images you want from the computer hard drive.
Step 2. In the right side of the website interface, there are several options available related to the GIF file. You can select canvas size, animation speed, repeat time, etc.
Step 3. After doing all necessary settings click the Combine Animated GIF's at the right side of the screen. Now it will show you the option to download the image. Click Download this GIF's option to save it on your computer.
URL: https://icons8.com/animizer/en/gif-apng-assembler
This is one of the more sophisticated tools that allow users to combine GIFs online very efficiently and is generally used by professionals to get high-quality results without much delay. This website has tons of other features that improve its productivity and create diverse usage applications for this website. This website isn't straightforward to use as it is aimed at providing professional-grade results. There are minimal ads which are very pleasing if you want to work without getting distracted by the ads.
Advantages:
Animizer provides a very professional layout for its user, which is very clean and interactive.
The service is speedy and accurate.
Allows for a lot more productivity features that might be usable with a gif, like creating animated texts.
Disadvantages:
The professional UI is useful, but generally, the users who avail these services are 1st-time users, and they may get confused by the complicated design language.
Proper details aren't given about any feature, which means you will have to check the limitations by yourself.
Apart from making a gif, this tool doesn't allow much editing features for the user, which is very bad considering the whole professional look.
How to join two gifs using Animizer:
Step 1. Upload the images you want by clicking on the Browse button and select the photos from the system drive.
Step 2. Now click on the Go to Assembler button to merge GIFs online.
Step 3. Now the website will combine two GIFs then you will be redirected on the next page. Click on the Download button to save it on your computer now.
URL: https://www.ofoct.com/merge-gif-files
Bear file converter is not a very popular tool, but it is equally compelling as most of the others on the list. This website offers a variety of other tools like conversions, basic image editing, etc. apart from basic GIF related tools. The site is clean, and there are not a lot of ads in it as well. The website is very versatile and can be used in multiple media-related operations. This website is fast and easy to use.
Advantages:
This converter is pretty easy to use and provides quick results.
There are not a lot of ads on this website due to which a lot of people might prefer it.
There are a variety of different productivity features on this website.
Disadvantages:
You may find things written in Chinese here and there which are not translatable, which may be an issue for general users.
The servers aren't compelling, and there are chances of server crash when the traffic is high.
The website might be confusing at times due to the incorporation of a lot of things in a single site. Users might think of this website as crowded at some points.
How to combine two GIFs using Bear File Converter:
Step 1. Visit the website and then click Merge Files tab. Now click on the Merge GIF's and then click on the Upload button then select the GIF images from the computer and then click Open button. You can also drag & drop the files directly on the website.
Step 2. Once the files are uploaded, then click on the Merge button.
Step 3. After successful merging the files, the website will provide you option to download it on the computer. Now hit Click it to download button and then it will be saved on your computer.
Part 2. Top fabulous animated GIF editor
Wondershare UniConverter is the platform where you can convert any video from one format to other format. You can edit, watch, download transfer and create any type of video file from any source. The interface is simple and easy to use. This is one of the best GIF maker and image converter, which has fast conversion time and high quality output. You can also create, merge and edit GIFs as per your desire. With several editing options, you will be able to get the best output.
Wondershare GIF Text/Photo/Video Editor
· Support batch processing of videos and picutes to GIF conversion.
· Convert image files to JPG, PNG, BMP, TIFF, GIF, and others.
· Convert specific devices formats without any trouble.
· Transfer and convert file from PC/Mac to external devices easily via a USB cable.
· Versatile toolbox combines image converter, GIF maker, subtitle editor and background remover, and others.
Pros:
It has 90X faster conversion speed.
It can convert videos for different devices.
1000+ formats are available to transform your desired video to any size.
How to edit GIF using Image Converter function?
Step 1. Launch the Wondershare UniConverter application then select the Image Converter option from Toolbox.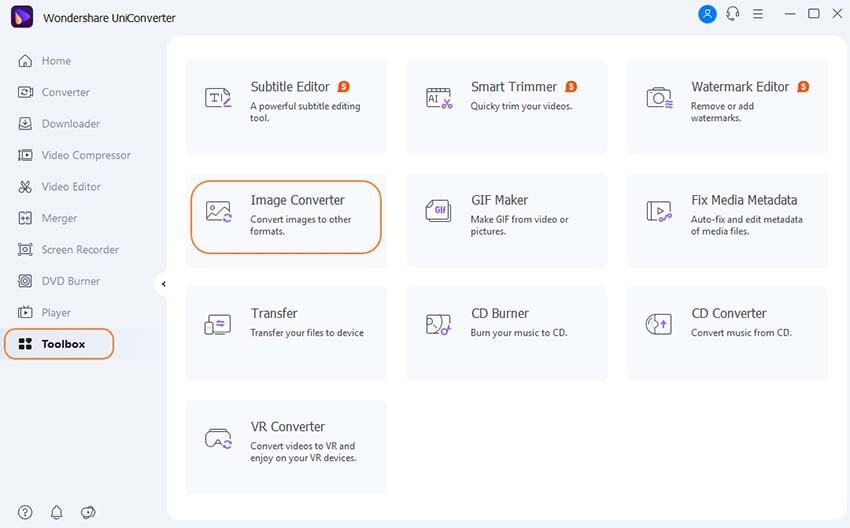 Step 2. Click the Add Files button or Drag and Drop to upload the GIFs.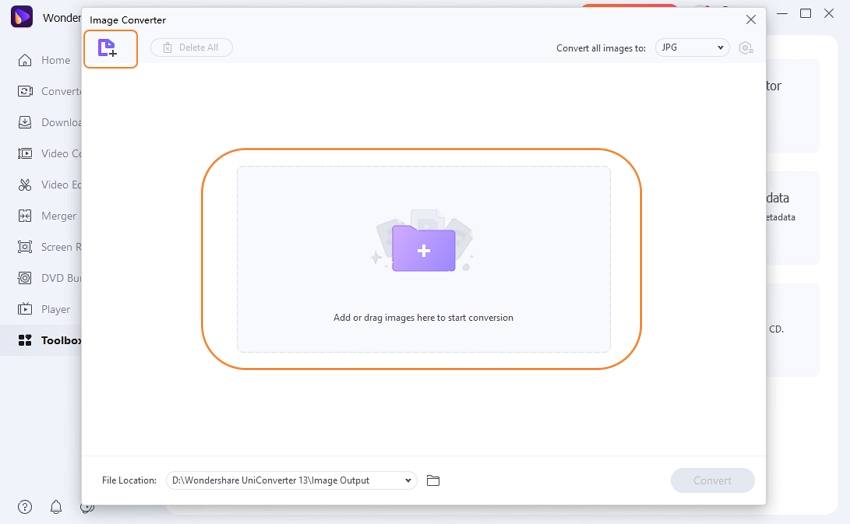 Step 3. Bring your cursor on GIF, and you will get to see the editing options.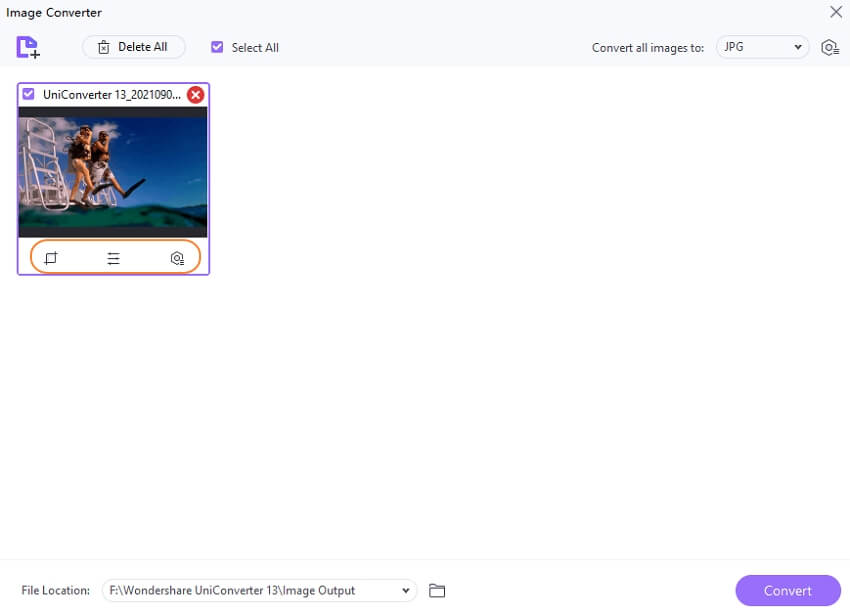 Step 4. At the bottom of the image, click on the Crop option. This allows you to resize, crop, or rotate the GIF as per your choice. Select the Effect option to add the effects such as brightness, contrast and saturation to your GIFs. If you click on the Watermark, it could add texts to your GIFs and select its transparency. And click on the OK button to save the changes.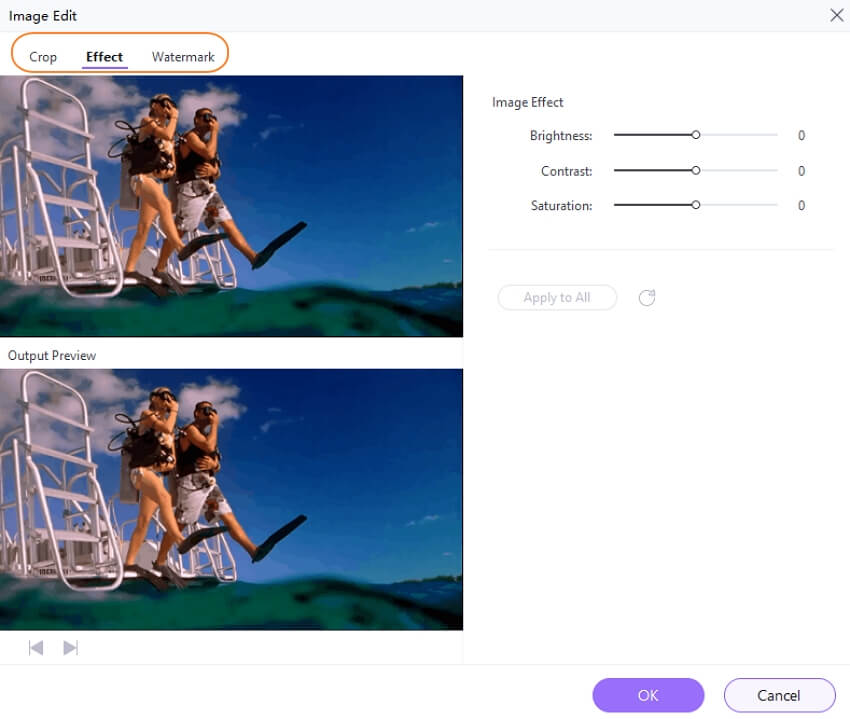 Windows and Mac version of Wondershare UniConverter is free to download now.
Summary
Working with GIFs can be real trouble, but with easy to use online GIF combiners and Wndershare GIF image editor, you can easily combine two gifs into one, edit or convert them as per your desire. The wide range of editing options allows you to get the desired effects enhancing the GIFs to a great deal.
Using the above free websites, you can easily merge GIFs on the computer without any installation, but there are some restrictions using the online sites, in terms of editing fuctions. Here we recommend you to try Wondershare UniConverter software, with which you can edit and convert GIFs to other formats (vice versa) without any limitation.