BMP and JPG are the two most common types of formats that are used for graphic images but both of them have their advantages and disadvantages. So, if you think JPG is better when compared bmp vs jpg formats then you can use any best converter software to convert it. There are lots of good software's over the internet but before converting the files you need to know a little bit about both the files and then decide which one has to be converted.
A recommended by various graphic experts, the photographs are better in JPG format than BMP. So, you can also try the converter that is discussed below to convert you image files from BMP to JPG.
Part 1. Basic Information about BMP&JPG
a. What is BMP?
BMP or Bitmap Image which is represented by extension .bmp is a commonly used format of high quality graphic images. The term Bitmap actually came from the 'map of bit' and this means that it as spatially map of arrayed bits. These are uncompressed versions of image and that means you can convert them into a compressed file. The mapping in these kinds of images is the setup of pixels and if you zoom out a low quality bitmap image then you can see the mapping of pixels by yourself. Those small pixels altogether form a big image. However, these formats are usually used for high quality images and thus they take a lot of space.
b. What is JPG?
JPG or Joint Photographic Exert Group and originally known as JPEG. These are the most common types of image formats used by people and their extensions are .jpg/.jpeg. These are specifically used for colored photographs which have a lot of gradients and blends. However, every time you save or edit a JPG image, it loses a bit from its quality. This can further lead to burring or sharpening of the image. If you want to keep a photograph with little or no edits then this could be the best kind of format to save it forever. Another benefit of using the JPG picture is that it takes lesser space and definably much lesser than a BMP file. JPG format is best for uploading on social media, attaching in email or sending anywhere.
c. Comparison Chart: BMP vs. JPG
| File Extension | BMP | JPG |
| --- | --- | --- |
| Full form | Bitmap | Joint Photographic Expert Group |
| Extension | .bmp | .jpg |
| Cons | It can't be compressed. | It loses its quality when resaved or edited. |
| Application | Used for high quality images for Windows users. | Used for color vibrant and greater gradients images. |
Part 2. Online Free Converter---BMP to JPG and Vice Versa
Key Features:
Online UniConverter has video, audio, and image converter and compressor features.
It is not only an online tool, but also it has desktop software for Windows and MAC.
Simple interface for first-time users.
---
Part 3. Free Download BMP to JPG Converter Software
If you are looking for the best converter to convert all your files from BMP to JPG then you can try WonderShare UniConverter. It is an all in one tool which you can use to convert your images from BMP to JPG and various other output files. This amazing software can not only covert the files formats but also edit the images, videos and transfer them from PC/Mac to other iDevices and Android.
However, if you want to compare the image quality in BMP vs JPG or any other picture format then you can choose any file to be converted as this software works with almost all kinds input formats and gives four output formats i.e. JPG, BMP, TIFF, and PNG.
Wondershare UniConverter
· Support batch processing of BMP to JPG conversion.
· Convert Images to over 1000 formats, including JPG, PNG, BMP, TIFF, GIF, and others.
· Convert BMP to JPG or specific devices formats without any trouble.
· Transfer converted BMO files from PC/Mac to external devices easily via a USB cable.
· Versatile toolbox combines Image Converter, GIF maker, video compressor and screen recorder, and others.
a. How to Download UniConverter?
To download the Wondershare Uniconverter software on your computer, browse https://www.media.io/video-converter-desktop.html. Here you can find two software i.e. one is a free version and others have to be bought. You can click on the "Download" tab that will download the free version on your computer. However, you need to make sure that you are downloading the correct software because there are both for OS and Windows. So, download the one which supports your computer. When the file is downloaded, then install it on your computer.
The free version is limited to a particular time period, so if you like its features then you can buy the full version which gives you lifetime access to all the features.
b. How to Convert BMP to JPG?
If you want to know how to converter the BMP files to the JPG files then you can follow the simple step by step guide given below:
Step 1. Launch UniConverter
When downloaded and installed successfully, launch the software on your computer. Click on the Toolbox button on the top and then click on the Image Converter.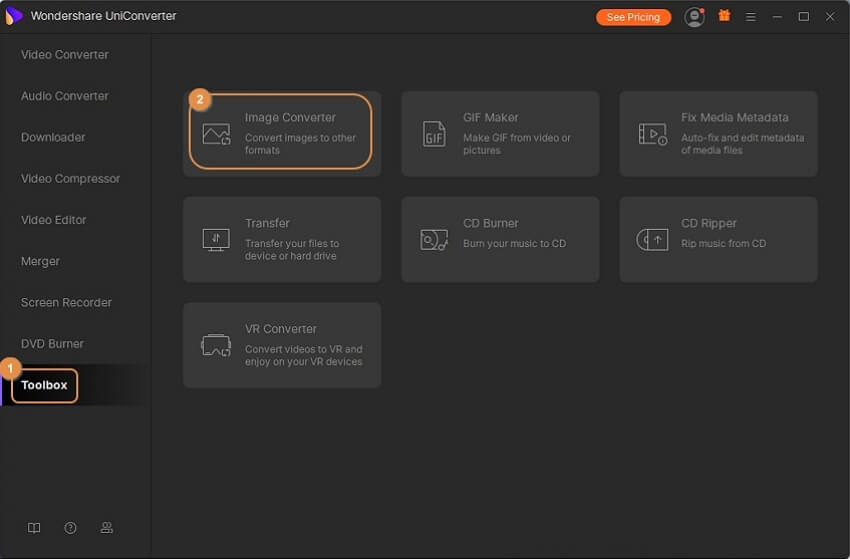 Step 2. Upload Images
Now you will get the +Add Images button and a big + button in the middle of the screen. Both of these buttons will lead to another small window to select the files. Click on any of them and then select your BMP files that have to be converted to the JPG format.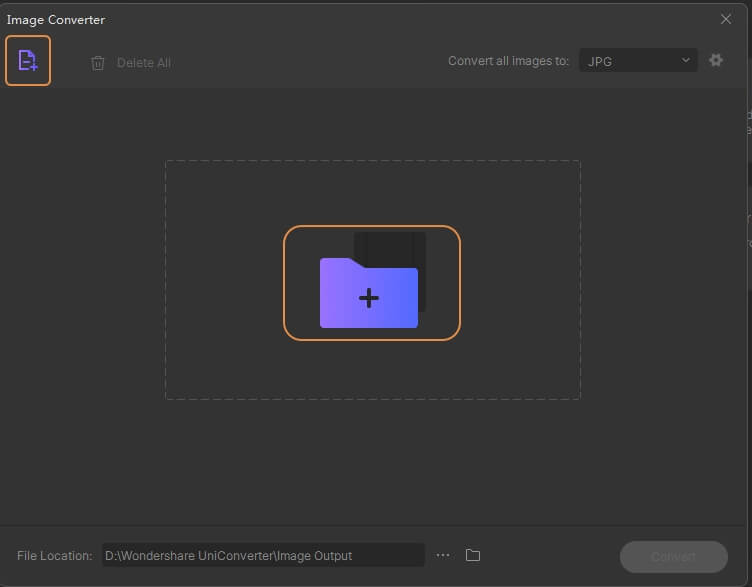 Step 3. Select the JPG Format
When you have successfully added your BMP files then select the in which they have to convert i.e. JPG format. Click on the Convert all images to: tab and select the JPG option from the drop-down menu.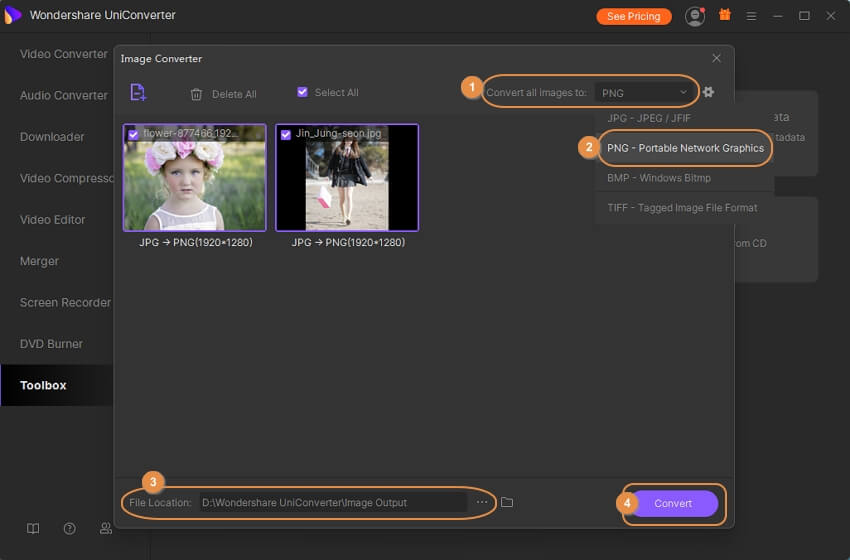 Step 4. Save the File to Its Destination
The last step is to choose the location and save the converted files. To select the new destination, click on the Folder icon given on the bottom and then choose your destination. However, if you want to save the files at the same destination at which the files were picked from then you can skip this part.
Then, click at the Convert button given at the bottom right corner of the window to automatically start the conversion process and save the converted files.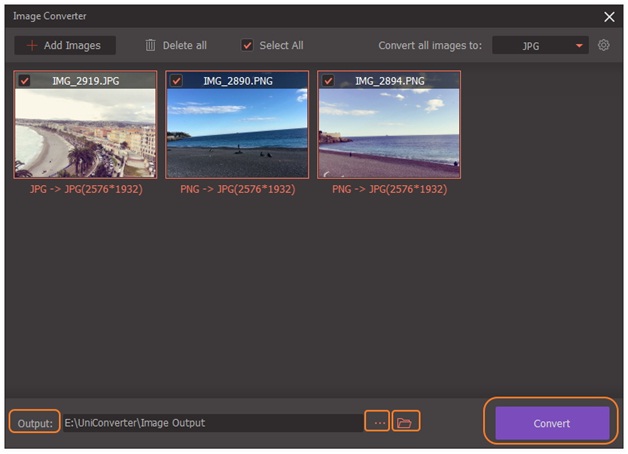 Take a look for more details about UniConverter
Summary
Till now, you might have got an idea that which one better in BMP vs JPG as well as how to convert them. The BMP files are good for high-quality images but they can't be compressed and also they take a lot of space. So, you can simply go with JPG files that take lesser space and are easy to upload and transfer as well.