The article discusses how you can convert BMP to GIF perfectly using some online tools along with Wondershare's software UniConverter. There are several tools/software that lets you convert different image format. BMP or bitmap images are used to store bitmaps or monolayer. These are device independent and have fixed size structures along with variable size structures. Whereas GIF is a format for the exchange of images. It is a popular format graphics that are capable of storing compressed data without loss of quality in the format of not more than 256 colors.
Part 1. Online Converter for BMP to GIF
URL: https://www.media.io/image-to-gif.html
Online UniConverter supports convert BMP to GIF online and free, you can also add images in PNG, JPG, and JPEG formats. Text or image watermarks can be added to your GIF to make it more attractive. It's totally free to use so you don't need to worry about the ads or watermarks added to you output GIF. Just drag and drop the BMP pictures to the area below and start the conversion quickly, you're allowed to customize the GIF size, frame rate, resolution, etc. Videos can also be converted to a GIF using Online UniConverter.
Try Online UniConverter to Convert BMP to GIF Online and Free Now
[没有发现file]
URL: https://convertio.co/bmp-gif/
Convertio is an online converting site that lets you convert multiple file formats like audio, video image, eBook, font and document converter. The maximum file size is 100 MB. It lets you upload files from your computer along with two cloud services i.e. Google Drive, Dropbox. It also gives information on file formats that you are converting. In a few clicks, you can convert your BMP image file to GIF file format. The site also supports different languages like Chinese.
To Convert BMP Image in Convertio
Step 1: Upload BMP image from your computer, Dropbox, Google Drive, and URL.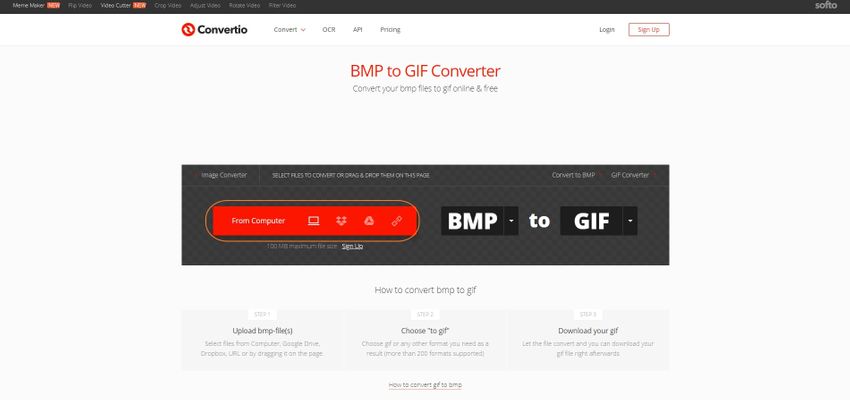 Step 2: Once the image is uploaded select the Convert button to convert image.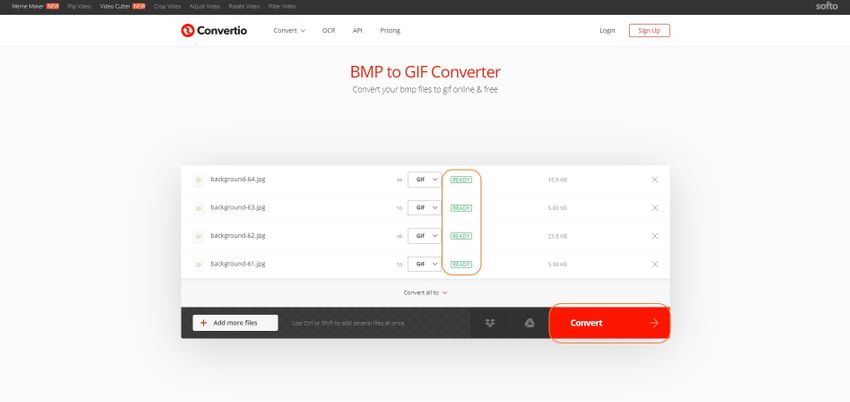 Step 3: The images will be converted to GIF and download button appears near every converted GIF image file. You also could save the converted File to Google Drive and Dropbox.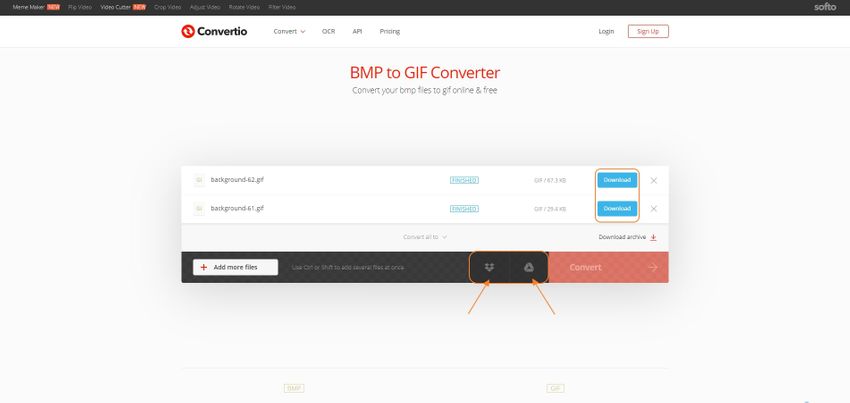 URL: https://www.zamzar.com/convert/bmp-to-gif/
Zamzar Online File Conversion is another free file converting tool that lets you convert different types of files in different formats. It supports two input sources, one being URL and other through drag and drop or uploading through your computer. The site also displays information of both input file format as well output format. The site also offers its API for developers. You just need to upload a file, choose the format and in a few clicks, your file is converted without the need of software.
To Convert BMP Image File to GIF Image Format
Step 1: Select the Add Files to upload files that you want to convert.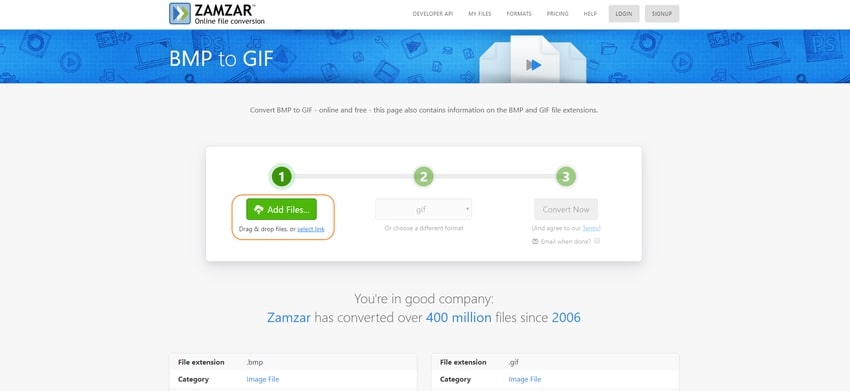 Step 2: Select the Convert Now to convert images.
The conversion starts and can be seen in the bar displayed once the Convert Now button is selected.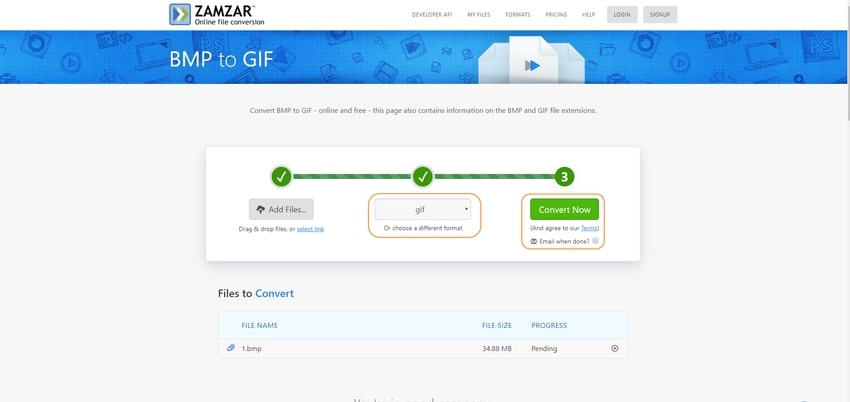 Step 3: Select the Download button to download your converted image.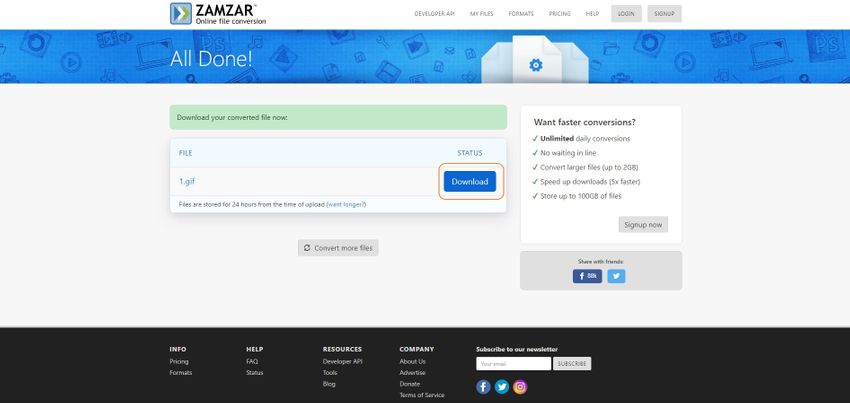 URL: https://www.onlineconverter.com/bmp-to-gif
Online Converter is another online converting tool that supports multiple files types having multiple formats. It is a multipurpose tool for converting measurement units, currency rate, file converter as well as image, audio and video converter. Simpler to use and can be accessed anywhere if you have internet. It even allows you to compress your files. Once you clicked convert, your file will be downloaded automatically. Compared to the above mentioned online tool this one doesn't ask you to download. The maximum file size supported is 200mb.
Conversion Steps for Online Converter
Step 1: Select the Browse button to upload BMP image.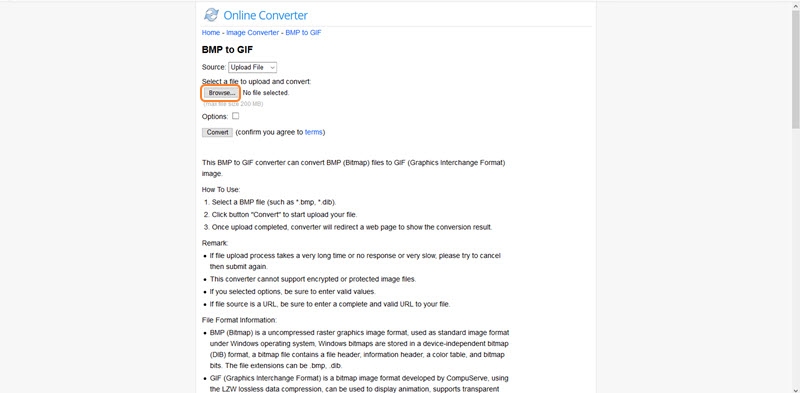 Step 2: After the file is uploaded select the Convert button to convert the BMP file to GIF format.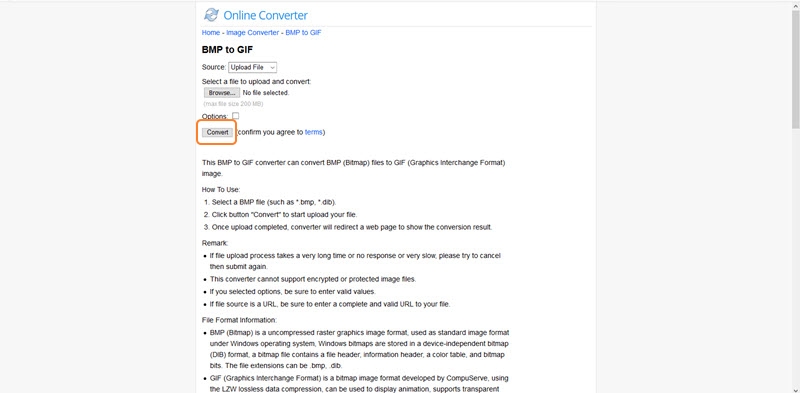 Once the Convert button is clicked, the file is converted automatically.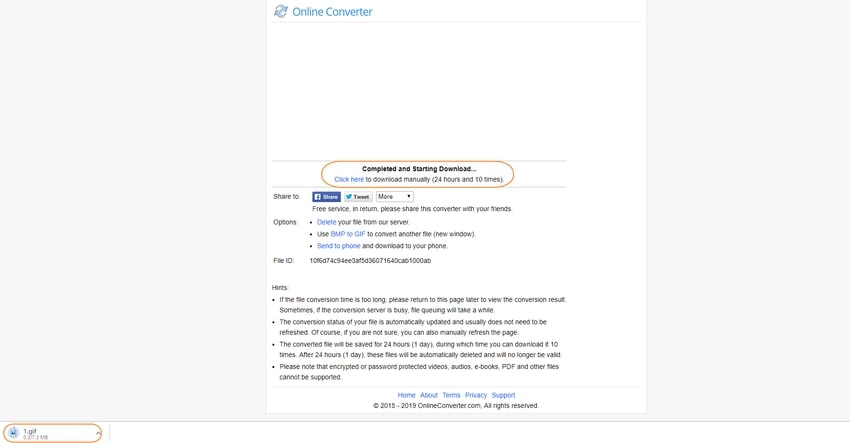 Part 2. How to Converter BMP to GIF in Wondershare UniConverter
Wondershare's UniConverter is a versatile video converter that lets the user convert, play, burn, transfer videos to other devices. Not only that but it is also an image converter, GIF maker, Screen Recorder, Media meta-data fixer, VR Converter and much more. Available for Windows and MacOS.
Wondershare UniConverter
· Its interface is user-friendly and simple.
· Can convert a batch of the image to combine into one image to make GIFs or videos.
· Offers its own image converter and GIF maker.
· VR Converter.
· Acts as Media Device (lets you fetch videos from internet and casting videos to TV).
· Burn, Convert, Compress and Transfer Videos.
Convert BMP to GIF using Wondershare's UniConverter
Step 1: To convert BMP to GIF in Wondershare UniConverter, you need to run UniConverter first.
Step 2: Select the Toolbox tab and GIF Maker Function.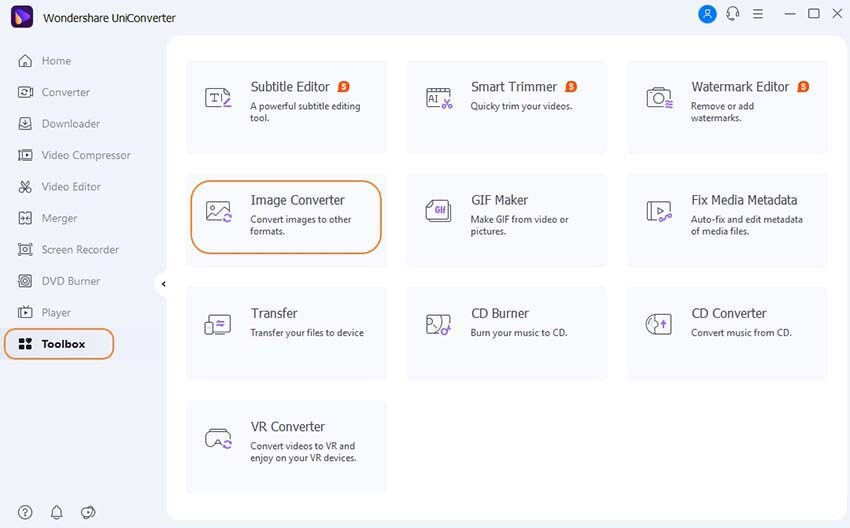 Step 3: Select Photo to GIF tab and Add Files option to upload BMP files.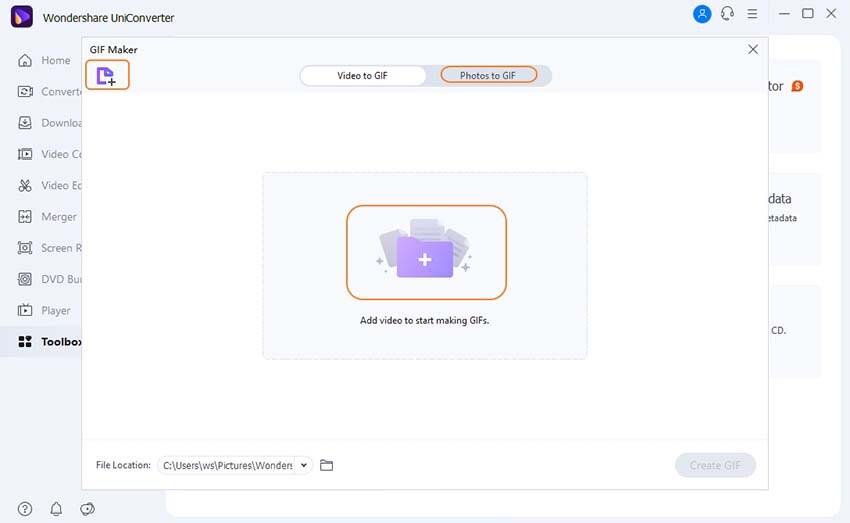 Step 4: Once the files are uploaded, select Create GIF. The image converted will be saved to the output path specified.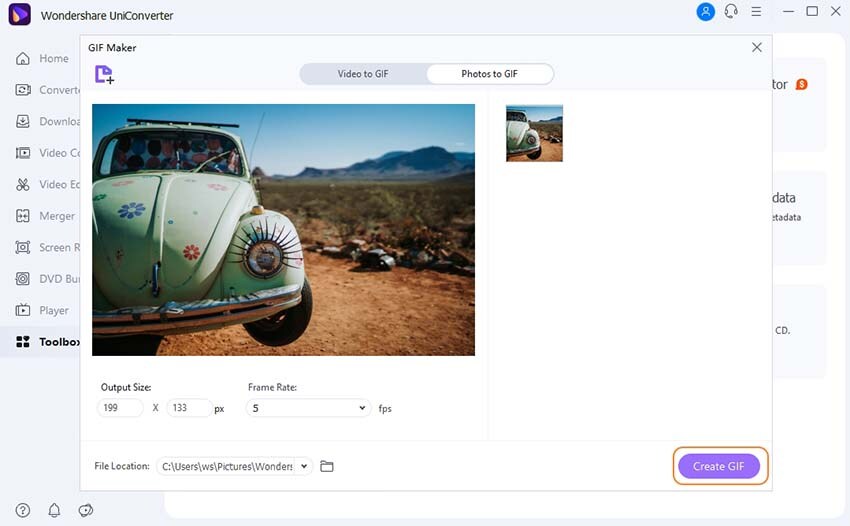 Free Download Wondershare UniConverter here: Windows and Mac version could be downloaded.
You have successfully learned how to convert BMP image file format to GIF image file format using Wondershare's UniConverter perfectly. Next, you will learn to convert BMP image to GIF image using online converting sites.
Part 3. Wondershare vs Online Converter
a. Pros & Cons Between Wondershare and online converter
Wondershare Pros:
Let's you create GIF files using both images and videos.
Let's you combine multiple images to create GIF image.
Can be used offline.
Fast and offers better productivity.
Let's you convert images having larger sizes.
Wondershare Cons:
Is not free.
Free trial puts a watermark on images/videos converted.
Online Converter Pros:
Free to ues.
User-friendly and lets you convert multiple files to your desired format.
Can be used for one-time image conversions.
Online Converter Cons:
Doesn't combine images to convert into one GIF image.
Only changes extension.
b. When and Why use Wondershare UniConverter or Online Tool
Wondershare should be used when you want to create a GIF image using multiple files or from a video. The software is for professional use. If you create a lot of GIF images, then Wondershare UniConverter will help you for the long term.
If you want to just convert a file's extension from BMP to GIF and for a small-scale, free tool, then online tools are more suitable to you.
Summary
There are many ways, you can convert BMP images to GIF image format through various ways and products. For one time use and small size files, online tools can be sufficient and are easily available. However, for larger size and long-term usage, Desktop software is a better option and offer more freedom and productivity. Also, for enterprise and small businesses, UniConverter is a better option.