A lot of people work on Illustrator these days. They could be a photographer, designer, cartoonist, or even for personal use to make those magical adjustments in your social media uploads. Adobe has developed this useful software which is widely preferred over any other photoshop software. However, if you are a regular user of Adobe Illustrator then might have had some issues in opening your files generated or edited from this software. The image files of Adobe Illustrator use ext. AI which doesn't support in Android, Microsoft Image Viewer, and few other software that is commonly used. In this case, you can convert your image file from AI to TIFF.
If you are wondering that where and how you can convert your files, then you can easily do with an AI to TIFF converter. They are available for free to use as computer software as well as online tools that you can use form your browsers.
Part 1. Free AI Converter Tool to Save AI to TIFF
URL: https://www.zamzar.com/convert/ai-to-tiff/
It is one of the top-rated online image converter tools that are available for free to use. You can easily and quickly convert AI to TIFF files within few seconds. Although this website gives you free conversion tools, you can buy any of their paid accounts, viz. Basic, Pro, and Business, to enjoy a lot of other features like cloud storage up to 100GB, bulk conversions from 200MB to 2GB and various other features. However, the main reason for the popularity of this online tool is that it converts multiple files within a few seconds.
Steps to convert image from Zamzar
Step 1. Jump to the website of Zamzar that is given above and click on Add Files button. You can either upload AI from your computer or click on Select link to add it from any online source.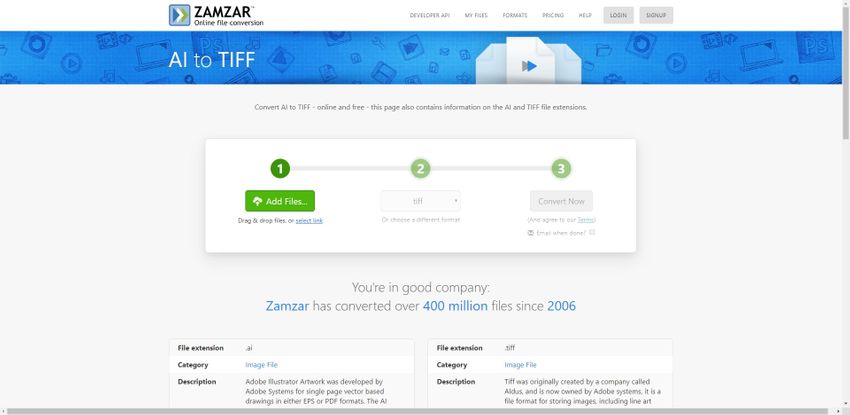 Step 2. Next step is to choose the output format as TIFF.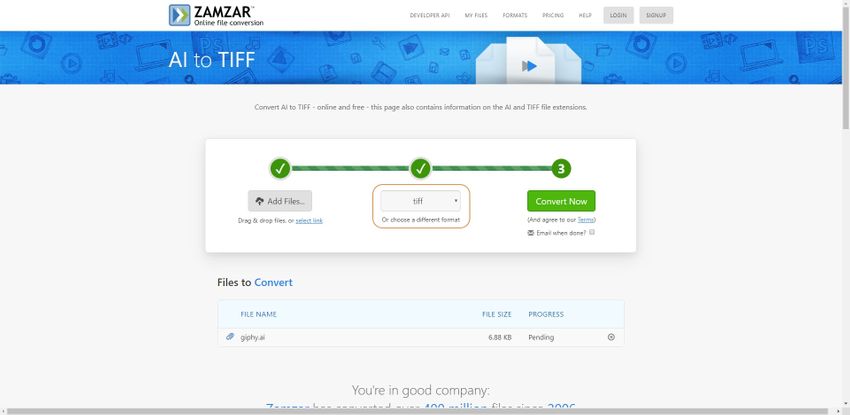 Step 3. Now hit the Convert Now button and then simply download converted file on your desktop or get it on your e-mail.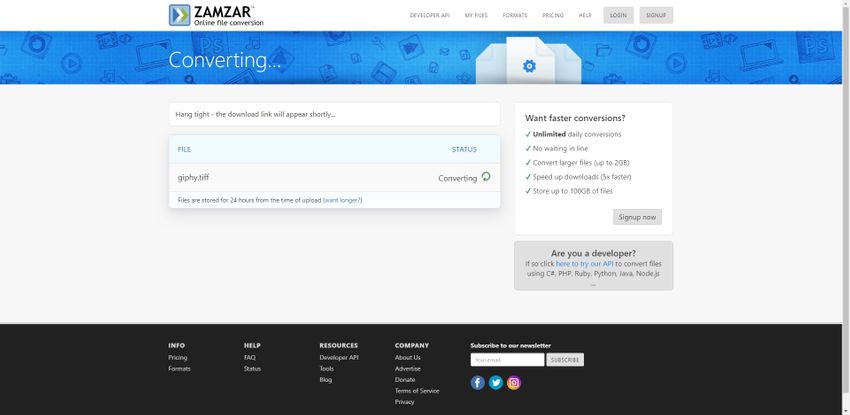 URL: https://convertio.co/ai-tiff/
Convertio is another most popular online tool that can be used to convert your AI files to TIFF. It is available for free to use, but if you want unlimited conversions, then you can get their paid accounts in which you can convert unlimited number and the unlimited total size of the files. This kind of universal feature is rare to find in any other online tool. Also, there is no limit on uploading multiple numbers of records, i.e., and you can upload as many files to convert at once as you want to.
Steps to covert image from Convertio
Step 1. Launch the conversion page by clicking on the link mentioned above and upload your AI file from your PC, Mac, Dropbox, Google Drive, any URL or just drag and drop it.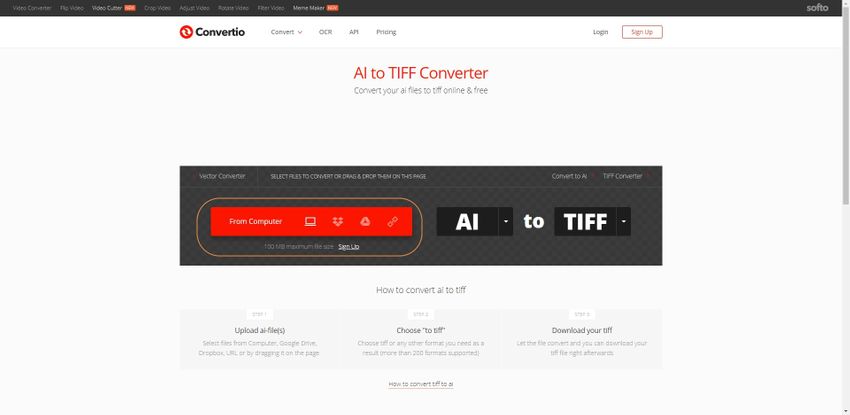 Step 2. Select the output format as TIFF.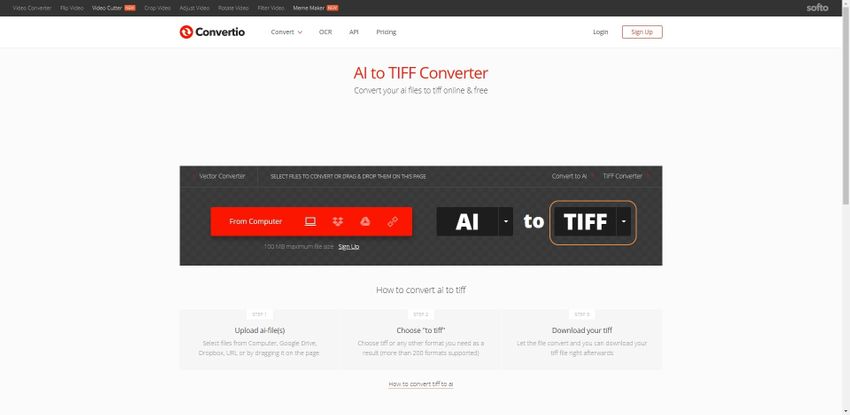 Step 3. Click on the Convert button and download the converted TIFF file.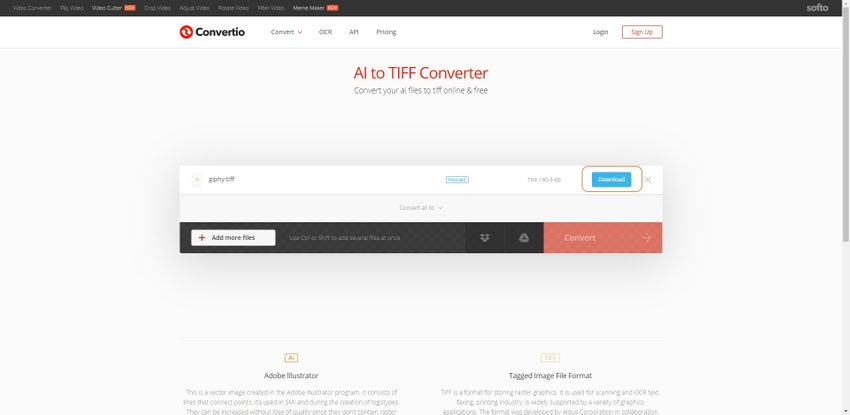 URL: https://www.aconvert.com/image/ai-to-tiff/
ACOonvert is a common platform for file conversions, which is an excellent AI to TIFF converter but it also provides various other conversion tools. You can convert images formats in more than 80 different extensions, and you can also convert formats of videos, audios, e-books, documents, PDF, webpage, etc. Also, you can upload multiple files at once from the computer as well as online sources. ACONVERT assures fast and easy upload, conversion as well as download for image files.
Conversion Steps in AConvert
Step 1. Visit the conversion page of AConvert by clicking on the link given above and there you can upload your AI files from Dropbox, Google Drive, any URL or from your computer.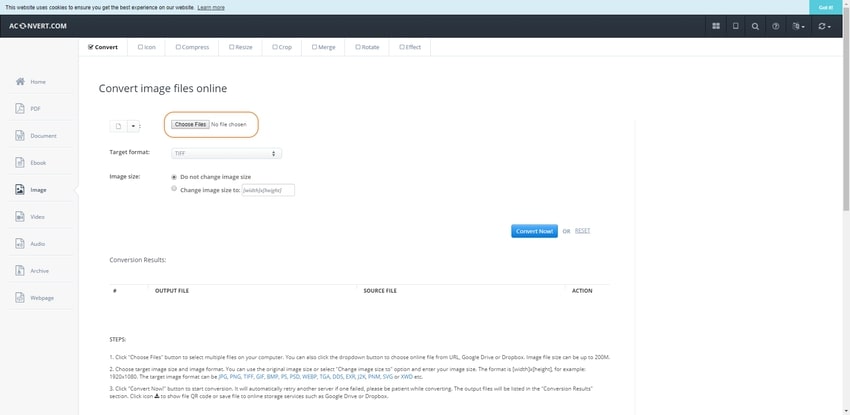 Step 2. Now select the output size of the files as per your preference and output format as TIFF.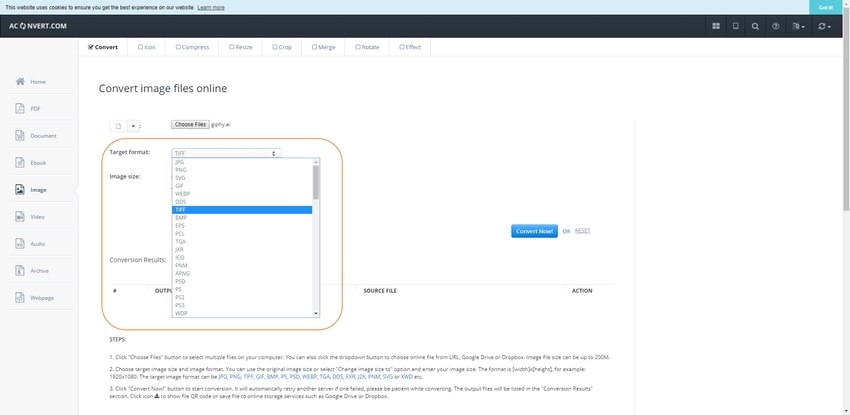 Step 3. Once you are done with the settings, click on Convert Now button and when your file/files are converted then click on the Download icon.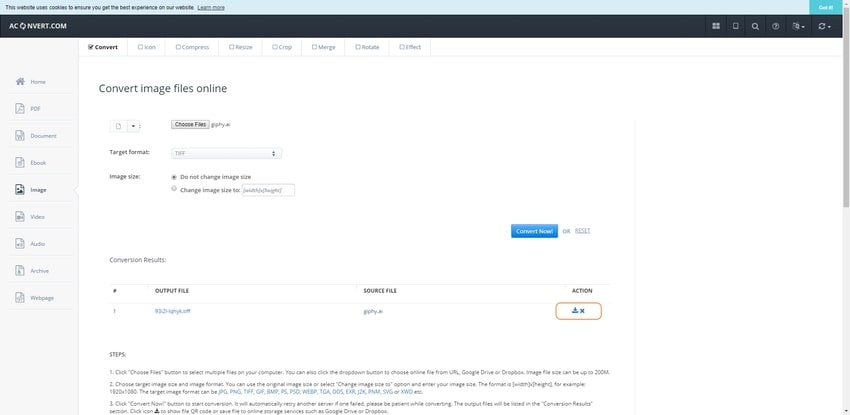 URL: https://aiviewer.com/convertaitotiff.aspx
If you are looking for a free online AI to TIFF converter where you don't have to buy any premium account for you unlimited and bulk conversions, then you can rely on this fantastic tool, i.e., AI Viewer. This online free tool lets you convert AI image files into TIFF files without any lag or without losing the original quality of the image. You can stay assured for image quality, which not every online conversion platform ensures you for. You can upload up to 200MB of the file and from TIFF. You can also convert your AI file into another format like BMP, PNG, GIF, etc.
How to Convert AI to TIFF in AI Viewer
Step 1. Open the conversion page of AI Viewer and there you will get a Choose File button. Click on it to choose and upload AI file to be converted.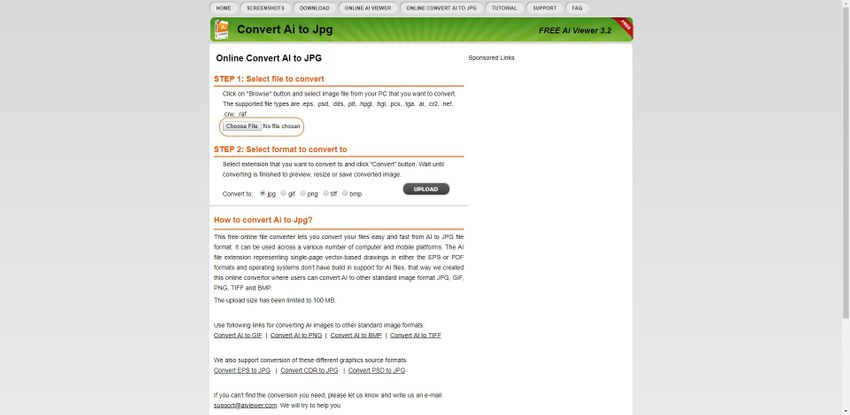 Step 2. Select the output format. Since you are converting AI file to TIFF, click on TIFF button and Upload the file.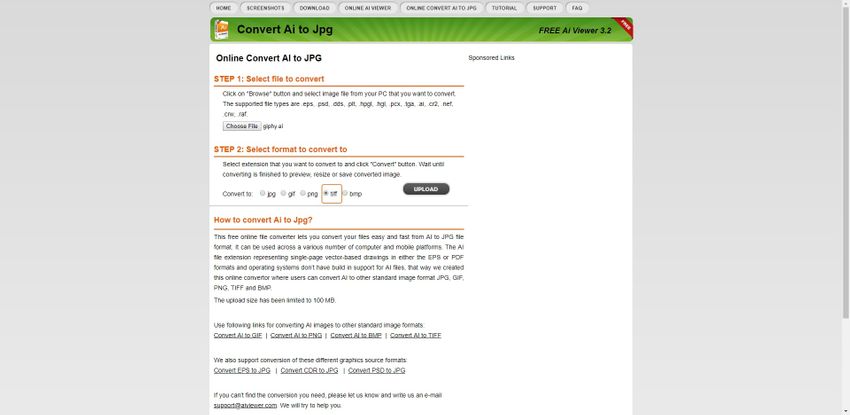 Step 3. Once the file is converted, download it.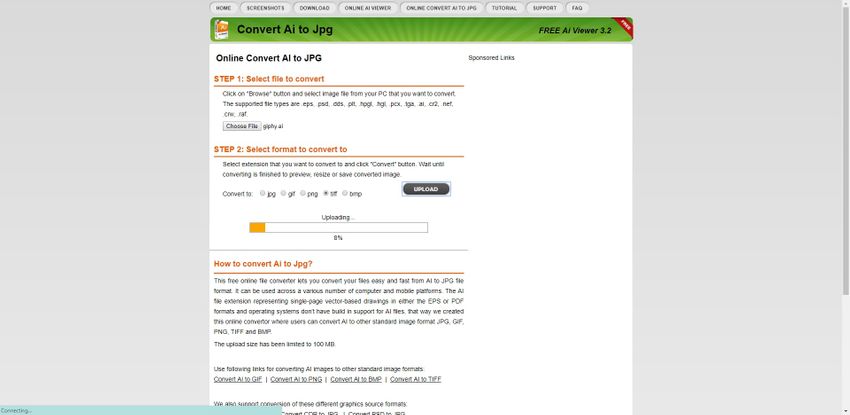 URL: https://image.online-convert.com/convert-to-tiff
This is the ultimate AI to TIFF converter because it provides the feature of bulk uploads and conversions of up to 8GB in total size 24hours. They provide free translations, but if you have a lot of conversions and all of them need to be downloaded as soon as possible, then you can subscribe their services with any one of the accounts available. The subscribed services of Online Image Convert are beneficial not just because of the considerable amount of file size conversions, but they also offer ad-free services. Thus, you will not get irritated with ads in the middle of bulk conversions.
Steps to Covert AI to TIFF from Image Online Convert
Step 1. Visit the AI to TIFF conversion page by the link given above. You can either drag and drop the files from your computer folder, or you can directly add the files from URL, Google Drive, and Dropbox.
Step 2. You can adjust the optional settings in which you can change size, color scale, pixels, DPI, etc. You can skip this step if you want the image in the same quality.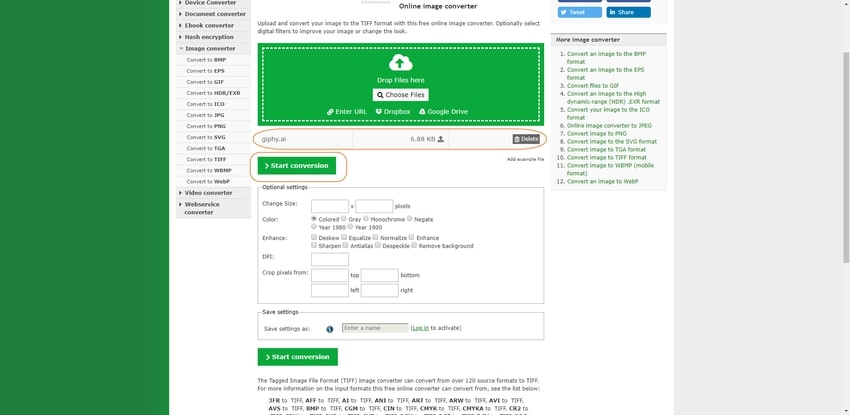 Step 3. Enter new file name for the converted file and then hit the Start Conversion button.
Comparison Table
| | Zamzar | Convertio | Aconvert | AI Viewer | Image Online Convert |
| --- | --- | --- | --- | --- | --- |
| Free Unlimited Conversion | NO | NO | YES | YES | NO |
| Cloud Storage | YES | NO | NO | NO | NO |
| Bulk Conversions | YES | YES | YES | NO | YES |
| High Speed Downloads | YES | YES | YES | YES | YES |
| Direct conversions form Google Drive, Dropbox, URL | YES | YES | YES | NO | YES |
Part 2. More Basic Information about AI & TIFF
a. What are AI and TIFF?
Developed by Adobe Systems, AI is a file extension of the image files created or edited at Adobe Illustrator. It is one of the rawest types of image files, and they fall into the category of vector path files. An AI format file is built with a lot of original lines which are modifiable as well as controllable into their various layers. This type of records is incompatible with almost every major software or application that people use to open image files. Thus, they need to be converted from AI to TIFF format to be viewed or opened somewhere else.
TIFF or Tag Image File Format is a Raster Pixel Image Format, and it is one of the most commonly used image formats in the world. This is compatible with almost every widely used software or application to view or edit images. However, they are the best output format if you are converting any large graphic image file because ensure to retain the original quality of the image even when it is converted from any other size like AI. This image file format is ideal for use if you need them in their highest quality and at the same time, access it from your windows or smartphone.
b. When will you use AI or TIFF?
People widely use AI format of images from Adobe Illustrator, and it is one of the most popular vector formats for the designers, artists, photographers, etc. They provide ease in creating high-quality images with large sized graphics. Also, it is a RAW form of representation, and professionals can export it into all types of files.
TIFF files are somewhat similar to JPEG format, and people prefer this format for large image files. Since they never get compressed, so you can transfer or edit them easily without any fear of losing its quality. Images with TIFF extensions can get way deeper bit-channels, and that is another point what makes them better and different than JPEG format.
Summary
Thus, it can be concluded that AI files are as crucial as TIFF files, and you can use them for different purposes. However, if you want to store your AI files in Smartphone, tablet or anywhere else where you can easily access them, then you can use one of these online AI to TIFF converter so that you can view or edit them whenever you want. You can choose the best converter by analyzing the comparison chart discussed above, according to your needs and preferences.
Wondershare UniConverter is suitable for TIFF image format convert. Free download and easily install it. More information, please check the below.
Wondershare UniConverter
· Support batch processing of photo conversion.
· Convert TIFF image to JPG, PNG, BMP, GIF, and other formats.
· Convert files to TIFF or specific devices formats without any trouble.
· Transfer converted files from PC/Mac to external devices easily via a USB cable.
· Versatile toolbox combines Image Converter, GIF maker, video compressor and screen recorder, and others.