YouTube is a well-known video streaming site where people enjoy diverse music videos, songs, funny shows, educational podcasts and so much more. Sometimes you might prefer to listen to audio only anytime and anywhere instead of viewing the visual contents with an internet connection, and hence a YouTube to MP3 converter comes into play.
In this guidepost, I'll share with you the best YouTube to MP3 converter and downloader I deem, named Media.io. It enables you to extract audio from YouTube videos and store them as quality MP3 files on your computers, tablets, or smartphones. The online tool doesn't include any malware or dubious ads. To listen to the audio wherever you are, just keep your eyes peeled for the answer.
Disclaimer: Please make sure that the YouTube video or audio clips you want to convert and download are not copyrighted as it violates YouTube's Terms of Service.
How to Convert & Download YouTube to MP3 in 1 Click?
Media.io is a totally free MP3 converter for YouTube trusted by most people. It offers high-speed conversions and downloads. All you need to do is enter a YouTube link and in seconds, it will help swiftly convert YouTube videos to MP3. Furthermore, it comes with extra mighty functions like audio compression and an editor for outputting perfect audio clips as required.
How to Use Media.io to Convert YouTube Video to MP3?
Step 1. Launch a YouTube to MP3 Converter Online.
Go right to Media.io online YouTube converter. Then visit YouTube to search for the video clips you want to convert and copy the URL. (If you initially downloaded the video, you may also directly upload your favorite YouTube video to Media.io for MP3 conversion.)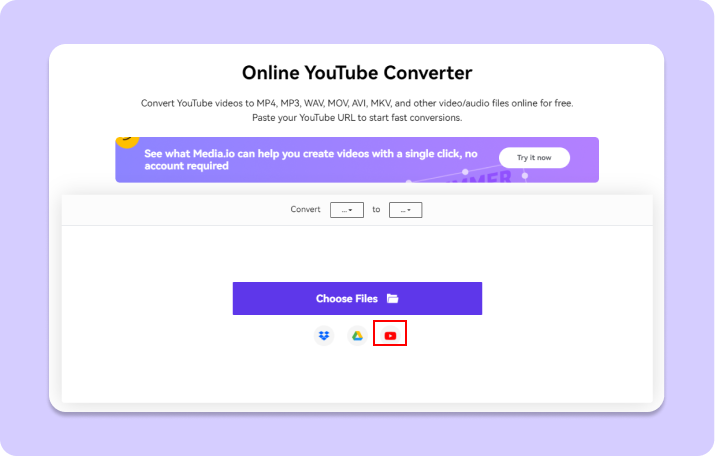 Step 2. Paste YouTube Video Link and Select MP3.
Next, tap on the Media.io YouTube icon and paste the link to the Add box, as seen below. To convert the video to MP3, just navigate to Audio > mp3 and choose a proper resolution or bitrate on the right.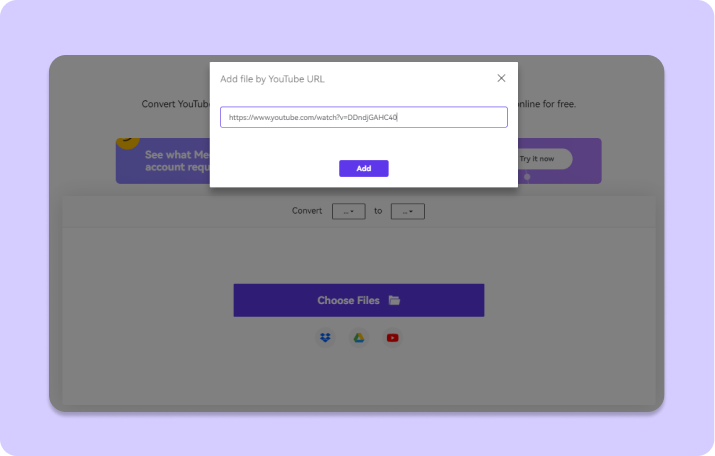 Step 3. Begin the MP3 Conversion Process.
When you're satisfied with the output format, click the Convert button at the bottom to start converting video to MP3.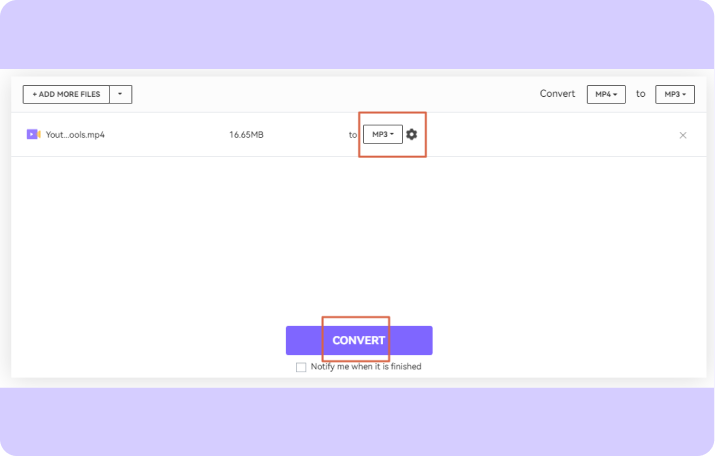 Step 4. Save the File in MP3 Format.
Once the audio has been converted, you can either Download it as an MP3 file locally or repurpose it to create a compelling music video by using its video editor.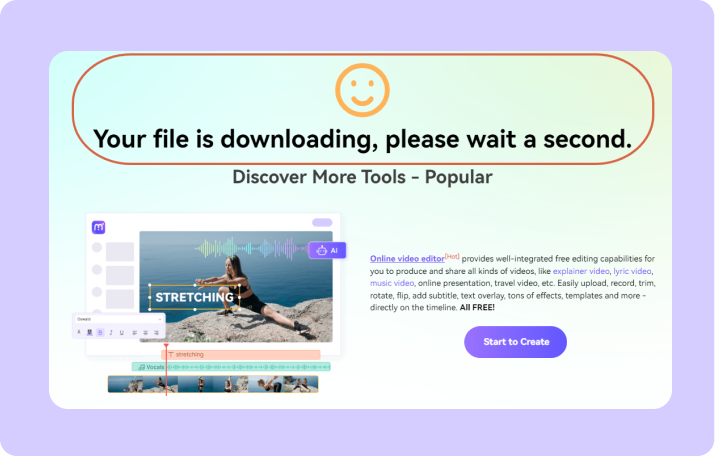 Why Choose Media.io to Convert YouTube Video to MP3?
Ease of Use. The converter tool allows you to copy and paste the YouTube video URL, ensuring efficiency and convenience.
Simplified UI. The file is downloaded and stored on the device for as long as it is required. Media.io allows you to easily save your files. This tool's UI is highly user-friendly and can be picked up quickly.
High-Quality MP3. To offer a nice listening experience, Media.io allows you to convert and download MP3 in up to 320kbps with ease.
Unlimited Conversions. You won't be limited to only a few conversions using Media.io. For your YouTube to Mp3 conversions, you have an infinite slot. That's why it's an out-of-the-box option for converting YouTube to MP3.
More Audio Tools. Along with the YouTube converter, Media.io is also embedded with a plethora of audio tools including an audio merger: for combining multiple MP3 clips into one; a ringtone maker: for your favorite tune creation; an audio remixer: to make a remix of your favorite song; a vocal remover: to make your file ambiguous and irritating noise-free and much more.
Various Audio Formats Adaptability. MP3 files, as well as M4A, WAV, and OGG files are converted and downloaded, making it a diverse format supporter.
Completely Risk-Free to Use. There are no pop-up advertising, viruses, or malware on this certified safe website. It would not, however, affect your equipment in any way. Furthermore, your privacy is important to us, and no one else will have access to your data.
FAQs about YouTube to MP3 Converter
1. Is MP3 the best audio format?
MP3 is without a doubt the most common audio format given a perfect balance between file quality and small size. Its appeal also stems from its adaptability. You've almost definitely listened to an MP3 if you've listened to music on any device.
2. How to quickly extract audio from YouTube?
A safe and working YouTube audio extractor like Media.io is your ideal choice to meet the goal. For doing this, simply open your browser and take the copy of the YouTube link into the Media.io site, then select an audio format to start the extraction. It only takes a few taps.
3. Is it legal to save YouTube as MP3?
YouTube has grown in popularity as a place for music enthusiasts to listen to the newest tunes or for learners to get something new. It's okay to convert YouTube videos to MP3 on your devices for personal or educational purposes.
Wrapping Up
The large quantity of user-generated videos accessible on YouTube is one of the site's most well-known features. From viral videos to humorous memes, YouTube has it all. The option to download videos in MP3s, however, seems to be lacking from the platform. However, by following the instructions mentioned above, you can effortlessly grab the audio you want from the video clips. Try the best free YouTube to MP3 converter TODAY.