Each image comprises of thousands and millions of pixels. It thus becomes difficult to resize image in KB without making any sacrifice in terms of quality. Generally, users tend to crop a file which results in a relatively low-quality image. Therefore, it is important to understand the technique of resizing the image. Today we are going to discuss the best means of getting your image resized using online utilities.
Part 1. Top 3 Online Image Resizer in KB
All devices have an upper ceiling when it comes to storage. This is why it is always best to opt for online portals instead of downloading heavy applications to resize your image files. These tools are compatible with a variety of file types and can ensure a smooth process to resize your files.
This popular portal is hosted in the CDN network which adds up to its speed. You can resize image online in kb using this free-of-cost utility which maintains the privacy of users in the process. All the files resized get deleted automatically from the server after the passage of 24 hours. Both PNG and JPG format is supported by this tool which can help you resize photograph in kb by following just three simple steps. While resizing images, users can either alter its pixel density or its height and width.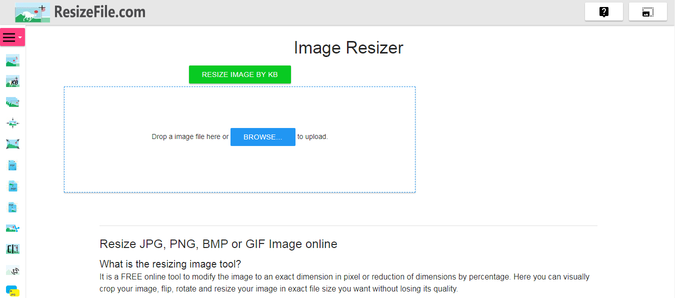 JPEG, TIFF, GIF, BMP, and PNG images can be resized in KB, MB, or % using this online utility. You just need to choose the picture from your smartphone or computer after which the desired size has to be specified before clicking on OK. The output files can be saved either as standard or progressive JPEG where the size of the later is 2-3% smaller than the former despite having similar quality. It usually takes between 0.5-20 seconds to resize image online in KB, MB, or %.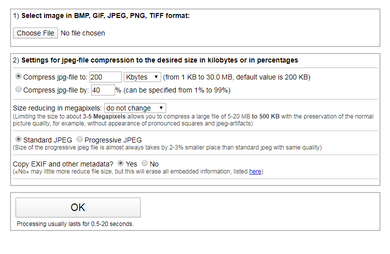 This free online photo resizing tool can serve as your ideal bet if you don't wish to proceed with complex software downloads. The resized images can even be used in blogs, websites, and for being shared over email. This online picture resizer in kb allows users to upload images having a maximum size of 10MB. Users can even add a border, sharpen, rotate or crop images in the process. Quality of the resulting image can also be set apart from determining the level of contrast, exposure, color saturation, and tint.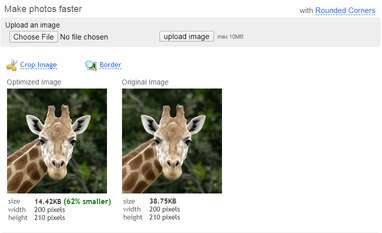 Part 2. Most Recommended Method to Resize Images
Although all the three tools mentioned above guarantee super-fast results, they fail to retain the quality at par with the original image. This brings us to our final part of the discussion – Wondershare Online UniConverter which is a free of cost online photo size reducer for undertaking image resize and other editing work. This can serve you well while trying to resize PNG, JPG, BMP, and GIF images in simple steps. Now click the below Choose Files button to reduce image size in kb!
[没有发现file]
Final Words
All the files resized using Online UniConverter can be downloaded with a single click and even saved to your DropBox account. In stark contrast to peer tools, Online UniConverter allows users to work with 20 files at once to bring in massive time and energy savings. The maximum file upload size remains less than 5MB for unregistered users. The registered ones, on the other hand, can upload files without any upper-tier on its size. To resize image to 100kb or less is not more a challenging task. Good Luck!