WMV or Windows media video is a set of video codec and corresponding coding formats. It was discovered by Microsoft and is primarily used in windows media framework. This format was designed keeping online streaming platforms in mind. Nowadays, this is one of the most widely used video encoding formats among video streaming applications. Online forums are always filled with questions like how to edit WMV files on Windows 7, read the article till the end, and you will have the answer.
You can find a WMV editor very easily on the internet. All those tools offer users with basic editing features and conversions. The tools mentioned in this article are elementary to use and can be used by beginners as well. All of them are free to use, and some have options for paid memberships, which will get you extra features.
Part 1. Top 5 Best Online WMV Editor---WMV Video Cutter
There are a lot of free WMV video cutter and editors available online. Users are sometimes confused by choice available online. To decide the best editor/cutter, you need to consider things like speed, usability, ease of usage, features, etc., mentioned below are some WMV editors that are available online.
URL: https://www.media.io/video-editor.html
Perhaps one of the best WMV editors on the list is this one. This is one of the most potent editors available online that is capable of editing WMV files. It allows basic editing like rotation, conversion, rotation, etc. it uses cloud technology to process the whole editing function and is one of the fastest tools out there. Online Uniconverter is a part of one of the most reputed developer's groups in this field of editing, i.e., Wondershare.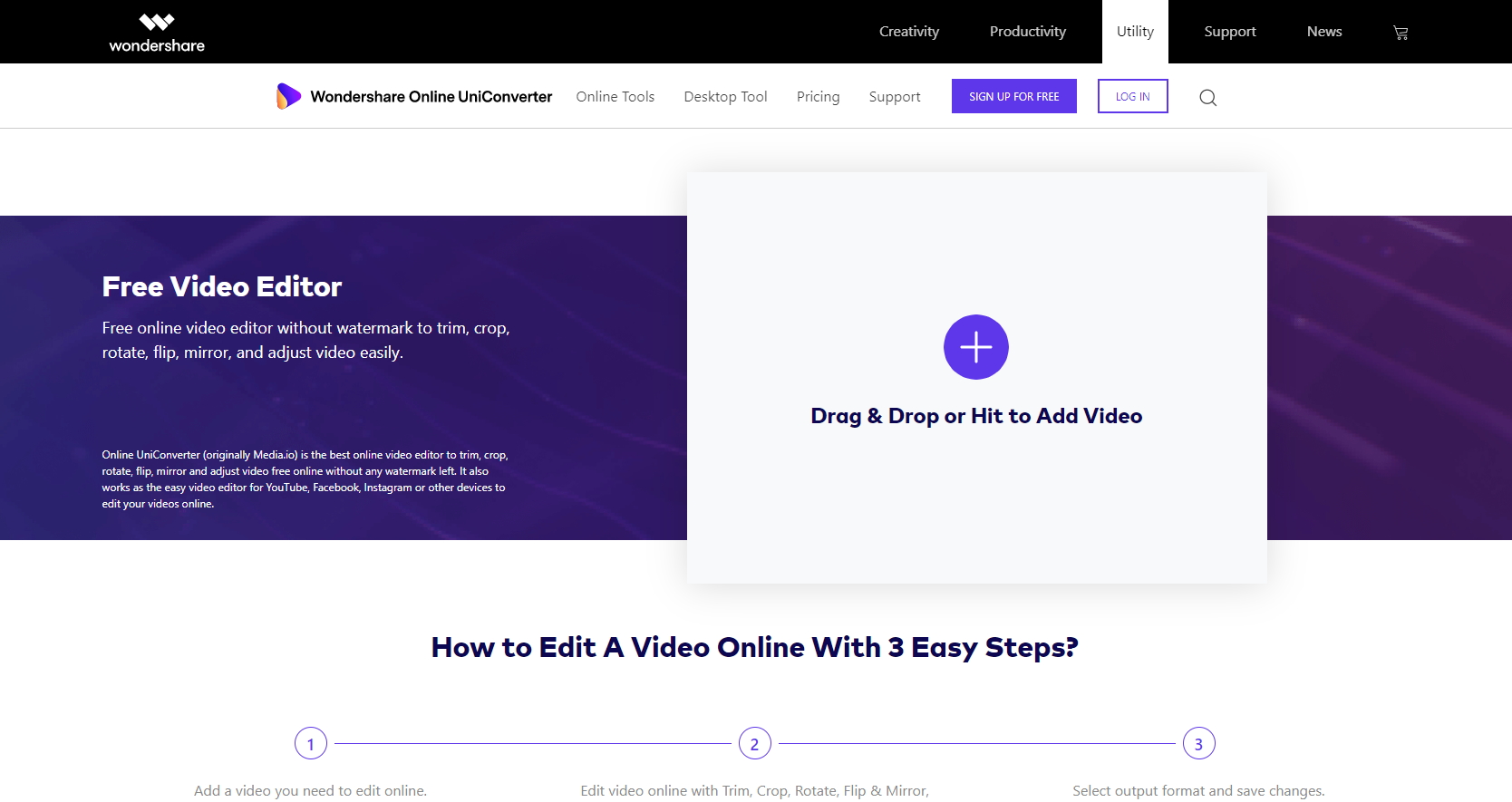 URL: https://www.aconvert.com/video/split/
Aconvert is a prominent tool that is widely used for a variety of video editing needs. It is free, easy to use, and reliable as well. This tool offers users the ability to trim, merge, split, and crop videos. Aconvert uses cloud technology to perform operations, which makes it secure and fast. All you will have to do is to upload your desired file and choose what type of editing you want to do. After that press the enter button and in a short amount of time, you will have a downloadable result.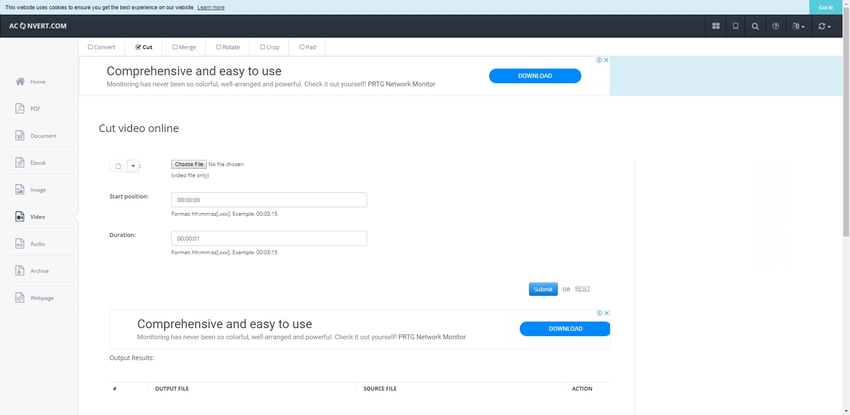 URL: https://clideo.com/cut-video
The website for this tool is simple, elegant and responsive. There are little to no ads on the website which enhances your user experience. It provides users with the ability to trim, resize, crop, rotate and merge WMV video files. Apart from all this the website also allows audio editing for users as well. The website is very easy to use due to its minimalistic design and step by step guide for all the processes.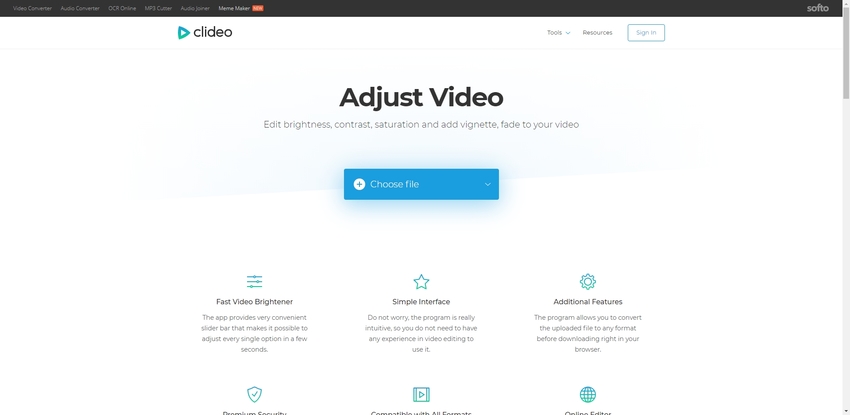 URL: https://ezgif.com/cut-video
EZGIF is one of the oldest and most trusted tools available online. This is free to use software that uses cloud-based technology to perform small editing operations like trimming, cropping rotating, etc. This tool is widely used among new and experienced users alike. Apart from the WMV editing features that it provides, this tool is capable of editing GIFs, audios, images and can also perform conversions. This software is high-speed and can be used to perform complex editing tasks online.
URL: https://www.rotatevideo.org/
This is a straightforward online editing tool that facilitates rotation of WMV videos. This tool doesn't perform any other function related to video editing. The User Interface of the website of this tool is clean and nearly free from ads. As this tool focuses only on a rotation of WMV videos, it allows the developers to focus all their resources and efforts on it, due to which this tool can perform the needful at the highest possible quality. There is little to no loss in quality of the video clip after using this tool.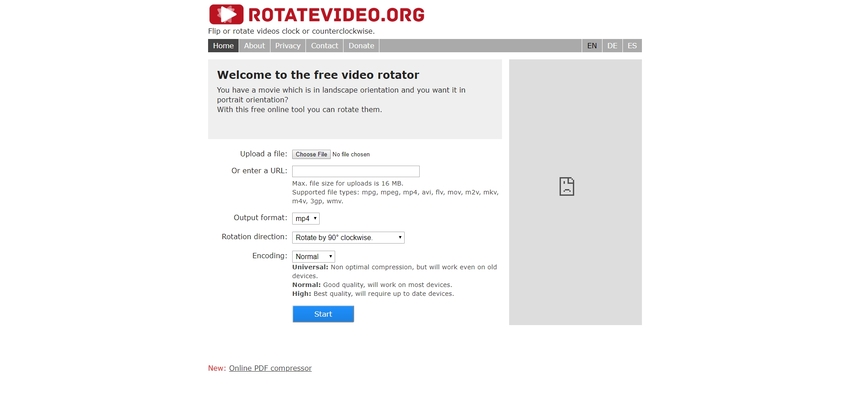 Part 2. How to Edit WMV Files in Windows and Mac?
The tools mentioned above were all online tools which can be accessed from anywhere, for providing full usability. However, those tools generally sacrifice on advanced features. Wondershare Uniconverter is a desktop program that is used to edit different video formats. This program allows users to do basic editing like cropping, trimming, merging, splitting, etc. along with some advanced editing features like speed manipulation and adding effects. To use this program, you need to visit their official website and download the setup from there according to your operating system. After this, you need to run the setup. After a few minutes, the installation will be installed, and you will be able to use it. It is widely considered as the best tool to edit WMV files windows 10.
Wondershare UniConverter
· It is supposedly 30X faster than online editing tools.
· Allows multiple conversions at a time.
· It is very easy to use.
· The user interface is very neat and clean with no ads at all.
· Allows you to burn, edit, compress and share videos very easily.
Step by Step Guide to Editing Videos Using Wondershare Uniconverter
The following is a small guide that will show you how to trim videos using Wondershare Uniconverter.
Step 1. Open Wondershare Uniconverter and Upload MWV Video
Click on the icon of Wondershare Uniconverter to launch it. Now, add the file you want to edit under burner or converter. You will now get to see three different icons below the thumbnail of the video. These icons are called trim, crop, and effect respectively starting from the left and ending on the right.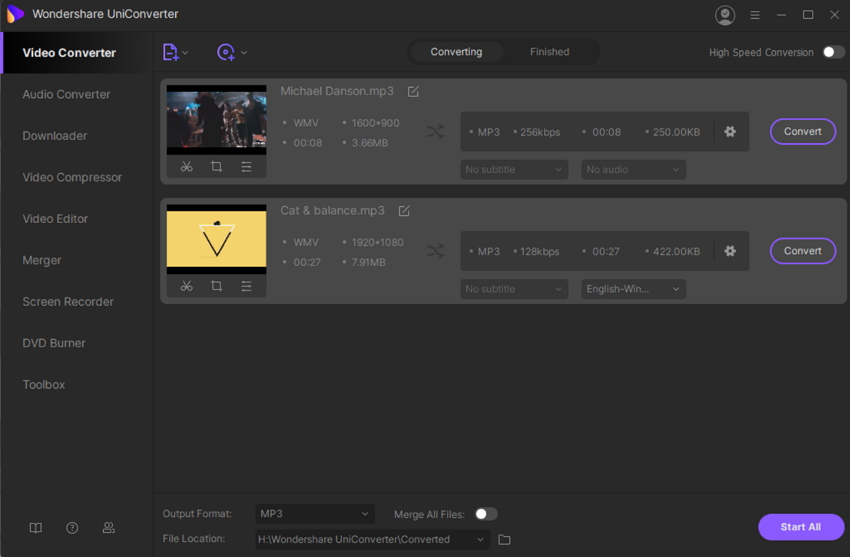 Step 2. Click on the Trim Button in UniConverter
Now, you will have to click on the Trim button which will give you a popup window. After trimming, click OK button.
Attention: the "+" and "-" buttons as shown in the image below, can be used to zoom into the time interval. Use it for accurate results.
Step 3. Click the Crop/Effect Button to Edit WMV Video
If you want to rotate/flip/add effect/add watermark/add subtitle/adjust video volume to your WMV video file, click the Crop/Effect button to edit.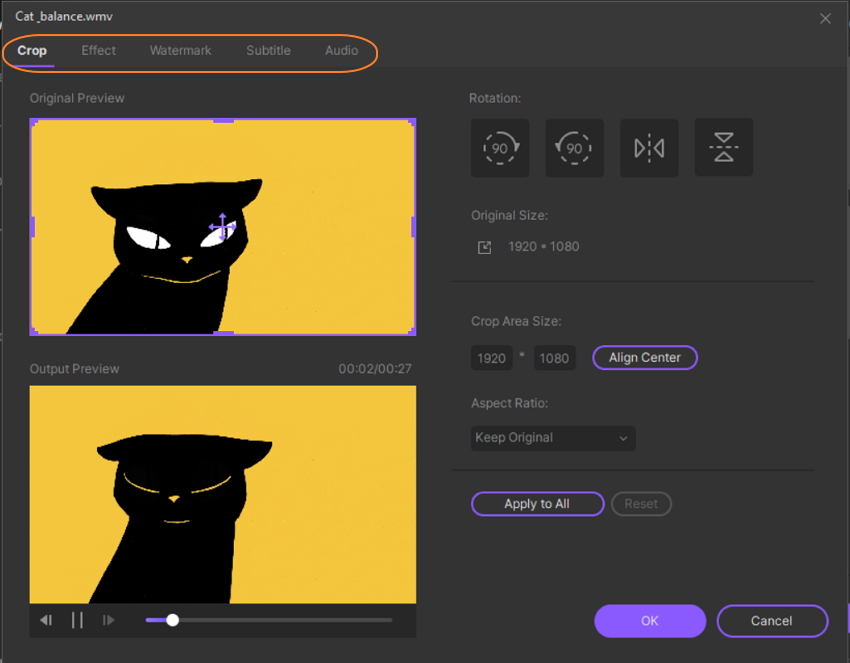 Step 4. Save the Edited WMV Video
The last step of the whole process is for saving your edited file. For this, you have to click on the drop-down button beside convert all files to select the format of resulting clips and then press Start all.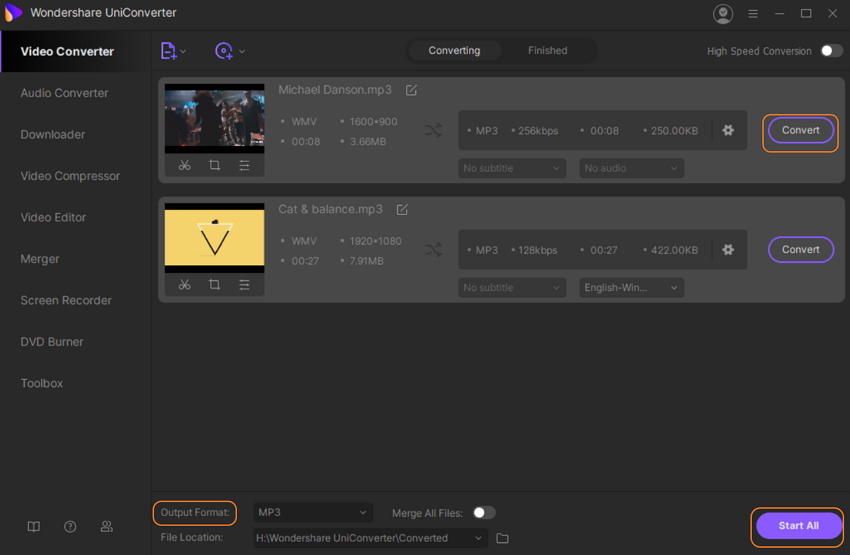 Summary
Beginners often find themselves in a problematic situation when it comes to WMV editing. By using the two methods as mentioned above in the article, beginners can easily edit their WMV files without any hassle. The online techniques can be used if you don't want to add any load on your desktop's hard drive, but few features are present in them, whereas using Wondershare Uniconverter you can edit WMV videos without an internet connection and it also offers more features to you as well.