Videos with different playback speeds than their standard rate are getting more common in this era of social media technology. Many different social websites such as Instagram, Facebook, and TikTok use to speed up videos, which are either fast sequences or slow-mos. In the language of cinematography techniques, these videos are based to either objectify the subject to a better extent and produce a sense of "urgency" with faster playbacks. This article speed up YouTube videos by increasing their playback speeds and analyzes the difference that is created with it.
Part 1. Funny Fast Motion YouTube
The motive is to test the effects caused by YouTube fast playback option over watching different videos from YouTube. By adding an extra speed up video effect while watching a random video from YouTube, this article shall also discuss the differences the user has felt while watching a speed up YouTube video. Three different videos were selected for analyzing, which were varied with a speed changer. These videos were compilations of losses and failed of different individuals around the world. With the YouTube video speed up option of 2x, the playback speed of these videos was increased. With an increase in rate, the time for the video to elapse has also halved. This makes speed up videos an exciting and time-saving thing for the general population.
The names of the videos that were short-listed to watch and review were named as follows:
Considering the names of these videos, these videos look commonly viewed and random funny collections that are made for people who are sitting vacant and have nothing much to do. The effect of speed up video has been added to add more flavors into the content and give you a better laugh.
After having a good overview of these YouTube fast sequence videos, several aspects are to be discussed, which would show the differences that are produced with a speed changer.
At first, the most noticeable change that was observed equally in all three videos was the change in emotions that were brought with YouTube video speed up option. The transition between the expressions and emotions of individuals was more prominent, which was depicting a funnier perspective in the video. It looked more entertaining to the eye, which made us laugh higher than watching this on average speed. Fast motion sequences are referred to bring more dignified and pertinent meaning to videos. Just as we observe different motion clips on other social networking sites, the option of speed up YouTube videos was checked to see whether it brought similar effects, as in other social sites.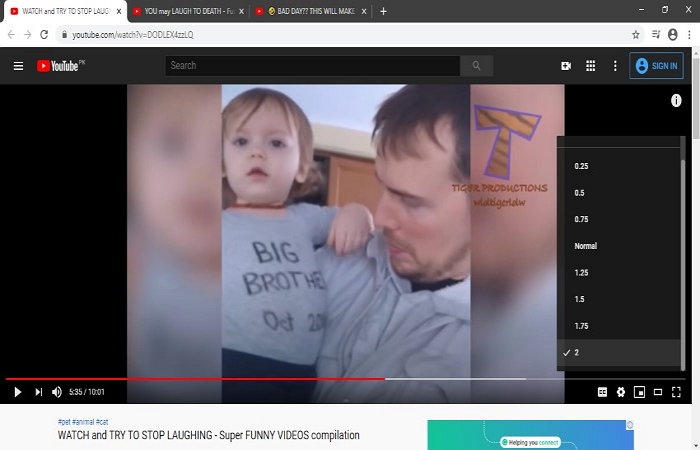 Another advantage of having a speed changer option for watching YouTube fast videos was the cutting of unnecessary parts in the clip. As time was halved with the change in playback speed, the lesser important details of the video were shortened themselves, which significantly decreased the chances of getting bored from watching videos. This, if analyzed on a large scale, can help several channels to increase their views. The lesser the boredom, the higher the chances of the video maker to improve their overall watch time.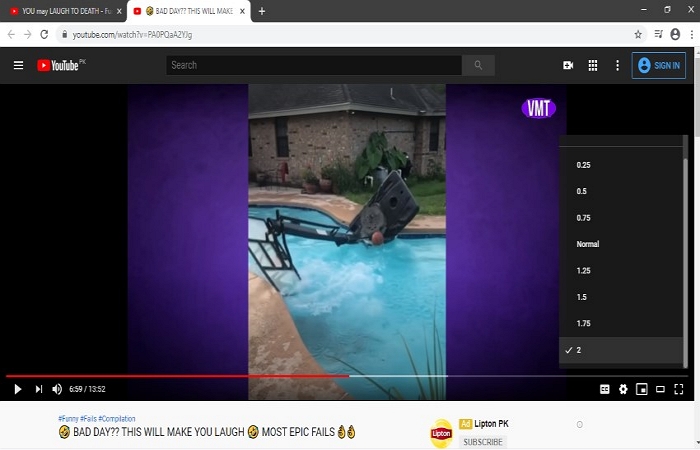 The decreased time has been discussed as a factor of influencing several in the article. It acts as an advantage itself for the viewers. As a 10-minute video is decreased to a 5-minute video by the speed up YouTube option, people would like to watch more videos, which saves both the time while giving them multiplied content to watch.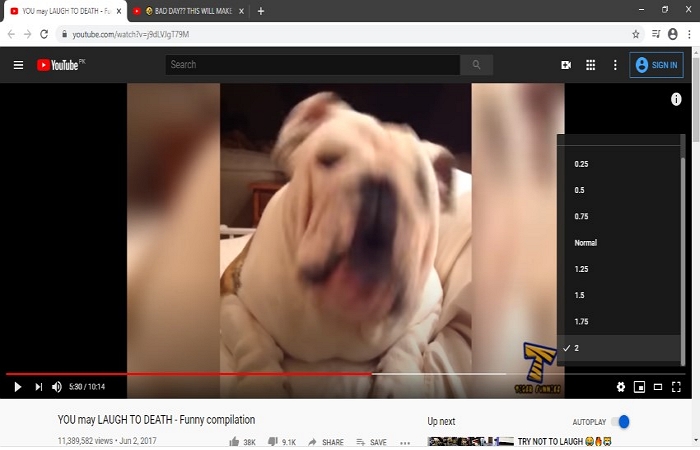 There was one issue that has been noticed quite a lot of times in the videos. The sound wasn't up to the mark and was itchy to hear quite a lot of times in between the videos. Clear voices were highly varied with the speed changer, which was a strain rather than a consistent tone. With a single frequency of sounds, users might leave any relevant detail that is gathered from the sounds.
Part 2. Make Youtube Video Speed Up Through Online UniConverter
We might have a YouTube video speed up option within site, which we can easily have changed by amending the settings. Yet, several details might be mislaid if compared from the results obtained from a proper video speed controller. Rather than having a video speed controller bought, there is a contemporary online platform that can fight off different remarkable speed up video makers.
Online UniConverter (https://www.media.io/change-video-speed.html) brings up an opportunity for people to make such YouTube fast videos with the help of its speed up services. By simply copying the URL of the YouTube video or by browsing it from the device, any YouTube video speed up can be performed.
With its unimaginably fast rendering, users can get their videos made without any time losses. Online UniConverter doesn't have ads and watermarks present unlike other online platforms while using the speed changer option, which removes the sense of discomfort among the users.
Moreover, this platform has the perfect security system for the consumers, which saves their content from being stolen. Their fast customer service makes it a dime to use for getting videos edited.
For having your YouTube videos edited, you can follow three simple steps that would help you make a funny video:
[没有发现file]
1. Copying the URL of the YouTube video.
2. Setting the speed for the video.
3. Download or previewing the video in any format you want.
Summary
An office worker who was to break a sweat from the hectic work for a short time has the best opportunity to use this method of YouTube fast videos that might help him get some quality laughing time. With the playback speed up YouTube option, anyone can get their YouTube video speed up quickly.