Back in the days when video production required a considerable workforce, the maintenance followed by the hard work was much more in quantity as compared to what video production has to offer today. The digital world has developed many effective methods for video production that can be performed individually and can provide the same profitability as compared to the profits gained from the previous methods. Screen Recording is one such method that has evolved the profession of video production and has provided users an effective platform to develop instructional, educational, and gaming videos that would serve a purpose. IPhone or iOS devices have adopted the screen recording feature recently. Over assessing this feature, it has been discovered that it is a limited feature with a few video and audio settings. Users who seek a more detailed application should look over to third-party application developers. This article discusses the best screen recorder applications that provide better facilities as compared to iPhone's built-in features and allow users to select over the best application that would serve their purpose.
Users get confused over the selection of the best application that would suit their purpose. This article discusses the five best screen recorders for iPhone that would allow users to select onto a better platform that would allow them to create creative content with the exemplary features of the applications.
This all-in-one iOS screen recording application has millions of endorsements for its advanced features. With the provision of selecting the best resolution, bit-rate, and frame rate for the video that is being captured, users can easily record HD quality videos with Facecam reactions. Screen Recorder + allows setting the position of these reactions into the places that are desired by the user. Along with these explicit features, it even provides the leverage to users for adding audio commentary with its microphone feature.
This application is a qualified editor that allows users to trim, rotate and loop their videos with ease. It provides a playlist of background music or allows importing music from iTunes to help users add music in their video.
Users can download this app by clicking here. URL: https://apps.apple.com/us/app/id1380506650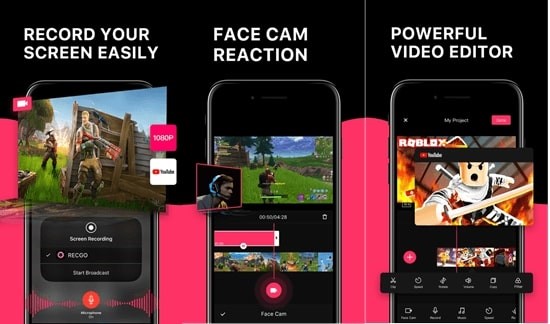 Although looking a simple from its name, this application is considered among the best screen recorder applications for iPhone with its impressive set of features. Users can record their own reactions and faces with the FaceTime cam. Record it provides users with the ability to edit their videos and share files after completion. Its interface is appreciable since it provides single-touch options to its users along with other video editing features such as cropping, rotating, and adding filters onto the videos. Users can change the speed of the video with its customizable playback speed tool. For bringing convenience, it saves videos in the application as well as the gallery of the phone.
Download Record it from here. URL: https://apps.apple.com/us/app/record-it-screen-recorder/id1245356545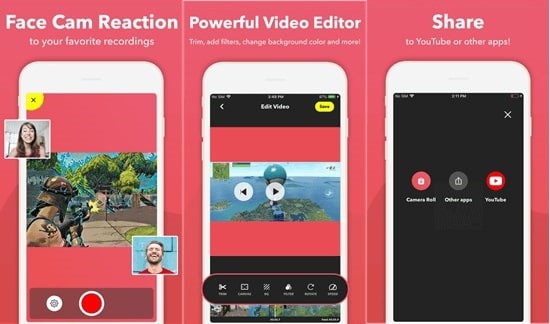 An application considered perfect for recording games, Go Recorder doesn't require device rooting during the creation of screencasts. Go Recorder is considered extremely user-friendly compared to other video recorders where it starts the complete footage recording in a few clicks. It even provides users with a quick-ready time of 3 seconds before starting the filming. The application provides additional features of trimming and removing portions of videos. After completing the procedure, users can even share the video that is being made directly to different social media streams.
You can download Go Recorder by opening the following link. URL: https://apps.apple.com/us/app/id1345200849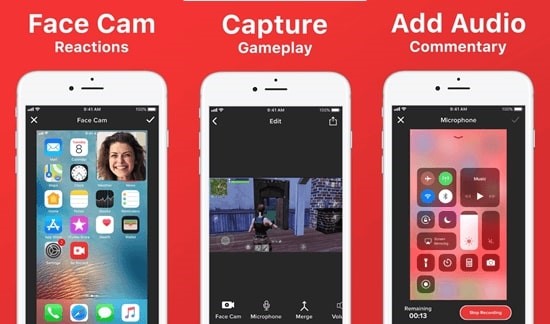 Out of many iOS applications that provide a screen recording facility, this free screen recorder films the video with convenience. It records the film in standard resolutions; however, users cannot change the bit rate and other advanced settings offered in screen recording. There aren't many emotions or VFX that can be induced into the videos, which can be considered as a major drawback. However, the application has developed another tool named the 3D Touch feature that starts the new recording session without any difficulty under a single tap. The application, however, doesn't provide users with the options of editing. Yet, it allows direct sharing of these video clips onto different video editing tools that can assuredly help design the videos for getting them posted onto different platforms.
Download TechSmith Capture by opening the following link. URL: https://apps.apple.com/us/app/techsmith-capture/id1266321056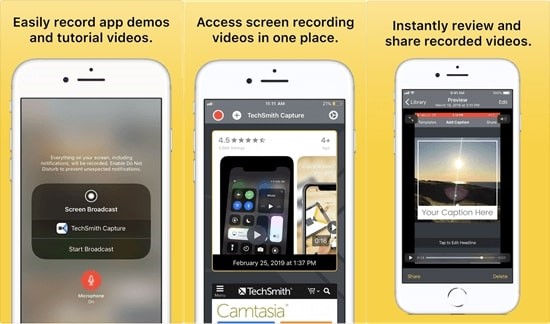 Talking about the best options in screen recording, we cannot forget the DU Recorder with millions of users. This screen recorder for iPhone provides users with the ability to record the screen feed in 1080p at 60 fps with covering 12 MBs. These metrics are considered ideal in the case of video recording. The application provides a very explicit range of features for screen recording, including setting video frame rates, sizes, bitrates, and capturing qualities of the videos.For designing picture-in-picture videos, DU Recorder provides the leverage of using Facecam for resorting to the complete video with different animations and impressions. DU Recorder provides video editing, live streaming, and image retouching features, which are much in quantity if considered for a screen recording application. DU Recorder can be a perfect option for creating high-quality and high-resolution display videos. Users who seek to develop exquisite videos should definitely go for this application.
You can download DU Recorder by opening the following link.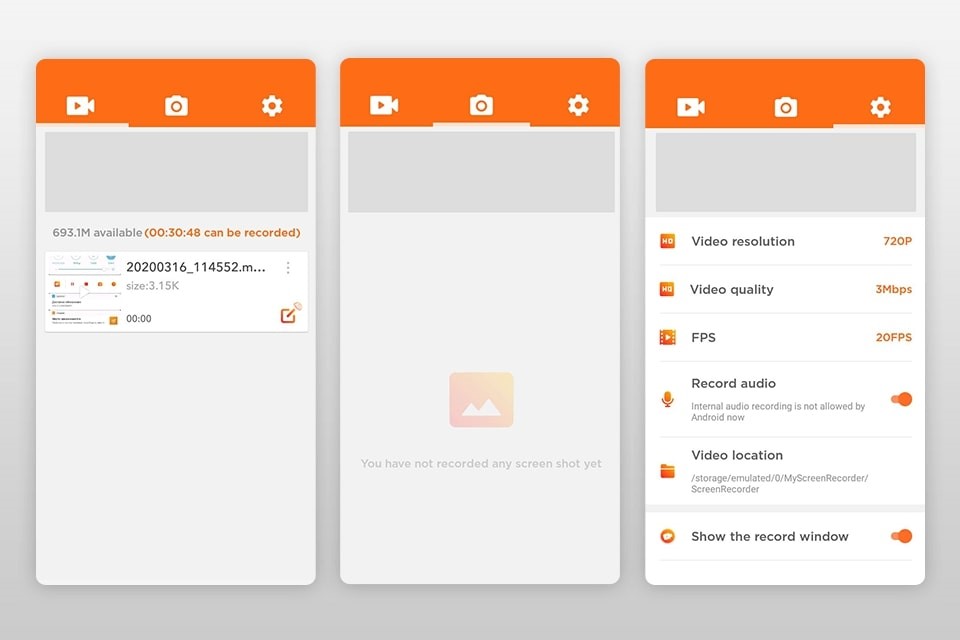 Summary
Numerous screen recording applications are available for free on the App Store and iPhone, providing a range of editing features that help users create very efficient and impressive videos for their use. Over the question of the best application that can be downloaded on iPhone for screen recording, this article has provided a very exemplary comparison of various applications that are available for screen recording to help users finalize over a specific application for fulfilling their personal or professional purpose.