In case you have to do a lot of product review work over the net or play games, then it is essential to paste photos of graphs, products, charts, screenshots, etc. For this purpose, you must get excellent screen capture windows tools. There are several methods with the help of which you can easily undertake the task, and you do not even have to have technical knowledge about the subject. Unlike traditional ways, these methods can easily be used on every other window version with a great deal of ease.
Part 1. 3 Methods: How to Capture Screen on Window
These 3 screen capture windows methods are straightforward to undertake once you learn them. Here you do not have to download any additional software on your computer system. The process can quickly be taken from pre-installed utility software present inside your computer. Here you can even change the location of the screenshot as per your choice and can also rename it right when you are storing it on the system.
Method 1. Use Game Bar in Windows 10 to ScreenShot
Step 1. Open Windows Settings>Gaming
Click Start menu, find the Settings, and choose the Gaming feature.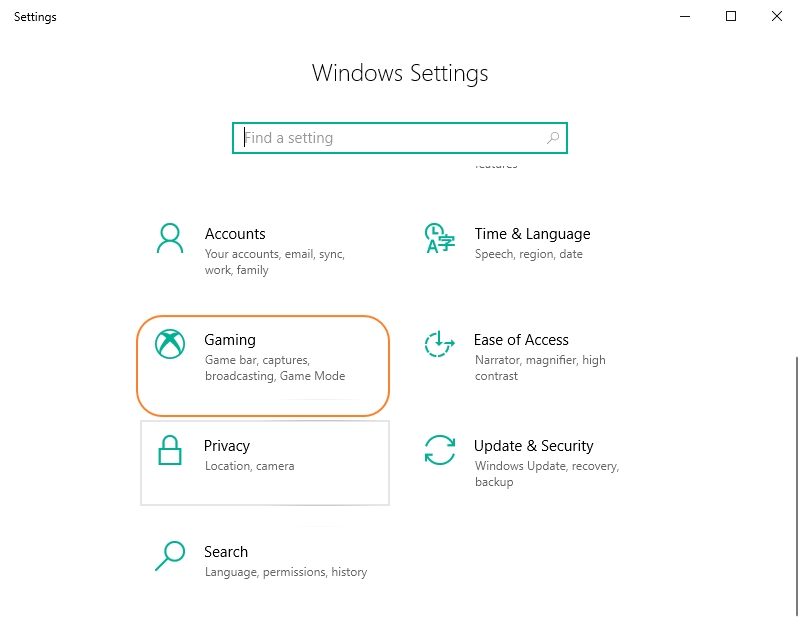 Step 2. Turn on Record Game Clips Feature
In the Game bar, you will see Record game clips, screenshots, and broadcast using the Game bar. Turn on this feature and check the keyboard shortcuts button for a screenshot.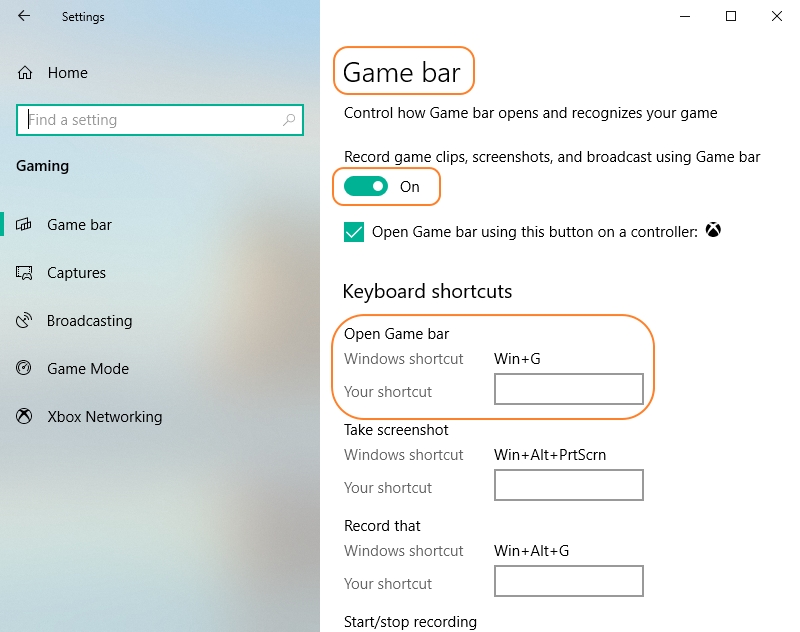 Step 3. Take ScreenShot Easily
When you are taking a screenshot for screen capture Windows 10, then you have to press the Windows key with the G button and then click on the yes prompt button. At last, you need to click on a camera icon and take a picture of the screen. The Game Bar generates screenshots in PNG format.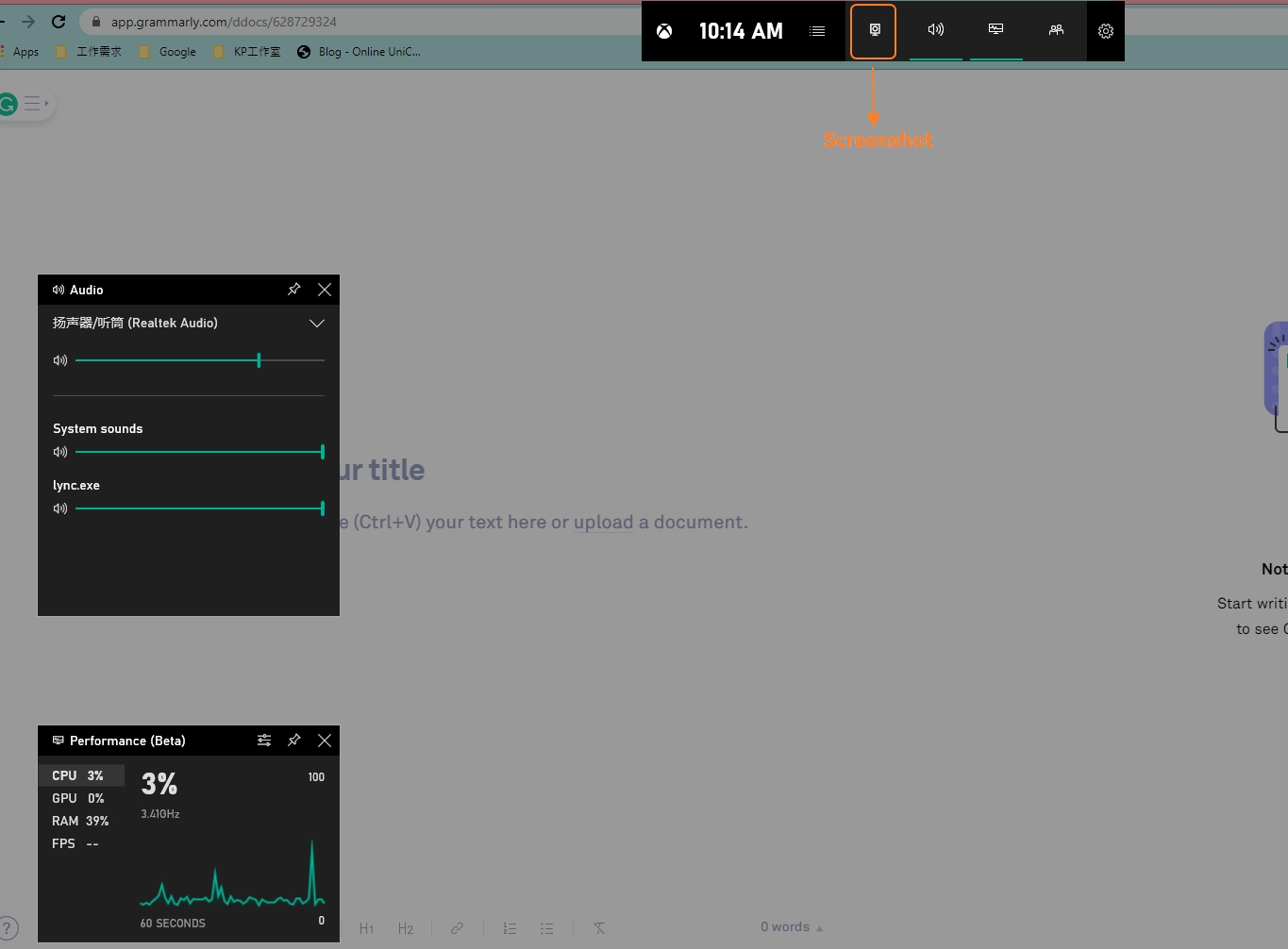 Method 2. Press Windows + Shift + S Directly
Step 1. Press on Windows + Shift + S Keys
If you are looking for a simple way about how to capture screen on Windows, then it is essential to press Windows + Shift + S keys. Thus, your computer screen will turn a little translucent, and you can choose the area for the screenshot.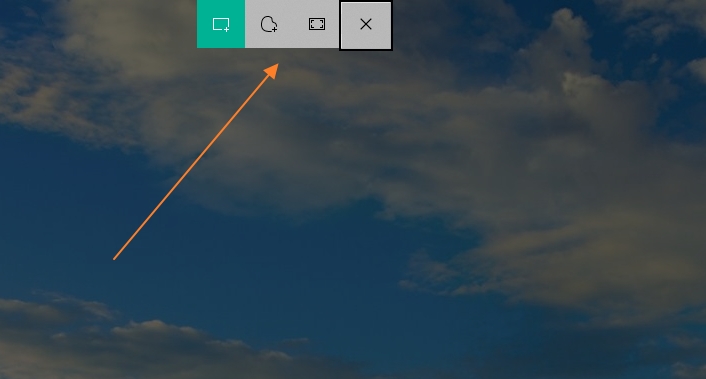 Step 2. Paste Screen at a Desired Place on Your Computer
In this step, you are required to place the selected screenshot at the desired location of your computer, and you can even rename it.
Method 3. Take More Flexible Screenshots with Snipping Tool
Step 1. Click on the Snipping Tool
While you are trying to screen capture video Windows 10 through the Snipping tool, then you have to click on the delay button. This option allows you to capture tooltips as well as pop-up menus.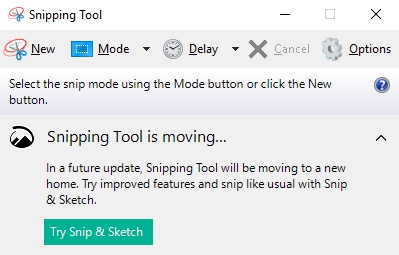 Step 2. Choose Total Number of Seconds for Delay
Inside of the delay button, you are required to pick seconds before that you want to wait when a screenshot is taken.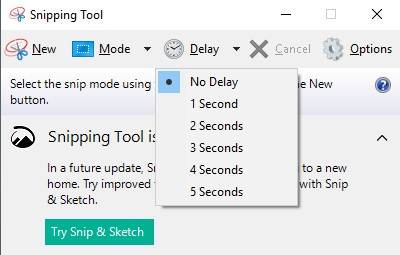 Step 3. Click on New Button
During the third step of screen capture Windows, you need to choose from the type of snip which you want to use to capture the screen. Due to time delay, you get a chance to adjust the background, which is an added advantage.
Part 2. Top 10 Screen Capture Software for Window 10/8/7
URL: https://www.techsmith.com/screen-capture.html
Price: $49.95
Key Features:
Through this active screen capture video Windows 7/8/10, it is effortless for you to share images capture on several social media sites.
This useful tool also offers you a chance to edit the pictures efficiently for several projects.
Techsmith is screengrab windows that give you a chance even to capture videos on the screen with relative ease.
You will also be able to place screenshots as well as videos on blogs, training materials for presentations.
The GUI features of this screen capture video windows 10 makes it very easy even for a novice to use it.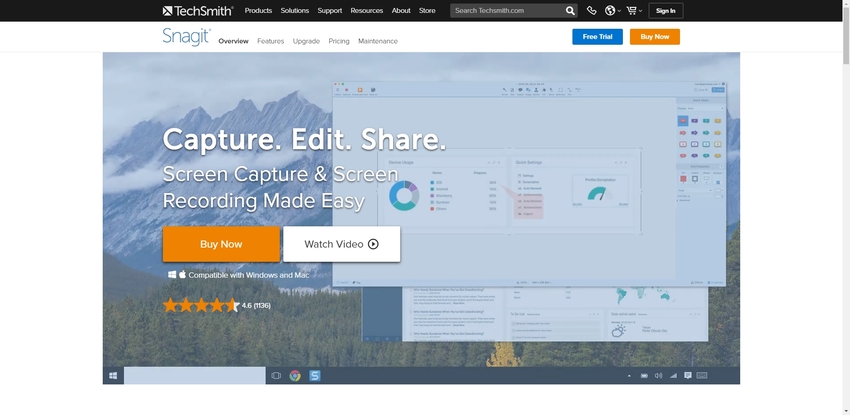 Price:
Single user $29.99
Team $124.95/ 5 members
Site $1,950
Key Features:
Through the help of screengrab Windows, you also get a chance to use several graphical designing accessories viz. color palette, magnifier, color picker, etc.
Picpick provides you with ease in sharing content on several sites viz. Google Box, social media, Dropbox, etc.
Here you can even download free screen capture Windows 10 on trial basis and learn how to use it before paying a dime.
The dashboard of Picpick is user interactive. Thus you do not face any difficulty in using it.
You can even undertake customized settings through hotkeys, image re-naming, and quality of the image.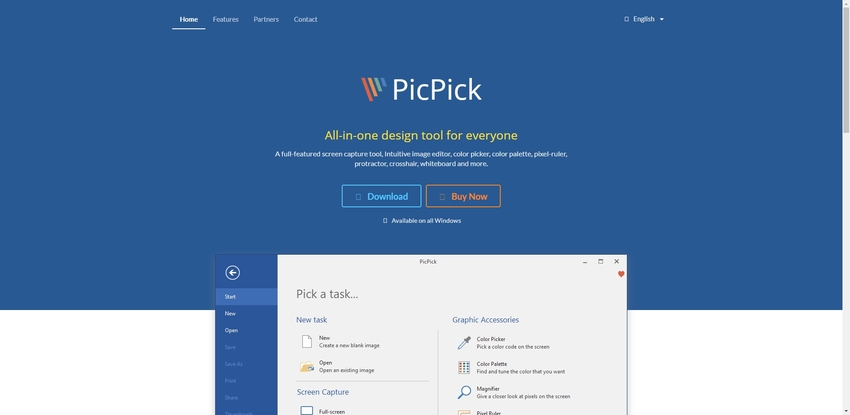 Price:
Basic Free of cost
Standard $29.95 per year
Plus 59.95 per year
Jumbo 99.95 per year
Key Features:
Through the help of this tool, it is effortless for you to capture images and videos from web cameras quickly.
This screen capture software provides you aid in saving all the files locally on your system for future references.
You can even share files quickly, which is about 2 GB in total.
Tiny take also offers you a chance to share files in zip format. Thus you get to save much time.
With the proper aid of this tool, you get to view any document as it is equipped with a web file viewer.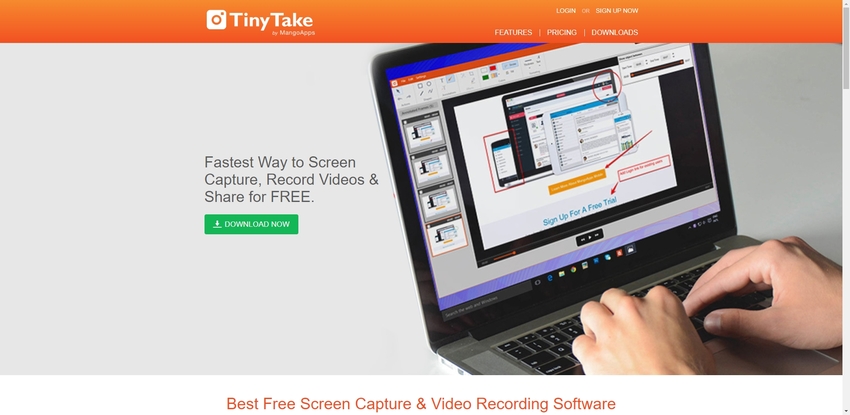 URL: https://app.prntscr.com/en/index.html
Price: Free of cost
Key Features:
When you use this online tool, then there is nothing to worry about how to capture screen on windows as it has excellent GUI features.
You can straight away upload various screenshots on the cloud platform. Thus you can save much of your systems' space.
This online tool also provides you active training sessions so that you can use the software without any glitch.
Through this screengrab windows software, you also get a chance to search similar types of photos over the internet.
The process of screenshot takes place with just two initial clicks, which are considered as a time saver.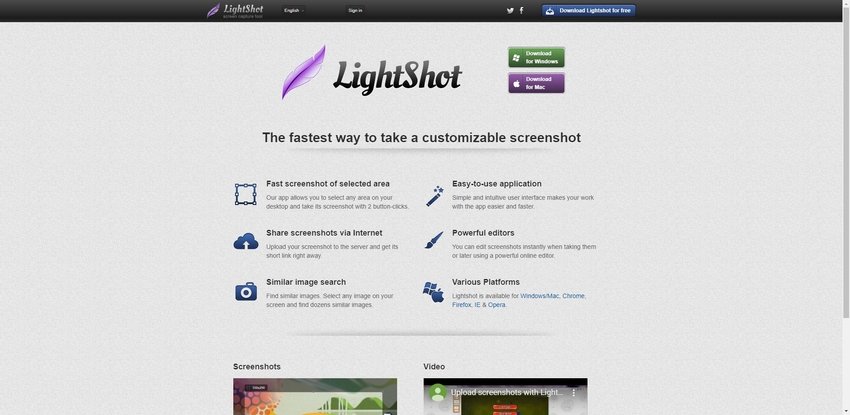 URL: https://www.screenpresso.com/
Price:
Basic Free of cost
Pro $33.02 single user
Enterprise $2411.60 unlimited users
Key Features:
Screenpresso will even let to capture screen even for scrolls.
This online tool also allows you to capture the screen on your Android device.
To work on this screen capture tool, you need to work on it without any installation process.
You can even generate several documents through the help of this tool viz. training manuals in PDF or HTML.
Screenpresso offers you a multilingual option, which makes it very easy to use it and supports several Windows versions.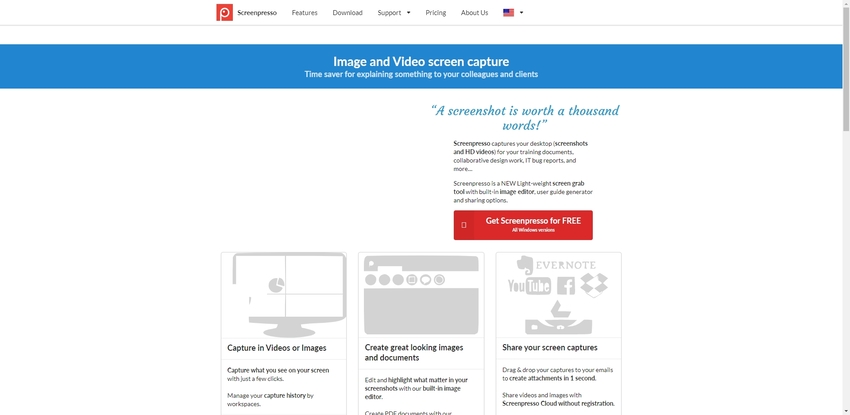 URL: https://gyazo.com/en
Price:
Basic Free of cost
Pro $3.99 per month
Team $7.00 per month for 5 people
Key Features:
Through the help of Gyazo, it is effortless for you to capture screenshots in a small time duration.
This free screen capture tool offers you an option for automated tagging, and this gives you a chance to find save files easily.
You can easily save your game with the help of a video capturing option which is offered by the software.
UX and UI features of this tool make it exceptionally intuitive to use, and you can share the screenshots over the net.
Gyazo provides you great deal of aid in accessing the history swiftly and get effective support from professionals.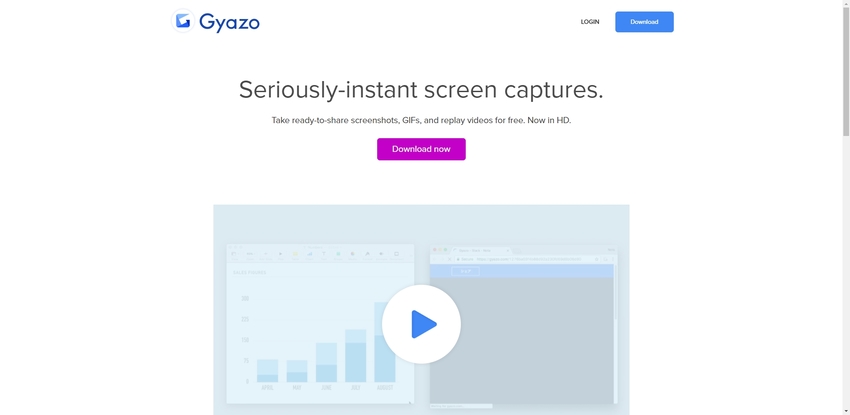 URL: https://www.ashampoo.com/en/usd/pin/2024/multimedia-software/Ashampoo-Snap-10
Price:
Basic free of cost
Pro $21.00
Key Features:
You get a chance to upload all of the screenshots entirely on a cloud platform.
It allows you to use for multi-purpose projects viz. capturing videos, photographs, etc.
Ashampoo also offers you a chance to edit your project with a few initial clicks.
Through this tool, it gets very easy for you to share important information in a safe and fast manner with others.
You can even capture the whole web portal by clipping an automated link to the image.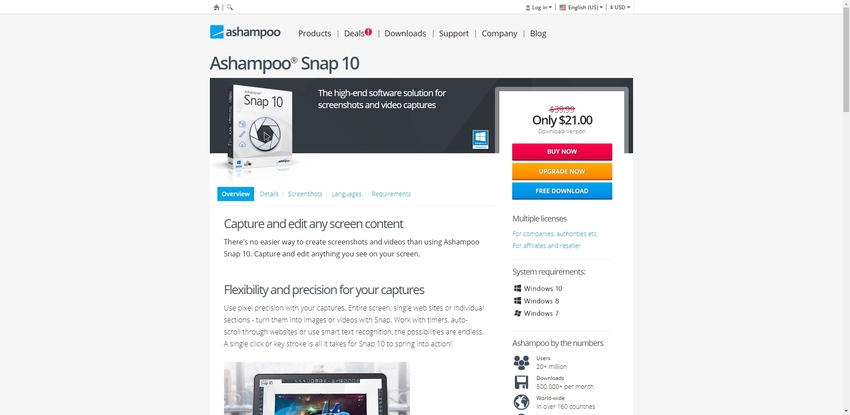 Price: Pro $39.95 for lifetime
Key Features:
Through the help of this tool, it is straightforward for you to get proper email support.
While you use the tool, there is nothing to worry about, as it duly follows the confidentiality norms.
You also get a chance to convert pages of a web portal into PDF format.
Fireshot also offers you thorough guidance with which you can effectively create images from different videos of your choice.
This is considered as a perfect Windows 10 screen capture tool which guides in website integration through API software.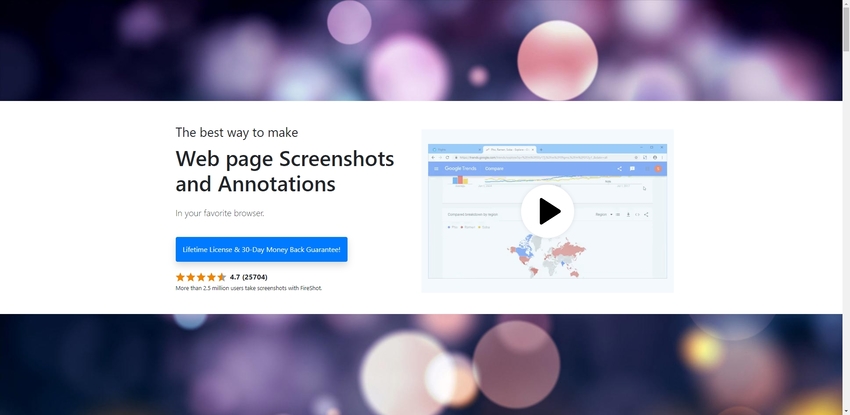 URL: https://getgreenshot.org/
Price: Free of cost
Key Features:
Greenshot is one of the most effective screen capture tools which provides you aid in capturing windows as well as fullscreen photos and videos.
The layout of the dashboard is user-intuitive, thus you can even complete big projects with exceptional ease.
This best screen capture software for windows allows you to export images through several ways viz. clipboard, printer, Flicker, etc.
You can easily focus on intricate parts of an image, which is very beneficial for specific projects.
The tool has a small size. Thus it does not take much space on your computer system.
URL: http://grabilla.com/
Price: Free of cost
Key Features:
You can download this Microsoft screen capture tool for several platforms viz. Windows, iOS, Android, and even for Mac.
This tool offers you to upload an unlimited number of files daily.
Grabilla can be used for multipurpose programs viz. office and even for entertainment.
You can also regulate QR codes with the help of this online software and can easily annotate with peers at the workplace.
Grabilla provides you an effective way to store important information in a secured manner for future reference.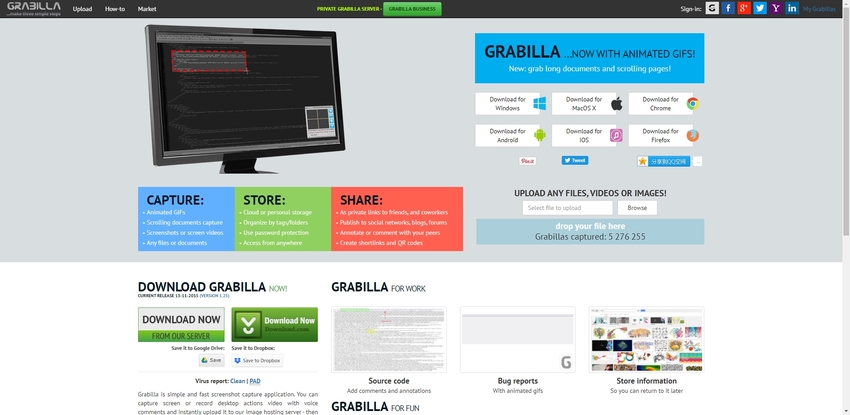 Summary
For various projects, either personal or professional, it gets essential at a time for you to capture screen to take reference in the future. Due to this, you can undertake various steps through preinstalled software or by choosing various online tools. Even if you are a novice and want to learn how to capture screen on windows, then easy to use tools will help you in your project. These tools have great UX and UI features and provide online consultation in case you feel any difficulty in using them.
If you want to edit your screen capture, Wondershare UniConverter is one of the best software to help you edit, convert, and compress screen capture files.
Wondershare UniConverter
· Wondershare UniConverter supports edit screen capture just in few steps.
· You also could use UniConverter to record your screen.
· UniConverter allows you to transfer videos from computer to iPhone or Android mobiles without using iTunes.
· In Toolbox function, it includes convert images, create GIF, burn CD, rip CD, cast to TV, fix Meta tags, and others.
· Wondershare UniConverter allows you to burn video and other media files to DVD as well.