Nothing gets more frustrating than viewing a video with a distorted rotation (i.e., needing to rotate on your device to enjoy better viewing). This occurs mostly when a video is recorded with a smartphone; there's a need to turn sideways while capturing for better display on a PC. Thanks to the innovation of technologies, you no longer need to suffer your neck and head to enjoy your viewing. There are myriads of software packages designed to rotate MP4 video files, not to be too torn with choices, we selected 5 of the best free online rotator for your MP4 videos. These apps are compatible with all Operating systems; users can rotate MP4 videos in windows, Mac, as well as turn an MP4 video by 90 degrees free.
Part 1: Online Free Rotator for Rotate an MP4 Movie
Talk about accessibility, convenience, and affordability; these software packages are easily accessible across all platforms, easily downloaded from the internet for further application. To get you acquainted with the best of these software packages, we listed 5 of the best online free rotator to rotate MP4 movies, these includes;
URL: https://www.media.io/video-editor.html
This free online video rotator or editor is a great tool to help rotate as well as mirror, trim, adjust, and crop videos without having a watermark incentive. It is an excellent tool for vloggers as it works as the stress-free video editor for social platforms like YouTube. This seamless tool helps you upload videos from your smartphone and also transfers the edited video to your smart device.
What We Like:
Versatility and Flexibility: this free online software is an all-in-one package, just upload, edit, and export.
Accessible Advanced Features: it avails user with an integrated search engine for easy access to your most preferred videos online.
Several range of editing options i.e. rotating and trimming and exports to several resolutions and formats.
What We Don't Like:
User needs to be signed in to access these features.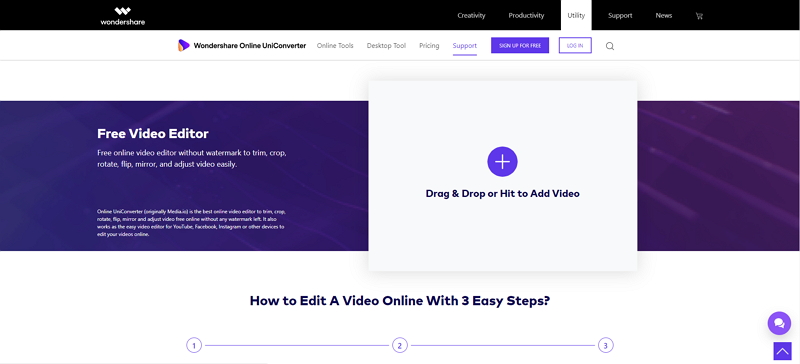 URL: https://www.kapwing.com/rotate
KAPWING is an online free tool used to rotate videos for ease of proper viewing of videos. Kapwing can be used to turn pictures, GIFs, and of course, videos. In just three easy steps, you can enjoy the most entertaining videos and GIFS. What's more, is that the simple and easy user interface makes it easy for anyone to freely navigate without consulting the help of any tutorial.
What We Like:
Easy to access and navigate.
Free to rotate and convert.
What We Don't Like:
Limited features for the free version. The paid version includes access to all the features.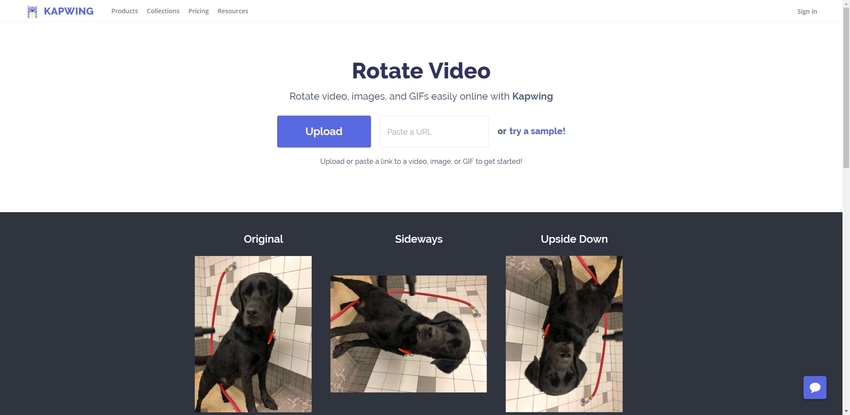 URL: https://clideo.com/rotate-video
Clideo is an online free video rotate software that rotates video online i.e. turns vertical video horizontal or vice-versa. User can upload videos by drag and drop or simply uploading videos online via Google drive, drop box and other external online video storage. Videos can be converted in 3 easy steps i.e. upload, rotate MP4 video and save or download result.
What We Like:
Free, easy to navigate, and beginner-friendly.
Premium Privacy and quick result.
Compatible with any video format.
What We Don't Like:
Unlike Wondershare Online Uniconverter, all processes are not done within the software.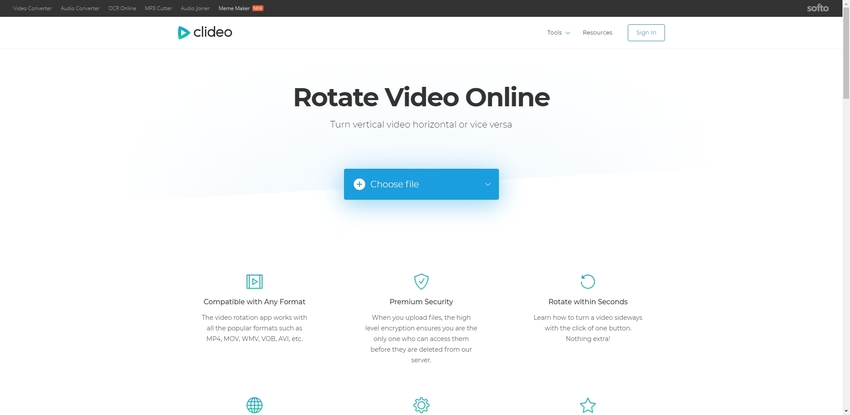 URL: https://rotatemyvideo.net/
This free online video rotates MP4 video without the need to sign up or download its software. Asides being beginner-friendly, it is quite easy to navigate, and secure to use as a video uploaded deleted from the server within few hours of its conversion. Another exciting feature is that the rotated video can be shared on social platforms like YouTube or Facebook.
What We Like:
Free to use: rotate MP4 video by 90 degrees free.
User can share videos of rotated MP4 videos on social media platforms like Facebook.
Beginner-friendly: all you need to do is "pick video" and the visual result of choice is presented to you.
What We Don't Like:
Limited features and formats available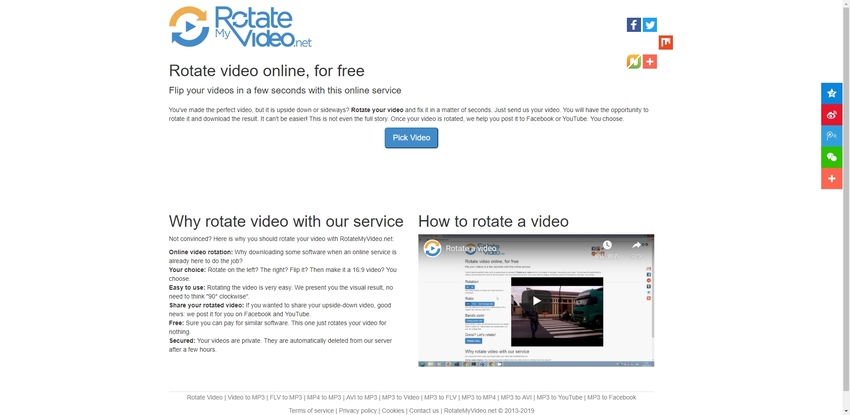 Just as the name implies, it is an online free software that is great for iOS device users that are in search for a simple and easy tool to rotate MP4 videos and save. Also Video Rotate is compatible with virtually all new versions of iOS devices and quite popular with iOS devices users due to its seamless and fast process.
What We Like:
Asides rotating the video, it also has features like cropping, stabilizing, and slicing videos.
Extremely simple user interface and easy to navigate.
What We Don't Like:
Limited features e.g. limited MP4 video formats available.
Part 2: Rotate MP4 Video File to 90/190 Degrees with Wondershare UniConvereter
Wondershare Uniconverter is a free online all-in-one software that rotates MP4 videos by 90 degrees or 190 degrees for free. With Wondershare Uniconverter, users can rotate videos with Mac and Windows devices. It converts directly to about 1000 or more video formats. Also, users can enjoy features like integrated editing functions like merging videos, subtitling videos, trimming, etc. More interestingly, MP4 videos rotated can be burn into DVD or Blu-Ray disc, so it can be played on user's DVD player.
Wondershare UniConverter
· Easily rotates MP4 videos, MKV, or other formats easily.
· Videos can be downloaded from YouTube as well as 10,000 plus video streaming or sharing sites.
· One-piece toolbox i.e. user can ass screen recorder, VR converter, metadata, and Cast to TV.
· Converts audio, video, and image.
· Compress audio, video, and image.
Pros:
Free download, install, and free-trial.
All-in-one online app and easily accessible.
Amazing video editing features.
Step by Step Guide to Rotate MP4 Video in Uniconverter
Step 1. Download, install, and launch the Wondershare UniConverter software on your device. Then, upload your MP4 video.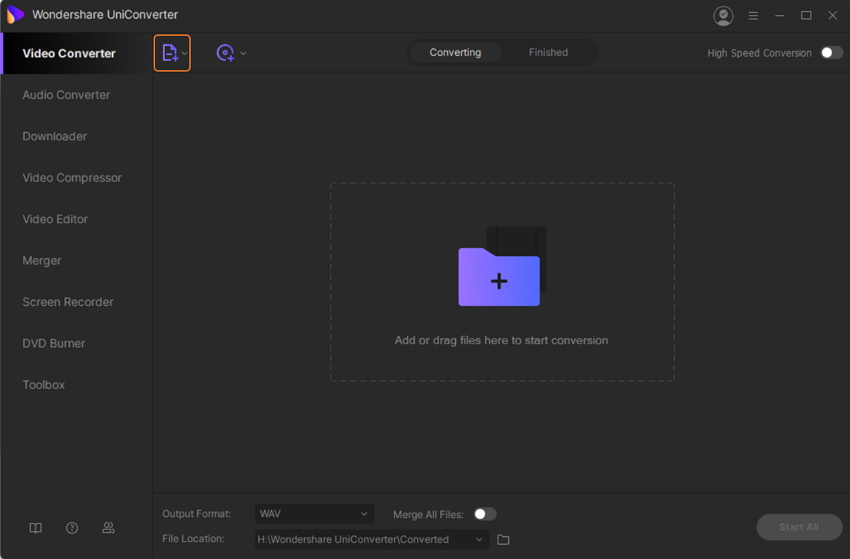 Step 2. Rotate Video File as you need. Click the Crop icon and rotate MP4 video to suit your viewing. You may choose to rotate MP4 video 90 or 190 degrees, clockwise, you may also want to go about in the anti-clockwise direction or flip video horizontally or vertically. Then click on Start All to save the rotated MP4 video.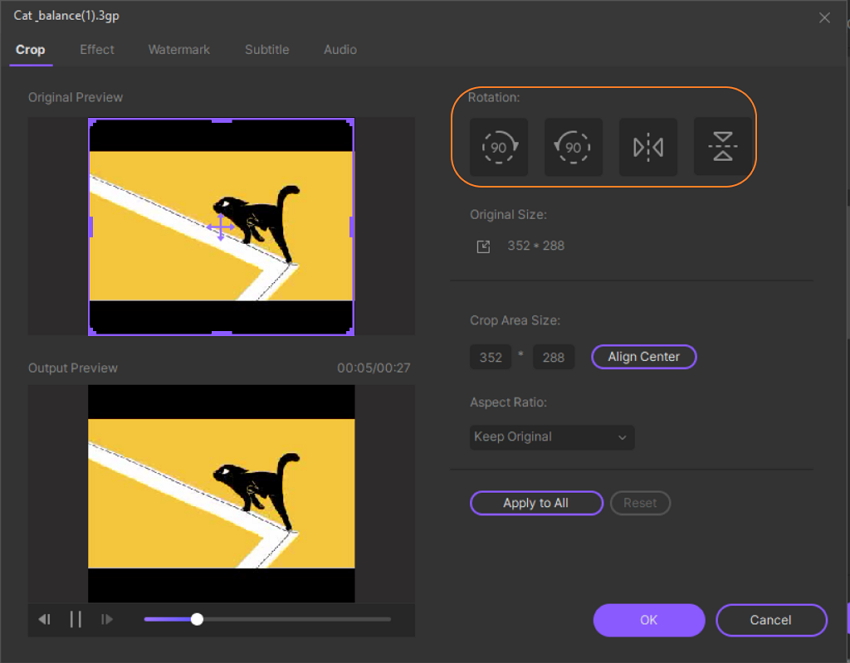 There you have it! Our top 5 best online free software that rotates MP4 video to best suit users viewing needs. Not leaving out users with operating system, these video rotate software packages are available to Windows and Mac computers.