Ever found yourself tilting your head to watch a video clip, you recorded on your smartphone, on a computer? It is so because 3GP, aka 3GP2, a spitting image of the MP4 format, is popularly used to store video files on 3G smartphones. When you transfer the video to your PC, it cannot be played as usual since the filming was wrong, or rather the camera got turned during recording. So how do you rotate 3GP video to 90 degrees?
Keep scrolling to find out how to get a 3GP video rotated using six different tools.
Part 1. How to Rotate a 3GP Video in Wondershare Uniconverter (and Save it)
Wondershare Uniconverter is a software developed to make video conversion and editing a walk in the park. With a few guidelines and a couple of minutes, you can have it installed on your Windows or Mac OS computer. Once you download this program, you get a complete video editing kit for rotating, cutting, cropping, adding subtitles and special effects, etc. at your disposal. Wondershare Uniconverter allows you to download videos from over 10,000 sites and convert them to more than 1,000 formats while maintaining their high quality. Moreover, these videos can be transferred to a variety of external storage devices easily and securely.
Wondershare UniConverter
· Wondershare UniConverter can rotate/flip/edit 3GP video easily.
· With UniConverter, you could convert video file up to 1000 formats.
· It allows you to transfer videos from computer to iPhone or Android mobiles without using iTunes.
· UniConverter has toolbox function, such as convert images, create GIF, burn CD, rip CD, cast to TV, and fix Meta tags with just a few clicks.
· Wondershare UniConverter allows you to burn video and other media files to DVD as well.
Why Would Wondershare Uniconverter Attract Users?
1. A Multi-Faceted Video Editor
It can crop and rotate videos to your liking, add text or image watermark to protect it from unauthorized duplication. Add subtitles to video, trim, and combine video clips seamlessly frame by frame — besides, the use of apple effects and filters desirably.
2. A Dynamic Video/Audio Converting Feature
The program can convert more than 1000 file formats, convert video to preset gadgets, and game console for fast playback. It supports direct video input, has super high (30 times faster) conversion speed, can convert high density (HD) video without losing its quality, and can obtain audio track from a video file in high fidelity.
3. An Excellent DVD Burner
You can burn any video to any disc (DVD or ISO file) with free stylish DVD templates and rip DVD video to over 1000 different file formats.
Rotate 3GP video to 90 degrees with Wondershare Uniconverter, follow the steps below.
Step 1. Launching the Program and Adding 3GP Files
Install the software on your computer and open it. On the main interface from the Convert tab, click on + Add Files to get the videos. Or you can drag and drop the files. In the case of batch processing, you can add multiple files.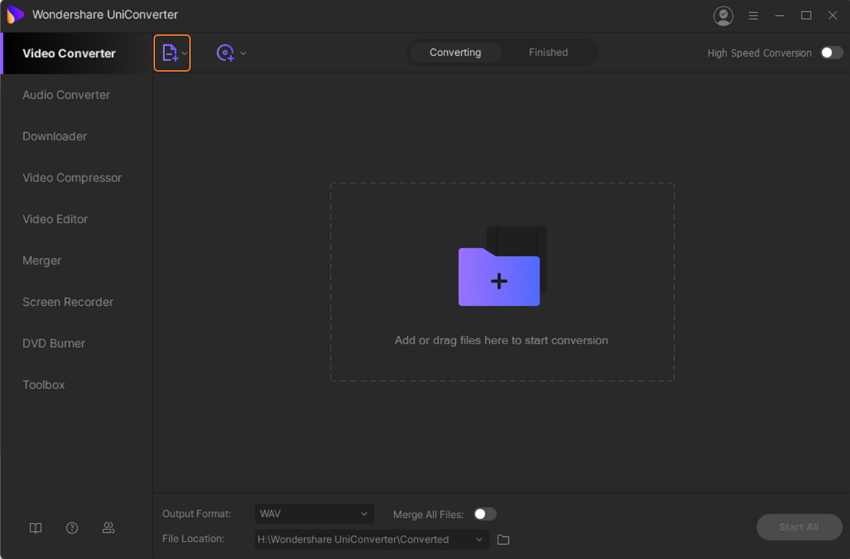 Step 2. Rotating 3GP Task
Now, click on the Cut or Effect icon under the attached video thumbnail image. A window will pop up, from which you can select Crop. On the right side of this window, find the Rotation section with options to rotate the file clockwise or anticlockwise.
Every time you click on either of the rotation icons, the file rotates 90 degrees. There are Flip Horizontal and Flip Vertical options available too. There is an Output preview window, click the OK button to check and tweak the video to your liking.
Step 3. Choosing the Desired Format and Rotating the Video File
If you don't want to maintain the current file format, choose another from the drop-down menu on Output Format tab. Then click on the Start All button from the main window to facilitate the changing of the format and rotation. View the file from the Finished button now. The file will get saved to the location you chose at the File Location tab.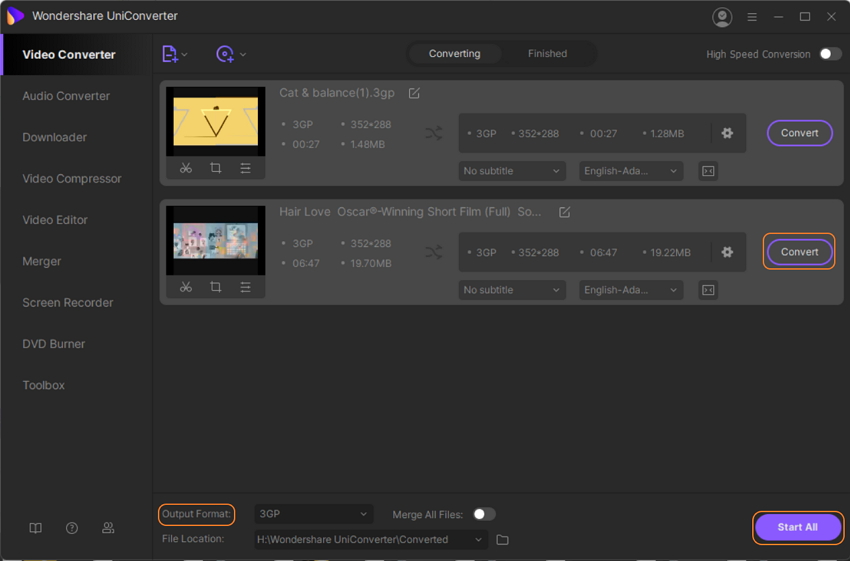 Part 2. Top 5 Online Free Rotator for Rotate 3GP Video File
Apart from using Wondershare Uniconverter, you could try these five online tools to rotate 3GP video to 90 degrees. You don't need to download any of these online tools, and therefore, they save you some storage space on your device.
URL: https://www.media.io/video-editor.html
This video editing tool is available for free. It is convenient when it comes to trimming unwanted parts of a video. It allows you to rotate a 3GP video clockwise or anticlockwise by 90 and 180 degrees. You can crop out black edges in a video and change its aspect ratio for perfect fitting on various devices. It supports output formats like MP4, AVI, MKV, WMV, 3GP, and FLV. Online Uniconverter guarantees secure uploading of files and the automatic deletion of uploaded and edited data.
What We Like:
It is easy and free to use.
It enhances video effects through adjusting saturation, contrast, and brightness.
It allows you to save the changes made.
What We Don't Like:
Only available for desktop.
It gives limited format support and lacks the watermark feature.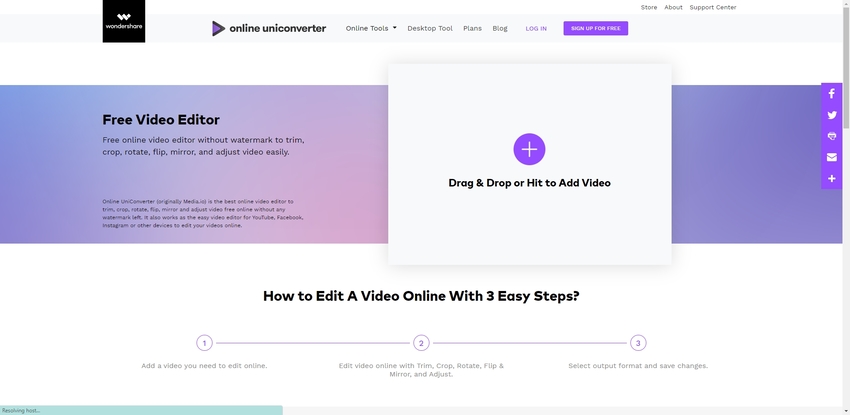 URL: https://rotatemyvideo.net/
If you need a 3GP video rotated to 90 degrees, send it to the link above and get fixed in a few seconds. You can then download the fixed video and watch it without twisting your neck. This online tool also flips videos just as fast and even helps you post it to Facebook or YouTube!
What We Like:
Guaranteed privacy of uploaded video files.
It doesn't require any skill to use it.
It is free.
What We Don't Like:
It has one feature available, i.e., rotating.
It supports limited types of video formats.
It lacks video editing features.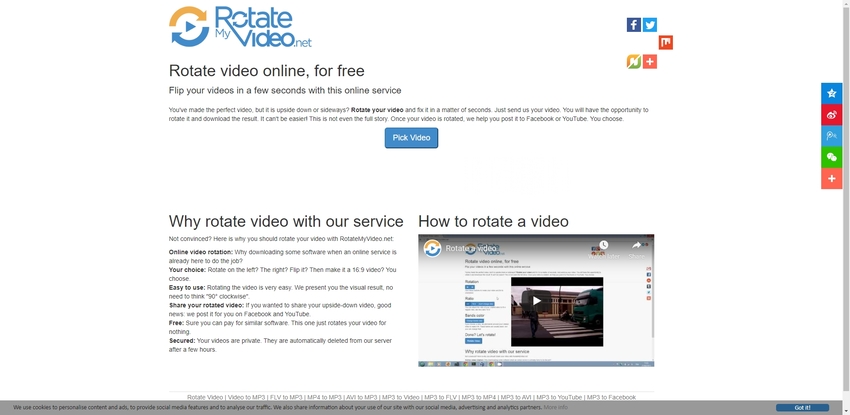 URL: https://clideo.com/rotate-video
Clideo has high encryption that ensures the privacy of uploaded files. It works smoothly with a variety of formats like MOV, VOB, MP4, etc. It also enables you to rotate a 3GP video file without sweating it and lets you turn the said video in your browser without downloading it.
What We Like:
It comes with an intuitive user interface.
It has an additional conversion feature.
It is compatible on various devices such as phones and computers.
What We Don't Like:
It has limited maximum file size of up to 500 MB.
It depends on the availability of internet connection.
It doesn't support multiple files processing.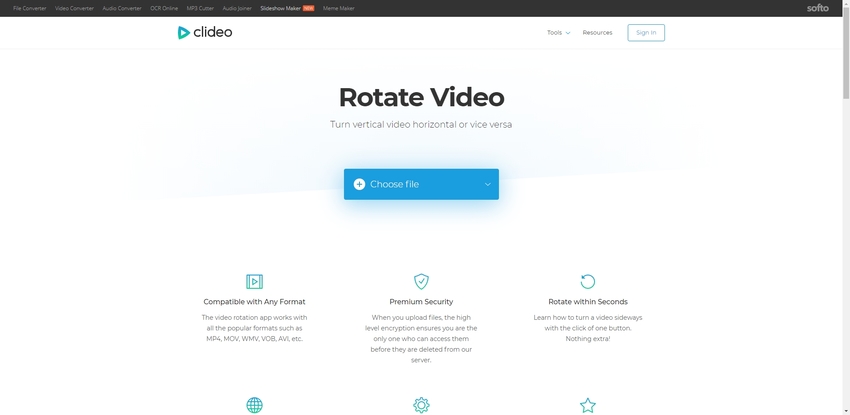 URL: https://ezgif.com/rotate-video
The fourth online video rotator on our list enables you to upload and rotate video files. It can flip videos horizontally and vertically, rotate 3GP video to 90 degrees, 180 0r 270 degrees. Ezgif accommodates MP4, WebMD, MOV, and several other video formats.
What We Like:
It works smoothly with most web browsers
It is capable of reversing sound and muting it.
It allows for uploading files to various cloud storage like Google Drive.
What We Don't Like:
It is limited to 100 MB maximum file size.
It has a low rate of successful video conversion.
The quality of video is lost during conversion, thus not recommended for professional use.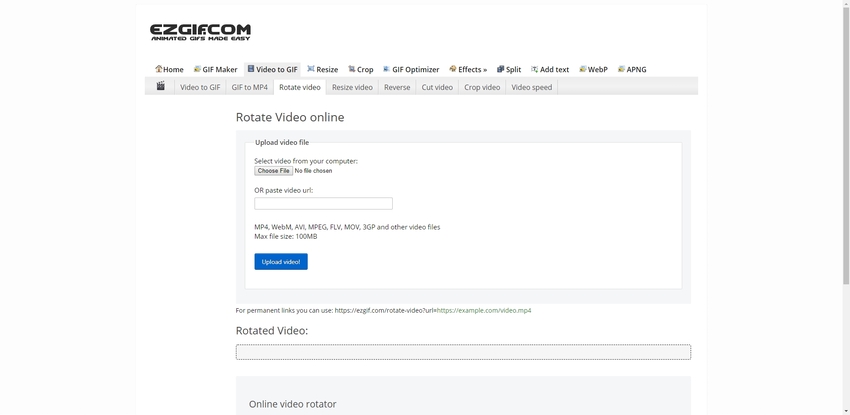 RotateVideo is yet another online tool to rotate 3GP video to 90 degrees. You have to upload the video file you need, turned or enter its URL, choose the output format you'd like, fill in the rotation direction and the encoding type, and press Start. Simple, right?
What We Like:
It is easy and straightforward to use.
Allows for rotating and flipping.
It is available freely.
What We Don't Like:
It has a maximum file size of just 16 MB.
It supports MP4, MKV, and M4V output formats only.
For high-quality encoding, you need up to date devices.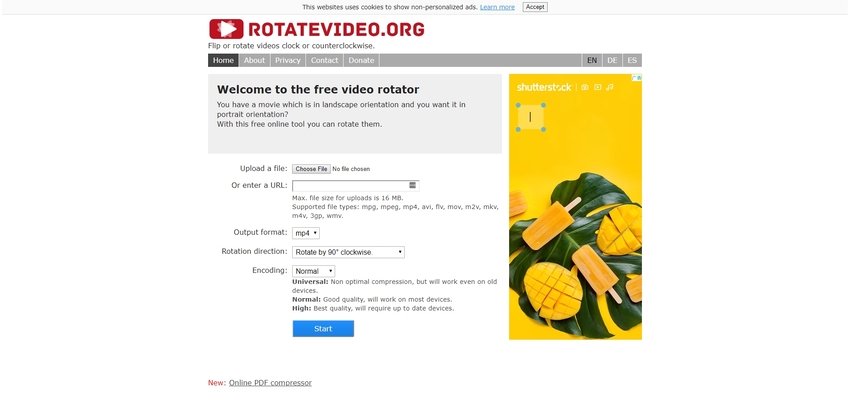 Summary
Online video rotating tools are excellent when you need a single video file fixed without going to the trouble of getting third-party software. However, if you are looking to rotate 3GP video to 90/180 degrees with batch processing, you will need Wondershare Uniconverter. It is internet independent, professional, and equipped with a myriad of video editing features. Overall, it is the best choice you can get to get a 3GP video rotated to 90 degrees, among other tasks.