Whether you are a trainer who needs to demonstrate how to use a particular program, a student who wants to share your creations with your lecturers, mentors, family, or friends, or a home user who merely wants to record the streaming videos to watch them at your convenience, you need an efficient live stream recorder for every such thing.
This article suggests various screen recorders and lists their features and pros and cons for your analysis. On your part, you can go through the description of each screen recording app, compare it with others, check their official website for more information and pricing (if any), and then pick the best one according to your budget and requirement.
Part 1. Top 10 Screen Recorders for Live Stream On PC
URL: https://www.media.io/video-converter-desktop.html
An all-in-one program that, in addition to recording live streaming videos, is also capable of converting audio and video files, creating GIFs, and much more. The app also lets you select a screen area to record. This helps you crop off the unwanted portions of the streaming video, which in most cases is the interface of the platform or the player border even before you start the recoding. This further eliminats the need of fine video editing post recording.
Supported Platforms: Windows and Mac
Pros:
Almost all downloading, recording, and conversion tasks can be done using one application.
Simple and user-friendly interface.
Con:
Wondershare UniConverter is a paid program and comes with a price tag.
Wondershare UniConverter
· It could keep the edited, compressed, and converted the file in high-quality.
· UniConverter has 1000+ format that allows you to convert what you needs.
· It allows you to transfer videos from computer to iPhone or Android mobiles without using iTunes.
· There have Image Converter, GIF Maker, Video Compressor, and other features that you could use it with ease.
· UniConverter is one of the best screen recorder software for beginners.
URL: https://filmora.wondershare.com/screen-recorder/
Yet another feature-enriched screen recording program by Wondershare. The app comes with a built-in video editing studio that can be used to edit, add effects, and annotate the screen casted videos to make them more informative and presentable. The final videos can be easily exported to.MP4, MOV, or GIF formats.
Supported Platforms: Windows and Mac
Pros:
Let's you record your computer screen and webcam at the same time.
Supports Picture-In-Picture method to add your webcam footage to your screencasted video.
Con:
Filmora Scrn is a paid application.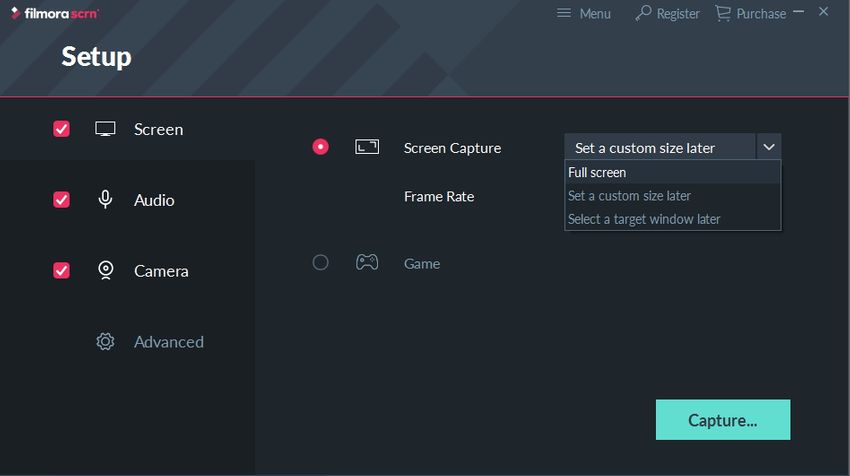 Debut Video Capture and Screen Recorder Software
URL: https://www.nchsoftware.com/capture/index.html
A product by NCH Software, Debut Video Capture, and Screen Recorder Software allows you to record your screen or streaming videos in various formats including.MP4, MOV, AVI, etc. In addition to this, the program can also capture videos from external devices such as VHS, IP cameras, webcams, etc., where both webcam and screen recording can be done simultaneously.
Supported Platforms: Windows and Mac
Pros:
The program is free for personal use.
Recorded videos can be burned directly to an optical media (CD or DVD).
Con:
A valid license must be purchased if using for commercial purpose.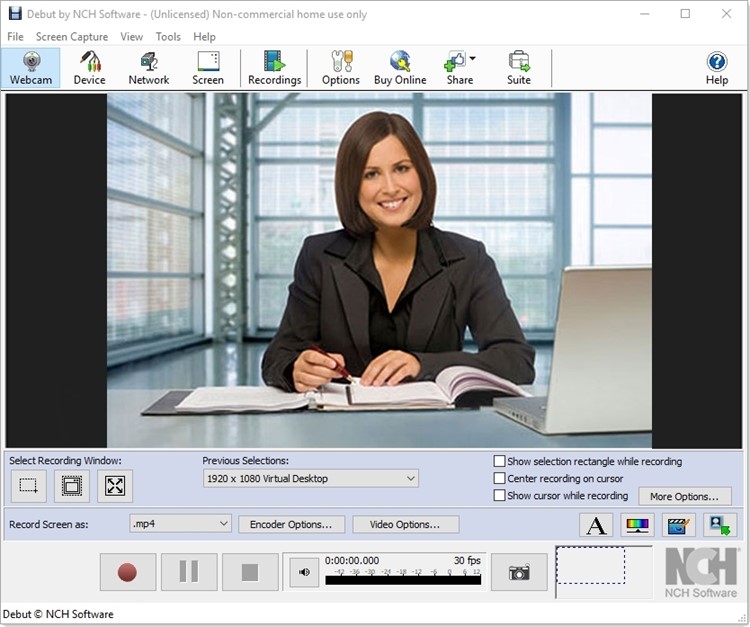 URL: https://acethinker.com/desktop-recorder
Screen Grabber Pro by ACETHINKER is a program with a neat and clean user interface and self-explanatory icons and buttons to make your screencasting experience extremely simple. Supporting almost all file formats and with the ability to record only the audio out of your computer screen and live streams, this app has some unique features that many of its competitors don't.
Supported Platforms: Windows and Mac
Pros:
Ability to annotate videos in real-time, i.e. during the recording sessions.
Ability to schedule screen recording.
Con:
URL: https://www.techsmith.com/jing-tool.html
An application by one of the most renowned screencasting program developers, TechSmith, Jing is a lightweight program to capture the screenshots from your computer screen, and annotate, mark, and add texts to them as needed. The final outputs can be either saved to your local hard drive or uploaded to TechSmith's Cloud storage.
Supported Platforms: Windows and Mac
Pros:
Jing is a free application.
Free tutorials to learn the software are available on TechSmith's official website.
Con:
Doesn't include some advanced features like TechSmith's other paid programs have.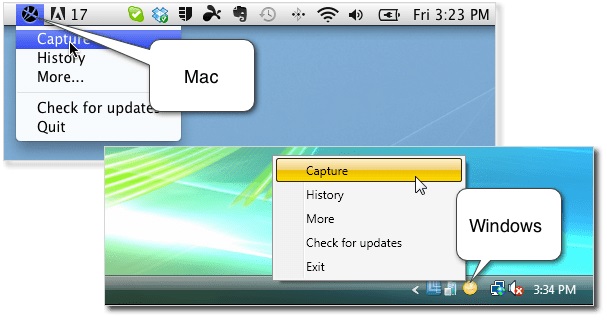 URL: https://screencast-o-matic.com/
A screencasting and editing bundle that comes with a free screen recorder, Screencast-O-Matic, further lets you upload your creations to various online platforms. Whether you are a developer, a student, or a corporate trainer, this easy to use software lets you record your screen, edit the videos, add narrations to it, and share the final output with your friends, colleagues, and trainers.
Supported Platforms: Windows, Mac, iOS, and Android for Screen Recorder, and Windows and Mac for Video Editor and Secure Backup
Pros:
Screen recording is free with the upgrade option to enable more advanced screencasting features,
The built-in video editor lets you decorate your recordings and add narrations to it,
Con:
Only the Screen Recorder app is free, and a valid license must be purchased to use the built-in Video Editor program.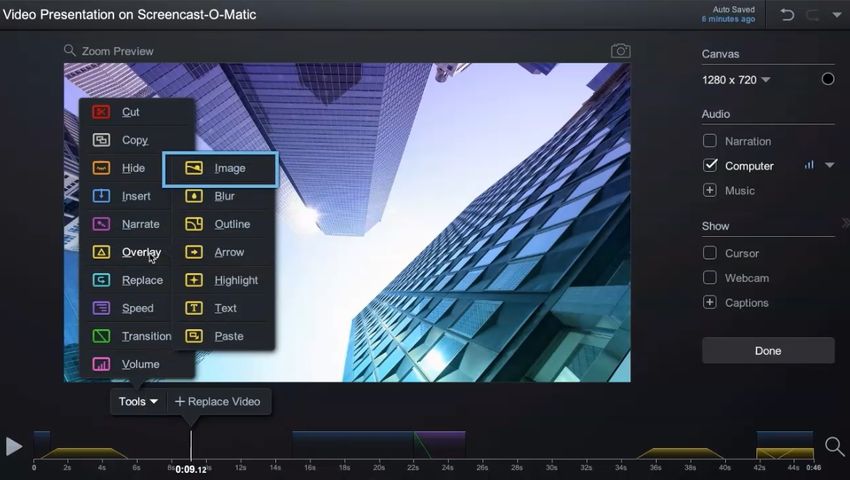 URL: http://primary.telestream.net/screenflow/overview.htm
Another all-in-one screencasting and video editing program that lets you record your PC screen, edit the recordings, and upload them to your preferred online server. With the ability to import external videos, and with several pre-built templates, ScreenFlow makes the placement of your video clips quite easy.
Supported Platforms: Mac
Pros:
Let's you record videos from multiple monitors connected to your PC.
Free video tutorials are available on the official website to explain how to use ScreenFlow.
Con: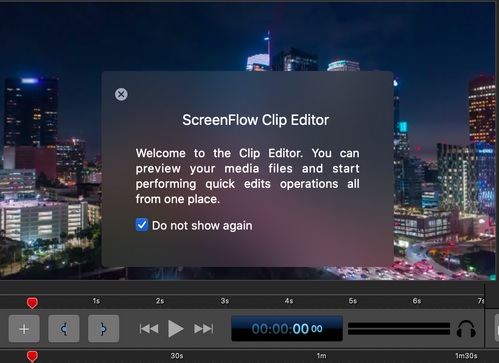 URL: https://obsproject.com/download
Open Broadcaster Software Studio (abbreviated as OBS Studio) is an opensource program for screencasting, video editing, and annotations. With several transition effects, the ability to record sounds from a microphone or system audio, and options to import and integrate footages and images, the program can do a lot more than merely recording your computer screen.
Supported Platforms: Windows, Mac, and Linux
Pros:
It is a free application.
Comes with built-in video editor, audio mixer, and transition effects.
Con:
The all-equipped interface looks over-populated with icons and buttons making it hard for new users to understand and work with.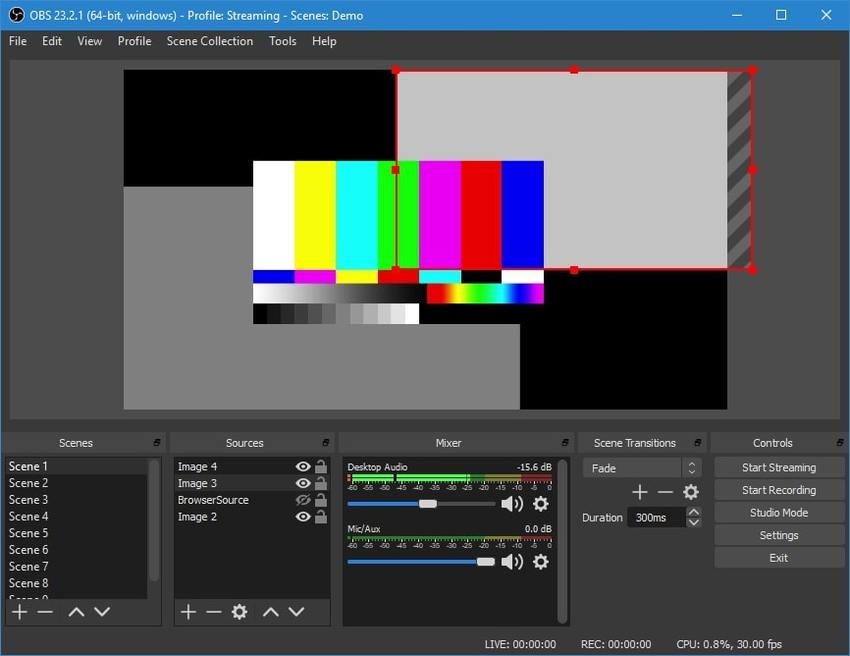 Free Online Screen Recorder
URL: https://www.apowersoft.com/free-online-screen-recorder
As the name suggests, this program is free and doesn't require downloading or installation of any bulky and resource-intensive software on your PC, except for a small, lightweight app that helps launch the online recorder itself. An API for this live screen recorder is also available that can be integrated into your website for easy access.
Supported Platforms: Windows, Mac, iOS, and Android
Pros:
It is a free program.
Doesn't require installation of any heavy application.
Con:
Other programs like offline screen recorder, video editor, etc. by the same vendor are chargeable, and are available for one-time purchase or yearly/monthly subscription plan.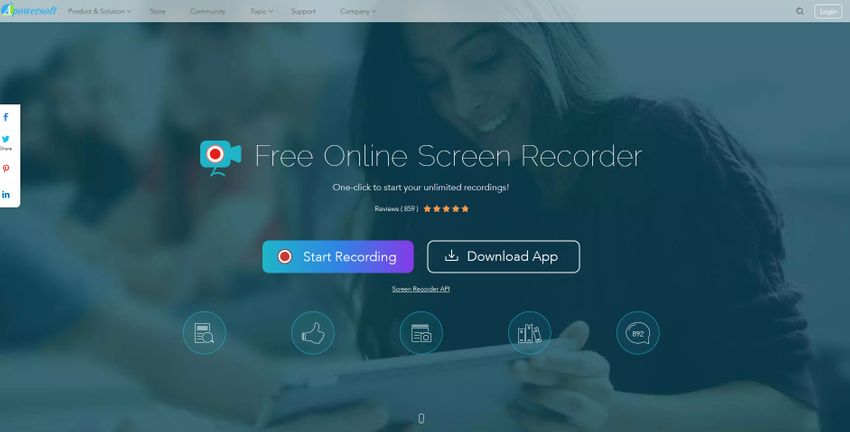 ShareX is a program with the self-explanatory and easy-to-use interface. With efficient features like region selectors in rectangular, free-hand, or ellipse shapes, the app allows you to capture screenshots and record your PC screen with ease. The captured images and recorded videos can then be exported to various file formats and uploaded to your preferred online image and video hosting services, respectively.
Supported Platforms: Windows
Pros:
ShareX is a free and opensource application.
Supports up to 80 destinations to upload your creations to.
Con:
Not available for all platforms.
Part 2. How to Use Wondershare UniConverter to Record Live Stream
Being one of the best screen recorders, Wondershare UniConverter allows you to any record live streaming video with the following simple steps:
Step 1. Launch Wondershare UniConverter's Built-In Screen Recorder
Start Wondershare UniConverter, click the Toolbox tile from the top, and click Screen Recorder followed by the Camera icon.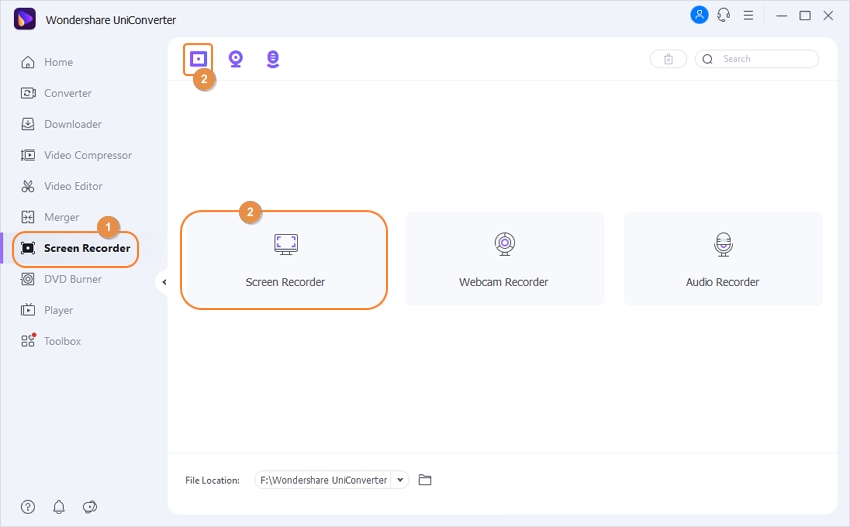 Step 2. Configure Recording Settings
Click the down arrow next to the area selector icon in the Capture Area section, and select Full Screen to record the whole screen area. You can also enter the width and height in their corresponding fields in the Capture Area section to define the region of interest. As an alternate option, you can even use the side handles to manually cover the screen area you want to record.

Choose your preferred audio input device from the System Audio section, or click the Speaker icon to disable the option altogether and prevent Screen Recorder from recording your system audio.

In order to record your voice, click the Microphone icon. If you have multiple microphones connected to your PC, click the down arrow next to the icon, and choose your preferred mic for recording.

Step 3. Configure Other Recording and Output Settings
Click the Settings icon from the bottom-right corner, and set your recording preferences from the advanced options that the expanded panel reveals.

Step 4. Start and Stop Live Stream Recording
Once all the recording preferences are configured, click the REC button.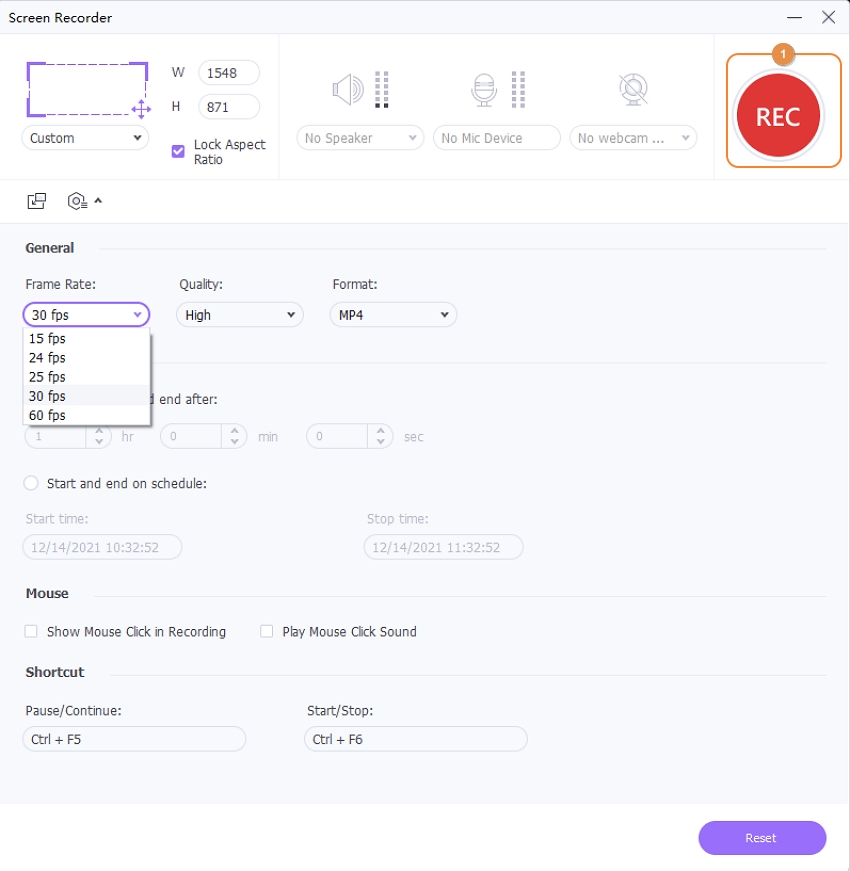 Click the Stop button when you want to stop the recording.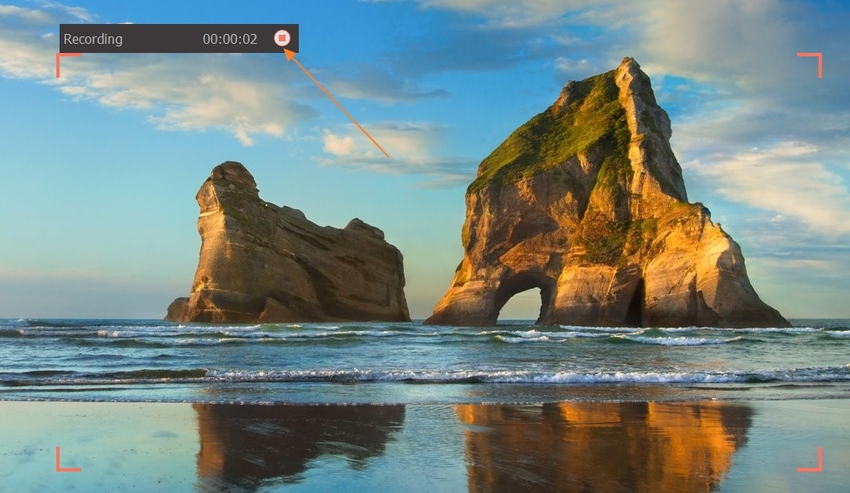 Part 3. Best Screen Recorders for Live Stream in Smartphones
DU Recorder – Screen Recorder
URL: https://apps.apple.com/us/app/du-recorder-screen-recorder/id1295647284
Supported Platforms: iOS and Android
Main Features:
Built-in video editor
Built-in livestreaming feature
One-touch recording
Pros:
Allows annotations
Can export videos to GIF format
Con:
Requires premium (paid) version to access advanced features
Premium version is available on subscription basis that needs to be renewed regularly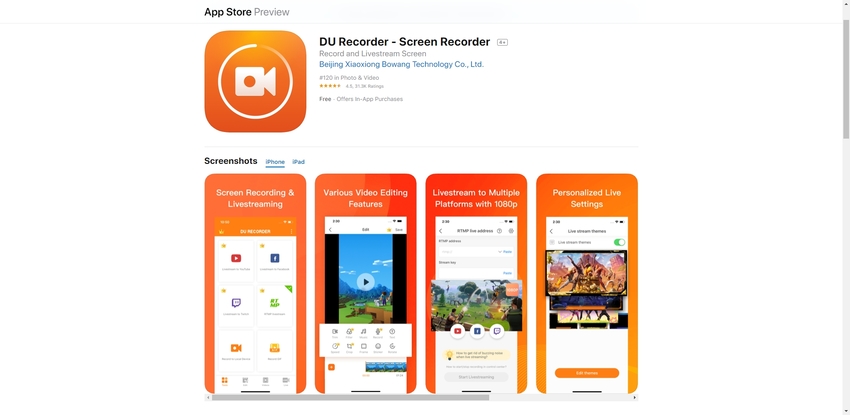 Screen Recorder – Livestream
URL: https://apps.apple.com/us/app/screen-recorder-livestream/id1446426702
Supported Platforms: iOS and Android
Main Features:
Ability to play games from within the app's interface
Has built-in option to upload videos to YouTube
Allows audio recording from external sources
Pros:
It is a free app
Let's you add stickers to your recorded or imported videos
Con:
Doesn't allow you to change the fps (frames per second) at the time of this writing
The interface could be a bit confusing for some users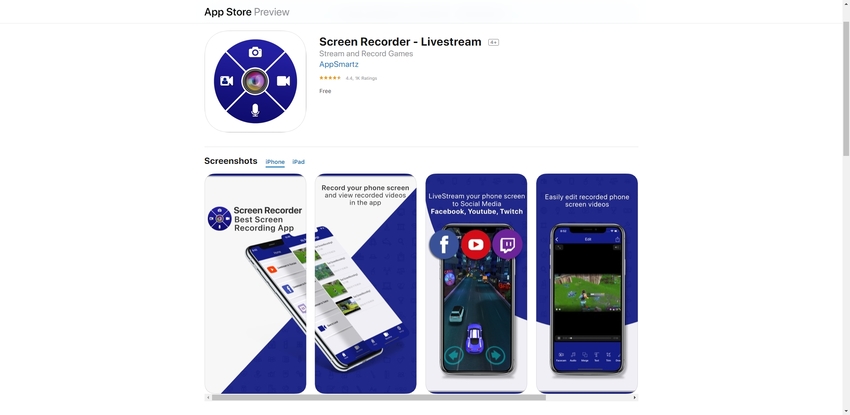 URL: https://play.google.com/store/apps/details?id=com.hecorat.screenrecorder.free&hl=en_US
Supported Platforms: iOS and Android
Main Features:
The Magic button records your screen without showing any app's control buttons
The Overlay feature enables front camera recording
Shows Countdown Timer before recording
Pros:
Can record your mobile screen in both Full HD and HD quality
Doesn't require your phone to be rooted
Con:
Doesn't have advanced recording features
Sound capturing records both system audio and microphone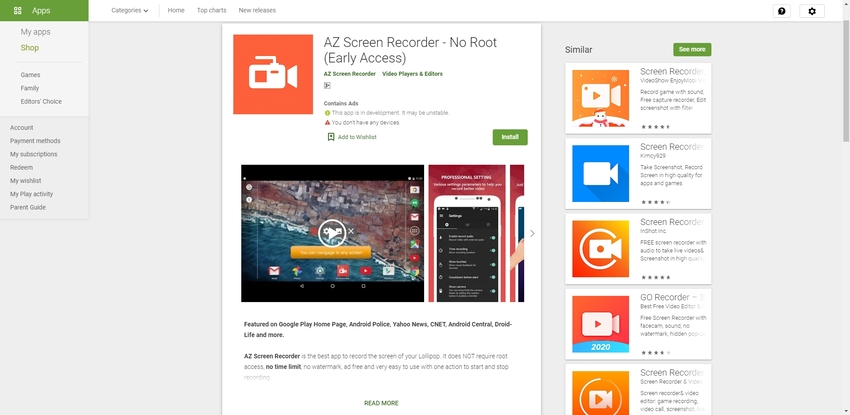 URL: https://play.google.com/store/apps/details?id=com.tianxingjian.screenshot&hl=en_US
Supported Platforms: Android
Main Features:
Enables Full HD screencasting with 60fps and 12Mbps
Stops screen recording when you shake the phone
Can record videos of long durations when using SD card
Pros:
Has built-in Brush tool for decoration
Has built-in video editor
Con:
May have trouble recording videos on phones with less memory
Some users have problems while recording the audio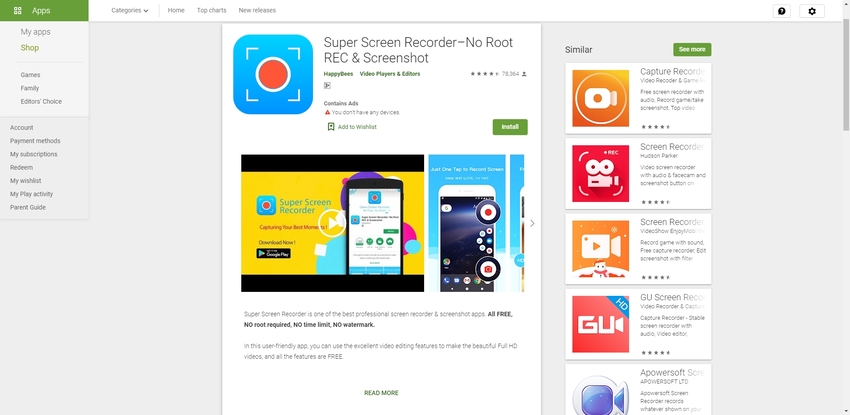 Summary
Depending on the platform of your computer or mobile device, i.e. Windows, Mac, iOS, or Android, and the money you are planning to invest in a stream recording software, picking the best one might be challenging.
While the programs with advanced features have a price tag, those that are free offer basic features to record and edit your videos. For instance, some paid live recorders help you annotate your recordings and images, and then let you share them with your family and friends, whereas there are some free ones that offer online recording without any installation.
That said, the above list will help you pick the best live stream recorder to fit your academic and professional needs, and come up with a presentable output that can be shared with your known ones or uploaded to any online portal for easy accessibility.