The most underestimated but most crucial part of the video is its music. The music needs to be selected according to the content of a video, the expression of emotions, and the arrangement of rhythm, and it is usually subjective. Appropriate music will add value to your video. So how to put music in the background of a video to make your video feel interesting and arouse the audience's emotions?
In this blog, I will show you valuable tips that can answer how to put music on a video. It doesn't matter what you do: music for your YouTube channel, or an amateur cinema for a film competition, or maybe you work in a professional production studio, or you are a game developer and need to find a soundtrack for your gameplay - anywhere. You can learn how to put music in your videos in three simple steps easily.
Part 1: How to put music over a video using online UniConverter
Wondershare UniConverter is one of the best video converters available in the market right now. It is the complete video toolbox to convert, compress, edit videos, burn DVDs, and much more. The key features of UniConverter are Video conversion, compression, and a one-stop video toolbox. Competitive price with all-in-one tools like video editor, DVD burner, screen recorder, video merger to meet different video processing needs. If you're a video creator, if you're a content creator, if you're a gamer, it will help you in all segments.
Follow these three simple steps to put music behind a video:
Step 1.Upload a video
Visit Wondershare UniConverter website. Then choose a video file directly from your computer. You can also choose from YouTube, Dropbox, and Google Drive.
Step 2. Add audio file
After selecting a video file, you have to choose an audio or music file. After selecting the audio file, you can edit the audio by trimming, looping, or changing the volume after adding it.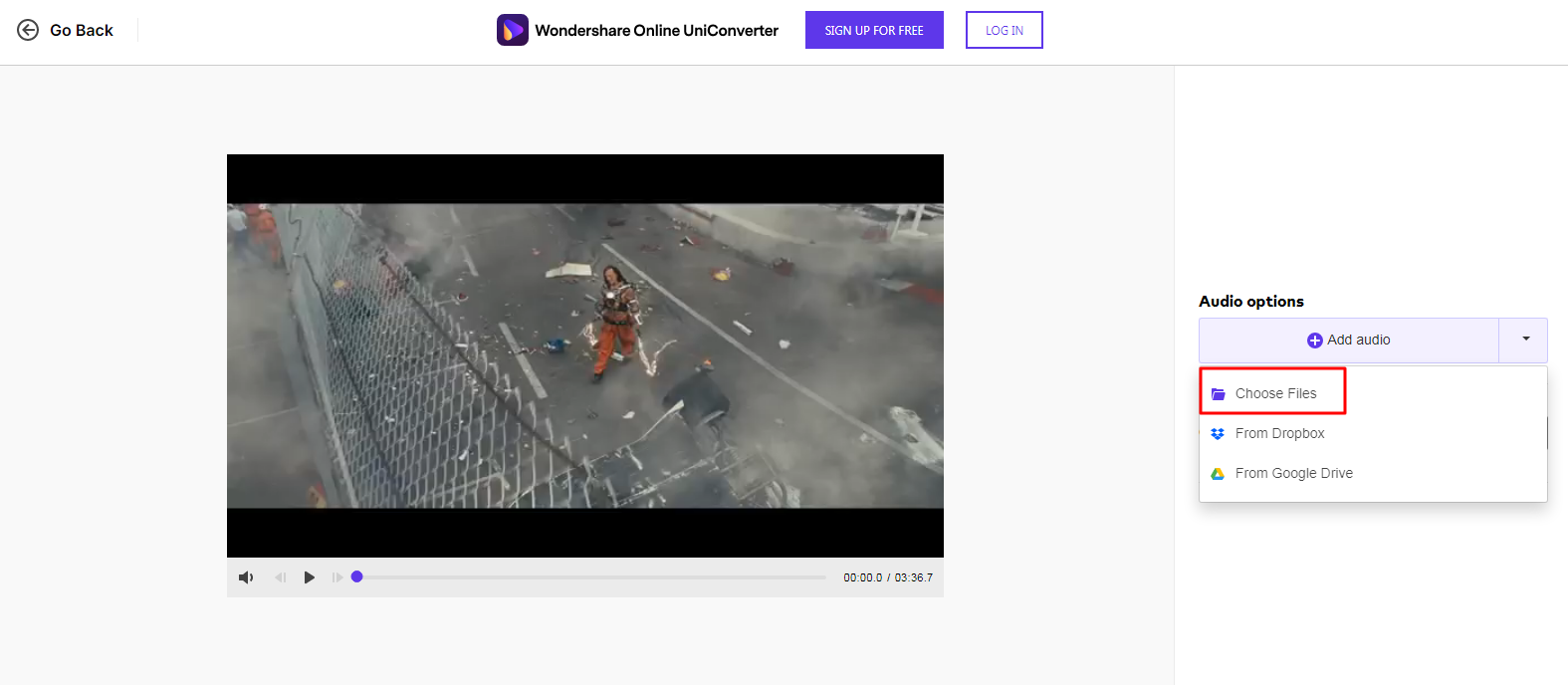 Step 3.Save the finishded video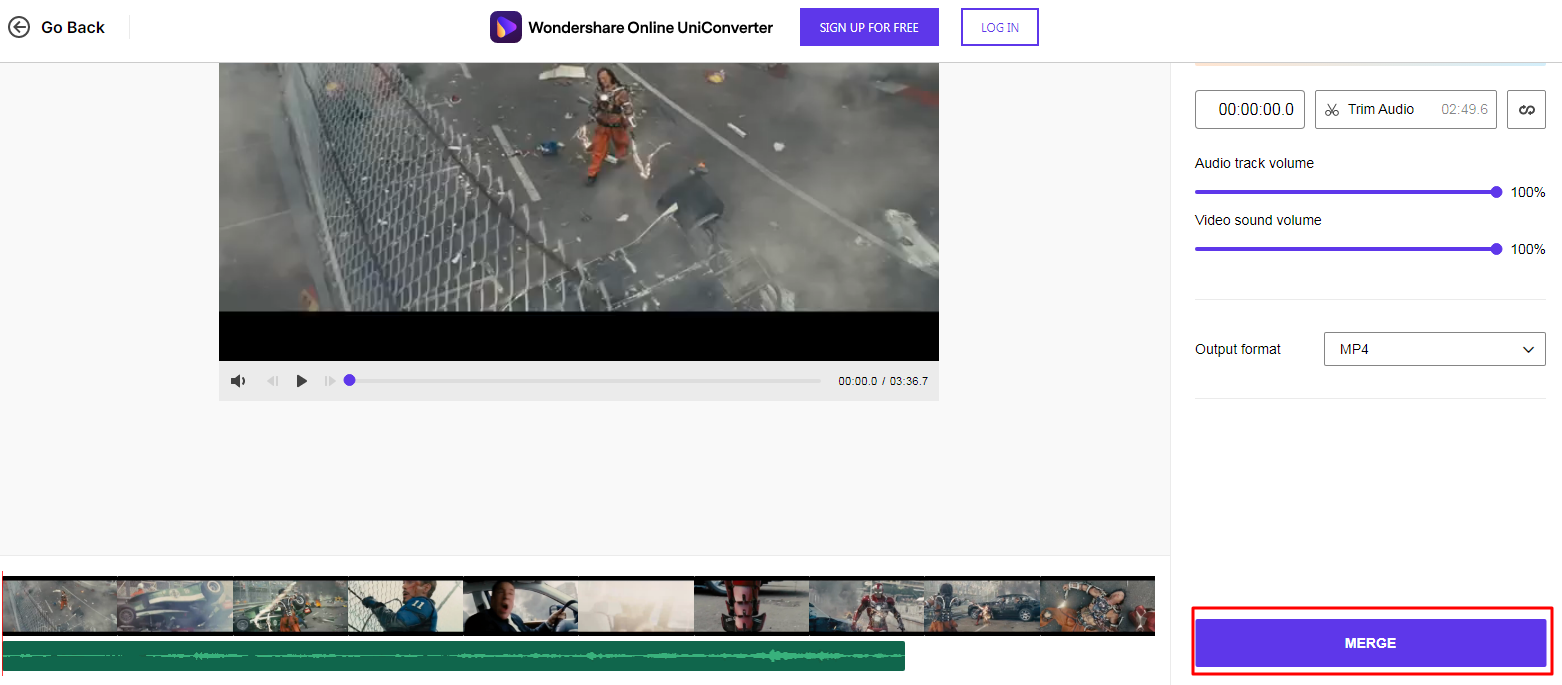 After editing the audio and video file, click on the Merge button to output your music video. It will take some seconds to process. After the completion of the process, you will find the 'Download' option. It allows you to download your updated video in many video formats; just select an appropriate output format as you need.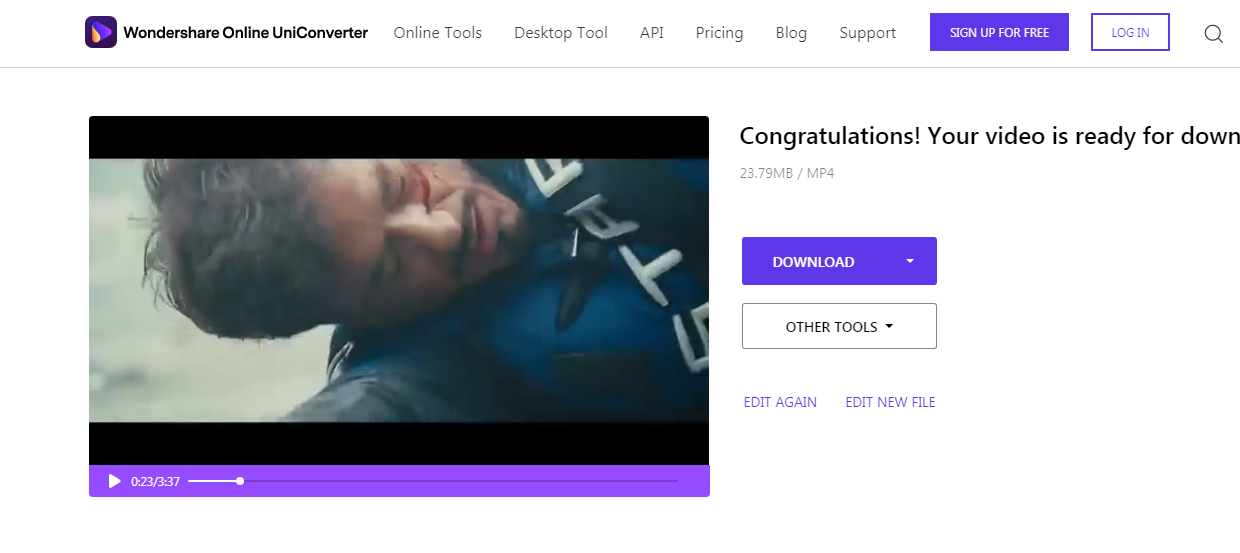 Why choose UniConverter music video editor
1. Multiple Formats Supported
Online UniConverter converts photos, audio, and videos to over 1,000 different formats, the most common of which are MP4, MPG, FLV, WMV, and JPG. The music video editor supports all the popular audio formats, like MP3, WAV, FLAC, OGG, WMA, M4A, and others.
2. Multi-Device Compatibility
You can use this Online UniConverter to convert files into formats that are compatible with your laptop (Windows + Mac), smartphone (Android + iOS), or tablets. It is software that can be accessed from any device, such as a PC, tablet, mobile phone, or another smart device.
3. Provide High Security
When editing video documents on the web, security is a vital factor to consider. With Online UniConverter, you can be assured that it will protect everything you have throughout the converting process. Online UniConverter deleted the uploaded files from our servers after 24 hours automatically.
4. Free Online Video Maker
Another reason for using Online UniConverter is to eliminate other software or app on the computer. With Online UniConverter, you can merge audio and video online without installing any other tool.
5. Professional Video Audio Editor
Online UniConverter take your video experience to a new level! The built-in video editor comes with a set of powerful and easy-to-use editing tools. You can turn your video into a masterpiece with a few clicks. You can edit, crop, alter contrast, brightness, and saturation, and flip and rotate videos using the online UniConverter. With Online UniConverter, you cannot only convert music and video to mp3 but also edit music, add background music, merge audio, etc.
6.Music video editor for social media
Online UniConverter is one of the most incredible music video editors on social media. You can easily add music to your videos on YouTube, Facebook, or Instagram. UniConverter also supports video conversion to social networking sites such as YouTube, Facebook, and Vimeo. Converting the videos to these platform-specific formats allows them to be easily shared on various sites without any compatibility difficulties.
Part2: FAQ for putting music on a video with Online UniConverter.
Q1: What video formats are accepted by UniConverter?
Ans: You can use UniConverter to convert over 1,000 video and audio formats. Online UniConverter currently supports the most common video formats, including MP4, MOV, WMV, AVI, MKV, WebM, MPEG, MPG, FLV, etc.
Q2. Can I edit the audio file after adding it to the video?
Ans: Yes, you can easily edit your audio file after adding it to the video in UniConverter. UniConverter provides an audio editing feature to easily change the volume and add the audio effects on your audio file. Most importantly, it allows you to trim and loop the audio.
Q3. How do I edit music over a video on my phone?
Ans: Online UniConverter can work on the phone. Just open the webpage from your mobile browser, and choose the desired audio files by clicking on the Add Audio button. It is that easy and convenient! Besides, Online UniConverter supports both Android and iOS systems. No matter which system your mobile phone belongs to, you can use UniConverter easily.
Part 3: Useful tips for choosing the right music to put in your videos
The importance of the video soundtrack is self-evident. A good soundtrack allows the audience to resonate with the video content more quickly. The choice of the soundtrack is determined by the creator's subjective consciousness. It is one of the important means of storytelling. Each piece of music has its unique mood and rhythm. The combination of them can enhance the emotion of the video and enhance audiences' feelings. There are some useful tips for you to choose the right music to put in your videos. Let's take a look together!
1. Match the sense of rhythm
According to different needs, the video works have different rhythmic music for selection. For example, if the videos you shoot are mostly humanities and landscapes, you can choose majestic music or antique music. Take racing commercials as an example, the higher the rhythm of the video picture matches the commercial soundtrack, the more impact the picture will have.
2. Use pure music
Try to use pure music in your video. If it is music with singing, the audience will easily enter the artistic conception created by the lyrics, and then it will have some adverse effects on the experience of the video itself. The advantage of using pure music is that songs do not restrict its vibrant color, and it is relatively more inclusive, and it is relatively more inclusive. Using it as a video background allows the audience to focus on the image.
3. Soft and light kinds of music are more suitable for videos
Blindly fast-paced is easy to cause aesthetic fatigue to the listener. Relaxed videos will be more exciting. Similarly, when we choose background music, the overall rhythm should also be different from relaxation and climax. As for the position, we can go according to the rhythm of the video.
Generally, slow-paced music and light music are suitable for long shots; fast-paced music and relatively strong music are suitable for fast-paced multi-shot switching editing. If your video is too fast or the music is too slow, you can use a variable speed method to slightly adjust the video or music rate to match the rhythm of the music.
4. Pay more attention to Ambient sound
Another important thing that is often overlooked is the live ambient sound. Ambient sound refers to all the sounds with environmental characteristics in the spatial environment where the film plot is located. It has a significant effect on creating the film's atmosphere, emphasizing the mood, and increasing film's realism. Ambient sound can outline the auditory background or environment for a scene or a paragraph and build a coherent atmosphere and time together with the picture.
You can download and use the sound effects produced online. It is worth noting that the environmental sounds are regional, national, and contemporary. Suppose the environmental sound can be used reasonably and appropriately added to the video. In that case, it can effectively enhance the stereoscopic effect of the sound and picture and make it more immersive.
5. Formal copyrighted music
Finally, when the video is used for commercial purposes, the copyright of the background music needs special attention. It is also best to indicate the source of the song for non-commercial use, which is also basic respect for the author. At present, everyone can solve the authorization problem of copyrighted music through the online music platform. Most of the music platform has a rich music library and music library.
Part 4: Conclusion
Online UniConverter has a complete video editing function built in to meet the needs of many users. Even if you are a novice, you can perfectly perform the format conversion problem and convert out an audio file that satisfies you. The most surprising thing is that it has built-in super multi-function, downloading, editing, conversion, and burning. The software provides both Windows and iOS versions. For many users, they may not need some fancy functions but practical functions.
Downloading videos is another feature of UniConverter. It supports multiple different video sites, including our commonly used YouTube. Online UniConverter also has a utility page called Heavy Toolbox, which provides a large number of tools for users to use. For example, GIF Maker can make videos or pictures into GIF, Screen Recorder can record desktop actions, Video Compress can compress large-capacity videos, and VR Converter can make videos that can be viewed on VR devices.