Are you still looking for the best thumbnail download app? Well, today, I want to introduce you to six excellent options. A YouTube thumbnail quality is as important as the video content itself. You must put into consideration vital features such as the thumbnail size and pixels/resolution. If possible, a killer YouTube thumbnail should have a few texts and colors included as well. But in this article, we're going to only focus on the best online thumbnail download sites of 2020. Let's get started!
Part 1. How to Download Thumbnail Easily
Let's start by discussing some five beautifully designed options.
Online UniConverter is undoubtedly a complete file editor online. Apart from downloading YouTube video thumbnails, Online UniConverter can also convert between video/audio/image formats, make GIFs, crop/trim videos, cut/merge audio formats, and more. Back to YouTube thumbnails, you only need to paste a YouTube video URL and click the "GO" button, and then Online UniConverter will start making your thumbnails quickly. It imports thumbnails in various qualities, including HD (720P), SD (480P), HQ (360P), MQ (180P), and Normal Quality (120x90P). And of course, it is a freeware.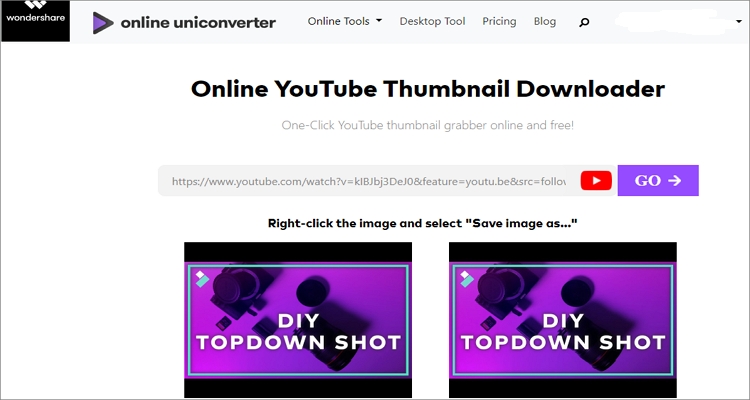 Features:
Super easy to use
Multiple file editing functions
Several thumbnail download qualities
Supports multiple image formats
No adverts
Next, you can use the YouTube Thumbnail Image site to download high-quality video thumbnails from YouTube. Like on Online UniConverter, you only need to paste a URL link, and YouTube Thumbnail Image will start extracting thumbnails. It offers thumbnails in many qualities, including 480p, 360p, 180p, and 90p. Also, users can install a plugin on their browsers or download an Android app for a seamless download of Thumbnails. On the flip side, YouTube Thumbnail Image has a few adverts. Luckily, they won't prevent you from navigating the site seamlessly.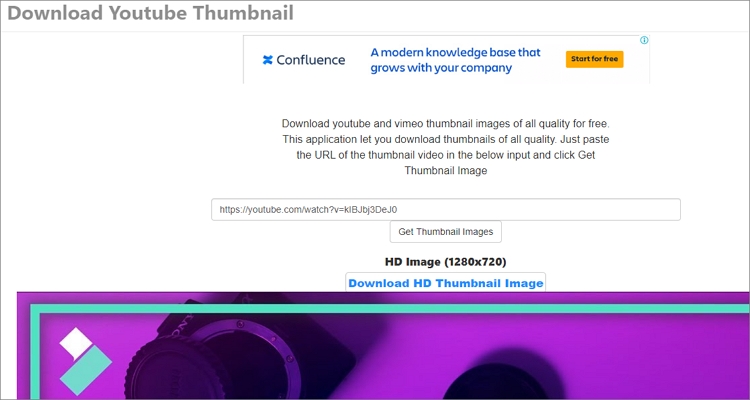 Features:
Simple to use
Supports multiple image qualities
Offers a native mobile app
Has a few adverts
ThumbnailSave is an ad-supported YouTube thumbnail downloader that's easy to navigate. It supports the importing of thumbnails from video qualities of up to 1080p or even more. After signing up, ThumbnailSave offers to save your thumbnails in HD (720p), SQ (480p), and MQ (360p) qualities. However, the site doesn't provide a physical "download" button. So, to export your thumbnails, just right-click and choose the "Save as" option. Also, there are lots of adverts.
Features:
Supports HD, SQ, and MQ thumbnails
Supports multiple video resolutions
Ad-infested UI
Thumbnail Download YouTube can easily extract thumbnail images from any video URL. Just copy your preferred video URL and proceed to paste it on the provided search box. After that, click the "download" button, and Thumbnail Download YouTube will start making your thumbnails immediately. You can now right-click your image and save it as either HQ, SQ, or MQ qualities. It's also paramount to note that Thumbnail Download YouTube can extract thumbnails from Vimeo, Dailymotion, and Facebook video URLs. But sadly, it has some adverts.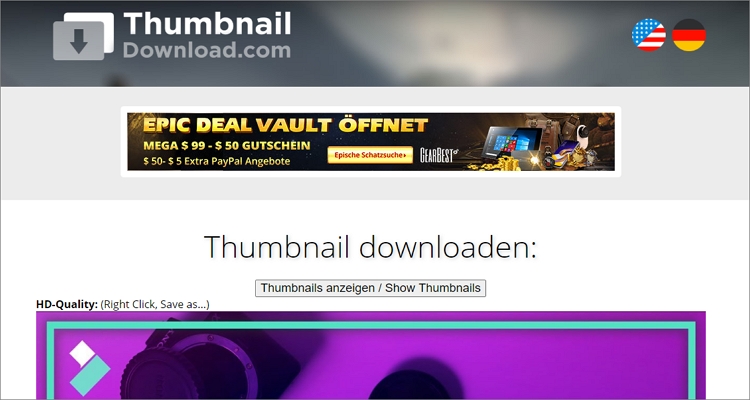 Features:
Super-fast app
Downloads thumbnails in multiple qualities
Extracts thumbnails from Vimeo, YouTube, Facebook, Dailymotion, and Twitter
UI is ad-infested
Finally, you can download YouTube video thumbnails with YouTube Thumbnail Image. It's a quick site that doesn't require any prior knowledge to navigate. After pasting your URL, click the "Search" button, and YTI will start processing your high-quality thumbnails. You can download thumbnails in either 1080p, 480p, 360p, or 180p. In my honest opinion, the fact that YTI offers thumbnail qualities of up to an impressive 1080p is enough to tilt the odds in its favor. Also, there are no adverts here. Plus, the site offers 24/7 customer support.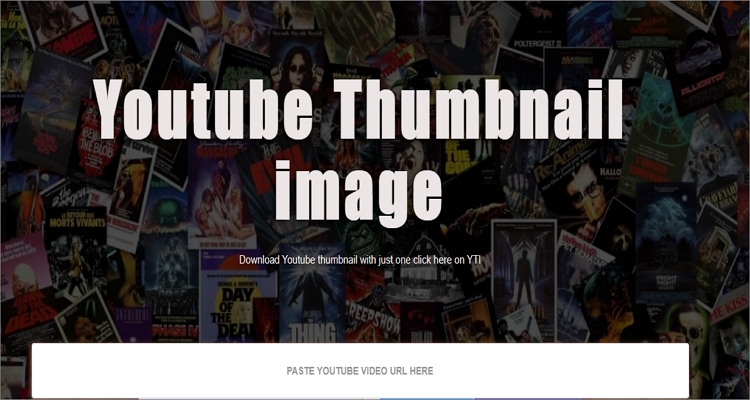 Features:
Supports up to 1080p image resolutions
No adverts
Fast and straightforward to use
24/7 customer support
Part 2. How to Download Thumbnail with Just One Click
If you thought that the first five options are easy to use, let me introduce you to a much simpler method. In this case, you only need to install a Google Chrome Plugin to your Firefox or Chrome browser and extract as many thumbnails as you want. Also, there is no copy-pasting of video URLs here.
So, let's waste no more time and see how to create YouTube thumbnails with just a click :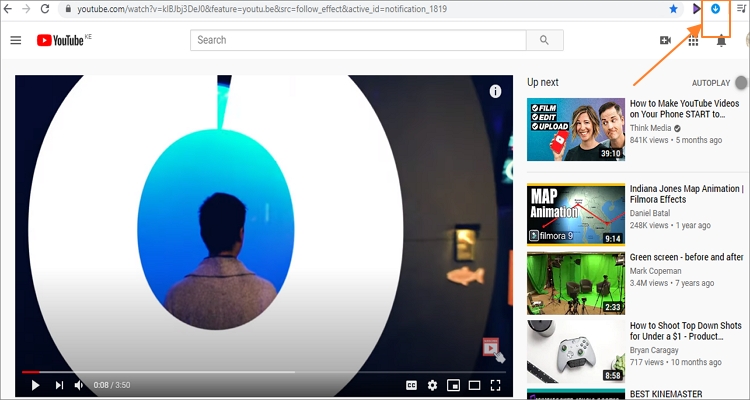 Step 1. Launch your web browser and visit YouTube. You can open the video file that you intend to make a thumbnail.
Step 2. Next, install the Google Chrome Thumbnail Grabber plugin on your Chrome browser. You'll see a blue "Download" icon at the top-right corner of the menu bar after the installation process.
Step 3. Lastly, go back to the YouTube video window and click the "Download" icon. You'll get your thumbnail in 1280 x 720 pixels. That's it!
Summary
Using the Google Chrome thumbnail download method is obviously super-easy. However, you can only save thumbnails in 1280 x 720 resolution. So if you're looking for more quality options, I suggest that you opt for more reliable options like Online UniConverter and YouTube Thumbnail Image.