You may not like the album cover or audio cover your downloaded MP3 comes with as a music lover. Hence, you will want to change the photo on the audio to a different, more preferable picture. In addition to changing the image on your song, you may want to add a new photo for songs that do not have cover photos. This article is here to show you how you can achieve that.
Again, there are five best MP3 photo editors you can choose from, all of which will be provided here for you. With these tools, you do not have to worry about your MP3 song photo editing items anymore.
How to Create A Slideshow with Music
Part 1: Proven best 5 MP3 photo editors
Here are the proven best five MP3 song photo editors you can rely on for a seamless photo editing experience. Let's get right into it!
The first recommended MP3 photo editor online tool you can use is called Online UniConverter Slideshow Maker. It is a tool designed to easily create videos and picture slideshows online for free, hence no need to download an app for this tool to be functional. The Online UniConverter Slideshow Maker allows you to edit audio to your photos while making a video slideshow with them. Thus, it is a photo-audio mixer.
With this online MP3 photo editor, you can not only add an image to MP3 audio, but you can make use of the stylish editing options contained in the tool. These options include creating videos, beautifying photos, looping music, and adding text to the slideshow, among other possibilities.
Key Features:
It is free. It comes with the option to add music to the photo slideshow background freely
An online-only tool for photo and video editing
Supports any output format you want to export your file in. A wide range of supported formats includes WebM, M4V, MKV, FLV, MPG, etc.
Programmed to delete photos after twenty-four hours. Maximum security guaranteed on the site
It can be used without a registered plan for free
Contains aspect ratios for popular social media platforms. Allows you to post directly to Facebook, Instagram story, YouTube, Twitter, etc.
Below is a simple three-step method of editing photos and music on UniConverter Slideshow Maker: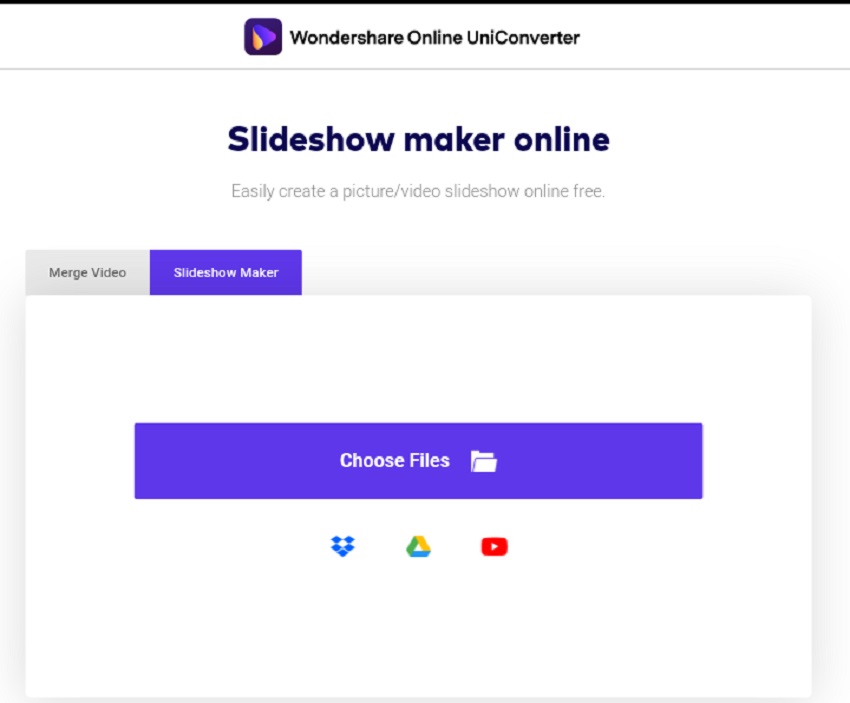 Step 1: Upload files
Select the photo you want to add to your MP3 and add it to the home page. You can do this by diretly clicking below Choose Files or by simply dragging and dropping the photo directly on the home page.
Step 2: Edit your photo/audio mix
The good thing about this slideshow maker is that you can use multiple photos for one song. Add the song you want to use for the music background, beautify the image with the editing features available, and reorder the pictures as you wish.
Step 3: Export the final work
Now that you are done, you can save the work on Dropbox, Google Drive, or your device storage.
TagMP3 is a free online tool that lets you change your music album art, MP3 tags, and so on. With this tool, you can forget about downloading and installing any app that will consume space on your device. It ensures you edit photos on your songs easily without waste of time. You can also edit the metadata of your MP3 by entering relevant information like the music genre, album release year, artist, comments, song title, all in addition to the album art.
Log on to the TagMP3 site and follow these instructions to use it: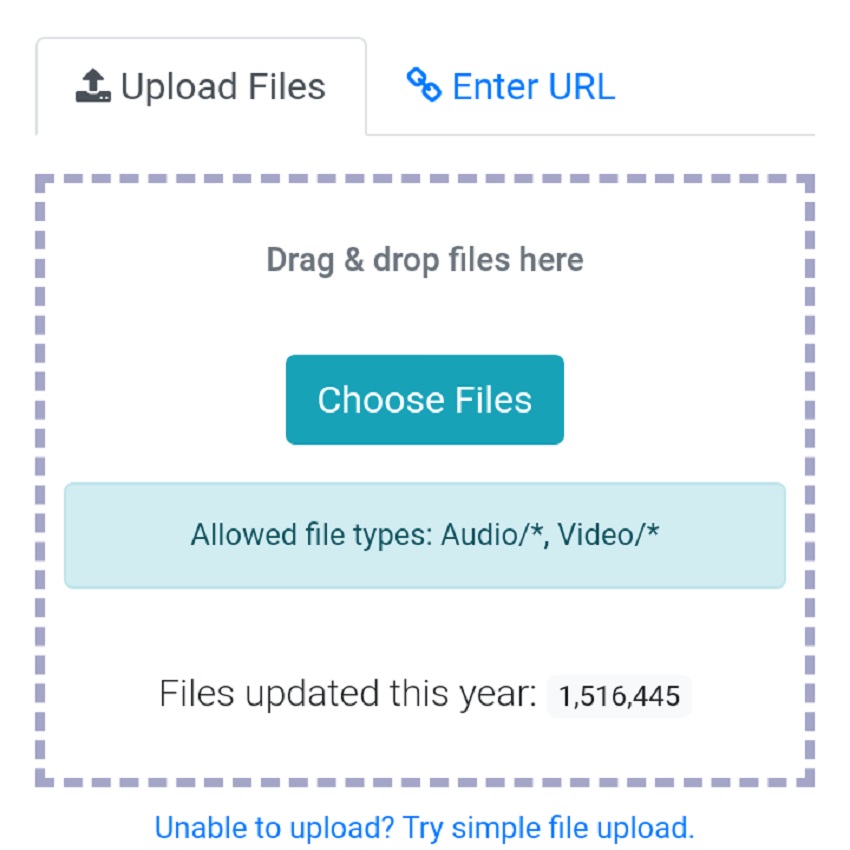 Upload a file or multiple files to begin. To add multiple files, make sure you press the Ctrl or Shift key and hold it down. You can also drag the mouse to the files and click as many as you want to use.
Go on and change the online information of the audio selection, i.e., tagging. Add the photo you want as album cover art of the chosen song. Customize the song the way you want it to be on your music library.
Once you are done with your audio customization, you can download the edited MP3 to your device storage as part of your music library.
The photo editor with the music app is one of the best video editors for Android devices. It does not limit the duration of your photo movie, and it allows you to export edited videos in HD format. Photo Editor with Music Slideshow gives you multiple options of stickers, filters, and special effects that give your photos a beautiful result like works of art.
On this app, you can trim and cut, add multiple audios to your photos, add stylish text to the album cover art you are using for your song, make use of 3D transitions, and so much more.
Check out the editing tools on this app below to help you in adding photos to your music:
Visit Google Playstore to download the app and install it on your Android device.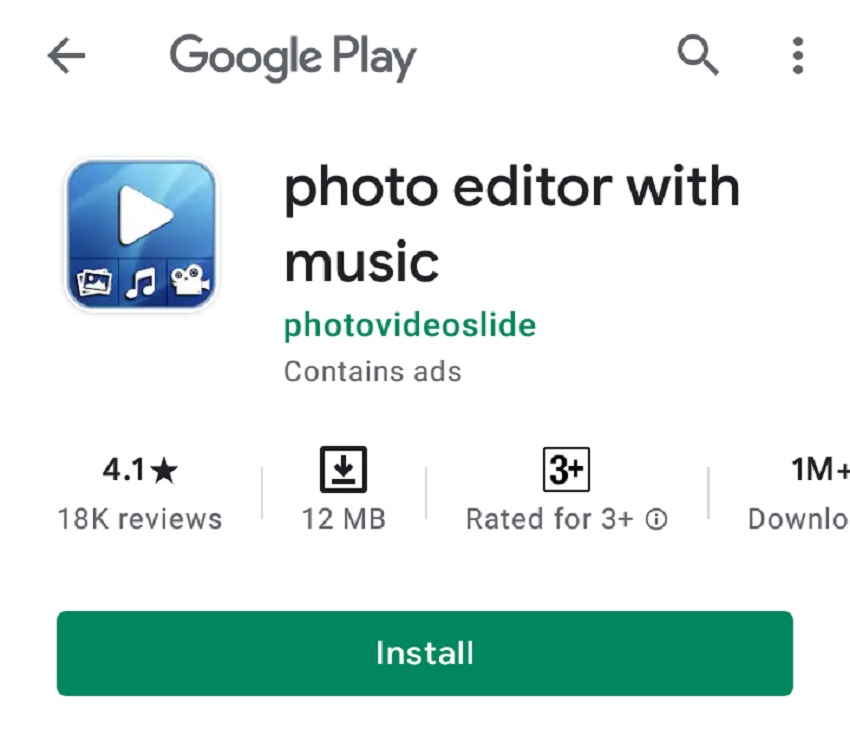 Edit the duration of each photo to the time you want it to stay on your screen.
Add stickers to give the photos a more appealing look.
Add text to your project using the different available styles, then place the text anywhere on the photo. The text could be the title of the audio you want to use.
Add effects to give the work the theme and effect you want on your viewers.
Now you can add the music you want the photo to cover. Then export the final work to your device for future use.
Another excellent MP3 photo editor we recommend to you is Meka MP3 Album Artwork Tool. It is a free and easy tool to use in creating a cover photo for your MP3 files. The image file formats supported by this tool include JPG, PNG, and BMP image formats.
Below are the steps and screenshots of how to use the Meka MP3 Album Artwork Tool:
Launch the Meka tool to begin.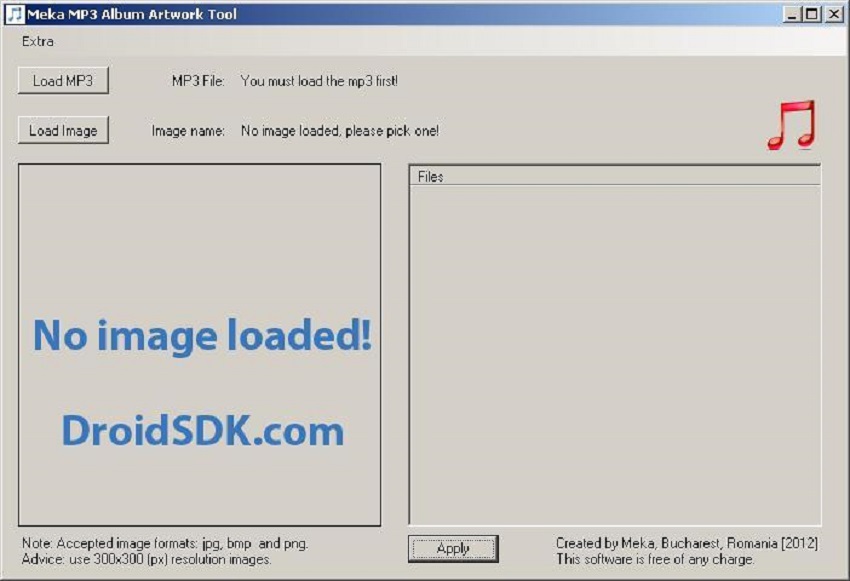 Add the image you want to use and the MP3 and select Load image and Load MP3, respectively.
Now you can edit and click Apply to merge both image and audio.
If you want to add photos to your MP3 or create a video for your audio, Kapwing is the tool for you. With this free online tool, there is so much you can do with special effects, music, photos, and video to get the result you want. It is easy to use Kapwing, and you do not have to download the app for it to be functional. Again, you can use Kapwing on different types of phones, tablets, or computer systems.
Below are simple steps on how to use Kapwing MP3 photo and audio editor:
First, you need to add the link to the photo and the music you want to use to create your content. The link can be from any social media platform or Google Drive.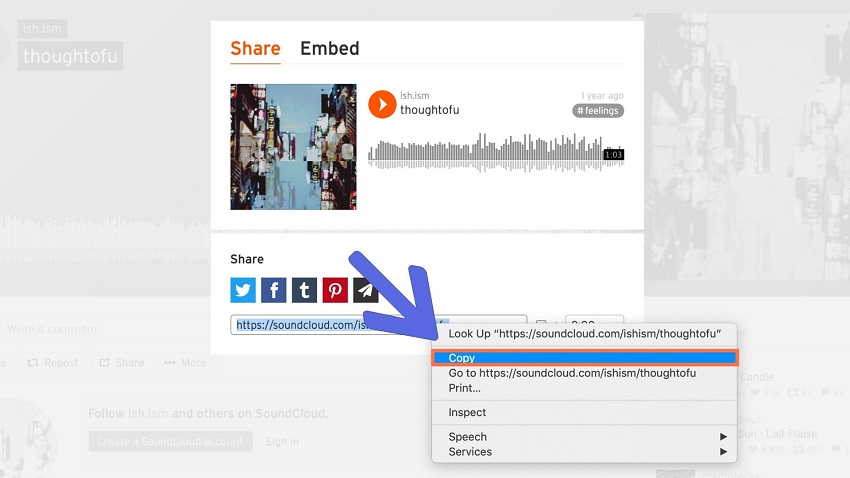 Go to the Kapwing website and select Get Started to begin working on the uploaded photos. If you want to add pictures from your device, click Upload to search the device storage for the image.
Now, choose the song you want behind the photo by clicking Audio. To upload the music, select Upload or add an audio link from any site online. Select Add Audio when you are done.
Once you are done adding the photo to your MP3, choose Publish and let it process as an MP4 document. After it has been processed, select the Download button. You can send the final work using the shareable link by clicking Copy Link.
Part 2: Bonus tips on MP3 song photo editing
Here are bonus tips on MP3 song photo editing for a seamless online experience:
Q: How can I Change the Picture of an MP3 Song?
Download an app like MP3 tag and launch it. Select the music you want or select all the music files by pressing the Ctrl and A keys.
Right-click the square icon at the bottom left corner, and select Add cover.
Choose the image you wish to add to the song.
Choose to Save.
Q: How do I add audio to a picture?
Go to a photo/audio editor like the Online UniConverter Slideshow Maker.
Add the photo you want to use in this instant by dragging and dropping it on the site.
Select the audio you want to add to the photo from your music library.
You can choose to add multiple songs or edit the photo. Next, export it to your device storage.
Q: How to make MP3 to video online
Choose any reliable Online Converter for this purpose. Launch the site and add the audio file you want to convert.
Add an image of your choice from your device storage or drive.
Click on Convert and wait for the files to be uploaded.
Check out the result. If you like the final video, save it to your device, Dropbox, or Google Drive.
Conclusion
Adding photos to audio does not have to be complicated, as you have seen here. All you need are good tools for editing photos on music and a guide on how to use them. The top five MP3 photo editors with music have been provided for you in this article. Also, the steps involved in adding and changing the album cover art of songs have been laid out for your use. Go ahead to enjoy using your MP3 photo editors for the best result.