If you want to merge WMV files with lossless quality, this is the perfect tutorial. The internet is filled with multiple online and dedicated WMV mergers for computers and mobiles. However, just a handful of these programs guarantee lossless results. Also, most WMV editors have limited file size support. So, to be safe, this guidepost discusses the best solutions to merge WMV without quality loss.
Part 1. What is a WMV file?
Before we dive deeper into discussing the best apps to merge WMV, let's first see what precisely this file format is. Basically, WMV (Windows Media Video) is a video format developed by Microsoft in 2013. It features a .wmv filename extension and saves three distinct video codecs: H.262 (MPEG-2), (MPEG-4), and Blu-ray video disc. As expected, WMV can be opened by almost any media player on Windows operating system.
Theoretically, WMV boasts a smaller file size than MP4, thanks to its superior compression. However, MP4 edges it out in terms of quality because WMV still uses old codecs like WMV1 and WMV2. Also, MP4 is universal, unlike WMV, which is mainly confined to Windows platforms. Nonetheless, these file formats are almost evenly matched in most other aspects.
Part 2. Highly-ranked 4 free online ways to merge WMV files [You can't-miss]
With that brief overview of WMV, let's now learn the best online tools to join this file format. They include:
The name alone is self-explanatory. Online Converter is an excellent tool to join WMV files into one beautiful video. Online Converter is free to use and supports hundreds of file formats. It can merge all standard video formats like WebM, MP4, MTS, TS, VOB, etc. Interestingly, you can merge up to four WMV files. But there is a condition; you can't join more than 200MB at a go. Also, the adverts can be pretty annoying. Below are the steps:
Step 1. Open Online Converter and then tap the Choose File button to add WMV videos.
Step 2. Now click Merge to join the videos on Online Converter.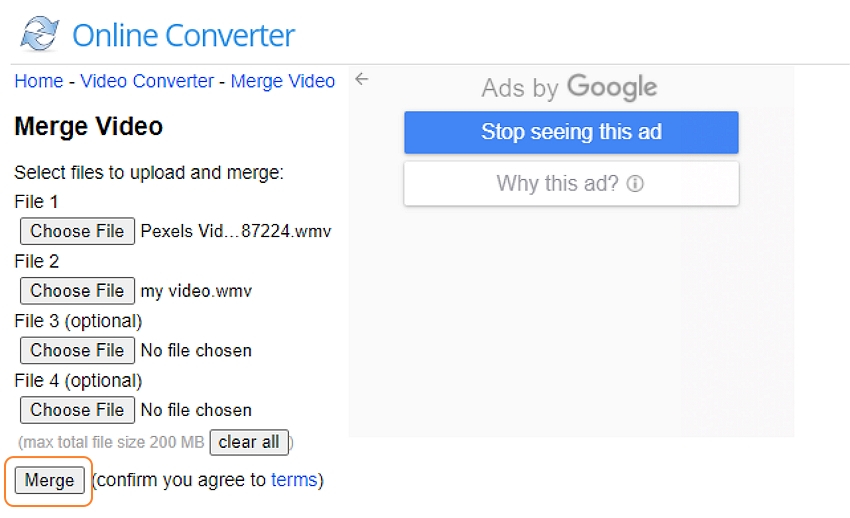 Step 3. The program will redirect you to a page with the download link for the merged video. It's really that easy!
If Online Converter doesn't impress you, try Online UniConverter instead. With this online software, you can merge several WMV files quickly and easily. It supports thousands of digital file formats, including WMV, WebM, MTS, TS, VOB, MP4, and more. In fact, you can join different file formats in the same session. That aside, Online UniConverter allows you to adjust the aspect ratio, crop the video, add audio, and choose a different target format. Even better, there is a host of editing tools to exploit.
Key features:
Merge WMV, MP4, MTS, VOB, MOV, and other video formats.
Customize the aspect ratio, zoom and crop, apply crossfade effects, and add audio.
Drag to rearrange the videos before merging.
Export videos to tens of popular video presets.
Runs smoothly on all HTML5 web browsers.
Follow these easy steps to merge WMV on Online UniConverter:
Step 1. Upload your WMV videos.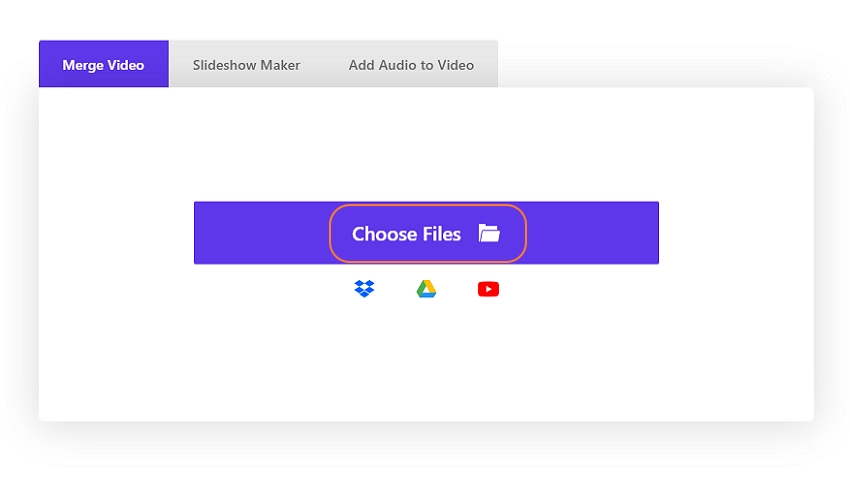 Connect your device to a reliable internet source and then use a web browser to launch Online UniConverter. Then, tap Online Tools and click Merge Video. Now drag and drop your WMV videos or click Choose Files to open WMV clips. Whichever the upload method, the rendering speed is fast.
Step 2. Customize video settings before merging (optional).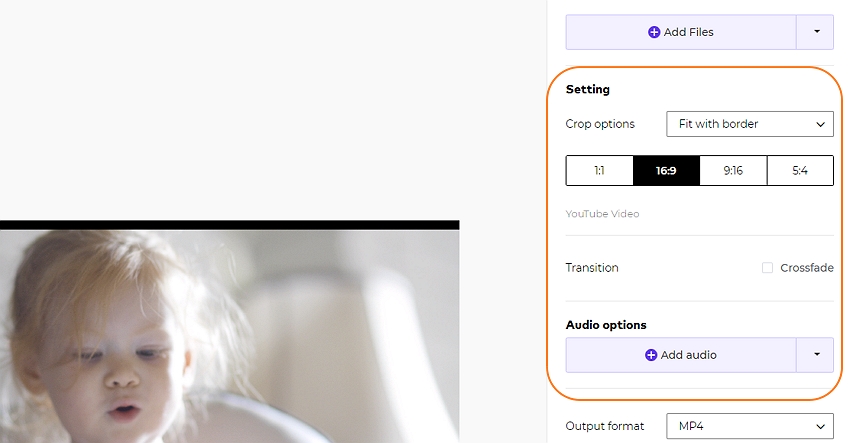 Do you want to make the merged video more appealing to view? Start by cropping and zooming before choosing the perfect aspect ratio. After that, click the Crossfade box to apply fading transitions.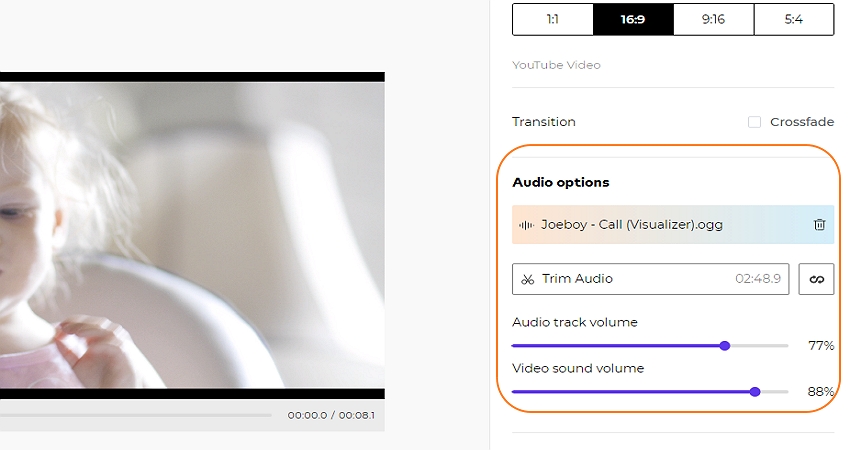 Don't stop there; press Audio to open local music and add it to the video's background. After uploading the audio, you can trim it and adjust the playback volume. You're now ready to merge WMV files.
Step 3. Choose a target format and merge.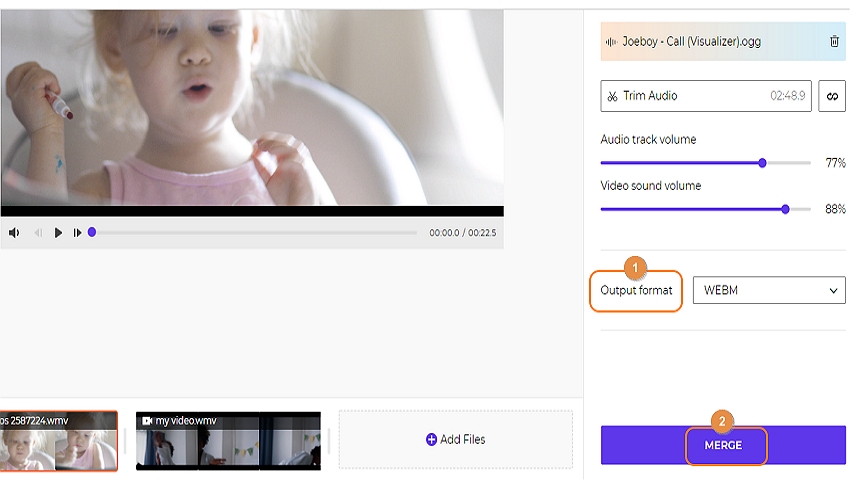 Before merging the uploaded clips, rearrange them at the bottom of the window to change positioning. Also, open the Output Format list to set WMV as the target format. Lastly, press Merge to begin combining WMV on iPhone, Android, Mac, or Windows. Download the video and enjoy!
Movie Maker Online is an excellent online video creator that works with almost any file format you throw at it. The user interface is self-explanatory and packs tools for merging, cropping, trimming, adding motion effects, etc. Excitingly, it also comes with an intuitive slideshow maker and thousands of stock music to download and add to your video. So, let's learn how to merge WMV clips with Movie Maker Online:
Step 1. Launch Movie Maker Online on your web browser and then press Add Files to open local WMV videos.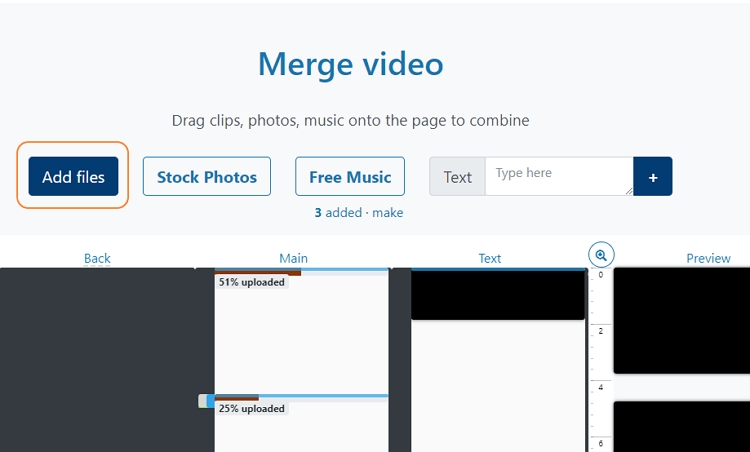 Step 2. After the files are uploaded successfully, they will be lined up in a top-down model. You can proceed to drag them to rearrange the positioning.
Step 3. Now go ahead and adjust the color, add transition effects, trim the videos, and so on. This should make the final output more presentable and entertaining to watch.
Step 4. After setting the joining options, go to the Format section and choose a target resolution. Lastly, press the Make video button to join MKV files on Movie Maker Online.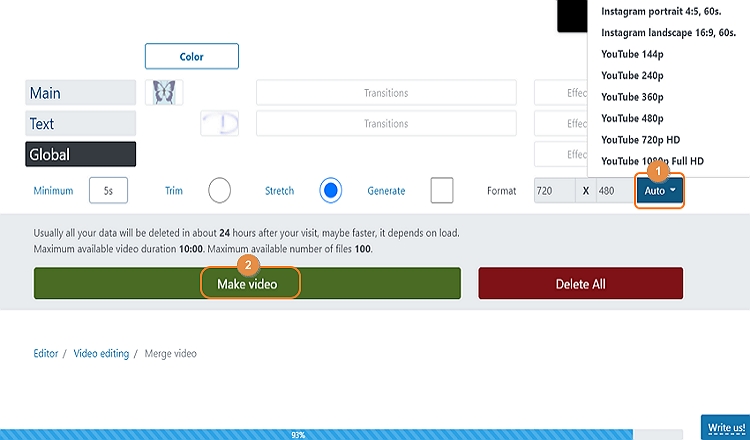 Lastly, use Veed to enjoy a full-featured toolkit with everything you may need to create an award-winning video. On Veed, you can upload several MKV files before merging them without compromising the original quality. Before joining MKV videos, Veed allows you to personalize them with drawings, texts, subtitles, transition effects, and more. Follow these steps;
Step 1. Launch Veed and then tap the Choose WMV Files button. Then, tap Browse to open local WMV videos or merely drag and drop them on Veed. You can even click Record to capture the computer screen or webcam and upload it on Veed.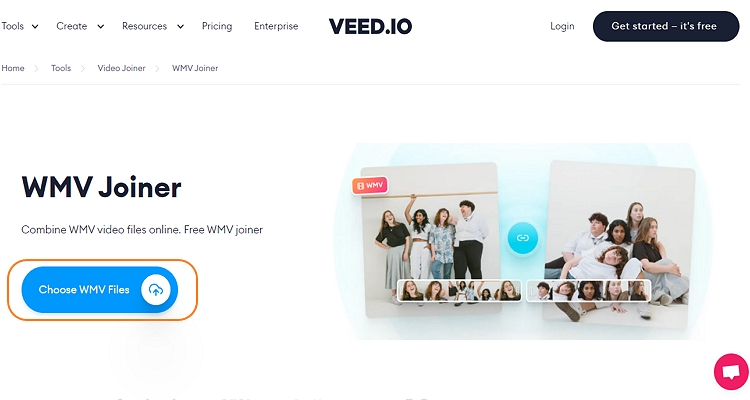 Step 2. Next, start customizing your videos with transition effects, colors, texts, filters, and more. You can also drag the preview screen to crop the video.
Step 3. If satisfied, tap Export at the top-right corner and click Export Video to begin the merging process. Now download your video as MP4 or GIF.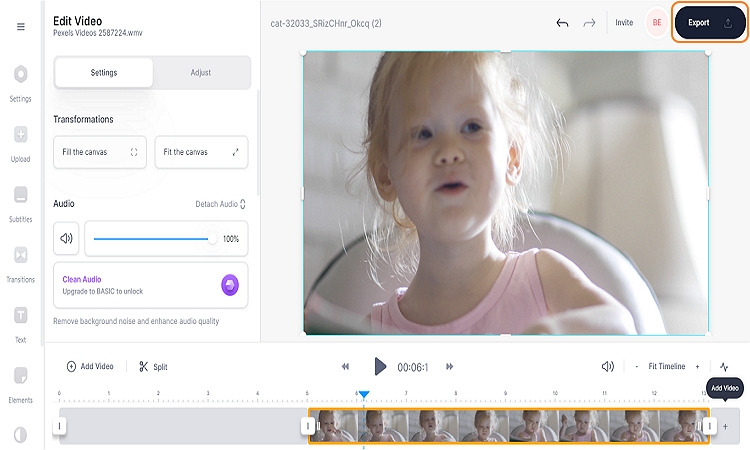 Part 3. 2 Best WMV merger apps for Mac/Windows [Recommended]
Wondershare UniConverter is a complete all-in-one software to convert, edit, compress, record, burn, and download videos. It supports thousands of digital videos formats, including raw formats like AVCHD, ProRes, MXF, DNG, and more. Here, users can merge many WMV files into a single beautiful video. But before joining, you can trim out unwanted sections of the video. Also, you can adjust presets like frame rate, bit rate, encoder, and resolution. Plus, you can export merged WMV to tens of video formats, including device-optimized options.
Steps to join WMV files with Wondershare UniConverter:
Step 1. Upload WMV videos on UniConverter.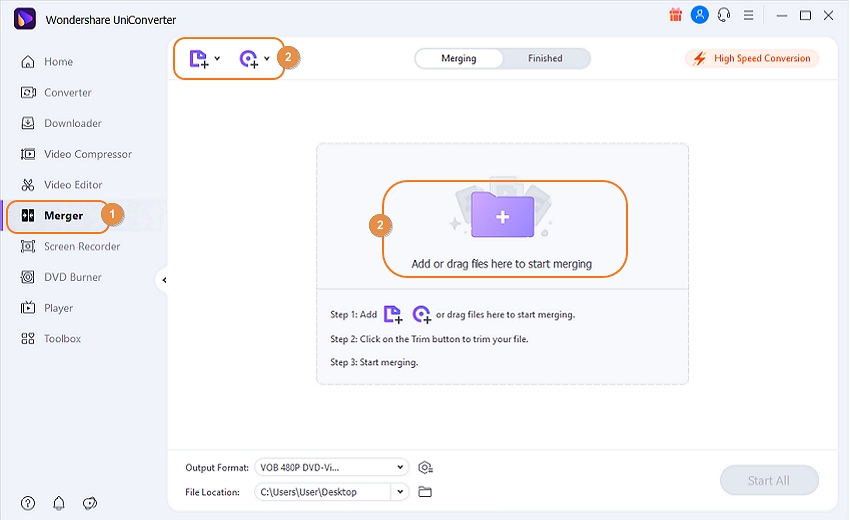 Install and run Wondershare UniConverter and then tap the Merger tab on the left pane. After that, drag and drop your WMV clips on the workspace. Or, tap the Add Files button to open local WMV files on UniConverter.
Step 2. Trim and adjust video settings.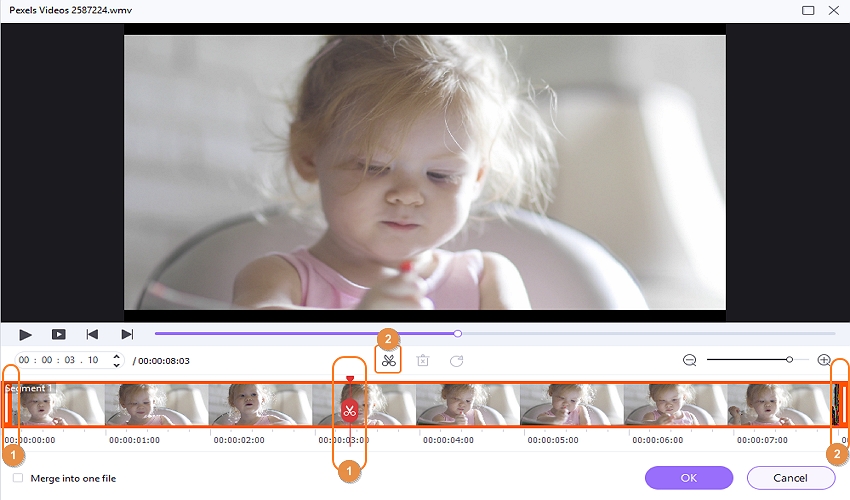 Tap the Trim button, then split and cut the video by moving the handles at the start and stop points. But if you want to cut with more precision, choose an area to start trimming and tap Cut. Repeat the same to select a place to stop cutting. Now select the unwanted clips and delete them.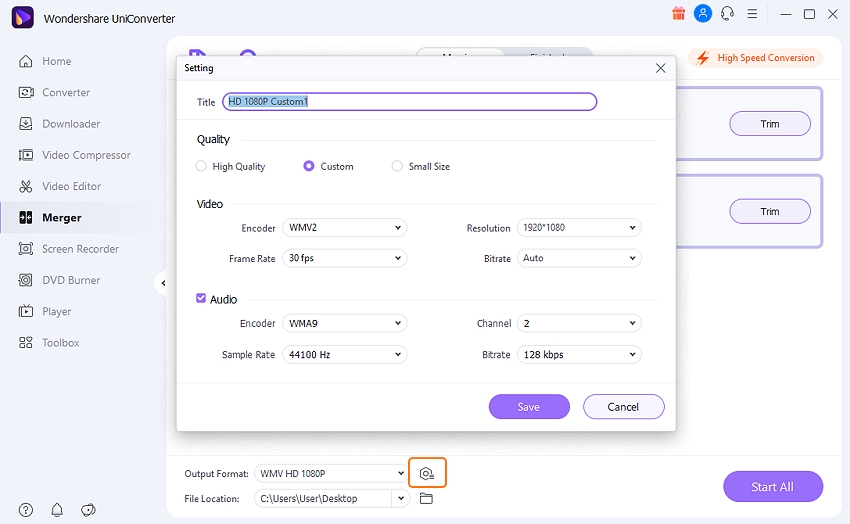 In the meantime, navigate down to the bottom of the window and press the Settings button. Then, choose the perfect video resolution, encoder, bitrate, and frame rate. Remember, a higher video resolution and bitrate translate to more significant file size. Click Ok to save the new settings.
Step 3. Choose a target format and merge videos.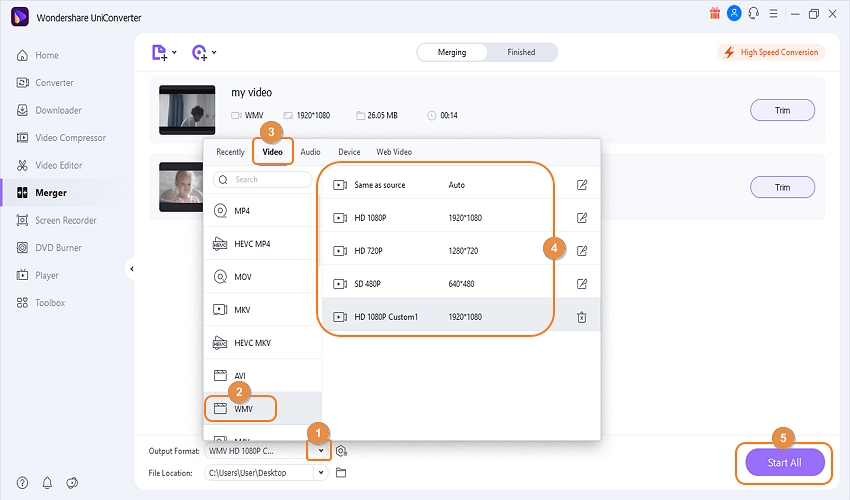 Last but not least, tap Output Format, click Video, and then choose WMV. Now go on and set an output video resolution or quality. Finally, press the Start All button to start merging WMV on Mac/Win with Wondershare UniConverter.
Another free way to merge WMV on Mac, Windows, and Linux is by using VLC. Are you surprised? Well, this free, open-source multimedia player packs a whole lot of video editing tools in the background. Besides merging, VLC can also trim, record, stream, and convert videos. However, you may not like the user interface. Below are the steps:
Step 1. Install and run VLC on your PC and then tap the Media tab. Then, press the Open MultipleFiles option to launch the Open Media window.
Step 2. Next, click the File tab and then press Add to open local WMV files on the Open Media window. The upload process is instant.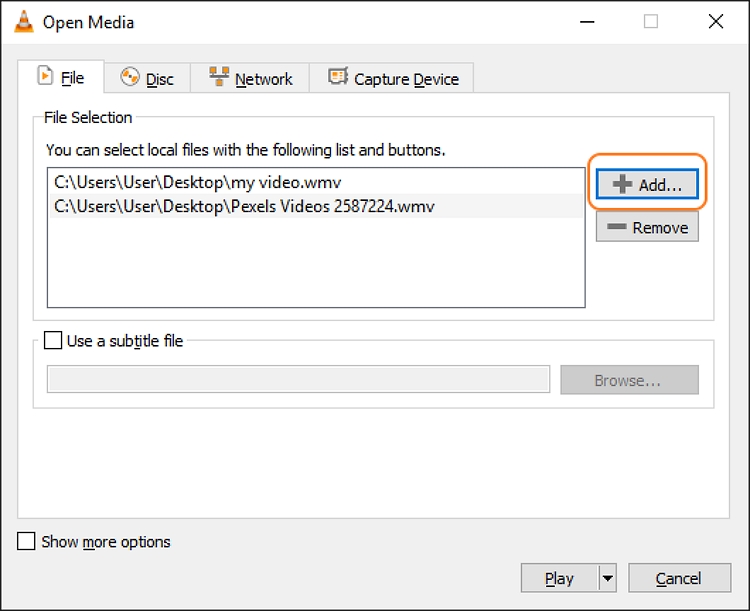 Step 3. Click the Play drop-down menu at the bottom of the window and then choose Convert. A Convert window will launch immediately.
Step 4. Tap the Convert button and then choose WMV as the target format. An alternative way is to press the Spanner icon and choose ASF/WMV as the output format before clicking Save.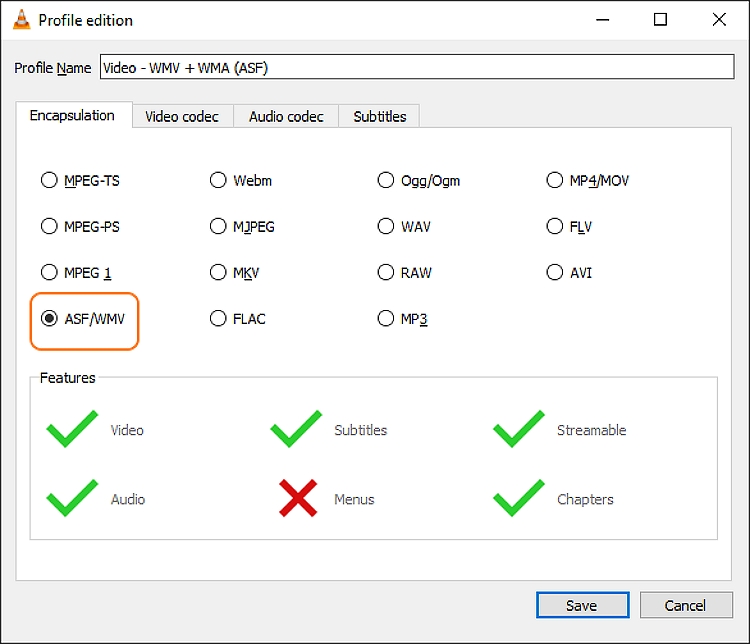 Step 5. To sum it up, click Start. And there is that!
Conclusion
Congratulations on merging your WMV videos. From the options above, it's evident that the feature-rich Online UniConverter is the best option to merge WMV on a computer or mobile. It's simple to use, quick, and supports any video format you may have. As for desktop users, Wondershare UniConverter will do, although VLC is an excellent addition as well. Happy merging!