Do you want to merge WebM quickly and with lossless quality? Then, this guidepost is tailor-made for you. There are hundreds of online and offline video joining apps out there these days. However, most of these programs can only merge a limited file size and are only compatible with standard video formats like MP4 and MOV. So, I've already done the digging work for you to bring these five simple solutions to merge WebM files quickly and losslessly.
Part 1: What is a WebM file?
Before we learn how to combine WebM files, let's first discuss this file format. WebM is an audiovisual file format developed by Matroska and later Google. It features a .webm filename extension and acts as an alternative to HTML5 video streaming. In other words, WebM is widely used to stream videos online on YouTube and HTML web browsers. This royalty-free format uses compressed VP9 and VP8 video codecs and Opus or Vorbis audio codecs.
But is WebM better than MP4? Overall, MP4 offers better image and audio quality than WebM. Why? WebM is specifically designed to replace MP4, FLV, and other online media streaming formats. As such, WebM is relatively smaller than MP4 at similar bitrates and frame rates. Now this means WebM videos are easier to stream and download than MP4.
Part 2: 3 Proven easiest online platforms to merge WebM flexibly
Without dilly-dallying much, let's discuss how to merge WebM files using some free online apps. The good thing about online WebM mergers is that they are compatible with mobile and desktops. Here are the three options:
Online UniConverter is indeed the best online software to merge WebM on iPhone, Android, Windows, or Mac. It runs smoothly on all HTML5 web browsers and supports 1,000+ file formats. Here, you can add WebM clips from Google Drive, Dropbox, YouTube, or local storage. Before merging videos, you can customize them with background music, transition effect, and crop the video. Also, you can preset the aspect ratio of the video.
Key features:
Merge WebM, MTS, 3GP, TS, MP4, MOV, and more.
Customize videos before merging by cropping, choosing the aspect ratio, and adding music.
Encode WebM to all standard video formats.
Additional tools like slideshow maker, video converter, GIF maker, and so on.
Free 2GB cloud storage.
Below is how to merge WebM videos using Online UniConverter. But before that, make sure the internet connection is fast and stable enough for the best experience:
Step 1. Open the video merger and upload WebM videos.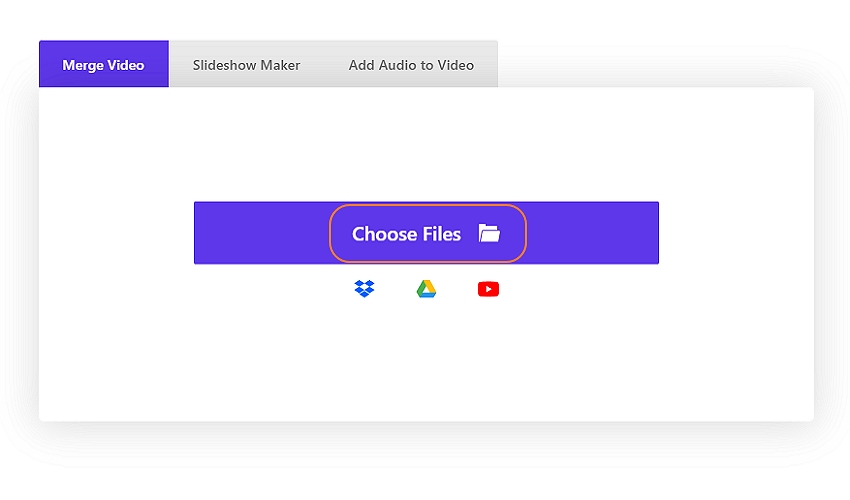 Visit Online UniConverter using an updated web browser and then tap Online Tools. From the functions available, click Merge Video and drag and drop your WebM videos on the user interface. Alternatively, press Choose Files to open local folders/files and add a video.
Step 2. Customize the video settings (optional).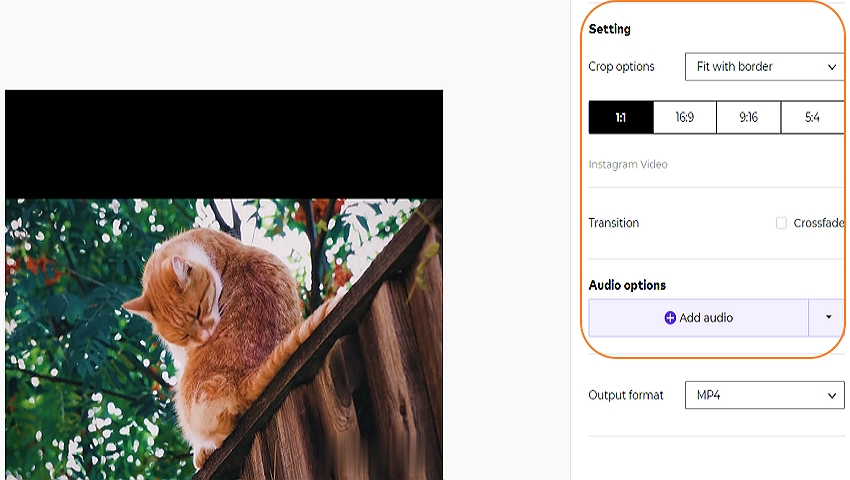 Before merging WebM videos, you may want to adjust a few settings. For instance, you can zoom in and crop the video as well as choose an aspect ratio. Also, you can apply a crossfade effect and background audio. You can even trim the audio and adjust the volume.
Step 3. Merge WebM videos into one.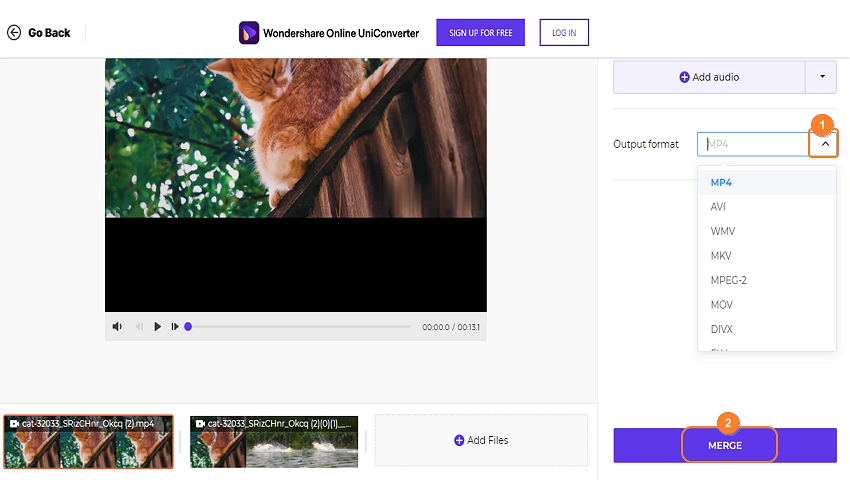 Finally, click the Output Format menu and choose WebM as the target preset. You'll also see a myriad of options to select from. Lastly, click Merge to combine WebM files. Download and enjoy!
Besides Online UniConverter, you can also use Clideo to merge WebM on any web browser. With it, you can combine a maximum file size of 500MB before encoding to MP4, MTS, TS, 3GP, M2TS, and more. It's also worth mentioning the Clideo boasts other capabilities like rotating, adjusting the playback speed, adding subtitles, and so on. Below is how to merge WebM videos with Clideo:
Step 1. Launch Clideo and then tap the Merge tool. Now click Choose Files to add your WebM videos from local storage or cloud.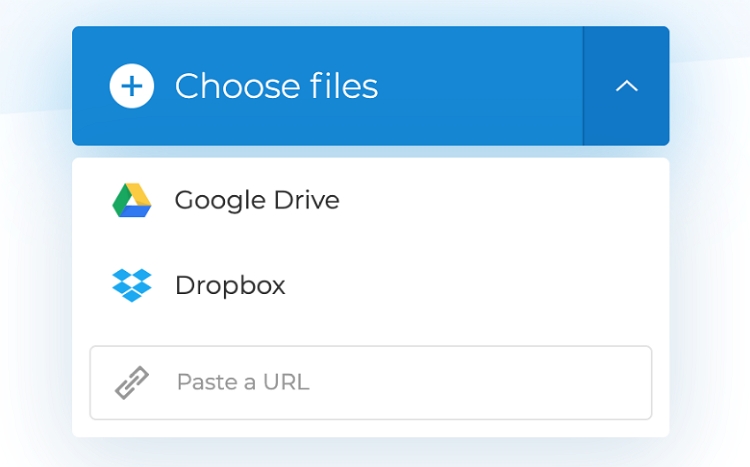 Step 2. Like Online UniConverter, Clideo allows users to customize their videos before merging. For instance, you can adjust crop options, aspect ratio, and add audio. Users can even add a crossfade effect.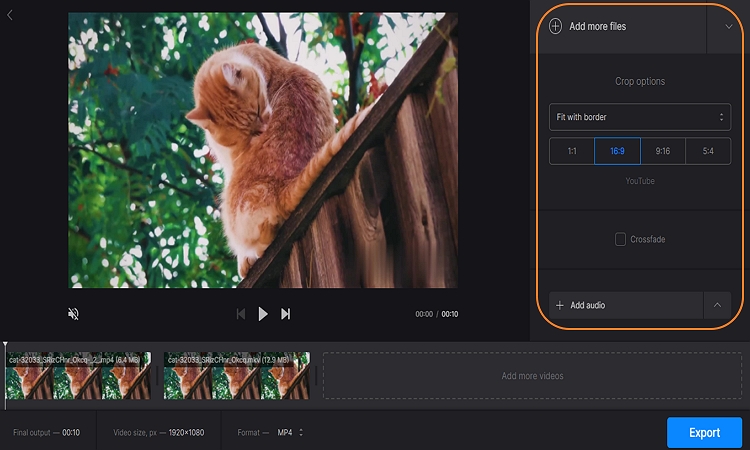 Step 3. Navigate to the bottom of the window and choose WebM on the Format list. Then, finish up by clicking the Export button. Clideo will merge and convert your WebM videos instantly. Take note, however, that the rendering speed is relatively slow.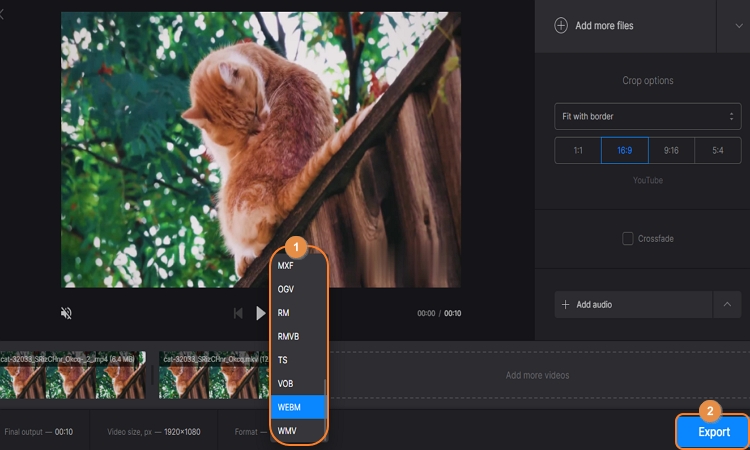 Lastly, use FVC Free Video Merger to combine videos. As the name suggests, this software is 100% free to use and can combine multiple file formats like MP4, MOV, WebM, TS, AVI, and more. In addition, you can adjust the video resolution and format before merging. Let's see how that works:
Step 1. Launch FVC Free Video Merger on your browser and then tap the Upload Videos to Merge button. A browser plugin will automatically download and install and then proceed to add your WebM videos.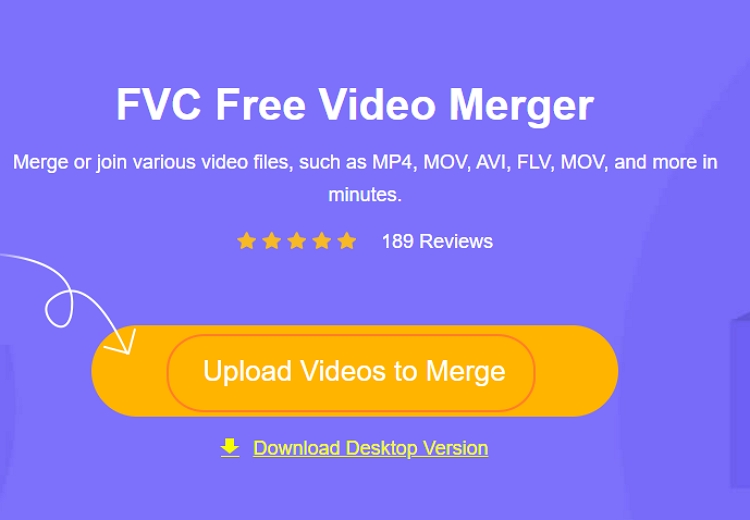 Step 2. Now open the Resolution menu and select and output video resolution. Also, choose an output format. Unfortunately, there is no WebM output option in this case.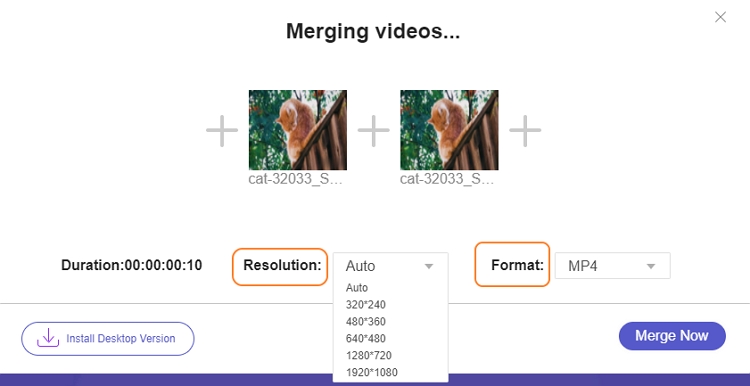 Step 3. Lastly, click the Merge Now button to combine your WebM videos.
Part 3: 2 capable WebM mergers free download for PC/Mac
Credit where it's due; the online WebM merger apps are excellent freebies. But without a fast and reliable Wi-Fi or data connection, you can't merge videos online. With that in mind, you can opt for these two dedicated desktop apps:
Did you know that VLC Media Player is also an excellent video editor? Well, now you know! With VLC, you can edit videos by merging, trimming, and converting. This is even better because VLC supports all standard video codecs and formats you may think of. Unfortunately, the editing functions are not as robust as what you'll get on a dedicated desktop editor. What's worse, the user interface isn't for beginners. Nonetheless, below are the steps:
Step 1. Install VLC on your Mac, Windows, or Linux computer. Remember, VLC is absolutely free to download, install, and use.
Step 2. Now click Media, choose Open Multiple Files, and tap Add to upload WebM files from local storage. You can add as many WebM videos as you want.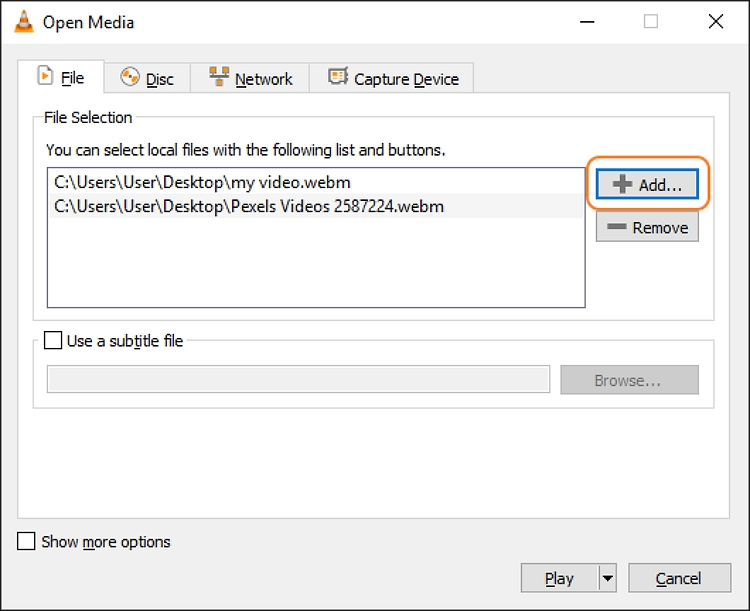 Step 3. Open the Play drop-down menu at the bottom of the Open Media window and tap Convert. A Convert window will launch immediately.
Step 4. Last but not least, tap the Spanner icon and choose WebM as the target format. Finally, press Start to merge WebM videos.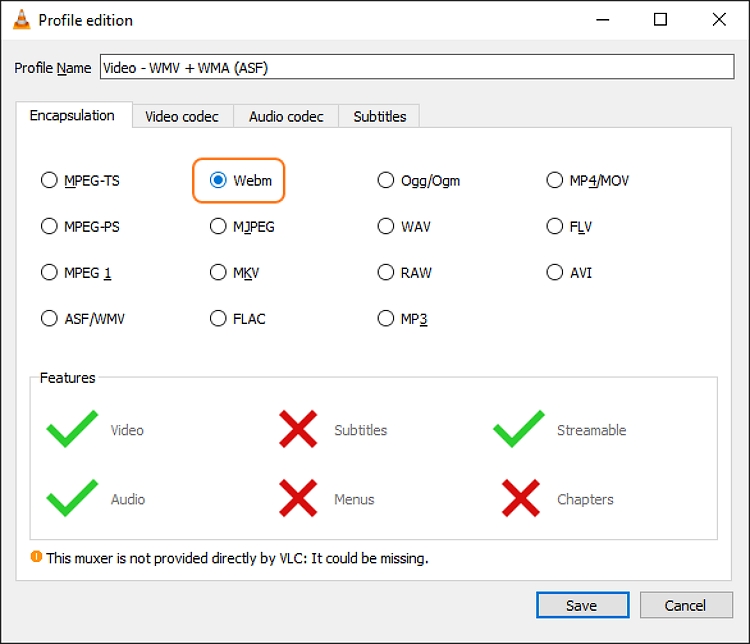 If you find VLC a bit complicated to use, consider Wondershare UniConverter instead. In fact, this is the best method to merge WebM files on Mac or Windows if you're a beginner. UniConverter supports thousands of media file formats, including raw formats captured using a camcorder. Before merging WebM, users can trim videos to erase unwanted sections and shorten the playback duration. You can also customize settings such as the bitrate, frame rate, resolution, and encoder. And remember, this software supports 4K rendering.
Key features:
It supports 1,000+ file formats, including WebM, MTS, MOV, 3GP, etc.
Trim videos with precision before merging.
Adjust video settings like the frame rate, bitrate, encoder, and resolution.
Convert WebM to all other standard video formats.
Best WebM merger for Mac OS X 10.5+ and Windows 10/8/7.
Below is how to combine WebM videos with Wondershare UniConverter:
Step 1. Upload a WebM video file.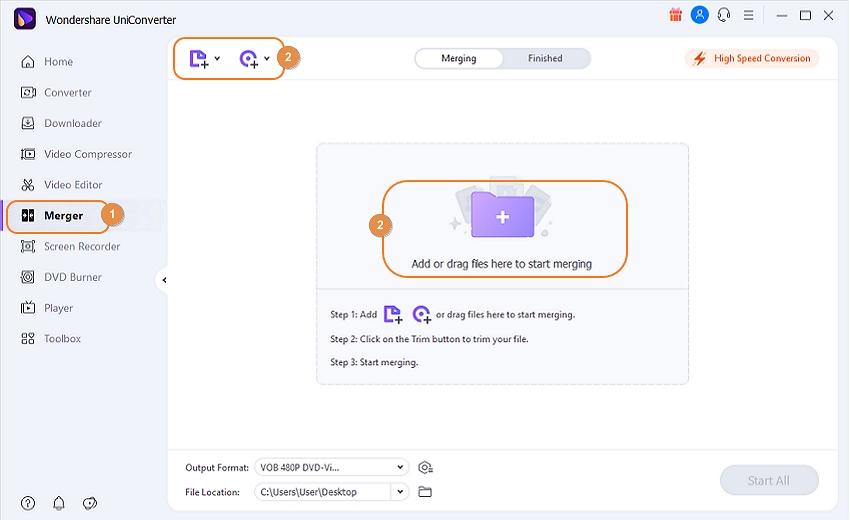 Install and run Wondershare UniConverter on your PC and then tap the Merge tool on the left pane. Now drag and drop your WebM videos on the workspace. Or, click Add Files to open local WebM videos on the software. Either way, the upload speed is instant.
Step 2. Trim and edit the videos (optional).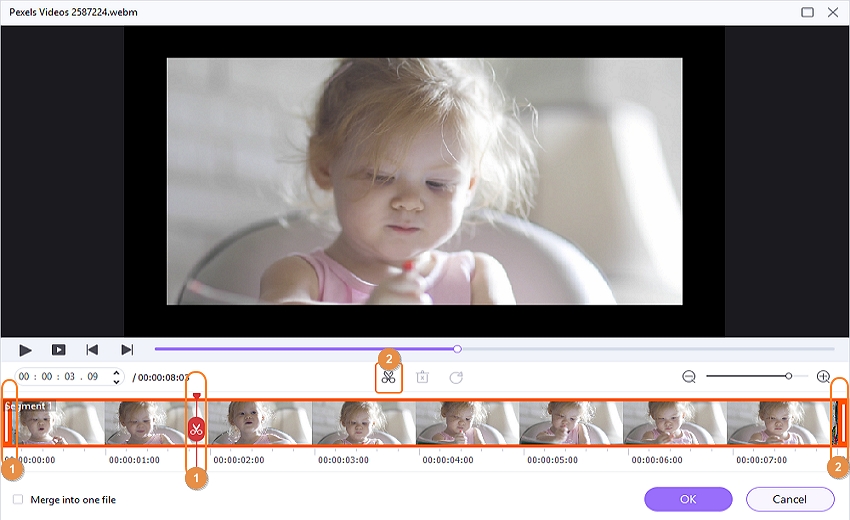 Do you want to trim out unwanted sections of the WebM video? Press the Trim button and then drag the trimming handles to cut the video. Another way is to choose where to start trimming and press Cut before deleting the unwanted clips.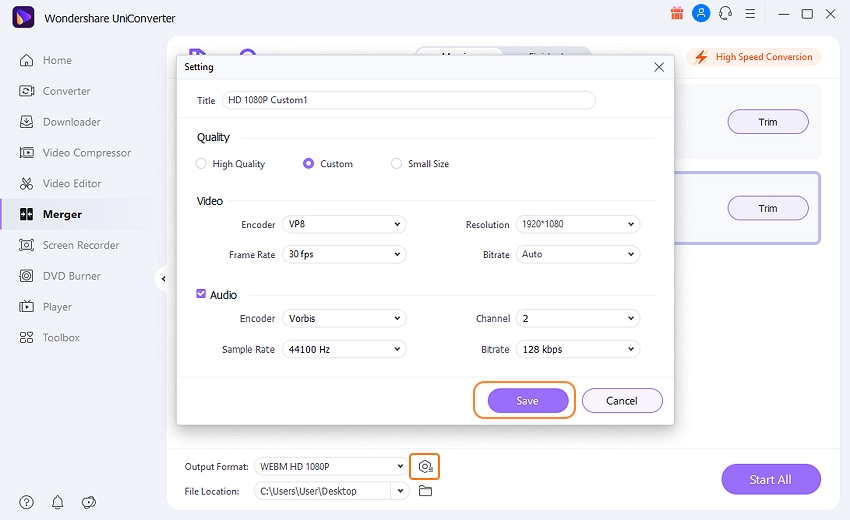 Close the trimming window and then tap the Settings icon at the bottom of the screen. Now change the bitrate, frame rate, encoder, and resolution. As said, you can set 4K as the output resolution.
Step 3. Merge WebM videos.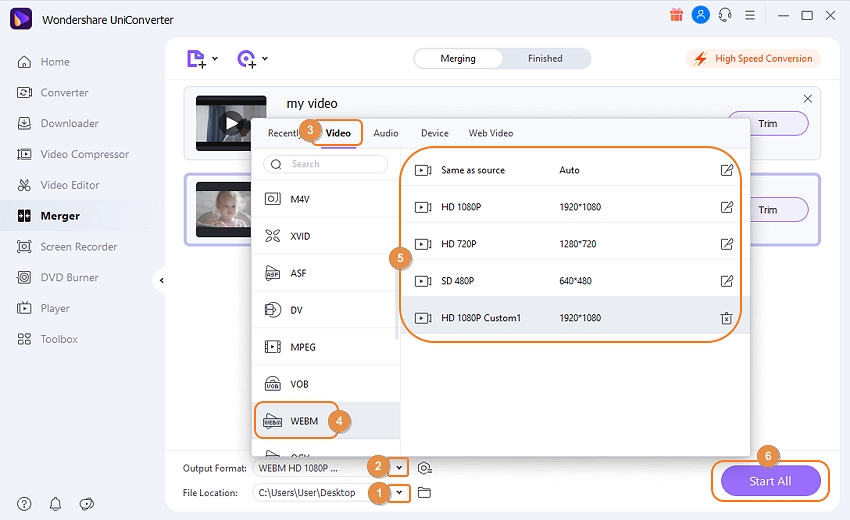 Next, click the File Location field to set a target folder. Then, tap Output Format and choose WebM under the Video list. You can also convert the merged video to device optimized presets like iPhone, iPad, iPod, Samsung, Blackberry, HTC, PS4, etc. Lastly, press Start All to combine WebM with lossless quality.
Part 4: FAQs about merging WebM files
Q1. Is WebM better than MP4?
Depends! That's because both are as different as they come. While MP4 is mainly for offline media playback, WebM is predominantly for streaming media online. Now this means MP4 offers better and crisper visual quality than WebM. Also, MP4 offers universal compatibility, unlike WebM. But on the other hand, WebM is smaller than MP4. So, it depends on what you want to do with the two files.
Q2. Is WebM high quality?
Yes! WebM videos have superior quality than most video formats out there. This is because it uses a VP8 video codec which offers about the same quality. However, because WebM streams video online, it features high compression, which lowers the video quality. But unless you're using a big UHD TV, you won't even notice the difference with formats like MP4 and MOV.
Q3. Can WebM be converted?
Ideally, no video format can't be converted. However, as you may already know, WebM isn't compatible with most platforms and media players, especially mobile. Therefore, choose a converter like Wondershare UniConverter to convert WebM to other standard video and audio formats.
Q4. How do I merge MP4 and WebM?
Good question! Sometimes you may have several MP4 and WebM videos that you want to merge. In that case, use Online UniConverter to join videos on your mobile phone or computer. Just launch the app on your web browser and follow the steps discussed above.
Conclusion
See, merging WebM is pretty straightforward whether you're using Mac, Windows, or mobile. With Online UniConverter, you can combine WebM files on these platforms without losing quality. But of course, use Wondershare UniConverter to do the same offline on Mac/Windows computers. Adios!