A lot of users look out on several forums for a solution to merge TS files. If you too are among one of those users, you are reading on the right page. Talking about the file type, a TS file is a Video Transport Stream file that is used for storing the MPEG-2 compressed data. So, if you have a play, outdoor activity, or any other recording on your system, they will be saved in form of multiple TS files. To watch these recordings as a single video or a movie, merging or combining TS files is required. To help you get the task done in an effortless manner, there are several TS joining programs and software available. Know about the best and the effective tools to join TS files in the below parts of the topic.
Part 1: How to merge TS files via Wondershare Online UniConverter [one click]
If you are looking for an effective tool to merge TS files in a simple quick manner, Online UniConverter is one of the best tools to consider. No need for any software download or installation as the tool works directly from your browser and is free to use. You can add the TS files from your system or the ones saved to your cloud storage (free sign-up for adding cloud storage files needed). The process is simple and the merged files can be saved to the local system or to your Dropbox account.
Key features:
Merge TS and other files in one-click
Add TS files from the local system, using a link, Dropbox, or Google Drive
Option to choose the aspect ratio
Crop function available
Audio from the system, Dropbox or Google Drive can be added to the merged video
Select the desired output format
Preview the merged video
Free to use tool
Download the merged file to your local system or cloud storage
How to merge TS files using Wondershare Online UniConverter
Step 1. Open https://www.media.io/merge-video.html and click on Choose Files button to import the locally saved TS files.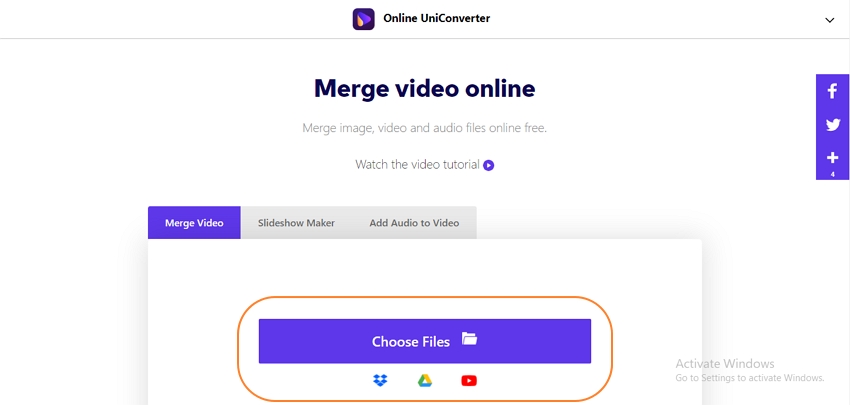 Step 2. After the files are added to the interface under the Settings section, you can choose to crop the file, select the desired aspect ratio and select crossfade option if needed. Audio to the merged file can also be added under Audio options.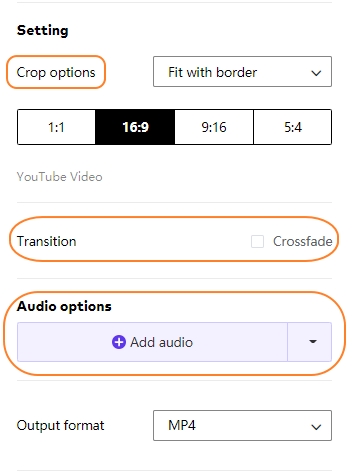 Step 3. Select the Output Format as needed from the drop-down list and then finally tap on MERGE button at the bottom to start the file merging process. The merged file will be available for local download after processing.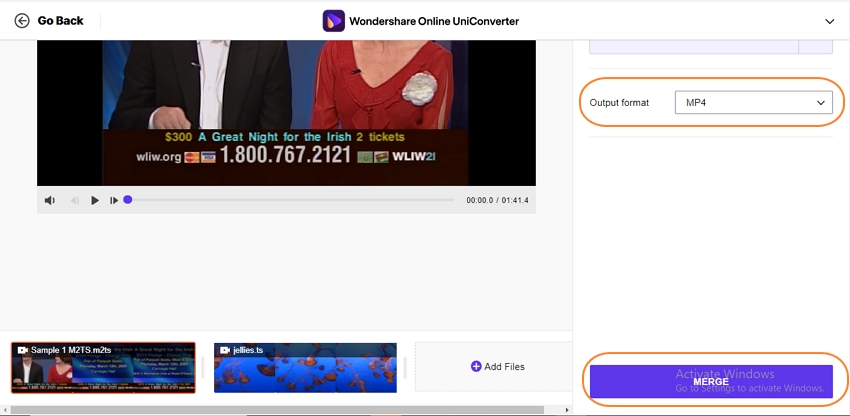 Part 2: How to join TS files via Joyoshare Video Joiner
Joyoshare is a multi-tasking software that also facilitates merging files in an array of formats including TS. Using this Windows and Mac-based software TS files can be combined without losing quality and the option for file customization is also there. Other editing tasks are also supported by the program's built-in editor. Batch processing and fast merging result in completing the task quickly.
Steps to combine TS files using Joyoshare Video Joiner:
Step 1. Download, install and run the Joyoshare software on your system. Click on the Open Files option at the bottom-left corner to browse and import the local TS files to be merged. You can also simply drag and drop the files to the interface as well.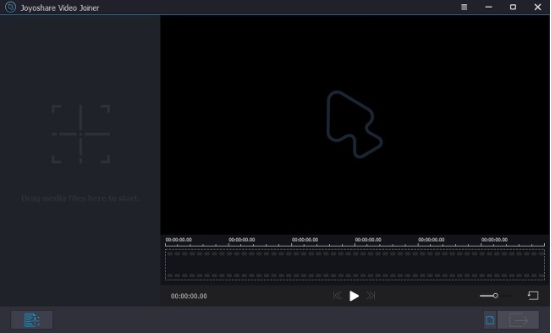 Step 2. Move to the Format section to choose the merging mode and the output format. Use high-speed mode and select Original as the format at the general video tab.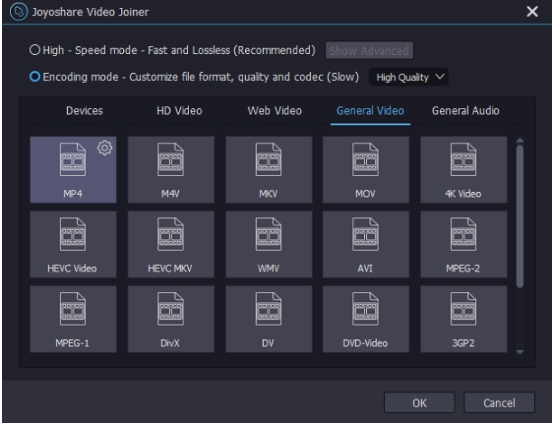 Step 3. Editing of TS files can be done if required like cutting, renaming, and rearranging.

Step 4. Finally, tap on the Convert button present at the bottom-right corner to start the file merging and processing.
Part 3: How to combine TS files via Python
Python is an interactive and object-oriented programming language that contains dynamic data types, modules, and classes. Procedural and functional programming are also supported by the tool. Python is used for performing multiple tasks including file merging. The tasks in Python are performed using logical codes and clear syntaxes and have a comprehensive standard library. Though Python is an effective language it is complicated and sophisticated to use.
To merge TS files or perform any other tasks using the language, you need to have a good knowledge of the process, codes, and syntaxes. Thus, Python can be considered a good tool but only for experienced users and not for beginners.
To download TS files into the disk using the m3u8 Python library, the given script can be used.
import m3u8, urllib
playlist = https://sevenwestmedia01-i.akamaihd.net/hls/live/224853/TEST1/master_lowl.m3u8
while True:
m3u8_obj = m3u8.load(playlist)
ts_segments_str = str(m3u8_obj.segments)
for line in ts_segments_str.splitlines():
if https:// in line:
ts_id = line[-20:]
testfile = urllib.URLopener()
testfile.retrieve(line, ts_id)
Part 4: FAQs on TS video merging
1. Which is better TS or MP4?
Talking about TS and MP4, both are different file types. TS stands for Video Transport Stream file that is used for storing MPEG-2 compressed video data. You will majorly find the files with. TS extension on DVDs and while recording some video. MP4 on the other hand is a MPEG-4 file format that is compatible with a wide range of players and devices. The format is majorly used for downloading and streaming content over the internet. It is a versatile format that is capable of storing video, audio, subtitles, as well as images.
Though both the formats differ in several ways, if we still compare both, MP4 is better in terms of compatibility. Files in MP4 format can be accessed and played on an array of devices, players, and platforms which is not in the case of TS files.
2. How do I convert a TS file to MP4?
Converting TS files to MP4 increases accessibility and make files compatible with a variety of players and devices. Though there are several conversion tools available, if you are looking for a simple and free option, we suggest using Wondershare Online UniConverter. The free tool has a user-friendly interface and works directly from your Windows or Mac browser. The files can be added from the local system, using an online link, Google Drive or Dropbox. Option for file customization is also available and the processed files can be downloaded locally or can be saved to the cloud storage.
Conclusion
Merging TS files helps to keep all your scattered files in one place and convert them into a single movie that can be easily accessed and played. Multiple tools for merging TS are listed above, but if you are looking for the one that is simple yet effective, UniConverter works best. In addition to merging your TS and other files, the software helps you get done several other video-related tasks. You can even convert TS files to MP4 and other key formats using the desktop version of UniConverter. For simple conversion of TS files to MP4, the online Wondershare tool is an ideal choice.