TikTok is one of the significant video posting social websites where people collaborate with several famous scenes and songs of the movie industries to make slow motion and standard rate videos. These videos supposedly depict a message for humanity or are just made for fun purposes. TikTok slow-motion videos are quite popular, and are made with the help of different slow motion video makers.
TikTok gained popularity over a short time, and by 2019, almost more than a billion downloads were done from App Store and Play Store. With this popularity, the competition to make better and fresher videos is also excited. TikTok is a self-sufficient app in adding finishing touches to videos with several animations and slow motion effects; every user can get to know the basics of how to slow down a video. With increasing experience, different users demanded the need of a secondary video editor, which would, with its variety of features, provide its users for making exquisite slow motion video, which barefaced every small detail of the video to the viewers. This article discusses a few complex mobile applications that have diverse features that tell TikTokers' to how to slow down a video to its smallest detail.
Part 1. 2 Common Software can Slow down TikTok Video
TikTok usually instigates the essential slow motion feature in its videos through animations, but users have called on for professional editing of videos. TikTok slow motion videos are hence professionally edited with the help of video editing software.
This application is a perfect guide of how to slow down a video. With a simple and efficient user interface, it is available on Android only and its more useful feature is the video merger for stringing multiple videos together. With a selection of the required option, any user can have their TikTok slow motion video prepared. Its significant features include the following:
It cuts down videos or songs with its explicit A/V cutter. It supports almost all file formats of videos.
Audio and Video Converter
Timbre is an application far from just editing videos. It converts audios and videos into every selective format, which makes it exquisite and complex in use.
Apart from editing, joining, and converting videos or audios into different formats, it can be interchanged too. Any video can be separated from its sound, which can be saved for later usage. It also converts videos into GIF animated files in just a single click.
With trending slow motion videos in the social media, this application provides users with the complete set of effects necessary for bringing a slow motion in a video.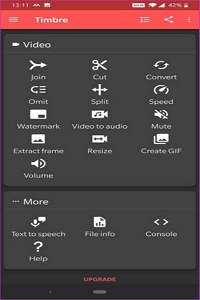 Another application that has made a mark in the video editing platform in both Android and iOS is Funimate, which with its exquisite transitions, can prove to be very helpful for TikTok editors. It provides users with the features of:
There are around 100 video effects to be added in the application with the option of adding music into the videos.
This application helps you create a perfect video length according to the social media platform. It lets TikTok editors for creating slow motion videos in ease and with a professional touch.
Funimate is an admirable application for creating TikTok slow motion videos, which can be upgraded to a pro version with a cost of $7/month only.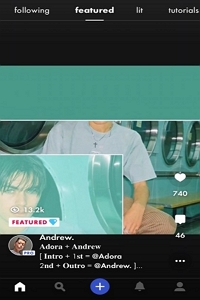 Part 2. Choosing Online UniConverter May be the Easiest and Cheapest Tool
Talking about slow motion effects and video editing tools, users always look upon better alternatives. We have seen that these mentioned applications, along with various other video editing applications, either cost us space, money or sometimes both.
To get rid of these formalities, Online UniConverter is the best slow motion online platform that provides equal and unvaried facilities to its users for changing the speed of the video.
Unlike other slow motion online sites, this counts as the best video speed controller that accepts videos in any format and converts their speed in very swift processing with no rendering periods. This slow motion online package has no ads and watermarks, which can make video editing convenient for the users.
It provides protection and security from theft, unlike other slow motion online platforms. Its fast customer service makes it count among the best slow motion online editors, which are worth a shot.
This article provides a short guide of how to slow down your video in three basic steps on Online UniConverter (https://www.media.io/change-video-speed.html) :
[没有发现file]
Firstly, import your video file in any format from the device or paste the URL of the video.
Secondly, set the video speed that you need your video in.
Finally, You can export or preview the video.
Summary
This article provides comprehensive guidance on the applications that are present for making professional TikTok slow motion videos. Apart from the mobile apps, there are specific online platforms that come up with a straightforward interface of how to make a slow down your video in a few steps.