Today, audio files come in different sizes and formats, WAV being one of them. However, there are instances when you might need to edit and trim WAV file. For example, you might need to use a specific part of your WAV audio as a ringtone or alarm notification. Also, you might want to edit WAV by converting it to another device-friendly format. In that case, getting a WAV trimmer is a no brainer. So, keep reading to learn the best options.
Part 1. How to Cut WAV File with WAV Cutter Easily
WAV Cutter is a dedicated desktop app that trims WAV files professionally, just as the name suggests. It is a lightweight audio editing app that is straightforward and features basic editing functions. However, you should take note that WAV Cutter supports WAV files only. That aside, here's how to cut WAV file using WAV Cutter:
Step 1: Download, install, and run WAV Cutter on your computer and then tap the Open button to import a local WAV file.
Step 2: Your WAV audio will play automatically after importing it. Drag the Play timeline to choose a start point then press the Select Start button. Again, drag it then ta the Select Endoption.
Step 3: Tap the Play Selected button to preview your audio file and then press the Save button to rename it and export your new WAV audio.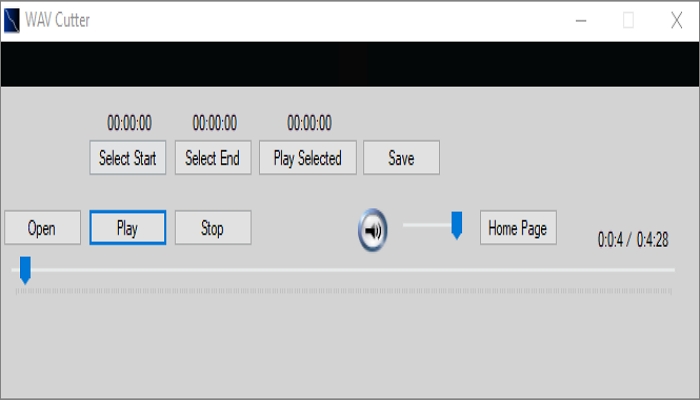 Part 2. Top 5 Online WAV Trimmer Sites
To add on WAV Cutter, you can also trim audio using some top-class websites. Here are the top five:
AudioTrimmer is a beautiful audio cutter that's simple to navigate and manipulate. It supports standard audio formats like WAV, AMR, OGG, OPUS, MP3, and more. In addition to trimming audio, it can also convert MP3, change tempo, adjust volume, and reverse audio. On the flip side, AudioTrimmer supports a maximum of 100MB only. Also, you'll have to navigate through the ads on the site.
Pros:
Simple to use
Extensive format support
Quick conversions
Cons:
Limited memory size
Has some adverts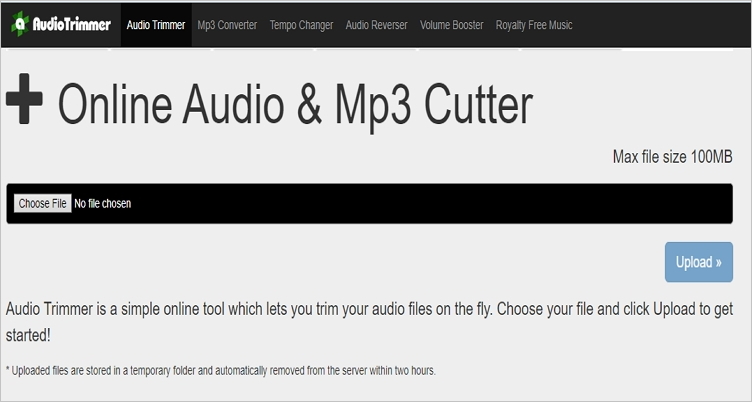 AConvert is another top audio converter that doesn't need special expertise to use. Here, you can cut WAV, M4A, AAC, MP3, OGG, and other audio formats. Just import a WAV file, enter a start position and duration, then click Submit to start cutting. But like AudioTrimmer, AConvert has its disadvantages. For starters, it supports a maximum file size of 200MB. Also, AConvert is ad-infested.
Pros:
Easy to navigate
Supports multiple file formats
Nice editing features
Cons:
Small upload size
Has adverts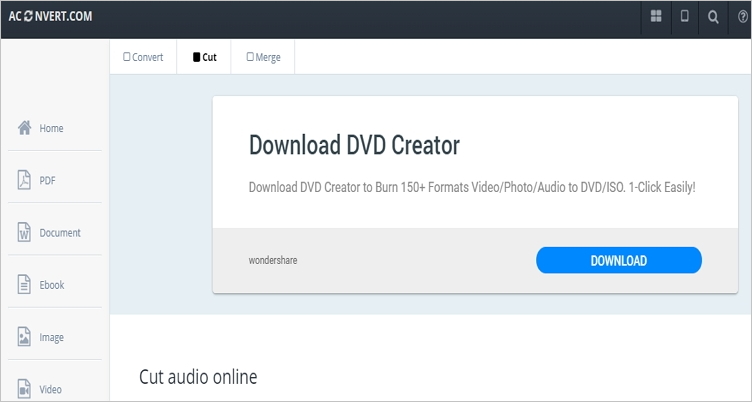 With Online-Convert, users can transcode between almost any file format. It supports video, audio, image, archive, document, and eBook formats. When it comes to cutting audio, Online-Convert allows you to set the start/end time. You can also change the bitrate, sampling rate, and channels. Overall, it's one of the best online WAV converters out there.
Pros:
Excellent customization options
Beautiful and simple UI
Supports multiple formats
Cons:
Limited upload memory size
Has some adverts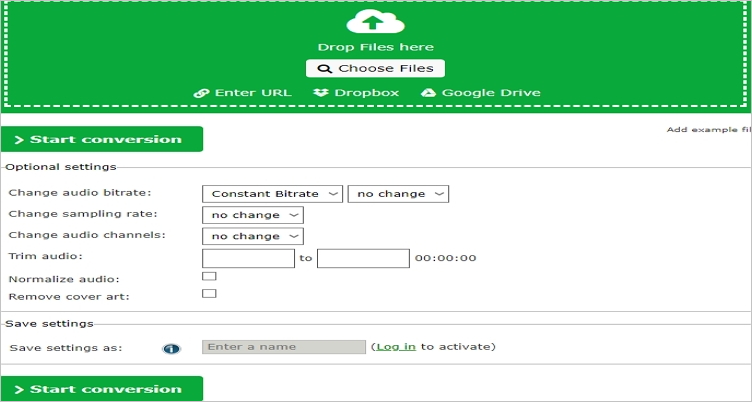 Bearaudio is so feature-rich that you might confuse it with a professional desktop app. With this online cutter, you can trim MP3, WAV, and OGG with lossless quality. After cutting WAV, you can export audio in either MP3, M4R, OGG, ACC, or WMA. However, Bearaudio is not beginner-friendly. Also, it features annoying ads.
Pros:
Extensive editing functions
Fast conversions
Supports drag-and-drop
Cons:
Limited format support
Not beginner-friendly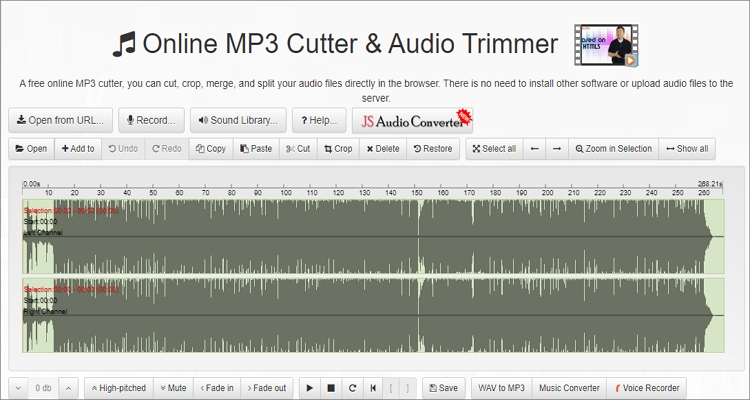 Finally, you can use Online Audio Cutter to trim WAV professionally. This site is simple enough and can handle all audio formats, including WAV, AAC, M4R, MP3, and more. After setting the start/end time, Online Audio Cutter allows you to select a target format from up to seven popular options.
Pros:
Supports multiple audio formats
Quick upload and conversions
Simple to use
Cons:
Supports audio editing only
Ads on the UI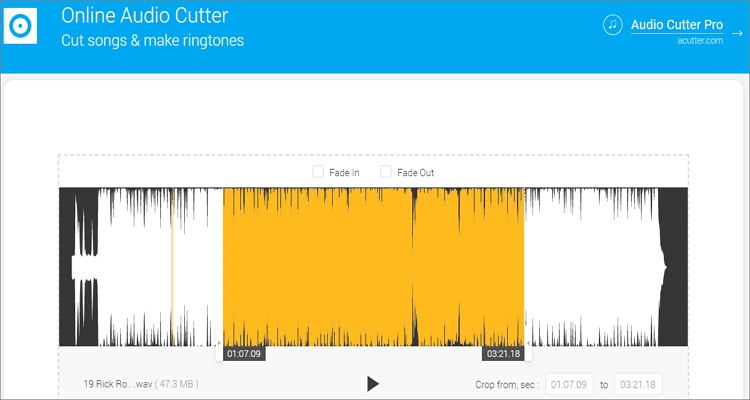 Part 3. Best Way to Trim WAV File Online Effortlessly
As you can see, all the online options above feature serious drawbacks. Luckily, you can still cut WAV file online without limitations using Online UniConverter (Originally Media.io). With it, you can trim and convert any audio format, including OGG, AU, AMR, MP3, AAC, and more. Online UniConverter also offers additional tools such as an MP3 converter, audio compressor, video editor, image converter, and more. Plus, the app smoothly operates on all HTML5 websites.
Online UniConverter – Best WAV Trimmer
Cut WAV file professionally with precise start/end times.
Supports cutting and editing of all common audio formats, including FLAC, MP3, AAC, etc.
Supports cloud and local storage uploads before editing.
Edit video formats by compressing, cutting, cropping, and more.
24/7 friendly customer support.
Browser Support: Apple Safari, Chrome, Firefox, Edge, and other HTML5 browsers.
Step-by-step guide to trim WAV file using Online UniConverter:
Step 1. Load your WAV file
Use your browser to run this WAV trimmer and then drop your WAV file on the converter. Alternatively, press the Add button to import your local WAV file.
Step 2. Set WAV preferences
After the site has finished uploading WAV successfully, drag the purple cut handles at the start and end of your audio. Repeat the process until you find a suitable starting and ending point for the audio.
Step 3. Trim WAV file
Now choose a target audio format under the Save to tab before pressing the CUT button. After the process, tap the DOWNLOAD button to save your audio locally or on Drobox. That was easy, right?
[没有发现file]
Summary
So, this insightful guidepost solve your trim WAV file problems? I hope so. With the Online UniConverter, you will enjoy super-fast conversions, extensive format support, and unlimited file editing function. And more importantly, this free site is ad-free.