Want to learn how to transcribe audio to text for free? Then you've landed on the right guidepost. Creating text transcripts from audio allows you to add subtitles to video or voice recordings. Also, you can transcribe audio to copy the text and use it as song lyrics or share it with your friends. But that's easier said than done because you need to get the best voice transcription service. So, this post will walk you through three simple methods to transcribe audio to text for free. You'll also get free tips to create high-quality text transcripts.
Part 1. Common Ways to Transcribe Audio to Text
Before we discuss how to transcribe audio for free, let's first discuss standard methods to convert speech to text.
1. Manually transcribe by yourself.
First up, you can transcribe audio by yourself. This is absolutely possible if the audio is your own voice recording or you understand what's said on the audio word-for-word. The good thing about manual transcription is that you don't have to install any transcription software. Just play the audio and start writing the text on a text editor or plain paper. However, this method can be time-consuming. Also, you might miss out on some words.
2. Outsource to professionals.
Sometimes you may not have enough time to transcribe audio to text for free by yourself. In such a scenario, hire a professional transcriber. You can get transcription services on gig platforms like Fiverr, TranscribeMe, Scribie, Upwork, etc. But as expected, you may have to pay top dollar for the services. Also, you'll have to wait for a few hours or days to get the transcribed texts.
3. Use an auto-transcription machine.
The quickest and most reliable way to transcribe audio is using voice transcription software. With a text-to-speech converter, you'll upload your audio or video, and the AI system will get the job done. Also, these programs support multiple transcription languages and allow you to copy-paste or download the transcription text in .txt or .srt format. Read on to learn three excellent options.
Part 2. How to Easily Transcribe Audio to Text for Free Online?
Now without dilly-dallying much, let's discuss three audio-to-text transcription methods.
Media.io is a free and straightforward online transcription service that works with many video and audio formats. It supports MP3, M4A, OGG, MP4, WebM, AVI, MOV, and more. The auto-subtitle tool can transcribe audio from 90+ languages, including English (US/UK), Japanese, Hindi, French, Chinese, etc. Also, Media.io lets you download and save the extracted texts to SRT or TXT files. And above all, it's a full-featured video and audio editor.
Steps to transcribe audio to text with Media.io:
Step 1. Launch Media.io Audio to Text and then tap Upload Flies Now. Then, click Upload media to browse and upload your local video/audio file. Alternatively, tap Record to capture a video with microphone narration.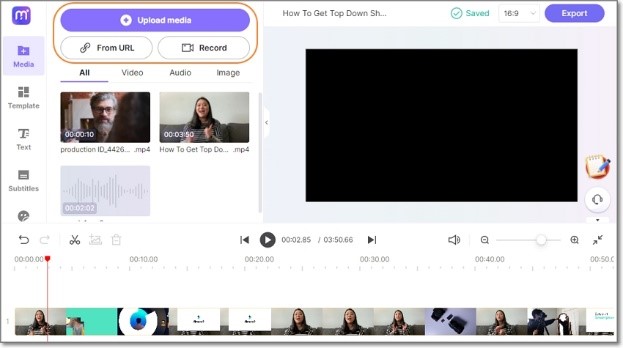 Step 2. After uploading media, click the Subtitles button on the left menu bar. Then, select your video/audio language on the drop-down menu.
Step 3. Click Start auto-subtitle to begin transcribing your media file. The transcription duration should depend on the file size.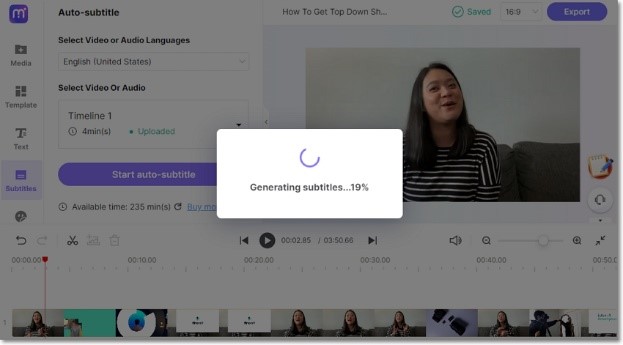 Step 4. Finally, download the subtitle tracks to .srt or .txt format. But before that, you can edit, copy, paste, duplicate, adjust playback duration, etc.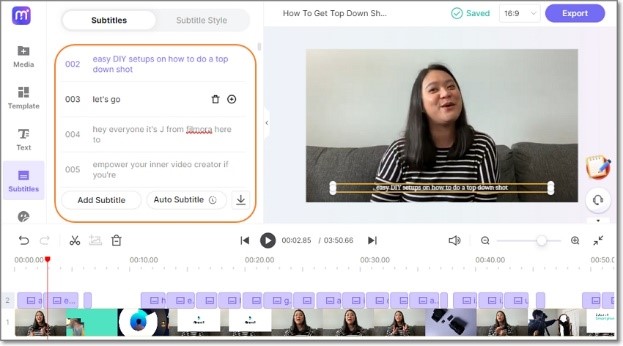 If you're using Windows 10/11, use Dictate to transcribe and dictate texts on Microsoft Office 365 services like Word, PowerPoint, and Excel. It's an accurate speech-to-text converter that supports tens of spoken and transcription languages. You can choose to transcribe a voice recording or upload audio formats like MP3, M4A, WAV, and MP3. And lest I forget, this Office add-on supports multiple voice commands like enter, comma, stop dictating, and more.
Follow these steps to transcribe audio on Dictate:
Step 1. Sign into Microsoft Office 365 and then click Home > Dictate > Transcribe.
Step 2. Now choose whether to upload or record audio. For example, tap Start recording.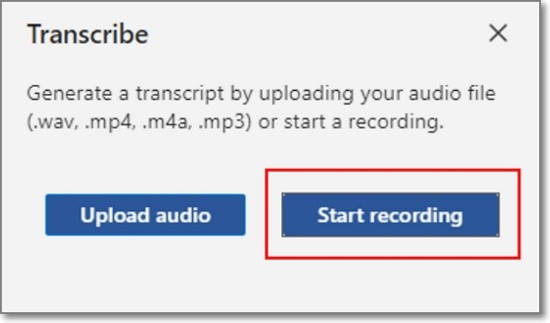 Step 3. Connect your microphone and start reciting or conversing. Ensure that the audio or conversation is loud and clear for the best output.
Step 4. After capturing enough sound, tap Save and transcribe now. The transcription service will commence automatically, and your new text file will be saved on OneDrive.
oTranscribe is a free, open-source online service to transcribe recorded meetings, interviews, speeches, music, and more. You can transcribe OGG, WAV, MP3, and FLAC audio, as well as MP4 and WebM videos. You can even import YouTube videos directly by pasting a URL link. You can also adjust the audio playback speed to make it faster or slower.
How to transcribe audio to text online with oTranscribe?
Step 1. Launch oTranscribe and choose the video, audio, or YouTube file you want to transcribe. You'll see a video thumbnail with playback controls at the top-left corner of the screen.
Step 2. Next, play the video and transcribe it on the text editor workspace.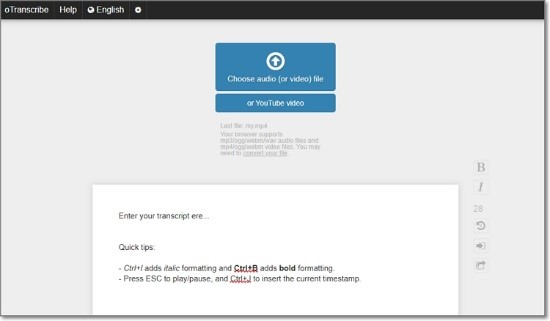 Step 3. When finished, oTranscribe will export your text in RTF format. So, be sure to convert it to another universal format like TXT or SRT.
Part 3. [Bonus] Best Tips to Get Quality Voice Transcripts
Creating a high-quality voice transcript is not a task that any AI voice-to-text service or anyone can do. So, what are the tricks behind creating an award-winning voice transcript? Let's find out!
1. Use crisp-clear sounds.
Always use clear, quality sounds to get the best out of a voice transcription service. In other words, you should eliminate all background noises from your sound file. For example, use Media.io Noise Remover to remove background or unwanted sounds from your audio/video file. In the case of video recording, ensure that you record in a silent room.
2. Use AI speech-to-text converters.
Transcribing audio by yourself or a professional transcriber is a good idea until you consider the amount of time involved. It would take the whole day or two to transcribe long audio. If you add in the expensive service charges by professionals, using an AI voice transcription service is the way to go. Picture this; finding a professional foreign language transcriber would take a lot of time and money.
3. Use a quality microphone to record audio.
Sometimes you may want to record audio of yourself before transcribing it to text. In that case, use an external mic to get high-quality sound. Although this might cost you a few coins, an 'average' mic blocks all ambient sounds, allowing you to capture quality sounds. In return, the AI voice-to-text converter will transcribe the sound more quickly and accurately.
4. Use your local language.
Not everybody can speak English. In fact, research has it that only 6% of the world population use English as their first language. So, to avoid difficulties with accents, use your local language when recording audio. A heavy accent can cause transcription errors with the AI speech recognition app. Remember that the best AI speech-to-text converters can transcribe audio to multiple languages, including French, German, Dutch, Danish, Swahili, Indian, Japanese, Arabic, etc.
Nothing Can Stop You Now!
These are the best audio transcription solutions. Although hiring a professional human transcription service can give accurate results, it can be time-consuming and costly. Therefore, use Media.io to transcribe audio to text quickly and accurately. And it's affordable, too!