TikTok has gradually grown over the years to become one of the most widely used social media platforms in the world today. People record TikTok videos to create a community of people who have similar interests, make collaborations that will benefit them and their brand, and eventually make money.
If you are looking to go into this fantastic world, this is the article for you. Here, we will teach you the best ways to record a TikTok video and how to edit this video to get the attention you need. In addition, our guidelines will show you how to screen record on Tiktok with no hassle.
Part 1: Can you Screen Record Tiktok?
Yes, you can screen record TikTok. That implies that you can get any video you enjoy on TikTok without downloading it. You can do this with the pre-installed screen recorder of the device you own, be it an iPhone, iPad, or Android. Also, while you do this, TikTok will not send you any notifications that may interrupt what you are doing.
Another question arises, can you screen record TikTok without them knowing?. Again, the response is yes; you can screen record a video on TikTok without them knowing. Thus, people whose videos you screen record will not receive notification that you are screen recording their videos. However, when doing this, ensure that you are not repurposing the video for commercial or illegal use or for any purpose that would cause harm to the person who initially uploaded the TikTok video.
Part 2: How to Record and Edit TikTok Video Online [Fastest!]
For several reasons, online screen recorders for TikTok are the ideal choice if you want to record TikTok live. One of the merits of online screen recorders is that they are entirely free. Another merit is that you do not need to download and install software to use them. Indeed, online screen recorders for TikTok are instant and easy to use.
Enjoy all these benefits when you record TikTok with one of the best online screen recorders you can access for free, the Media.io Online TikTok Recorder. It is an online TikTok tool that gives you a platform to record a webcam or screen with audio on every device. You get a high-quality result when you screen record TikTok video using this unique tool.
Some key features of this TikTok video recorder include the following:
It supports the exportation of recorded videos in different major formats such as OGG, MP4, M4R, 3GP, MOV, MP3, VOB, etc. These formats apply to both audio and video.
It does not contain interrupting ads, and the user interface is intuitive, giving even beginners a seamless experience when they record TikTok videos.
It comes with different recording modes that users can choose from, such as capturing a specific window, the Chrome tab, or the entire screen.
It allows you to screen record on TikTok with sound or without sound. You can also add a voice-over to narrate the recorded video using a mic.
You can edit any video you screen record with Media.io Online TikTok Recorder before exporting the final work to your device storage. Editing features available on this tool include rotating, trimming, flipping, cropping, and background music, etc..
How to screen record TikTok with sound online?
Media.io Online Screen Recorder is an easy tool to use, so many people can figure it out on the first try. However, to make things even easier for you, here are steps to record a TikTok with sound using this amazing tool. As a web-based tool, you need to log on to your computer browser, then do the following:
Step 1: Select a Recording Mode.
The first thing is to click Record Screen Now and choose Screen Recording.
Step 2: Set the Customization and Screen Record.
Customize the recording mode setting as well as the audio input device. When you have everything set to screen record the TikTok video, select Start Recording to begin.
Step 3: Edit the Post-Recorded Video and Export.
Once you have the TikTok video you need, choose the Stop button to finish. Finally, edit the recorded TikTok video via clicking Add to Timeline button. Now you can export to device storage.
Bonus: How to Edit the Recorded TikTok Online?
The Media.io online video editor lets you edit the Tiktok video you screen record; these editing functions include cutting, crossfade effect, flipping, changing background music of the original video, rotating, speeding up, and so on. So, after you have recorded the TikTok video, you can edit to get your preferred final result by following the steps below:
Step 1: Add the recorded video to Timeline.
Directly add your recorded TikTok to timeline, or upload the video file you have recorded, or drag and drop the video on the online editor home page.
Step 2: Edit the recorded video.
Directly add your recorded TikTok to timeline, or upload the video file you have recorded, or drag and drop the video on the online editor home page.
You can perform video cutting, looping, speeding up, creating auto subtitles, engaging text and elements, changing background music with the most popular TikTok songs, and many more! Play arround the editor to drazzle your audiences.
Step 3: Select aspect ratio and save video.
Now, all you need to do is choose the dimension and resolution of the edited Tiktok video. Then, save the video to your device storage.
Part 3: How to Record a TikTok on iPhone/iPad/Android [Common]
This section will show you how to record on TikTok for different standard devices like iPhone, iPad, and Android. The methods are similar yet unique for each device, and here, we got you covered across all devices and platforms. You do not need to download your favorite TikTok videos, as you can use the built-in recorder of each of these devices and still get the same result.
- How to record TikTok on iPhone?
Add the screen recording feature on the iPhone control center to make it easy for you to access the function at any time. Then do the following to screen record TikTok video:
Go to the video you want to record on the TikTok app.
From the control center, select the Record option. Then, before you start playing the video, ensure the three-second countdown from the Record feature runs.
After the video plays and records at the same, stop the recording. The TikTok record is automatically saved to your Photos App.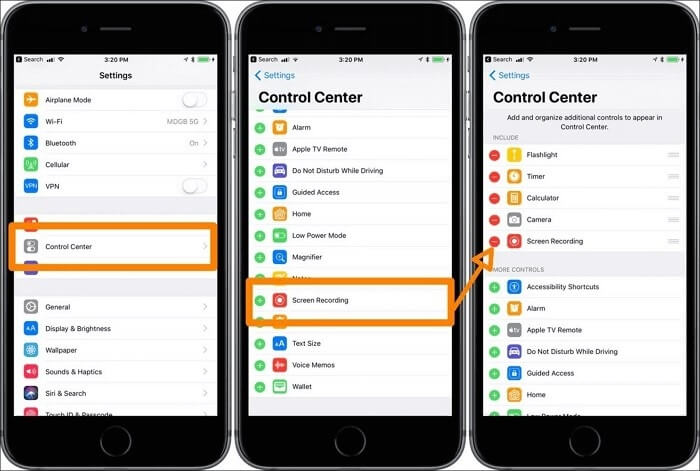 - How to record TikTok on iPad?
If you want to screen record a TikTok video on your iPad, you need a QuickTime Player. Also, you need a Mac running OS X Yosemite and above, as well as a lightning cable. The lightning cable comes with every iOS device. Now, follow the steps below:
Using a lightning cable, connect the iPad to a Mac.
Launch the QuickTime player and select File. Now click New Movie Recording.
You will see a recording window pop up. In front of the record button is a drop-down menu. Select the arrow of the menu and choose your iPad.
Choose your iPad's Mic if you want to record sound effects or music as a voice-over.
Now play the TikTok video you wish to record and select Record simultaneously.
After recording the video, you can stop and save the result to your device.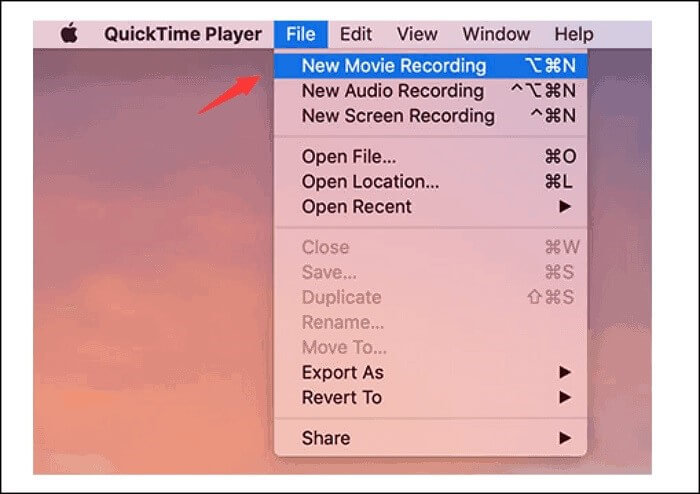 - How to record TikTok on Android?
You can use the free built-in recorder on your Android mobile phone to record any TikTok video of your choice. Below is a guideline on how to screen record on TikTok on Android:
Launch the TikTok app on your phone and open the video you wish to record.
Swipe down the notification bar from the topmost part of your screen and click on the Screen Recorder button.
You can adjust the amplifier depending on whether or not you want to record with sound and how much volume you want to record the TikTok with sound.
Play the video from start to finish while your screen record. Select the Stop button once this is done (it is located on the toolbar). Now you can save the recorded TikTok.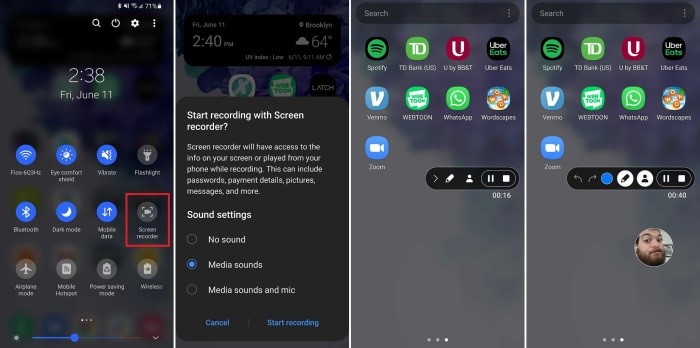 Note: The in-built recorders have their limits in editing features. That is why you need an online versatile video editor like Media.io Online TikTok Recorder to overcome those limitations. This online video editor lets you crop a recorded video, trim, flip, rotate, add music background if you don't want to use the video's original audio, etc.
Part 4: Extra Tips: How to Download a TikTok Video Online?
The point of screen recording TikTok videos is for quick access to videos on your device. However, sometimes you'll find it quicker to download the said video than screen recording. That is why some sites have been designed to help you download TikTok videos at ease. These online recorders for TikTok include the following:
ExpertsPHP: Experts PHP is a TikTok downloader that lets you record Tiktok videos in high-quality MP4 format. It is a free TikTok video recorder that is easy to use.
TTDownloader: With TikTok Downloader, you can record videos online on a PC, mobile device, or tablet. You do not need to install software to use this tool.
Tikmate: On the Tikmate online tool, you can copy and paste the URL of the TikTok video you wish to download and then save it on your device storage.
SnapTik: SnapTik is one of the best online sites with an app for downloading TikTok videos that you love. It does not include watermarks on the downloaded videos.
SSSTIKTOK: Insert a link to any TikTok video on the field provided by SSSTikTok, and you can easily download the video without a watermark.
Note that you can screen record TikTok without watermark with these online download tools.
Wrapping Up
If you have been looking for the best ways to record TikTok videos, this blog has solved your problem. Now you can screen record Tiktok videos or even download videos using the tools and apps provided here. Follow our guidelines to know how to screen record on TikTok without stress.