If you've been spending hours trying to cut music without success, this article is tailor-made for you. The internet is undoubtedly in an abundant supply of song trimmer apps. However, landing an efficient music cutter app is no child's play. That is why I have taken my time to comb through the web and bring you these seven secure MP3 splitter apps for Android and iOS.
Part 1. Most Recommended Music Cutter App for iPhone/Android/Desktops
Before we dive into the best Android and iOS apps, let us first discuss how to crop online using Online UniConverter (Originally Media.io). Unlike free mobile options, this website is available on any device that runs a web browser. It supports the splitting of audio formats like OGG, AAC, MP3, M4R, FLAC, and many others. You can even crop a YouTube video by merely pasting a URL link for the song. In addition to cutting music to size, it can also crossfade songs as well as convert the final output to another device-friendly format.
Online UniConverter – Best Music Cutter App
Supports the cropping of all music formats like FLAC, AIFF, AAC, MP3, M4R, and others.
An MP3 splitter that supports the cutting of YouTube videos and then converting to audio.
Crop online by applying custom duration, crossfades, and converting to other audio formats.
Edits all standard image/video formats by cropping, converting to GIF, compressing, etc.
Available on all HTML5 web browsers like Chrome, Edge, Opera, and others.
Professional 24/7 customer support.
Step-by-step process to crop music using Online UniConverter:
Step 1. Launch the music cutter
Visit Online UniConverter and then choose the Audio Cutter tool under the Online Tools tab to launch it.
Step 2. Add your music file
Next, drag and drop your song to the converter. You can also clip the add icon to import songs or paste a YouTube URL link.
Step 3. Customize your song
After importing music successfully, change the duration by moving the trim handles. You can also choose a target format on the Save To drop-down list as well as apply crossfade effects.
Step 4. Cut music
The final process is to hit the Cut.
[没有发现file]
Part 1. Best 5 Free Online Audio Croppers
Before we dive into discussing the best audio editing website, I want to show you some excellent alternatives to help you crop audio file online with lossless quality.
Part 2. 3 Best MP3 Splitter Apps for Android
Music Cutter is undoubtedly one of the most robust song cutters for Androids. It's beautiful, efficient, and simple to use. With Music Cutter, you can effectively trim all your music, tones, alarm tones, and ringtones on your local drive. You can also record MP3 before cutting. And to make it even better, Music Cutter features an excellent MP3 player as well.
Features:
List all ringtones, alarm tones, and songs on your phone
Select songs randomly
Listen to music before cutting
Record MP3
Multilanguage app
Music Cutter and Ringtone Maker is another top-of-the-line music trimmer for Androids. It's lightweight and supports all standard audio formats like AAC, WAV, MP3, AMR, and others. Here, you can trim music from your local drive or live recording before saving it as your ringtone, notification, alarm tone, or music.
Features:
Supports all standard audio formats
Record music with high quality
Features a scrollable waveform representation
Manually set a ringtone duration
Can rename an audio clip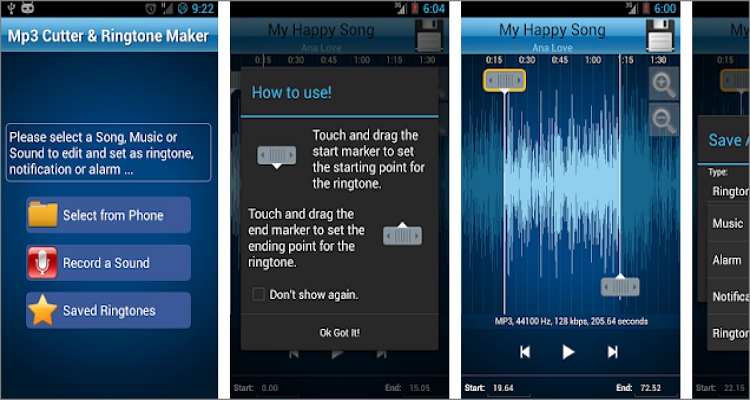 Finally, Android users can call on this highly-rated music trimming app to cut MP3, AAC, M4R, AMR, and other audio types. It can clip music effectively by selecting the start and end locations and with waveform support. And on top of trimming audio, Music Editor is also an audio joiner.
Features:
Supports all standard music formats
Features a music converter
Has an audio merger
Well-organized music output
Share music on email, Facebook, WhatsApp, and more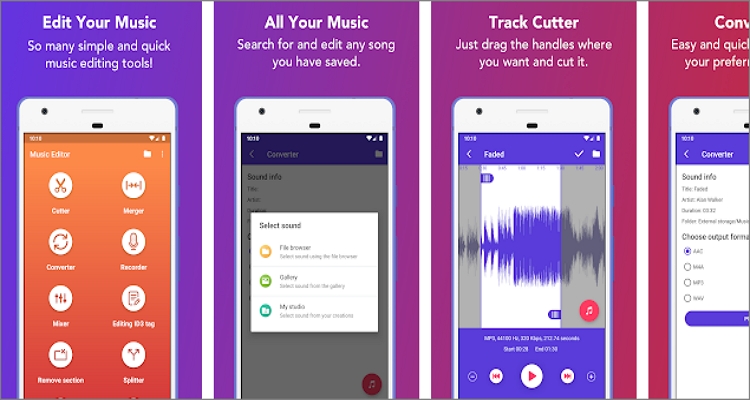 Part 3. 3 Best MP3 Cutters for iPhone
MP3 Cutter is the ultimate music trimming solution for any iPhone user. Here, you can crop MP3, AIFF, WAV, AMR, M4A, and other music formats with ease. You can also record live audios and then use this beautiful app to edit and cut the best parts. Just select music from your local drive and start making an alarm tone, ringtone, notification, or new music.
Features:
Supports audio formats like AMR, M4A, MP3, etc.
Import local and live recordings for trimming
Trim music on the left, right, and middle parts
Option to delete your created song
Assign ringtones to specific contacts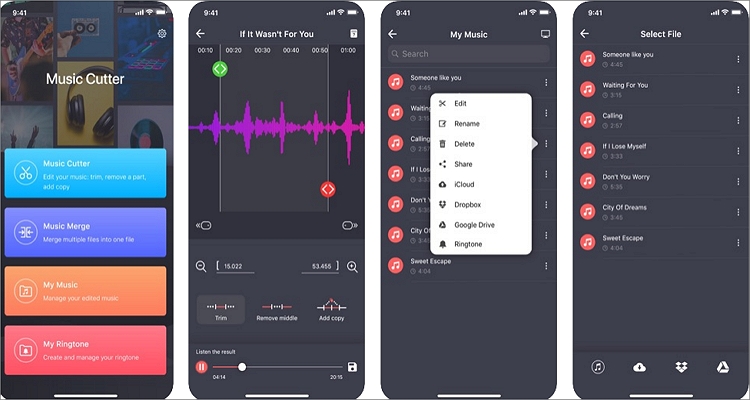 GarageBand is undoubtedly a familiar name among most Mac users. Well, iPhone users can also enjoy manipulating their audio files with this excellent app. With it, you can create music like a pro DJ using touch gestures like guitar, keyboard, beat creator, and more. You can even introduce live loops and music remixes before recording your live performance. It just doesn't get any better for iPhone users.
Features:
Create custom music with keyboard, guitar, beats, etc.
Download free music instruments
Record music from third-party apps
Trim music with precision
Share music on YouTube, SoundCloud, Facebook, etc.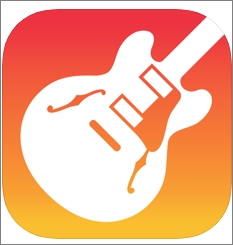 Music Maker Jam is the ultimate beats and loops mixer app that is used by millions worldwide. It can create, mix, and even share your music in seconds. It comes with multiple tools for helping you to make exciting tracks. For example, you can record your own voice on top of songs to create something unique.
Features:
Add your vocals to songs
Record and share tracks easily
100+ loops library with 300+ mix packs
Download genre samples like Hip Hop, RnB, House, etc.
Lively music community with artists, producers, and more.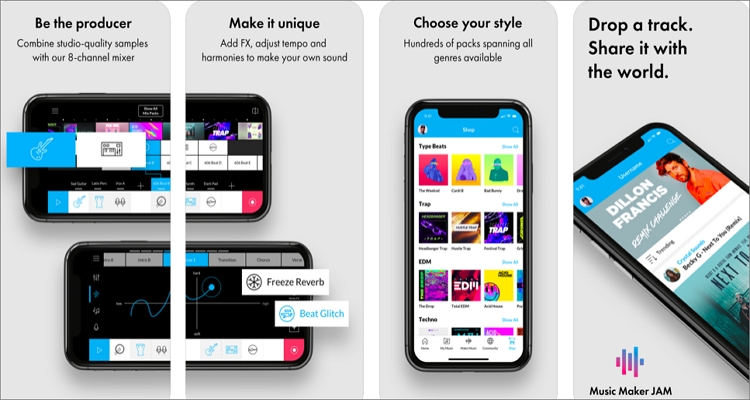 Summary
With these music maker apps, you can't go wrong anywhere while making your custom ringtone. However, I find the Online UniConverter as the most convenient option because it's simple to use, feature-rich, and runs on any device, including desktops. But again, there is no harm in installing these dedicated apps as well.