When capturing a picture or recording a video, we continuously move our smartphones or camera to get the best view. The issue will arise when we notice that the file captured or recorded is either upside down or sideways resulting in a terrible viewing or after uploading. This makes the flipping of video a necessity and an imperative need. We will introduce you to how to flip, mirror, and rotate video online using a multi-functional video editor for flipping video horizontally or vertically. Also, you will be introduced to how to mirror videos on iMovie and mirror or flip YouTube videos. Without further ado, let's get started.
Part 1. Multi-functional Video Editor for Flip Video Horizontal or Vertical
Wondershare Uniconverter is a free, easy to use, online and offline, all-in-one media editing tools that can make your video stand out. You can customize your home videos via Wondershare Uniconverter advanced editing features to give you that professional-looking clip in just minutes. Asides editing, it is a seamless tool for burning media files, converting, flipping video, achieve mirror video effect, etc. Another significant feature of Wondershare Uniconverter is its powerful video file converter, video compressor, video editor, etc. It also permits the transfer of videos from devices and external hard drives.
Wondershare UniConverter
· Intuitive User Interface.
· Edit, Flip, mirror, rotate, trim, and also adds metadata media files.
· Add videos to YouTube and iTunes library after conversion.
· Supports thousands of audio, image, and video formats.
· It supports Android and iOS devices, DVD inputs, and camcorders.
Why Choose Uniconverter Desktop Rather than Online Tools?
1. Accessibility and Speed: Users can access this multi-functional video editing tool without having access to the internet. Users can convert their media files faster. Besides, it offers seamless conversion of media files to Android or iOS compatible formats.
2. User-Friendly: the easy to navigate user-interface makes it easy for a complete beginner to edit media files with professional features for satisfactory editing. Video compatibility and video quality are not compromised.
3. Supports thousands of media formats: users can convert specific amounts of video at a time. Wondershare Uniconverter is recognized for its ultimate multi-media format converter features. Another 'wow' effect is the quality of the video after conversion is not compromised.
How to Flip a Video File in Uniconverter?
Step 1. Launch UniConverter and Upload a Video for Mirror a Video
You will see the Convert tab when you open UniConverter. Click the Add Files button to upload a video. We are going to flip, mirror, or rotate a video in UniConverter quickly and easily.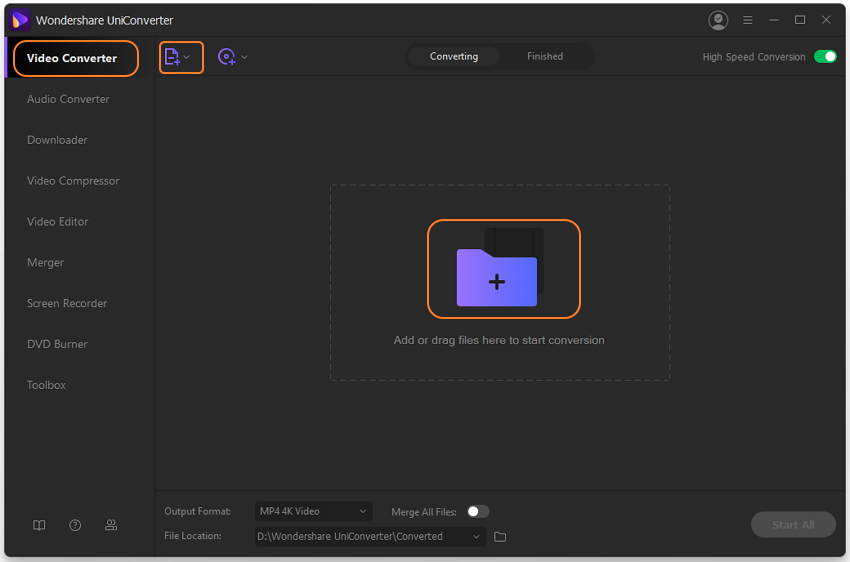 Step 2. Flip Video Vertically or Horizontally
After you upload a video to UniConverter, there are three icons under the file, which are Trim, Crop, and Effect. Select the Crop feature, and it will pop-up a new window for you to rotate or flip the video. After you edit the video, click OK to save the change.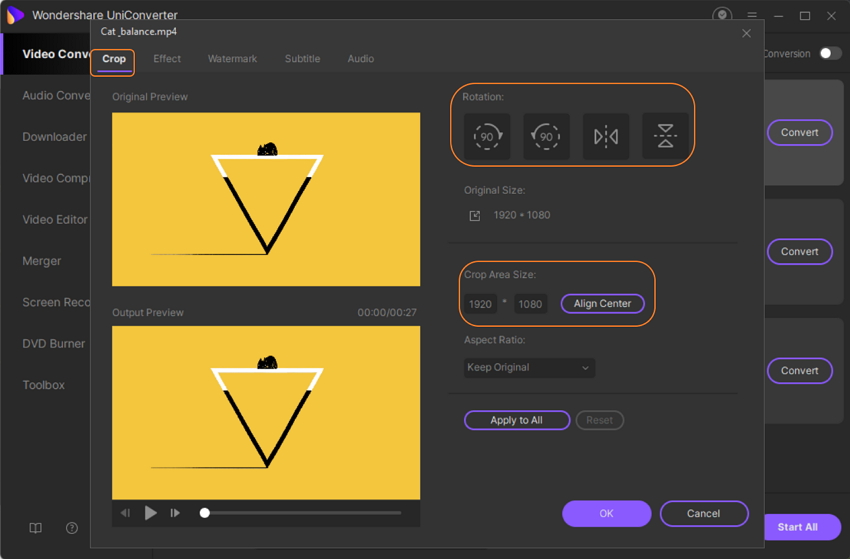 Step 3. Save the Flipped Video
At the bottom you will find Output Format option where you could convert the video to other formats or keep it in the same form as well. Click the Start All button to start the process. After converted, you could check it on the Finished tab or the destination that you selected.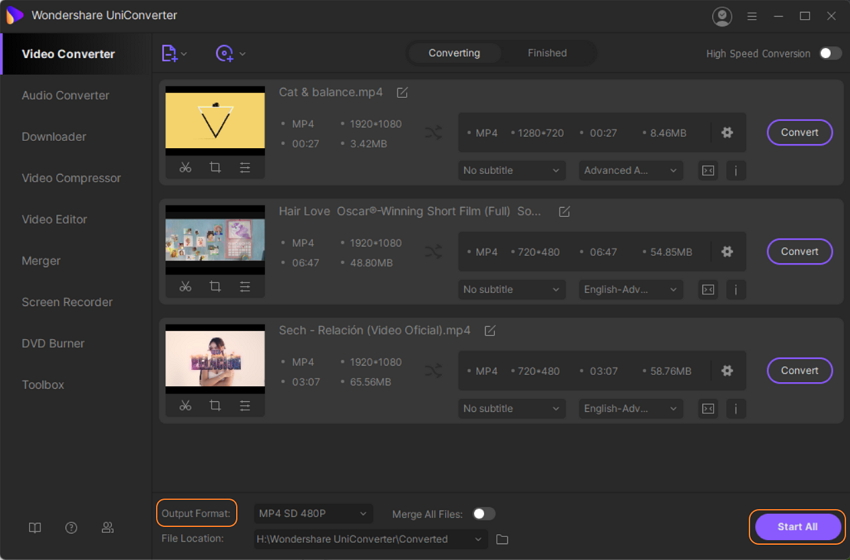 Part 2. How to Mirror a Video in iMovie
iMovie is a video editing software developed by Apple for iOS and macOS devices. It gives users the liberty to browse videos and enjoy videos like never before. It is perfect for beginners and enables the user to navigate freely.
How to Use iMovie to Flip Your Video File?
Step 1. Launch the iMovie App
Launch the iMovie app, then drag clips to your timeline. Choose the clips you want to rotate in the timeline and select the Cropping icon in the Viewer window in the menu bar.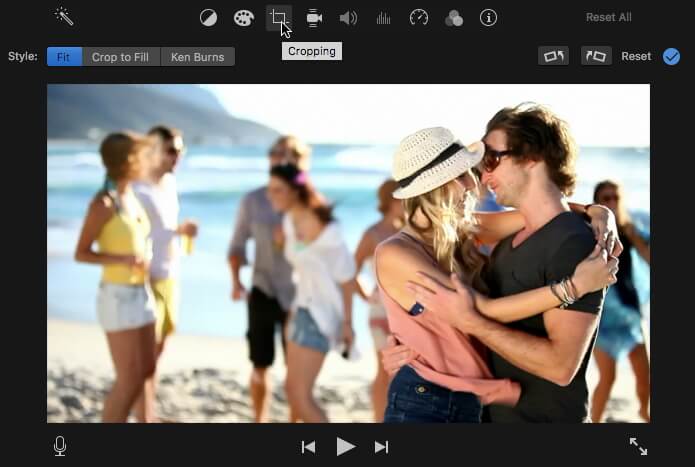 Step 2. Crop and Rotate the Video in iMovie
Users may choose to crop video (to crop, click on cropping tool viewer and resize the video to specification by dragging rectangle box. To rotate video, click on the right side of the interface for cropping tool, rotate the footage counterclockwise or clockwise. Be sure the video image fits the aspect ratio.
Step 3. Flip the Video
Mirror or flip video clip by clicking the filters icon. Proceed to click Clip Filter and choose Flipped filter in the Clip Filter window.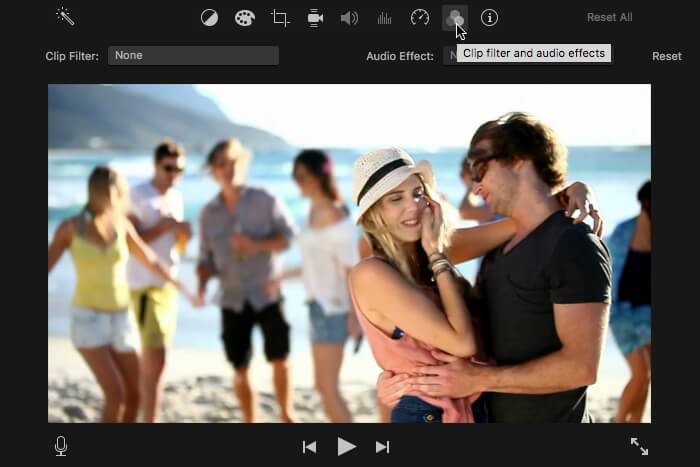 Step 4. Preview, Save, and Download
When satisfied with editing, click Apply icon to save.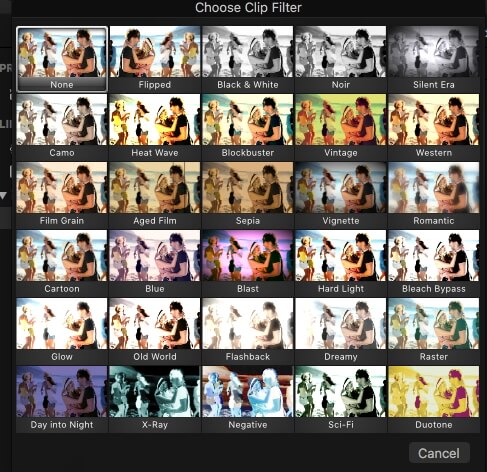 Pros of iMovie:
Free to all the apple devices.
Autosave is a bullet point for iMovie. You never lose progress due to forgetting to hit command + S.
Cons of iMovie:
iMovie is extremely movement sensitive.
When edited iMovie clips are exported, no further changes can occur.
The user is only restricted to 18 video clips.
Part 3. How to Flip/Mirror YouTube Video Online
YouTube is one of the most visited online streaming sites that are accessible on all mobile devices. There are cases where viewing videos can be inconvenienced due to the small screen. YouTube Editor does not have nor supports the mirror of flip video feature; hence, why we highlighted the four best online tools to which you can paste YouTube URL to flip or mirror the video clip. Below are some of the online tools, these includes;
URL: https://www.clideo.com/flip-video
Key Features:
Four ways to upload a video, include adding the file directly, Google Drive, Dropbox, and URL.
Clideo works with all the popular formats like MP4, AVI, MOV, VOB, WMV, and others.
Basic features are free to use.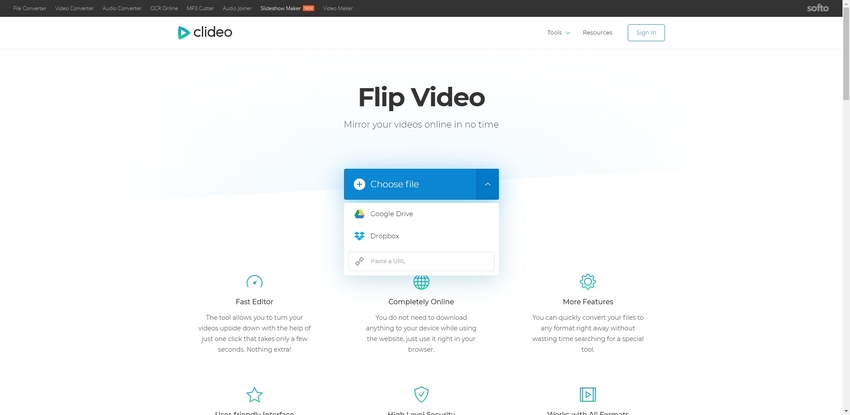 URL: https://www.kapwing.com/tools/rotate-video
Key Features:
Upload a video or paste URL to Kapwing is fast.
It contains most edit video features with a simple interface and steps to use it.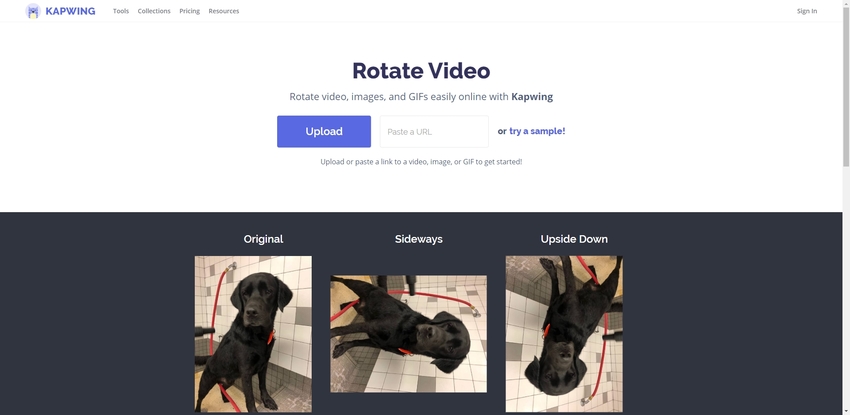 URL: https://www.ezgif.com/rotate-video
Key Features:
It accepts video files up to 100MB, and supports MP4, WebM, MOV and other popular formats.
You could paste any Youtube video URL directly into EZGIF to flip/rotate.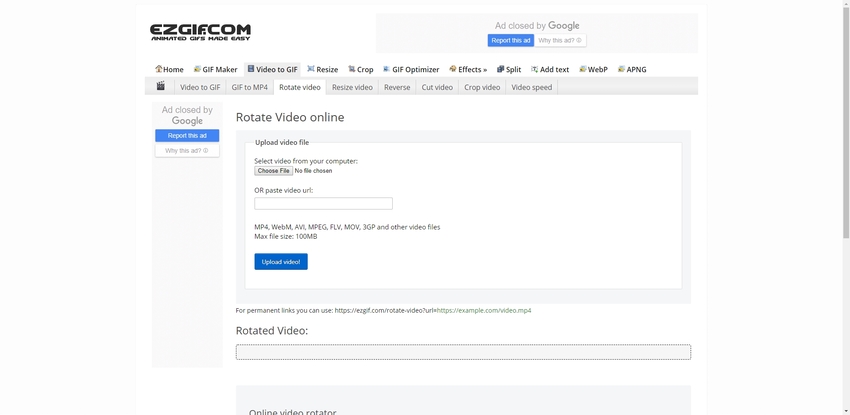 URL: https://www.aconvert.com/video/
Key Features:
It supports Ebook, PDF, image, video, audio, and Webpage conversion and edit features.
It is not only online, but also has an Android app.
You could search file formats to find out whether or not it supports the form that you need.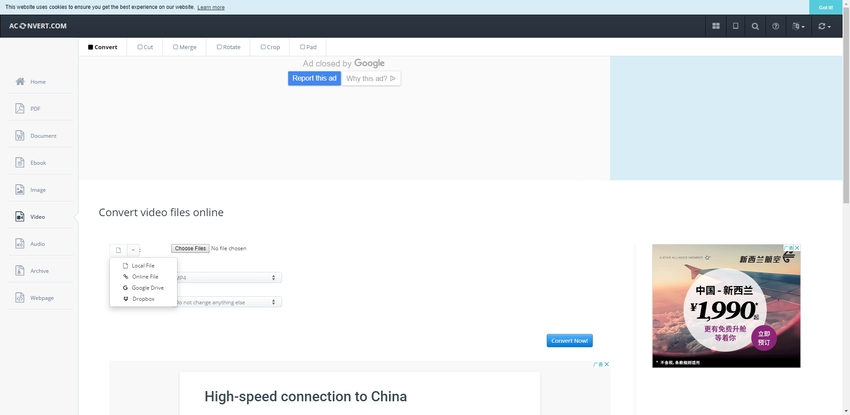 Part 4. Other Online Rotators to Flip and Rotate Your Video for Free
The internet is littered with lots of online video editing tools, and the perks to it are that most are free. Even though we tend to record videos using mobile devices hence why the orientation of video clips is not considered making some if not most of the videos inverted, thereby making viewing dissatisfactory. Here are some of the best free online rotator tools than help rotate and or flip videos without compromising on quality. These include;
URL: https://www.media.io/flip-mirror-video.html
Online Uniconverter, which is known initially as Media.io, permits the user to mirror and flip video clips online. Users can reflect YouTube video clips online and flip either vertically or horizontally with no watermark, no software download, all in simple and easy steps.
Pros:
Easy to access and use.
Secure with HTTPS (SSL) website connection
It supports image, video, and audio file conversion features.
Pros:
Image output only has JPG, PNG, TIFF, and BMP.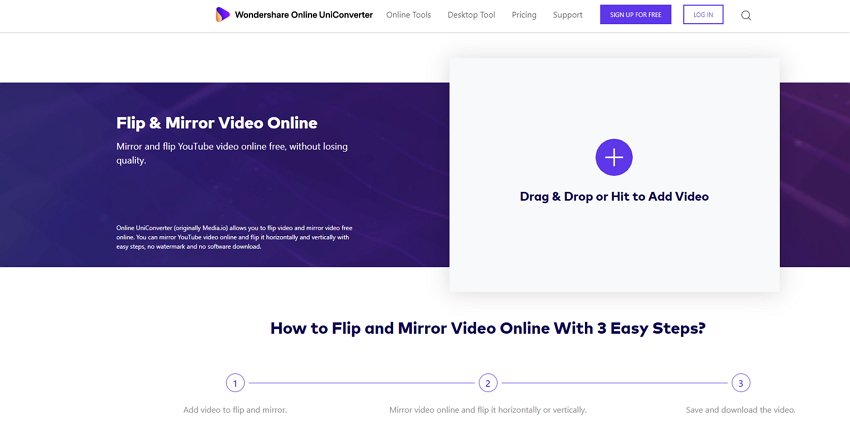 URL: https://www.veed.io/rotate-video-online
Pros:
Quite intuitive.
Has subtitle features that creates captions automatically for videos.
Con:
Does not support adding multiple videos.
Has zero mobile support.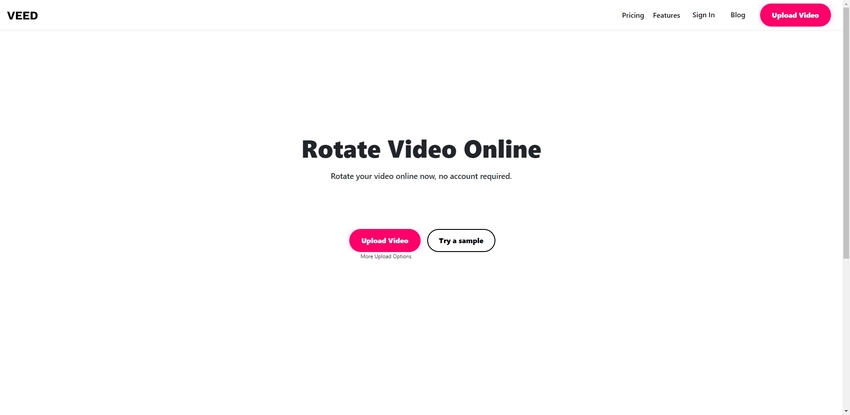 URL: https://rotatemyvideo.net/
Pros:
Secured and Free to use.
Permits sharing of video to YouTube or Facebook.
Con:
Only permits selecting video from computer.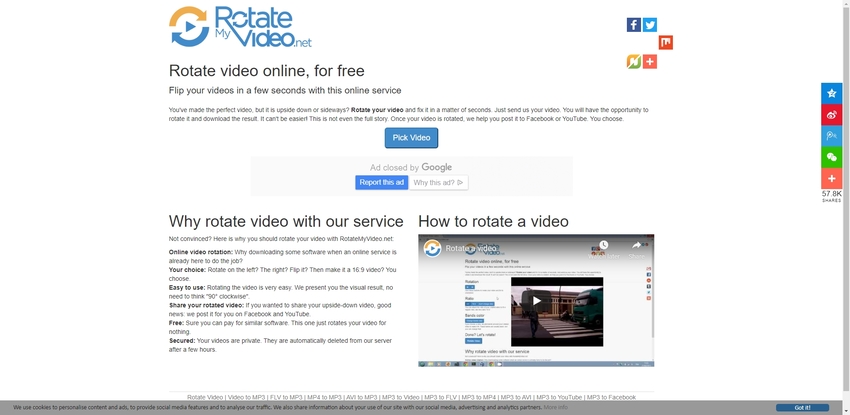 Summary
We believe with the above listed online and offline tools, flipping, mirroring, and rotating your videos for online consumption i.e., sharing to YouTube or Facebook or for better satisfaction for viewing recorded videos. Regardless of your device type or operating system, you can always be assured that any of the above-listed tools can help rotate, flip, or mirror your videos for free.