MPEG is one of the most widely used video formats on multiple platforms. MPEG or Moving Picture Expert Group is a group of authority formed by ISO and IEC to set the standards in the field of video and audio transmission and compression. Editing MPEG files requires the use of special software that can be paid as well as unpaid. Some of them are available online, while others can be used by downloading on your computer or laptop.
Part 1. Top 5 Online Tools for MPEG Files Editing
The question, how to edit MPEG files on mac, is often asked by people that don't have much experience in editing. They are all pretty easy to use and can be used even without training or much of editing know-how, these tools allow the user to perform essential video editing functions like; trimming, merging, speed manipulation, cropping, etc. very easily and quickly as well. These tools use cloud-based technology to perform their work. Mentioned below are some of the prominent online editing tools that can be used to edit MPEG videos.
URL: https://www.aconvert.com/video/split/
This is one of the fastest video editors that are available online. With its easy to understand UI, inexperienced people can also use it easily. It allows users to crop videos, trim them, change their orientations, merge them with other videos, and change their extensions by conversion. The website uses cloud services to provide you with easy, fast and reliable services. Apart from video editing, this website offers tons of other services that can be used on daily basis without any additional charges.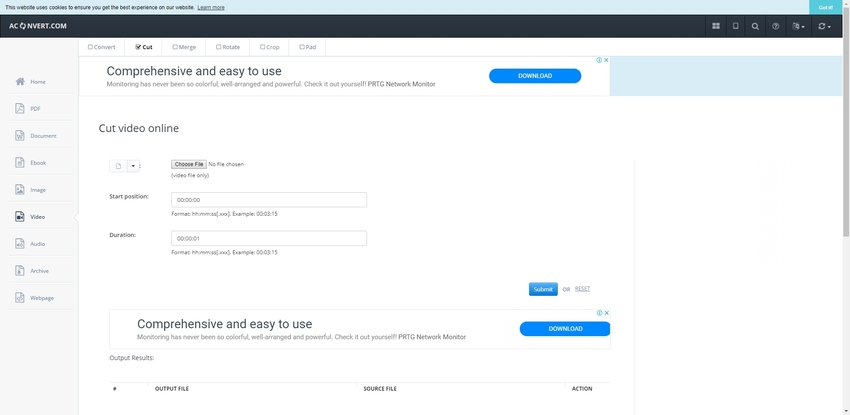 URL: https://clideo.com/cut-video
This website offers its user an ad-free video editing experience. The site is neat and doesn't give you an additional option that may confuse you. This website is best suited for the first time users due to the extreme simple Interface. This website offers fast trimming, quick processing of the file, wide support library and a very high level of security so that your data and your files can be completely secure. Apart from trimming, this website allows the user to merge, loop, crop and even convert your files.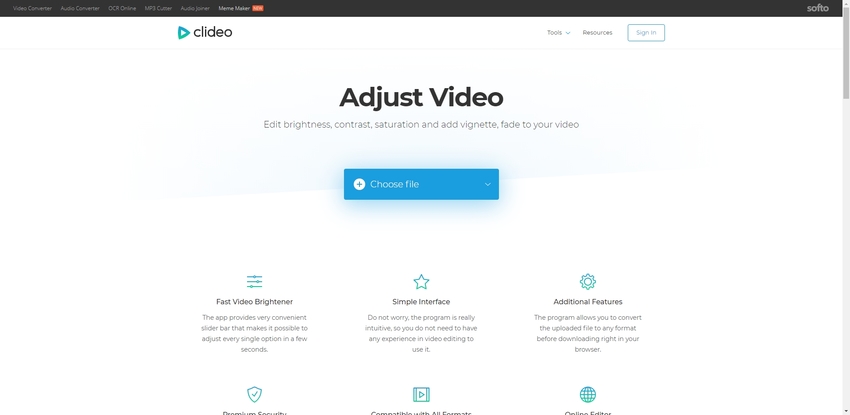 URL: https://online-video-cutter.com/
Video Cutter is free to use online video editing tool that supports files sized up to 500mb. This is a very versatile tool that can perform basic editing operations like trimming, cropping, merging, and changing the orientation of the video. This tool guarantees fast processing and high level of security to its users. It tool is widely regarded as the best tool for editing MPEG files on mac. Using this tool is pretty simple as all the steps are clearly explained in the screen only.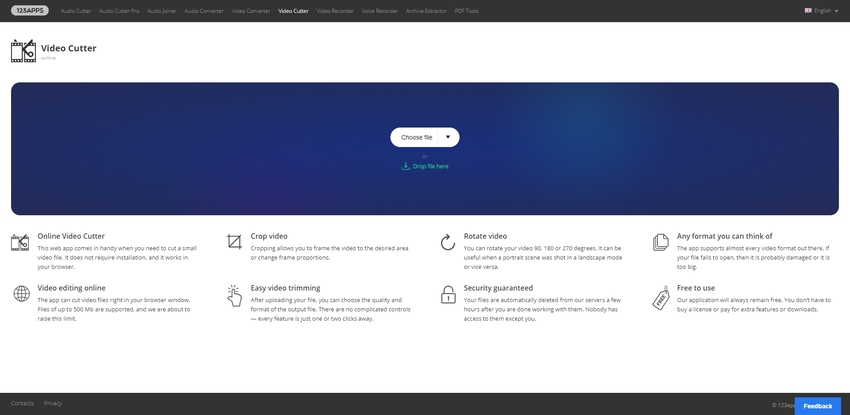 URL: https://www.media.io/video-editor.html
One of the best MPEG editor windows 7, this tool provides a variety of unique features like flipping/mirroring and adjusting various aspects of a video like contrast, saturation, brightness etc. Apart from these, this tool can do all the tasks that any other convertor can do but at a better pace. The website of this tool is beautifully designed and offers ease and convenience to the users. This tool is completely free to use and ensures the security and privacy of your files.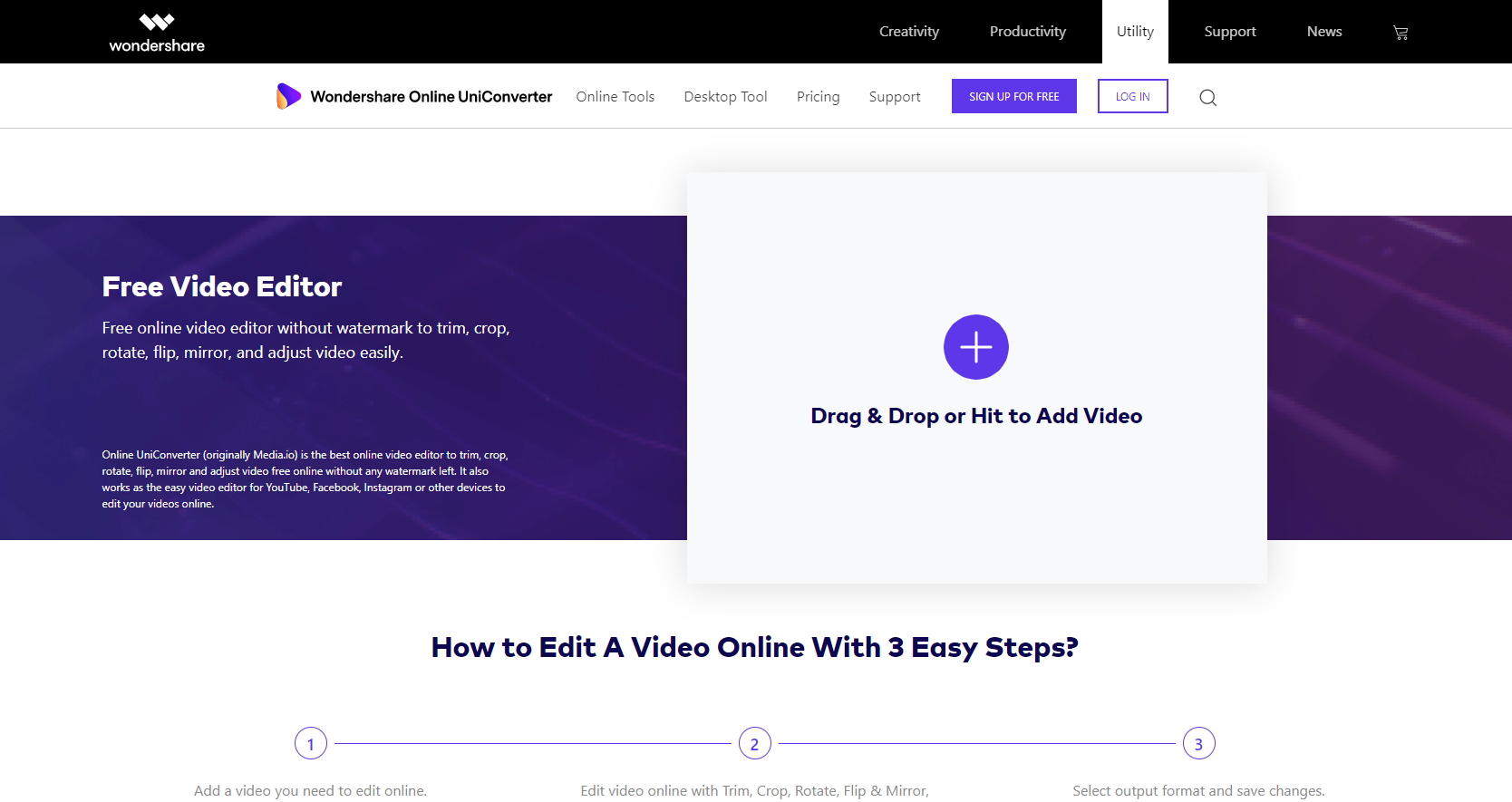 URL: https://ezgif.com/cut-video
EZGIF is the most feature-loaded online video editing tool available online. It is straightforward to use tool with minimal ads. The website is user-friendly, and all the functions have a step by step guide with them. Apart from basic video editing features like cropping, enhancing, merging, trimming, etc. this tool offers some more unique features like speed manipulation, adding effect, and making the video play in reverse. These features make this tool a lot more useful than most of the other devices.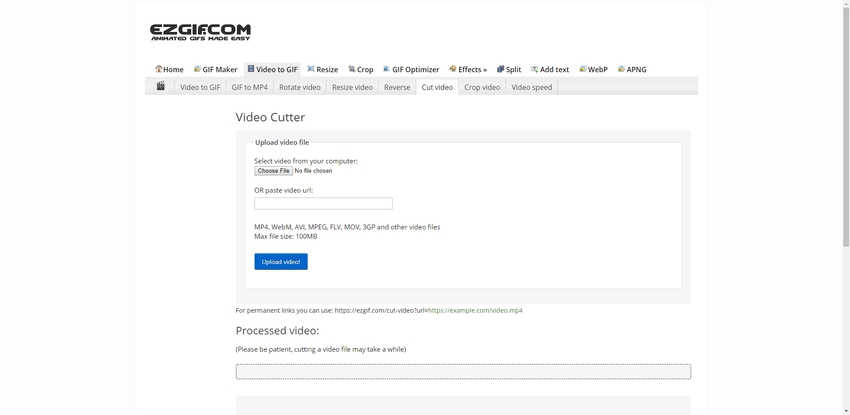 Part 2. Mac and Windows Version of MPEG Editing Software
There are lots of different video editing software that are available for windows and Mac devices, but the one name that everyone knows is Wondershare Uniconverter. It is free to use software that can be easily downloaded and used to edit videos. Wondershare UniConverter is a high-speed tool that supports over 1000 different formats. This converter provides you the ability to do basic editing along with advanced features like speed manipulation, adding effects, Gif maker, and making the video in reverse. This tool is straightforward to use and provides unlimited conversions, editing, and other stuff to its user for no fee at all. However, some features can only be unlocked by paying. The usability of this tool is very vast as it is supported on all the major platforms as well as all the categories of devices available.
Wondershare UniConverter
· High quality editing and conversion without loss of quality.
· Supports over 1000 different formats.
· Up to 30x faster than other methods.
· Allows compression and sharing of videos and adding video metadata.
· Supported on all major platforms and devices.
Steps for Editing MPEG Videos using Wondershare Uniconverter
Step 1. Load the MPEG File to UniConverter Editor
Once you have downloaded and properly installed the tool on your desktop, you will have to double click on its icon. After this, you will see the home screen of the device. As shown in the image down below, you will see an add button, click on it and select the MPEG video you want to edit and press enter. Videos can be dragged and dropped on the add button as well.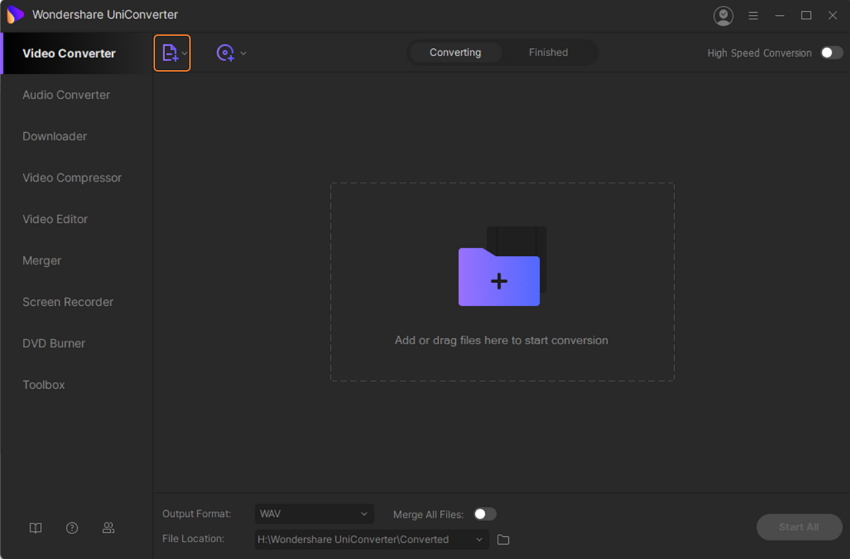 Step 2. Choose the Edit Features to Edit Your MPEG Video
Wondershare UniConverter supports trim, crop, add watermark, add subtitles, and adjust volume to the MPEG video. Depending on you needed, custom a special MPEG video file by yourself. All the details you could see the below screenshots.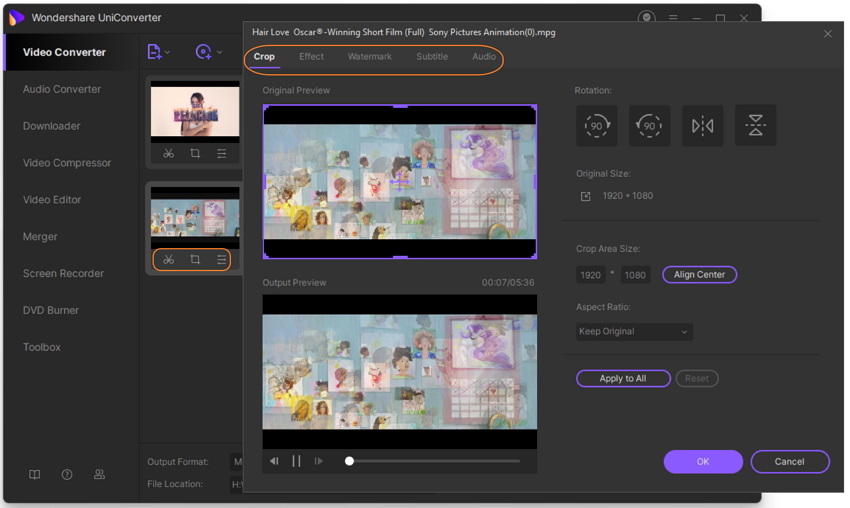 Step 3. Save the Edited MPEG Files
Before you save, you could convert MPEG format to other video formats that you want to. Choose the file destination to save, then click the Start All button.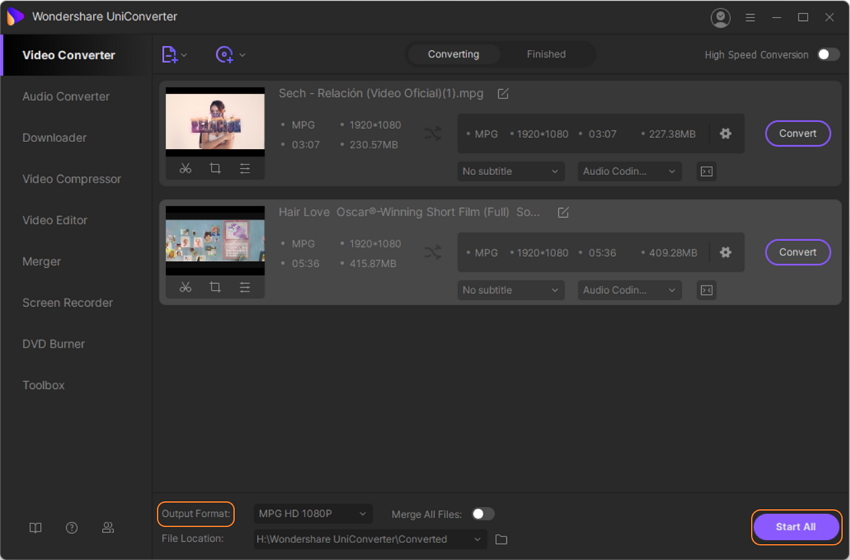 Want to know more about Wondershare UniConverter, check the below.
Summary
Video editing is a tricky job, but the tools mentioned above are some of the best tools related to video editing that is available online for free. These tools can be used to fulfill your day to day editing needs, even if you are not a skilled editor. Although all the tools as mentioned earlier are great, Wondershare Uniconverter is a class-leading tool that has loads of features that will be useful for you if you are into advanced editing.