You cannot agree more with the fact of how videos have become a crucial part of the life of the people from this digital age. With over billions of video contents on the internet, a lot of people are thriving to become social media sensation of different platforms for which you have to have a video editor where you can edit videos, put copyright watermark and various other things. However, it is not that only social media sensations use tools to edit MP4 files, but it could also be a household person saving memories of kids, or it could also be an advertising company.
So, if you are looking for the easiest way to edit videos but also need quality content, then check out the different MP4 editing software Mac, windows as well as smartphones. These all are handpicked paid as well as a free tool and have the best features that you cannot get in any other video editing software. So, go ahead, choose your best fit.
Part 1. Edit MP4 Files by Using Online MP4 Editing Tools
Usually, you need editing software that is worth hundreds of bucks, but the world has capitalized and digitalized at the same time, so you don't have to worry about such things anymore. Thanks to the generous developers that today, you have a lot of online video editing tools on the internet that is free to use. Online tools are best for people who do not use video editing tools regularly and only need some basic features. You can easily edit MP4 video online with any of the device given below that are the best among hundreds and thousands of tools on the internet.
URL: https://online-video-cutter.com/
Video Cutter is one of the most amazing online tools for MP4 file. The website is suitable for editing MP4 videos on PC, Mac as well as smartphones because you can easily use the editor from a web browser. Some of the essential features that you can get on this handy online tool is cropping, rotating, editing frames, trimming, etc. You can also change the format of the video, and all these useful features are free to use.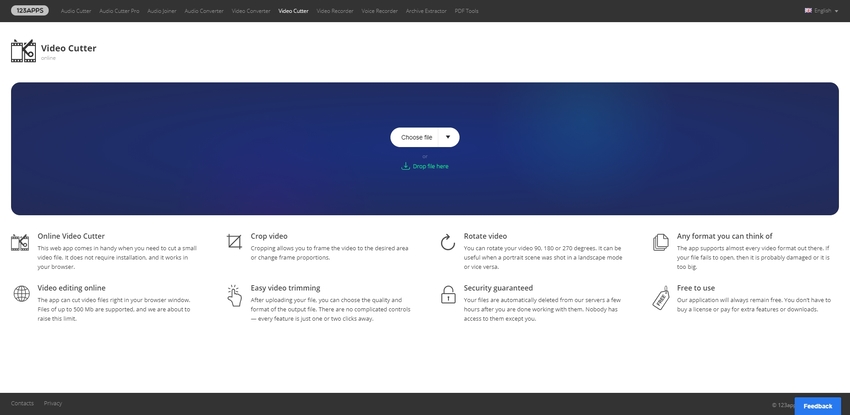 URL: https://www.media.io/video-editor.html
Online UniConverter is one of the most common online editing tool that you can get on the internet. It is developed by Wondershare UniConverter which is a popular name for editing videos. This tool enables you to edit MP4 video online with excellent features like cropping, trimming, adjust the ratio, mirror, adding watermarks, rotating, and many other useful features. It is also prevalent because of its effortless to use, and you will not quickly get its features on different online and free platforms. You can also post your videos after editing directly on your social media platforms.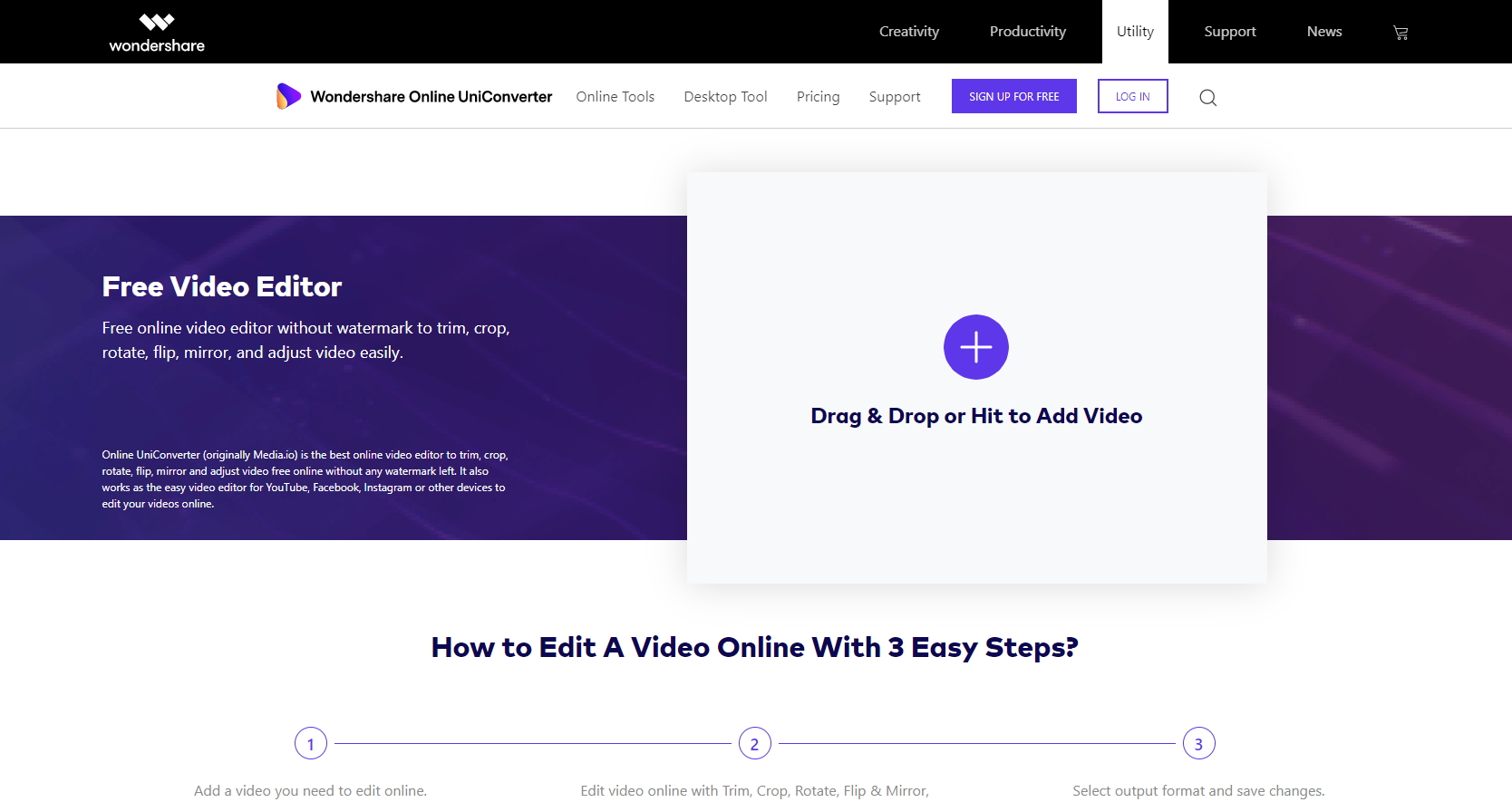 URL: https://clideo.com/cut-video
This is a bit different than other online tools because you not only edit a video but also create a unique masterpiece with it. Mostly preferred by social media influencers, this online free tool comes with all the basic MP4 editing features as well as other additional features like stop motion effect, loop video, MP4 frame rate editor, merge videos, speed videos, reverse videos, and you can also create meme videos. So, if you also want to become a sensation and produce unique video content, then you should check out this fantastic free online tool for MP4s.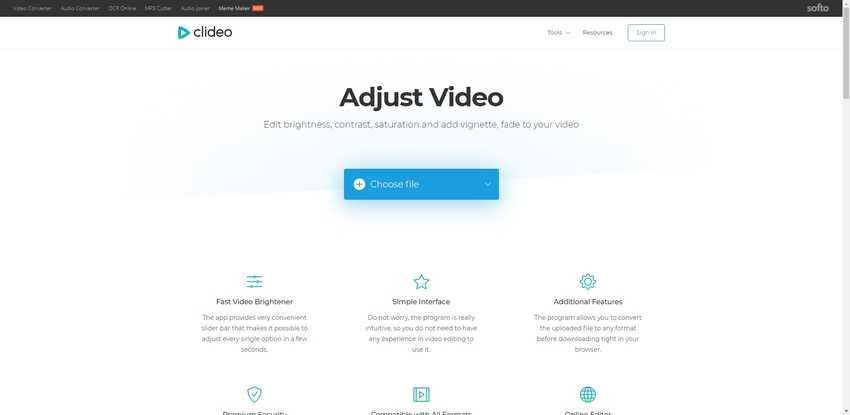 URL: https://ezgif.com/cut-video
EZGIF is the best online editing tool of MP4 files for the people who prefer a simple platform which has easy editing and video conversion option. You can edit MP4 online free on this platform with features like trimming, splitting, rotating, adding filters, texts, and other basic features that you need to write any video. However, this platform was primarily designed for Gif and other animated videos, so you also get the additional functionality of creating GIF files from MP4 videos as well as you can add other animation effects on you MP4.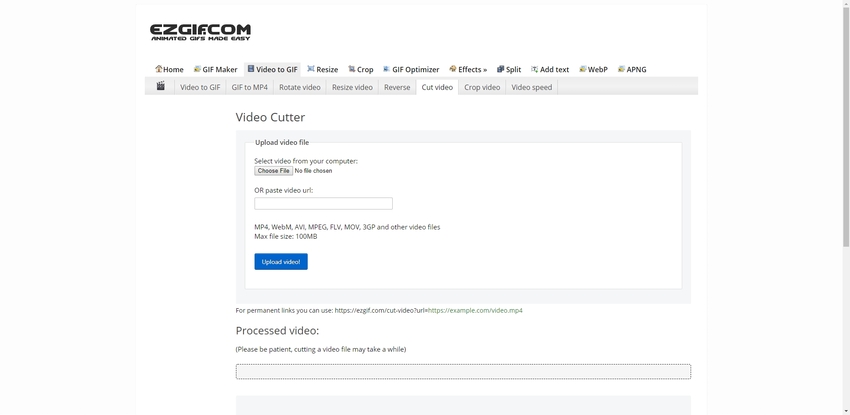 URL: https://app.clipchamp.com/
This is also a popular MP4 editing platform with a very handy interface for all kinds of users. Whether you are a social media influencer or a school teacher, any can edit MP4 file online with this tool super amazing tool. The editing website has made it easier for everyone who needs to edit videos for promotional, educational or even personal purposes. You can not only edit videos but also can put your watermark on it, use different music from their online library and many other features, unlimited and free of cost.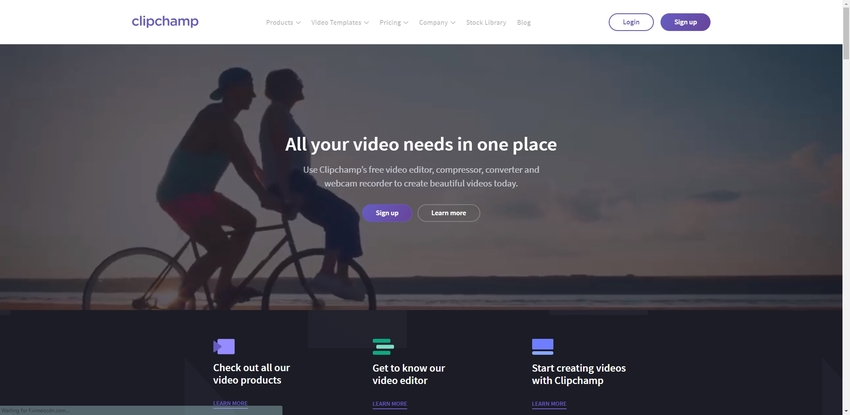 URL: https://www.aconvert.com/video/split/
Aconvert is a multipurpose platform where you can only edit your MP4 video files but also doc, images, audio, pdf, and other data files. If you need a simple online tool with just basic options to edit, then you can log on to Aconvert's website. Here, you can get tools like cutting the segments, merging, rotating, and cropping the video. All these features are not easy to use, but also they are free. You do not need many skills in editing to use this online tool. Also, you can upload the video from your computer, cloud store, or even a website.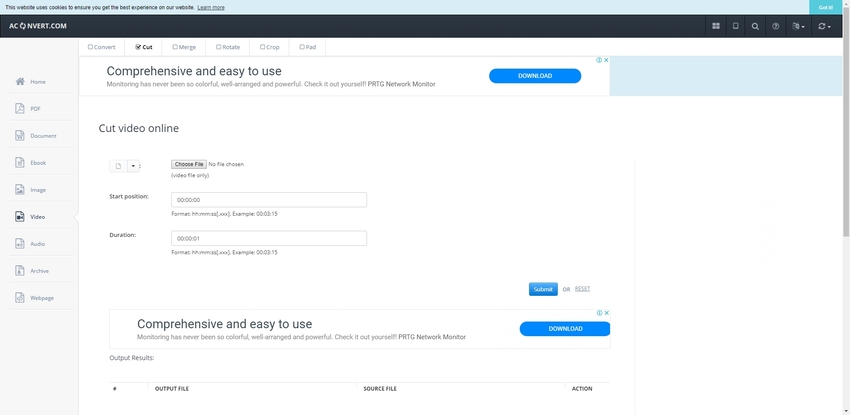 Part 2. Desktop Application---Simple to Edit MP4 Videos
If you are looking for the best MP4 editing software windows 7, 10, Mac OS, Linux then WonderShare UniConverter is the first answer that you would hear from a professional video editor. It is one of the most famous names for editing videos, audios, pictures, and multimedia files because of its useful and handy features that you get in the software. The software is being used by millions of customers across the globe, which indicates the scale of popularity and quality of features and tools to edit the MP4. However, you will get every element to edit MP4 videos in this software, but you can also covert their formats, burn the Blu-ray and DVD.
Wondershare UniConverter
· You can not only edit the videos but can also convert it into other video formats.
· You can transfer the video files from between your PC, Mac and Android devices, tablet, iPhone, iPad, iPod, etc.
· You can download free videos from online streaming websites.
· You can burn CD, DVD and Blu-Ray discs.
· You can record the screen of your desktop with high voice quality.
MP4 Editing Steps in Wondershare UniConverter
Step 1. Download and Install the Software on Your Computer
You can start with clicking on the link given above which will redirect you to the official site of Wondershare UniConverter. You can download the free trial version of the software which is available in both Windows format and OS format. Once downloaded, install it on your computer.
Step 2. Launch the Software and Add the MP4 Files
When the software is installed successfully, launch it your computer. Now you can add the MP4 file/files that need to be edited.
For that, you can drag and drop the file from its destination to the Wondershare's window, or you can add it manually. Click on the +Add Files button given which is heightened in the picture below and choose either of the suitable options to add MP4 video.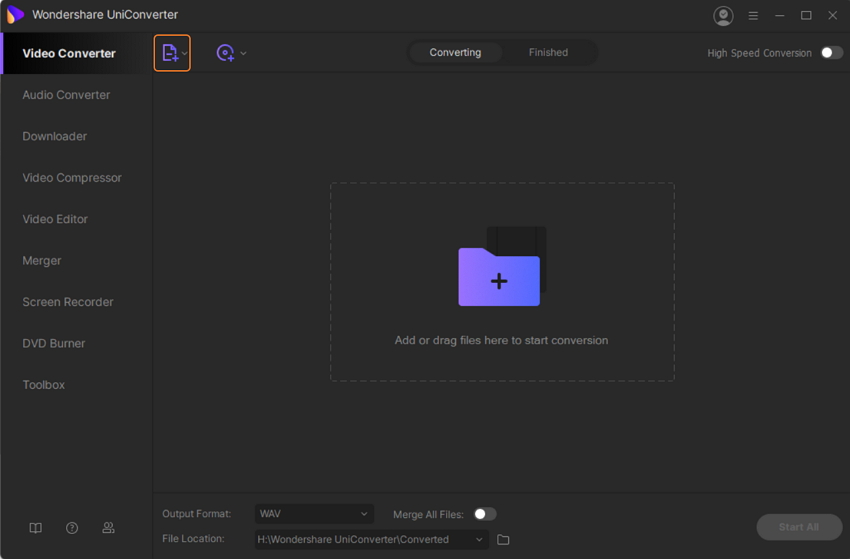 Step 3. Edit the MP4 Video
Once the file is added, then you will get in your screen as shown below. You can remove the file if added any wrong one by clicking on the X given on its extreme right and you can see all the input details and output details of the file as well. To edit MP4 files, start by trimming it for which you have to click on the Scissor icon given below the video's thumbnail on the right side.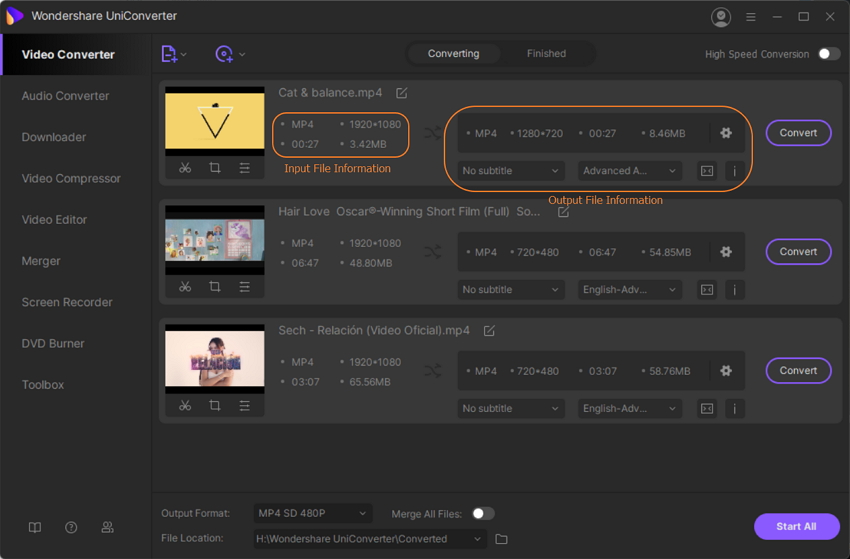 1. Trim: By clicking on the trim icon, you will get the trimming panel as shown below. Here you have the same drag and select the segment of the video that you want to keep. You can also choose multiple segments if you wish to which you can merge into one file. When you are done selecting your segment/segments, then click on the OK button.
2. Crop: To go to the Crop menu, you have to click on crop icon that is given right next to trim icon below the video thumbnail. You will get a small window of crop menu on the screen as you can see in the picture. Here you get a lot of options like rotation, selecting crop area size, etc. You can crop the video by dragging the crop square, or if you want any specific size, then you can put the numbers in the area section. You can also rotate and flip the video, quickly. When you are done, then click on the OK button.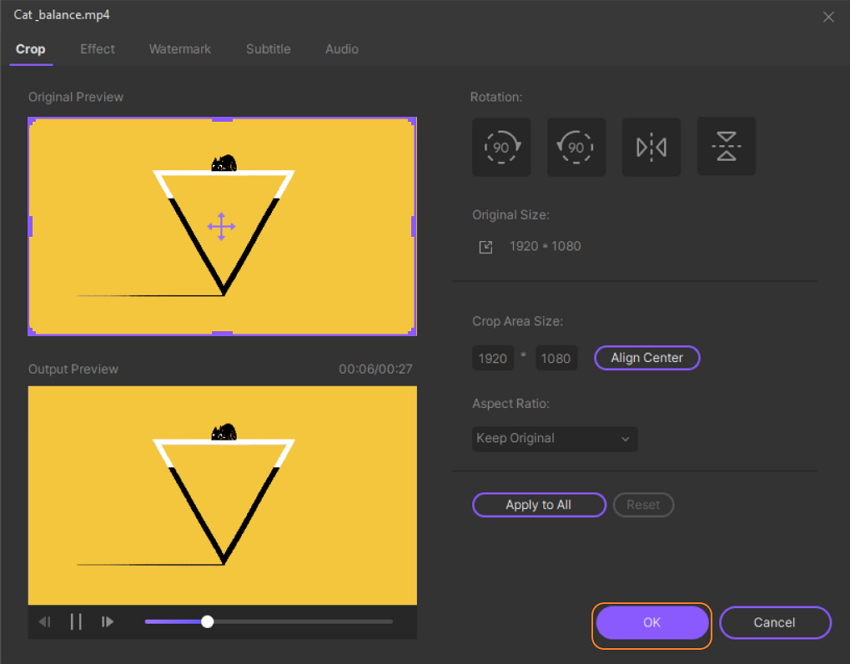 3. Add effects: You can see the Effects button at the top of the Crop panel. On clicking Effects, you will get numerous effects that you can add to your video. You can either manually select the scale of Brightness, Contrast, Saturation, or you can choose from the pre-balanced filters given below. When done, click on the OK below.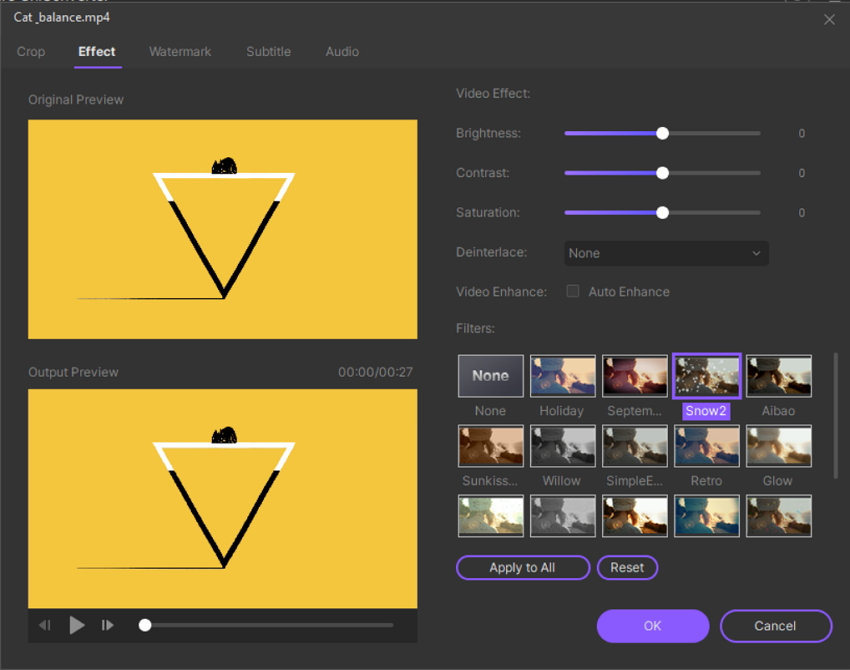 4. Add Watermark: Right next to the effects panel, you will get the watermark panel. You will see three options for the watermark, i.e., None, Image type, and Text type. If you don't want any watermark, then you can click on None or if you're going to put any image as your watermark then click on image type and select the model from your computer.
You can also create your watermark with Text type. You can type the text in the box. You can select its font style, bold, italic, or underline it, size and color of the font. You can also select the transparency rate with the transparency scale given below it. Click OK when you are done.
You can also use the other features, i.e. Adding subtitles and audio to MP4 file in the same way.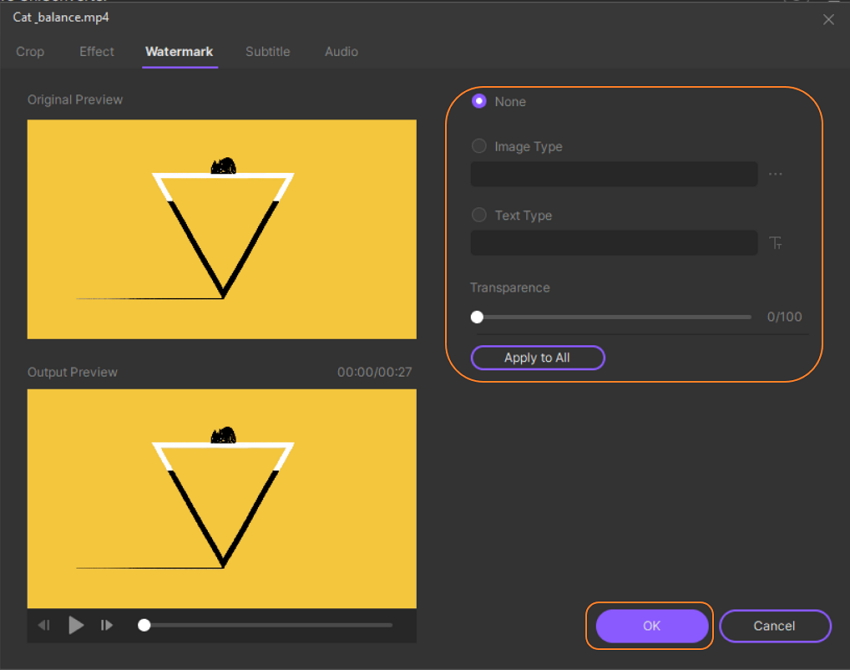 5. Add Subtitles: You could upload a subtitle file to the video. Then, select the best font, color, size, transparency, and position.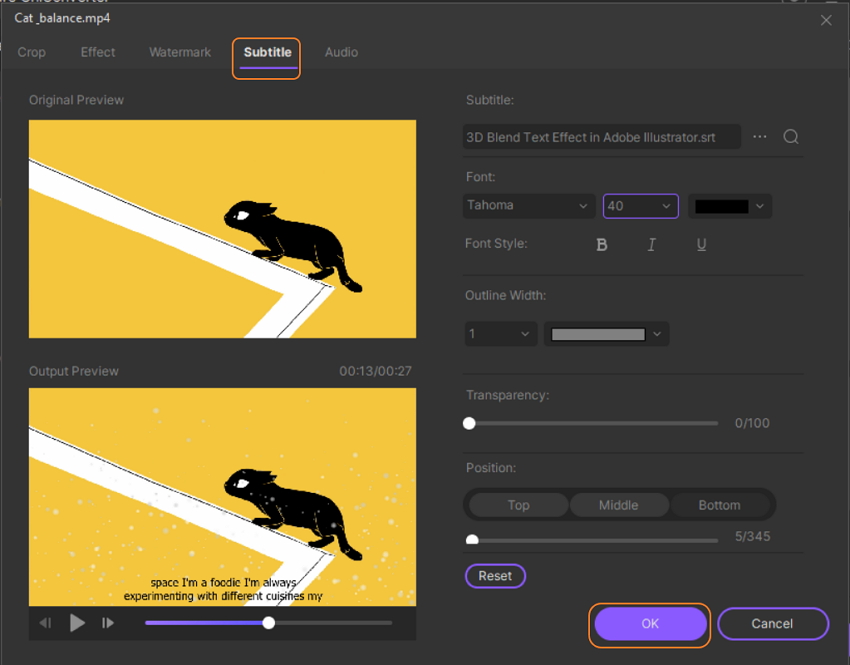 6. Edit Volume: It is an additional feature that you won't get in other video editing software. The scale is given in the screenshot below lets to set the level of volume in the video. Like if you want to focus on the images then you can lower it, or you want to the audio to be perfectly audible then you can raise it. Click OK, when done setting the volume.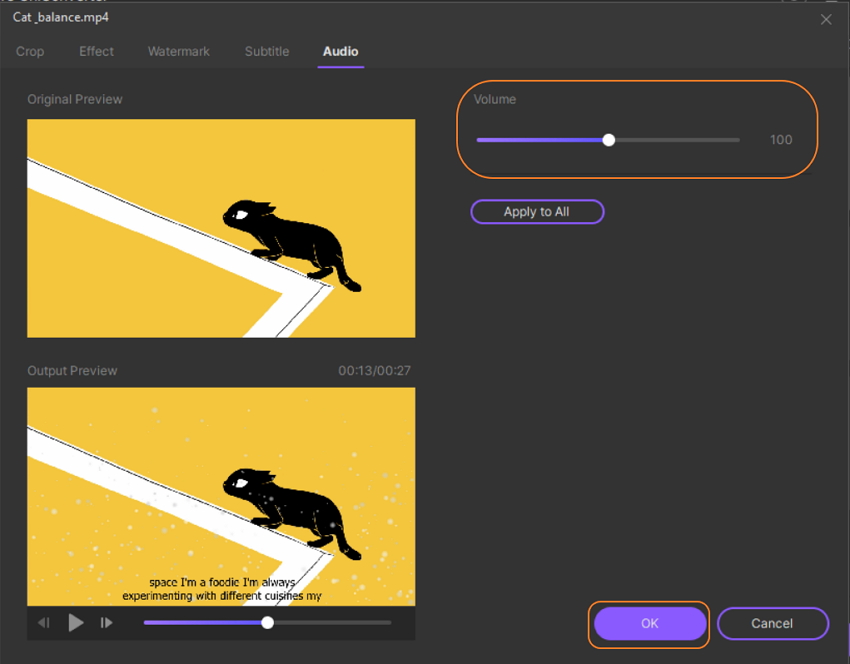 Step 4. Covert the Edited MP4 Video
When you are done editing your video, click on the Start All button given at the bottom. You can get the converted video in the Wondershare's folder which is automatically created in your drive.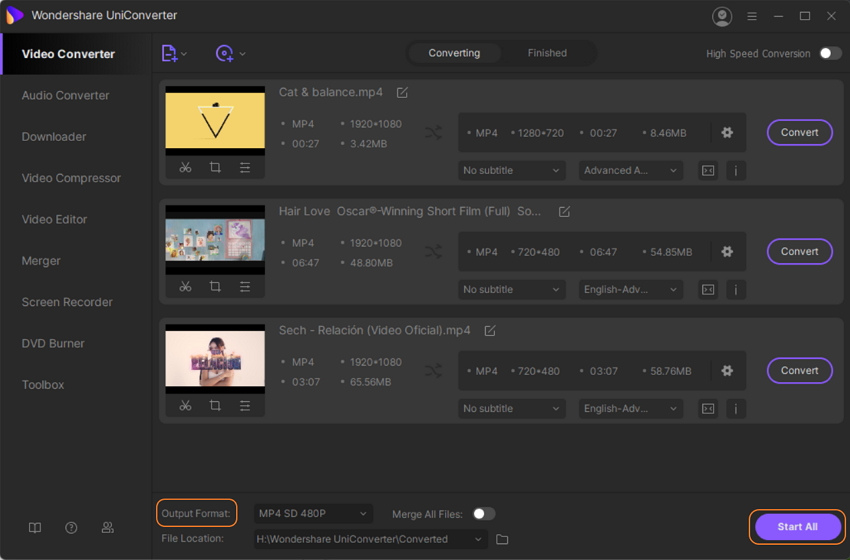 Pros:
It uses almost every type of input video format like MP4, MKV, FLV, MPEG, MOV, ETC.
It is 30 times faster than any other video editing software.
Con:
Although there is a free trial period, you have to buy the software once the trial period is over.
The edited videos and images have Wondershare UniConverter's watermark on it.
Windows & Mac version of UniConverter could download here now.
Summary
So, it can be concluded that it is super easy to edit MP4 files on online platforms as well as computer software. You have seen some of the most amazing offline and online tools to edit videos in the article. If you are too confused to choose the best, then you can estimate the features and pick your best fit. However, you can save your time and directly pick Wondershare UniConverter instead. This software is entirely free, and you can use it even if you don't have a high-speed connection. The useful and super-awesome features of Wondershare UniConverter can win over any tool's features, anytime.