Nothing can beat the feeling that you get while listening to your favorite music on an MP3 player. Besides delivering superior sound quality up to 320Kbps, MP3 is small in size and compatible with most devices. However, you might need to edit an MP3 file by, let's say, trimming, compressing, and more. If that's the case, you should read on because I'm going to introduce you to some top-class audio MP3 editor apps.
Part 1. How to Edit an MP3 File Using Windows Media Player
Windows Media Player is certainly not new to PC users. Although the interface is a bit complicated to beginner, WMP offers a great platform to play your music and video files in an organized way. But did you know that WMP also features a beautiful file editor? Well, all you need is to install a third-party plugin called SolveigMM WMP Trimmer. It's a lightweight tool that will cost you nothing to install. Also, it will seamlessly integrate with your WMP, leaving you with a robust file editor.
How to edit sound clips with WMP
Step 1: After installing the SolveigMM plugin successfully, launch the WMP.
Step 2: Now click "Tools" on the main menu toolbar before clicking the SolveMM WMP Trimmer Home Edition option.
Step 3: At the bottom of the WMP home window, you'll see the plugin. On it, click the folder icon to import your MP3 file.
Step 4: Now drag the trimmer timeline to set the starting point for your MP3 file. You can also trim by entering the start and end time manually.
Step 5: Finally, tap the Trim button to begin cutting audio.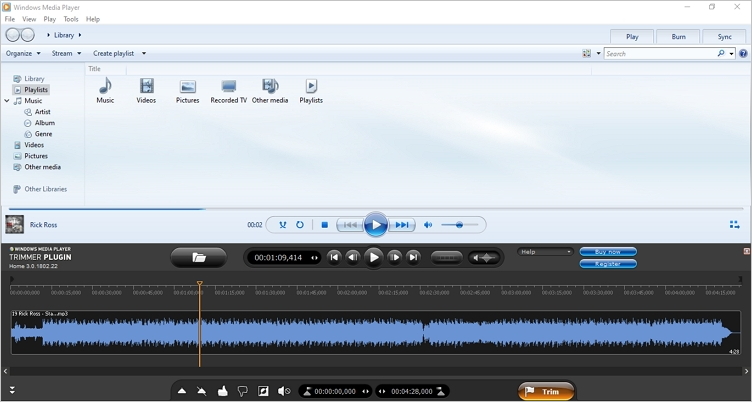 Part 2. 5 Best Free Online MP3 Editors
Instead of installing a third-party plugin, why not edit your MP3 online directly? There are hundreds of online tools that can trim, convert, or compress your MP3 file with lossless quality. Here are the best five:
First forward is Mp3cut.net. With this online audio MP3 editor, you'll easily cut audio right inside your browser. After uploading your MP3 successfully, this app allows you to choose a suitable start and end time before selecting a target format. You can convert MP3 to WAV, FLAC, M4R, and M4A. Although this selection is quite limited, it's nice to have a site that converts your files for free. And in addition to that, you can merge audios here easily as well.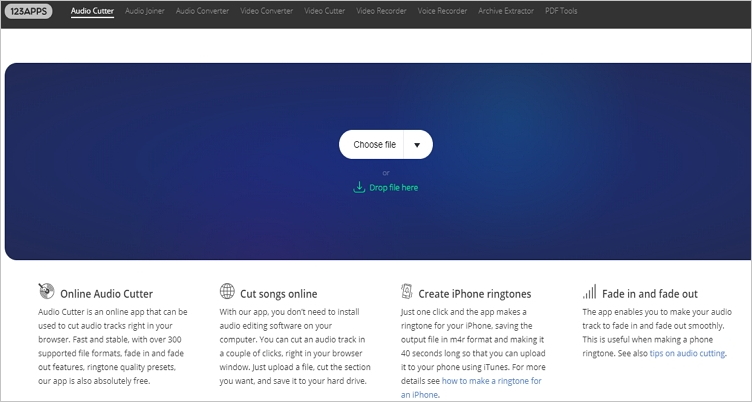 AudioTrimmer is another excellent option for editing MP3 files online. On this simple tool, you will trim audios on the fly. Also, it supports more than ten audio formats, including APE, OPUS, AAC, MP3, M4A, and more. and on top of trimming audios successfully, this app can also apply fade effects. However, it's upload and conversion speed is quite slow. Additionally, AudioTrimmer features some ads. But that aside, it is a beautiful audio editing app.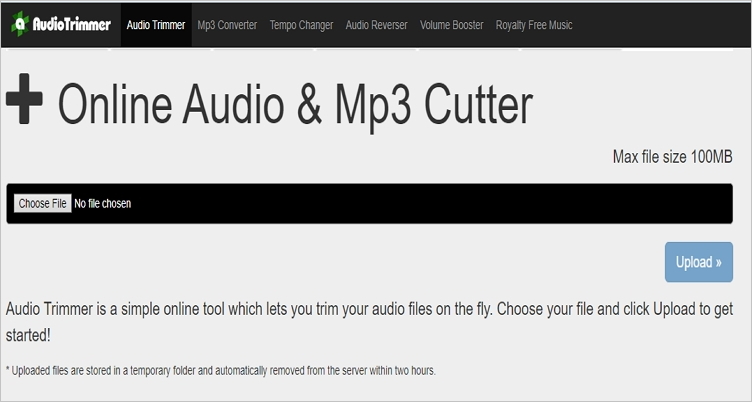 Online-Convert is beautiful file conversion website that needs no expertise use. It is straightforward and feature-rich. On it, users can convert between all popular audio formats, including FLAC, AAC, MP3, M4A, 3GP, and more. Not only that; users can also change the bitrate, sampling rate, audio channel, and trim audio. However, the upload and conversion speed of Online-Convert is quite average. But overall, it's a nice MP3 editor.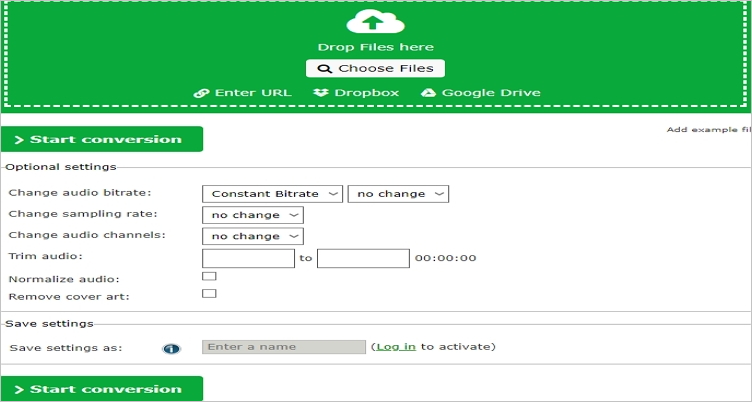 Besides Online-Convert, music lovers can also visit Online Converter to edit their files. It is free to use, simple, and convenient. Here, you will transcode MP3 to OPUS, AIFF, M4R, FLAC, WMA, and other audio formats. You can also convert MP3 to iPhone, Android, iPad, or Mobile presets. Even more, users can compress, cut, increase volume, as well as convert MP3 to video formats. On the flip side, Online Converter features some ads. Also, it has a maximum file upload limit.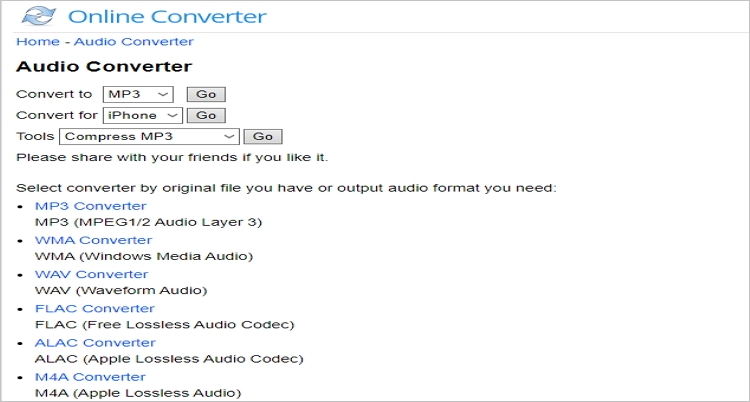 The final online MP3 editor on this list is Convertio. When new to this site, you'll be amazed by its simplicity and features. It's quick to load up and features some powerful customization tools. With Convertio, users can convert MP3 to WAV, CAF, FLAC, AC3, and other standard audio formats. It can also cut MP3 as well as adjust codec, frequency, volume and more. But the hype aside, Convertio features some ads. On top of that, 100MB is the maximum upload size.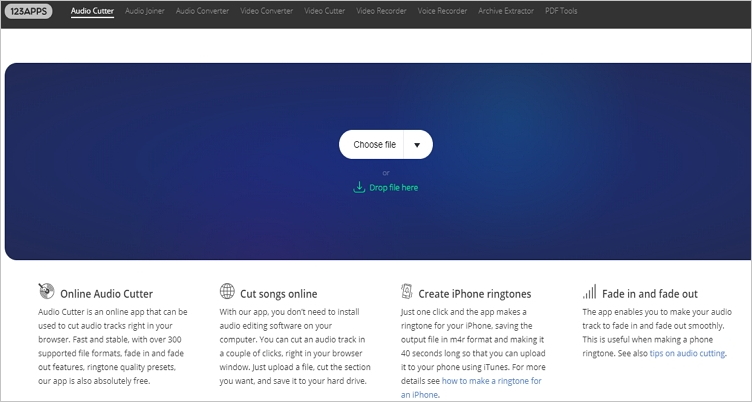 Part 3. [Recommended] Best Way to Edit Sound Clips Online Free
Online UniConverter (Originally Media.io) is the most professional audio MP3 editor online app. On this neatly arranged site, you will edit an MP3 file by cutting, compressing, and converting to AAC, AU, OGG, M4A, and more. On top of editing MP3, you'll also edit video by converting, cropping, trimming, compressing and more. What's more, you'll also get a robust image compressor and converter. And lest I forget, you can install a plugin of this beautiful MP3 editor on your browser for quicker later access.
Online UniConverter – Best MP3 Editor
Convert MP3 to AU, OGG, M4A, FLAC, and many other audio formats.
Edit an MP3 file by cutting, adding fade effects, and compressing without quality loss.
Convert between all popular video formats like VOB, MP4, MOV, FLV, and more.
Edit video by cropping, trimming, rotating, and more.
Supports all popular image formats, including TIFF, BMP, JPEG, and PNG.
Resize images by compressing losslessly.
How to edit an MP3 with Online UniConverter
Step 1. Add your MP3 file
After visiting Online UniConverter, tap the Add icon to add your MP3 file. A simpler method is to drop audio on the converter.
Step 2. Trim audio
Next, drag the trim timeline to set a starting point and endpoint for your audio. You can also preset the fade effects.
Step 3. Save changes
If you want to convert MP3 to a different format, click Save To and choose the format. After that, tap CUT. After a successful conversion, you'll see a DOWNLOAD button. Click on it to save your audio locally or on Dropbox.
[没有发现file]
Summary
Stacking up the seven MP3 editors above, it is clear that Online UniConverter is the most convenient option. For starters, it allows you to download a plugin on your browser for quick future access. Also, it's simple to use, ad-free and features many MP3 editing functions, including a sound trimmer. So, use this site for high-quality outputs.