Music undoubtedly plays an integral role in our daily lives. They make us feel relaxed and entertained. However, there are instances when you might need to cut MP3 files to remove unwanted parts or use as a ringtone. Luckily for Apple device users, you can trim Music for free using the robust iMovie app. But do you know how to cut Music on iMovie properly? Well, that's precisely what this guidepost will take you through. So keep reading!
Part 1. How to cut Music on iMovie Mac Quickly and Easily
We're going to start by learning how to cut Music in iMovie on your Mac. It's a straightforward process and doesn't require third-party plugins to do that. So, without much time-wasting, let's find out how to do that:
How to edit sound clips with WMP
Step 1: Launch the iMovie app on your desktop. It is the white and purple star icon labeled iMovie.
Step 2: Launch the iMovie app on your desktop. It is the white and purple star icon labeled iMovie.
Step 3: Next, highlight your MP3 audio. You will see a yellow line with handles surrounding it.
Step 4: Now drag the right and left handles to set your preferred start and endpoint. The remaining parts will be deleted from the audio file.
Step 5: Finally, drag your remaining audio to the timeline below the screen to add the cut file to your project automatically.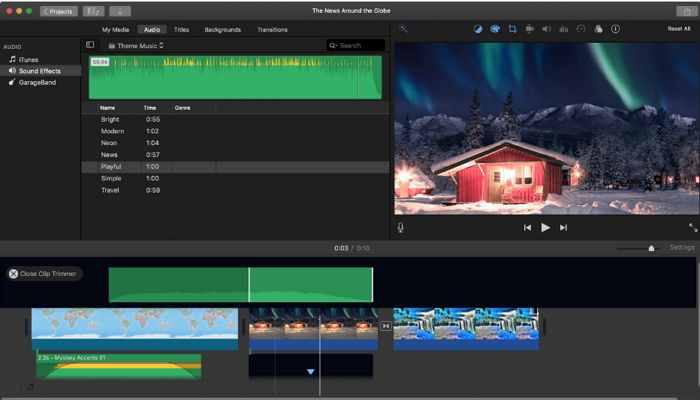 Part 2. How to Cut Music on iMovie iPhone
You can also cut music or song files on your iPhone using the iMovie app with a few clicks. Just like on the Mac version, it's straightforward to do so on your iPhone. You only need to apply these steps to trim audio in iMovie:
Step 1: First of all, download and install the iMovie app from Apple store to your iPhone. After installing it, run the app and then import audio.
Step 2: Now drag the MP3 audio to the timeline to start splitting or trimming. You'll see the sound appear with yellow handles.
Step 3: Next, move the cut handles to set the start and endpoint. You can also move the play-head on your audio to the desired position and then click the "Scissors" icon located at the bottom-left corner before clicking Split.
Step 4: If you're satisfied with the result, tap Done to save changes. You can even share it with family or friends by clicking Share.
Part 3. Best iMovie Music Cutter Online Free
As we've seen, iMovie is a helpful audio trimming app. However, it's available to Apple device users only. Even worse, it is not a beginner-friendly app. In that case, I recommend the Online UniConverter (Originally Media.io). With this music online cutter, users can trim audios easily, thanks to its straightforward nature. It also allows users to set the all-important fade effects before cutting. And unlike iMovie, which primarily supports AIFF, MP3, WAV, and AAC formats, this tool supports more than ten audio formats. You can import FLAC, AAC, OGG, AU, and other unique audio formats.
Wondershare UniConverter – Best iMovie Alternative
Cut MP3 files easily and quickly with fade in and fade out effects.
Supports more than ten audio formats, including MP3, FALC, AAC, AU, OGG, and more.
Edits MP3 files by compressing, cutting, and converting to other formats.
Supports the editing of video files by rotating, cutting, flipping, converting, and more.
Converts between standard image formats such as BMP, PNG, TIFF, and JPEG.
Step-by-step process to cut Music using Online UniConverter
Step 1. Add your music file
Visit the Online UniConverter and then drop your audio directly on the app. Alternatively, tap the Add button to the same.
Step 2. Cut audio
Now it's time to cut sound. To do that, drag the trim handles to set the start/end time. You can also set your fade-in and fade-out effects.
Step 3. Save your changes
Last but not least, click Save to and choose MP3 format before clicking CUT. Online UniConverter will trim your audio file quickly and with lossless quality output. You can click the eventual DOWNLOAD button to save the audio locally or on Dropbox. It's that simple!
[没有发现file]
Summary
iMovie is undoubtedly an excellent file editing app. But as I've said, it's interface can be a bit confusing, especially to novice users. Also, you can only edit a limited number of audio formats. So, instead of going through the pains and hassle of using iMovie, I recommend that you use Online UniConverter. It's quick, straightforward, and feature-rich. And don't forget that you only need a browser and internet connection to use this app.