Did you shoot a slew of short videos with different angles to create professional-looking cinematography? Or do you want to stitch together candid snaps to create a fun behind-the-scenes video? Well, the task can be surpassingly complex, especially if you end up with an intricate tool like Adobe Premiere Pro.
Fortunately, a bunch of easy-to-use, handy video merger, and editor software are available these days. UniConverter is one such powerful tool you can use to cut and join video within no time. Whether you are a complete novice or a professional filmmaker, online Uniconverter is an excellent choice.
How to Merge Videos into One Video | Combine Video Files together
Part 1: The Advanced Video Cutter and Merger
Wondershare Online UniConverter, a high-end video cutter and merger for the movie lovers out there. It is an intuitive tool designed with a suite of creative editing features to help you edit video clips together to craft a beautiful motion picture. You can use the Trim and Merge tools to cut out unwanted scenes or merge a couple of clips into a fantastic video. It supports various video file formats, including the standard MP3, MP4, AVI, and the latest 4k-capable codecs.
What's more? It's free and offers an impressive number of customizable editing features to enhance your clips before joining them. From adding upbeat background music to applying stunning transitions and filters, UniConverter will beautify your video to capture the audience. This video merger and editor also offers various aspect ratio templates you can use to edit clips together.
Now that you know an excellent tool, you might want to know how to edit a video onto another video using Online UniConverter? No worries, we have you covered. With only a few simple steps, you can combine and edit videos like never before.
Step 1: Launch the online Wondershare UniConverter on your browser. Sign up for a free account or log in to your existing account to start editing. Then, go to the video editor tab and tap on the choose files to import your files.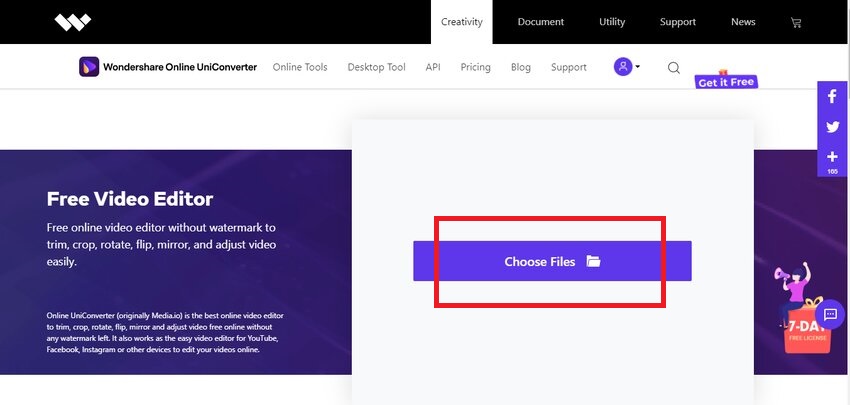 Step 2: Once your video is imported, an editing window will appear. Choose the trim option and drag the frame to set the start and end time where you want to trim the video. From the drop-down save to options, select your required format. MPP4, AVI, WMV, MKV, 3GP and, FLV are among the available options. Finally, hit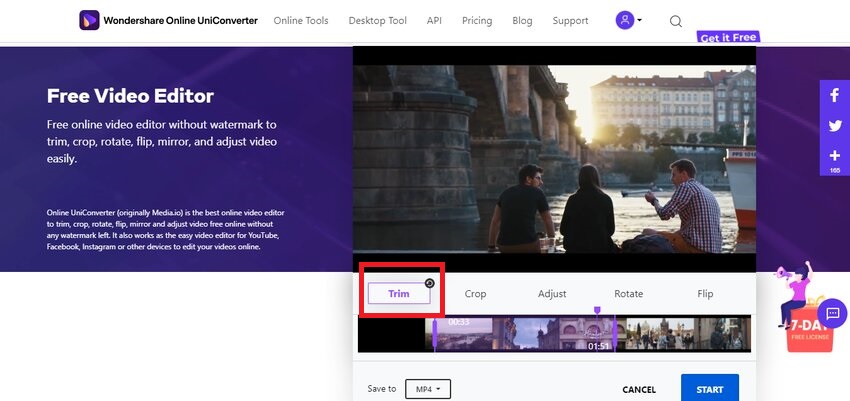 Step 3: Click on save to save the trimmed video locally to your PC or hit edit another video if you are not satisfied with the trimming and try again.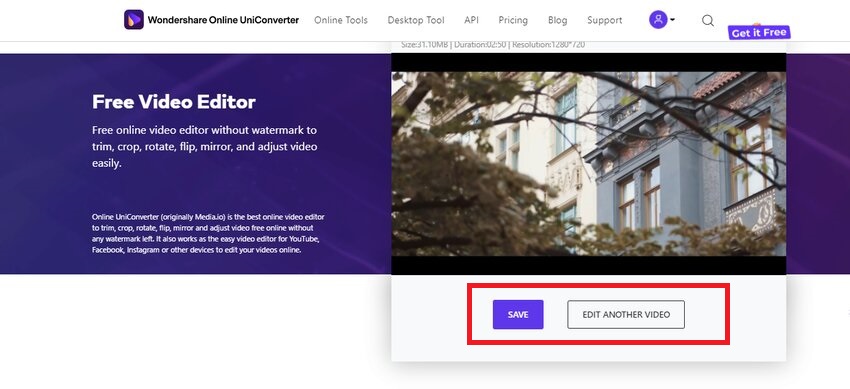 Step 4: To merge multiple clips or trimmed videos into home movies, choose the merge video tool from the online tools. Then, go to the merge video tab and click on choose files to import media from local files or select from the options of Dropbox, Drive, and YouTube.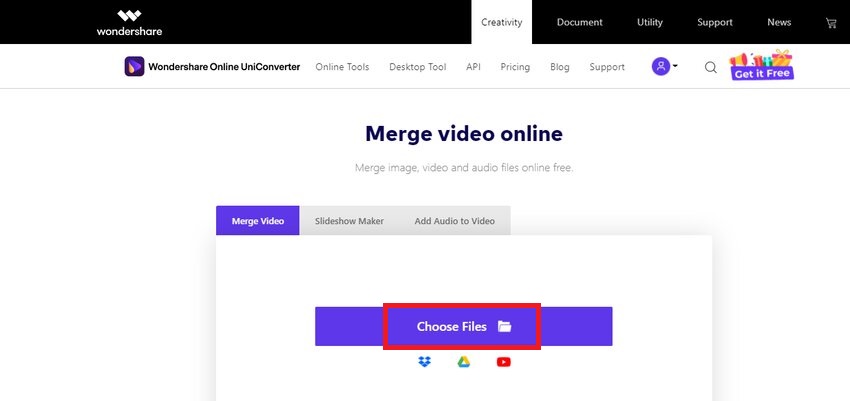 Step 5: After importing the video files, you want to merge, rearrange the different components by dragging and adjusting their position. You can also add more video files from your PC, Dropbox, and Google Drive by clicking on add files.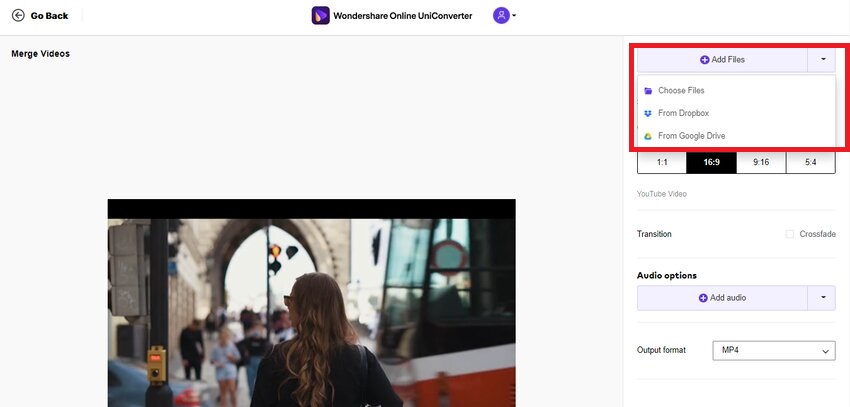 Step 6: Unlike other video editors, this video cutter and mergerallow you to combine and edit videos simultaneously. Before joining the video components, edit your video files by adjusting the customizable settings. Select an aspect ratio to crop, apply crossfade transitions between video components, and add music to draw the viewers' attention.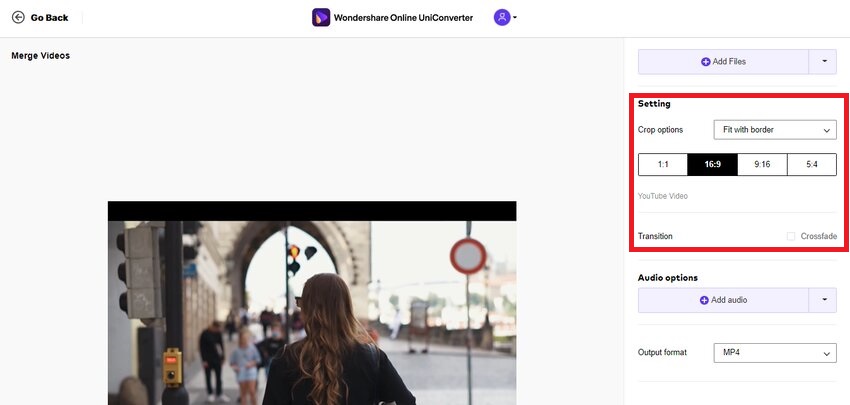 Step 7: Once all the edits are completed, hit merge to combine the videos together.
Step 8: You can even choose where you want your merged video to be downloaded. Click on the download drop-down and choose to save on your local files or Dropbox or Google drive.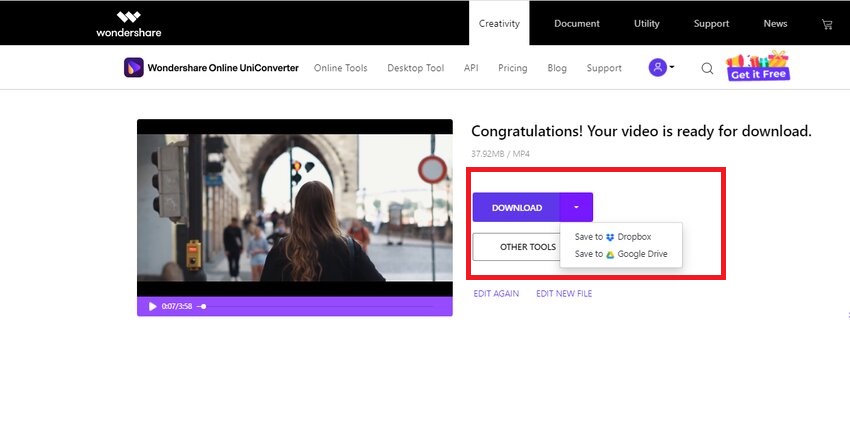 Part 2: How to Choose the Best Video Merger and Editor
Once you start shooting video footage, you will need to trim and merge videos to create the perfect home movie for your YouTube. However, picking the right tool with unique workflows and creative editing tools can be overwhelming. With a single Google search for the best online video merger and editor, you will find tons of options to choose from. But how do you choose one that works for you?
Below are the key aspects every video maker should consider to make the right choice of a video cutter and merger.
A good place to start is looking for the video editing features offered by the software you are interested in. If you want to dazzle your audience with stunning videos, you want your software to have creative editing features in addition to the basic trim, crop, and rotate options. The best way is to try out a couple of options to comprehend the software better. At the same time, another way is to overview the function, pros and cons, and features of the video editor in question.
When deciding on a video joiner and editor, you need to ask yourself how much are you willing to pay for simple video trim and merge? Depending on your video needs, you can choose from many freeware available with essential editing tools, various supported formats, but other limitations. On the flip side, you don't want to end up paying thousands of dollars for features you will never use.
Video formats are ever evolving, but software can take time to catch up with the support, especially with new drones, actions, and 360 cameras. Before you plunge and buy a professional and budget-friendly video editor tool, check out the supported video formats it imports and exports. Video software that provides support for the most common video formats and the advanced formats is preferable.
Ease-of-use and user interface
Even if you are a professional filmmaker, a complicated, foreign-looking user interface can put you off. While most video editors come with many intuitive editing features, they lack a friendly interface, where users spend months learning the software. Make sure to look for better consumer-level video software you can use with ease and become proficient within no time.
Music, effects, and other editing perks
Music and effects can add a special something to your video that makes you stand out in the crowd. The happy melody and smooth transitions always draw extra attention. The best merge video editor is the one that packs a whole bunch of transitions, effects, and music to compliment your video.
To sum up
Video editing was rocket science until a handy online video merger and editor tools like Wondershare UniConverter rolled out. Now, with a few taps, you can cut out imperfect shots, shorten your home movie, or stitch artistic clips to craft professional-looking videos within no time. And besides cut and join video options, you can also take advantage of the music, transitions, and other editing perks offered by UniConverter.
You don't want to miss out on countless editing possibilities, a user-friendly interface, and advanced editing features, all for free. So, what are you waiting for? Hop on to the online UniConverter and perfect your videos with the new tools and editing features.