Making a video on a single piece of content might be quite easy. But when you want to combine multiple videos into one, this is where it gets troublesome. For example, you have two videos of your childhood memory, and you want to combine them. Or you want to merge videos of people taking the same interview, etc.
No matter the reason, you will need some software or tool to make this happen. These software's are available both online and offline. Tools are quite easy to use once you know how to use them. Otherwise, it can be a long and tedious process. Let us look at some video editing apps that are available for desktop, mobile, and other options and can be used to merge two videos.
Part 1. How to combine multiple videos into one -- Media.io
Media.io is the recommended software if you are looking for ways to combine multiple videos into one. It is one of the very few online video editing apps that provide an online video merging option. By using this online service, you are saved from downloading the software. Also, it will replace your time of downloading with the time of processing. This will also be storage sufficient for your device's storage. Apart from this, this software can be accessed from any device you possess as it is available online, and the requirement is the Internet. UniConverter is also equipped with some mind-blowing features that make it unique among other online video editing apps. Here are a few discussed below:
It offers you a free trial to thoroughly check the software before making the actual purchase
It works 30x faster than its counterparts, saving your precious time
It supports all the popular photo and video formats, allowing you to select from a variety of formats
It also enables you to add background music or audio to your videos and offers the option to adjust the audio according to your requirement
It also has tools to adjust your video, such as resizing, trimming, changing the aspect ratio, etc.
It has features that will help you combine two videos and audios and make it one file altogether
One might get puzzled after reading so many features, thinking that using this software requires expertise. But don't you worry, we've got all that covered. A simple step-by-step guide (along with pictures) is provided below to make it handy for beginners. Here are three easy steps that will merge multiple videos into one and give the desired results in no time:
Step 1: Open Media.io and Import Media
Click on this link https://www.media.io/merge-video.html on your browser. This will direct you to the Merge video online webpage. On the webpage, in the Merge Video tab, choose the file options provided (YouTube, Dropbox, Google Drive, and Local storage). Then select the files you need to merge.
Step 2: Customize Video Parameters
After completing the import process, the next step is to edit the selected video. This option allows you to modify the video size and change the aspect ratio as well. Furthermore, this is the part that will enable you to add background music or audio. You can choose the audio file from the local storage.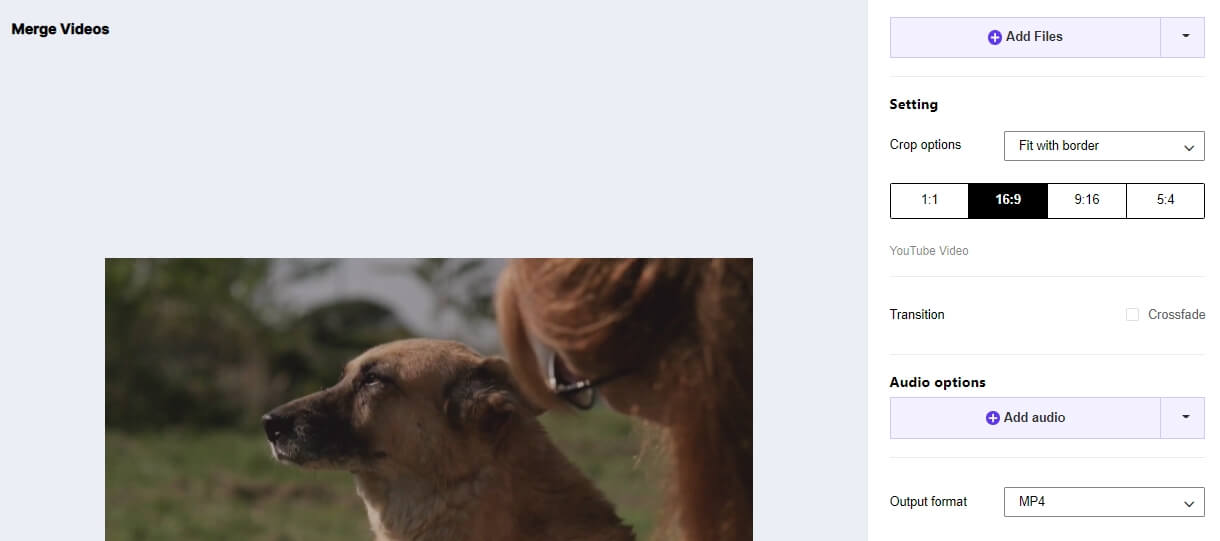 After you're done with the customization process, click the Merge button to proceed.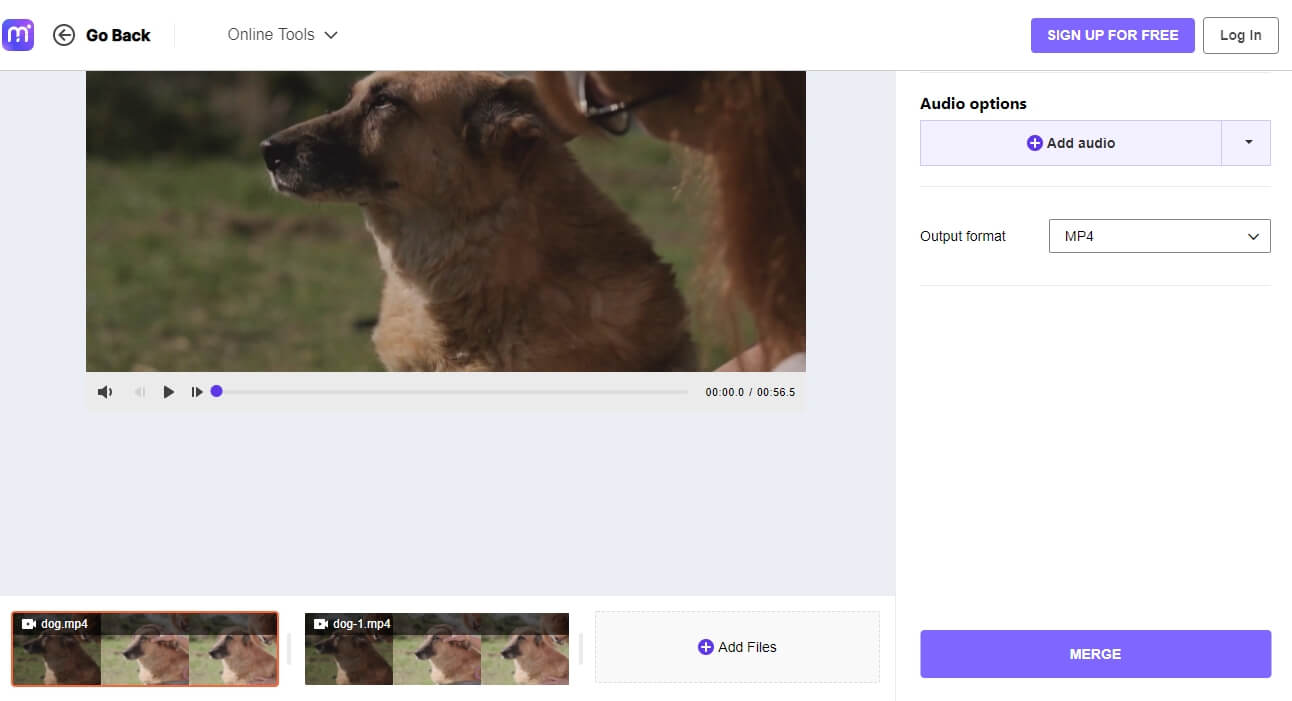 Step 3: Download the Combined Video
In this last step, the files are combined and ready to be downloaded. You have the option to download the video on your local storage, Dropbox or Google Drive.

Part 2: How to merge two videos on PC?
1. Video Merging Tool for Windows
If you are fond of making videos and constantly require editing, Filmora Video Editor is the best option. It is packed with all the latest editing options for videos, including the merge multiple videos feature. The software has up to 300+ effects to enhance your video with. Furthermore, it supports all the latest video formats.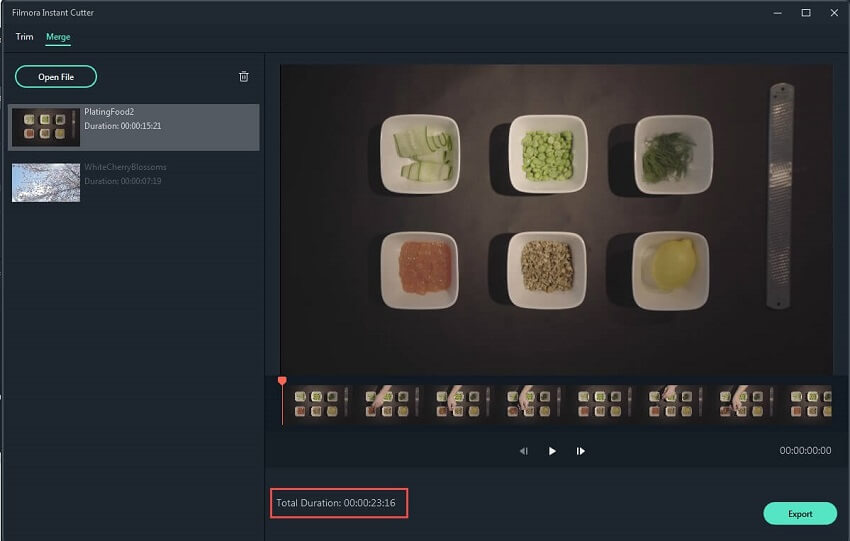 2. Video Merging Tool for Mac
If you are looking for video merging options and nothing else, QuickTime, might be the best option. It is easy and simple to use. This app is already installed in Mac, and you just have to open files and start your editing. This tool is very intuitive and can be used to merge two videos with ease.

Part 3. combine two videos on phone
1. Video Merging App for Android
Taking pictures and editing them is a daily routine for many people, especially teenagers. Making short videos about their travel and fun is also trendy. To make these videos attractive, the users definitely need a video editing app. Many apps are great for editing pictures and videos on Android. One of them is FilmoraGo that offers many features such as stickers, transitions, effects, etc. And if you are looking for combining multiple videos into one feature, FilmoraGo is recommended.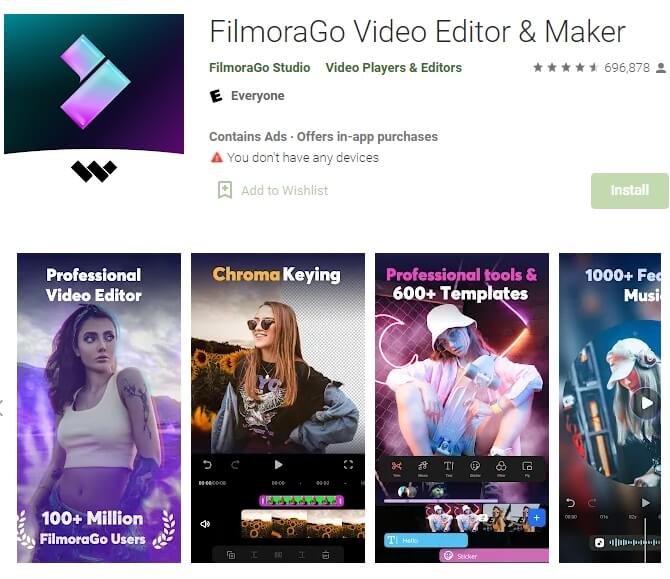 2. Video Merging App for iPhone
As camera technology is advancing day by day, the use of mobile cameras is also increasing. Nowadays, mobiles are equipped with such cameras that give you the result of an actual digital camera. And when we talk about the best mobiles with the best camera, no one can beat the iPhone. iPhones have the latest camera lens that can capture HD resolution pictures and videos, giving you the result of a DSLR. With the increase of video recording from the iPhone, the need for video editing is also increasing, especially the option which combine multiple videos into one. Therefore, here we have a video editing app that is already installed in iPhones, and that is iMovie. This app also has basic video editing features. Furthermore, it has an option of Movie to merge multiple videos into one. You can select the videos from the gallery and combine them using iMovie.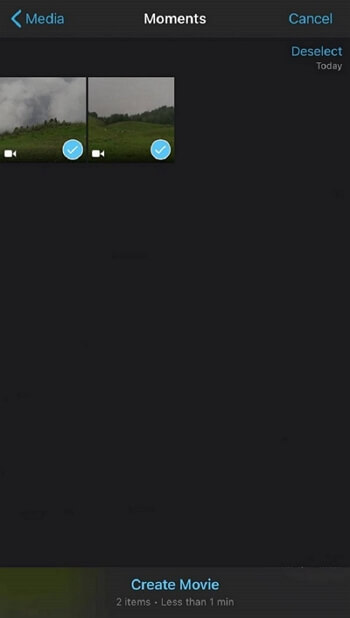 Part 4. People also ask
How to merge videos with Sony Vegas
Sony Vegas is a video editing tool for Windows. It has many features. It can also combine two videos into one. The software has multiple versions released, and each version has some new features. Continue reading to know how to create one video from multiple video clips in Sony Vegas. A step-by-step guide is provided below on how Sony Vegas merge clips:
Step 1: Import Media
The first step is to import media that is to be merged. You can import media by clicking on its icon. The alternative way is to drag and drop the file into the software.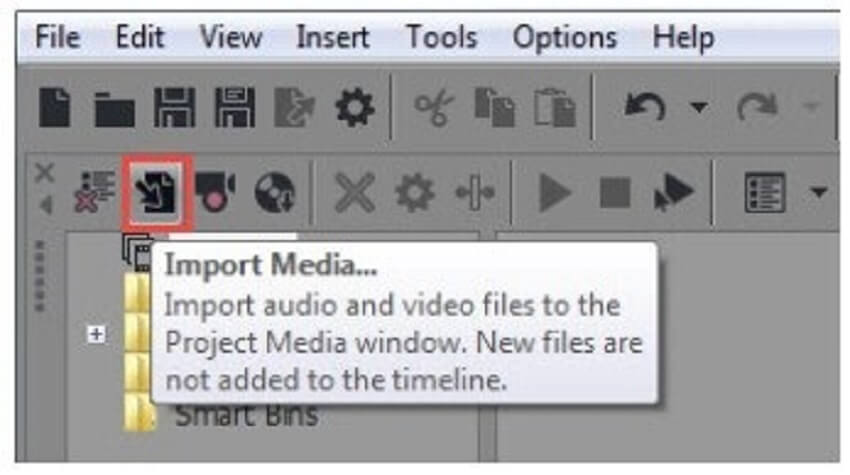 Step 2: Select the files
In this step, all the files that need to be combined are selected. This is the part where you can do some video editing, like changing the video frame positions.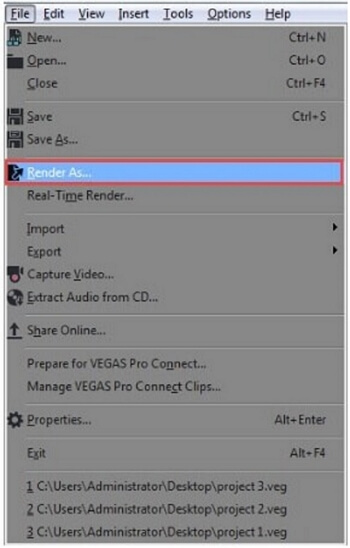 Step 3: Start the merging process
After you have done selection and editing, the next step is to start the merging process. Once, select all the files and from the file menu, give your project a name. Afterward, hit the Render button to start the process. Later, save your file from the file menu.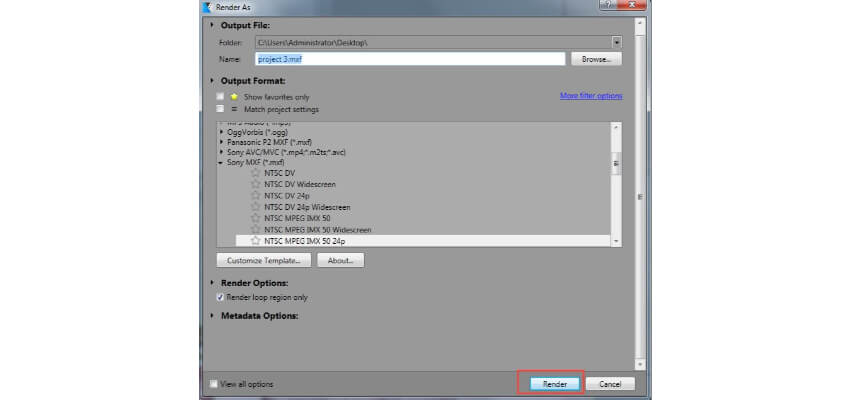 Tips of merging GoPro Videos
Using GoPro cameras to record memorable moments has become a trend nowadays. But the troublesome job is to merge GoPro videos altogether. For that reason, Joyoshare Video Joiner, a video merging tool, has been selected. This app, along with some other apps, is effective for merging GoPro videos. It supports popular video formats such as MP4, AVI, and many more. It also can extract audio from the video. Furthermore, it allows you to edit your files before you merge two videos completely. Hence, a step-by-step discussion is provided below:
Download and Install Joyoshare Video Joiner
If you do not have Joyoshare Video Joiner already downloaded, click this link https://www.joyoshare.com/join-video/how-to-stitch-gopro-videos-together.html to download the tool.
Step 1: Import GoPro videos to Joyoshare Video Joiner
The first step is to go to Open file to import GoPro videos from your device storage. You can also directly drag and drop the file into the tool if you like.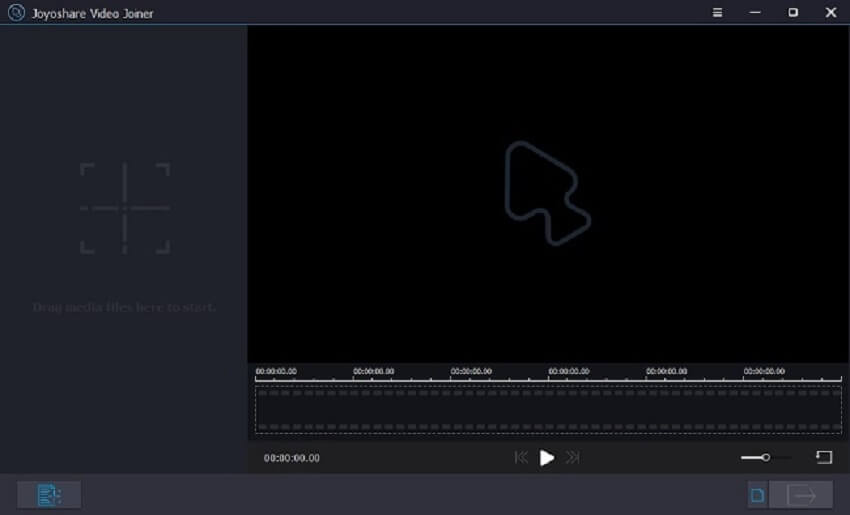 Step 2: Choose an output format and a merging mode
Secondly, choose the format by clicking on the Format button. You can select any format depending on your choice. High-speed merging mode will provide you an original file. Whereas the encoding mode will allow for customizing the combined video.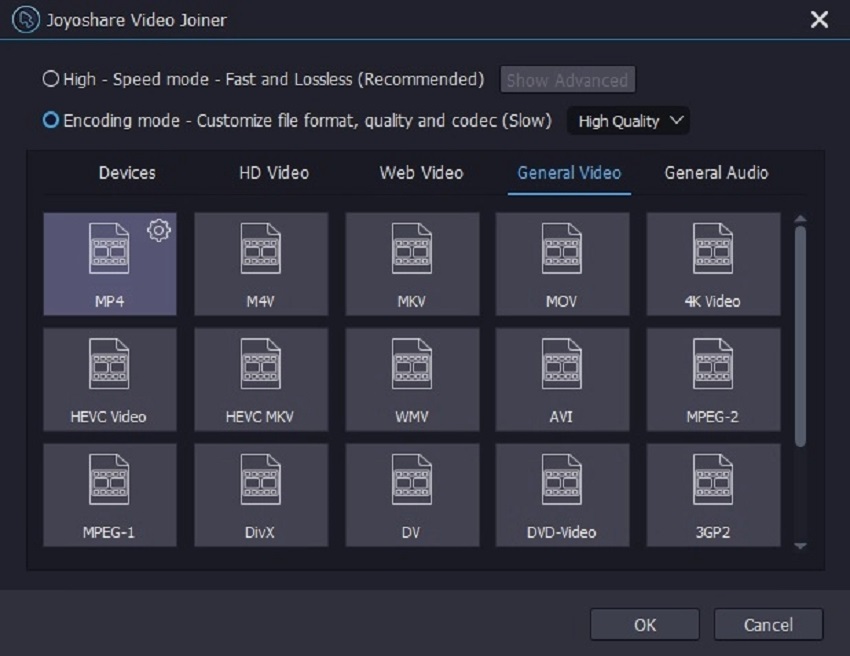 Step 3: Trimming the unnecessary parts
In this step, you have the option to cut out additional parts from the combined video.

Step 4: Edit with effects
Those who have selected the encoding mode back in Step 2 can now edit their video. From changing the aspect ratio to adding subtitles, all the features are available.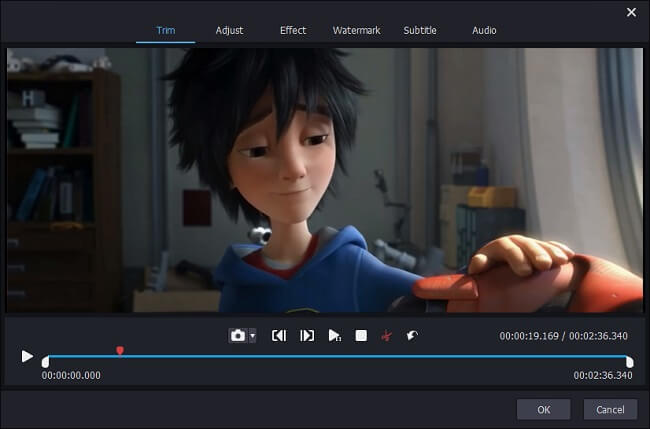 Step 5: Merge GoPro videos together
The final step is to hit the Convert button that will start the process. After the process is complete, the file will be saved in the local storage.
Conclusion
The task to merge two videos was probably a troublesome task for you before reading this article. But with UniConverter, it is very simple and secure to upload your files and get your job done. And after using the online video merger, you might want an offline one also. Hence, we have listed some great tools available on the web to help you combine multiple videos into one. Some of them are even loaded with additional features to enhance the ultimate video.
Now, you can easily and quickly add two videos together without any hassle. So, you have all the tools at your disposal whenever you need to merge two videos, and you are good to go.