Video production through smartphones and laptops has brought a significant change in the feature evaluation, leading to the production of several platforms with considerable features. Of all these features, we consider the functionality to add audio to a video in this article. This article shall state the essential online platforms that allow the feature to add audio to video online along with a comparative evaluation of the better platforms among them. The demand for a better online audio addition onto a video is on a roll; hence it is crucial to identify the available platforms that allow users to add audio to a video for free.
Part 1. How to Add Audio to Video with Biteable
Music adds meaning to a video. With a demonstration of the emotions in a more intuitive manner, the feature to add audio to a video holds significance while producing creative video content. Biteable provides users with a very catchy interface to easily add audio to a video online and develop a masterpiece, all by themselves.
Budget and skill are always considered secondary at Biteable. While putting the ability to add audio to a video online on this platform, they provide a much-widened variety in animations and templates. The professionally pre-crafted models offer a head start for users to add audio to a video online. This eventually helps users create content for an engaging audience. Biteable allows users to add audio to a video in three easy and comprehensive steps.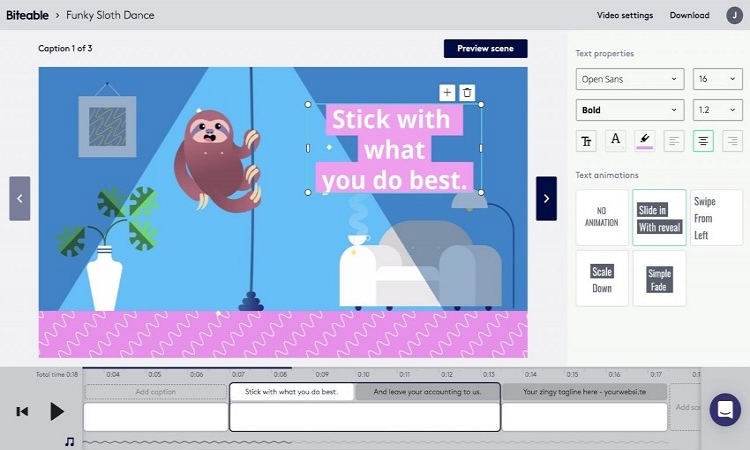 Step 1: Uploading the raw footage
After getting logged in on Biteable (https://biteable.com/tools/add-music/) and creating a new project, the video editor is launched, and canvas can be observed. Click Select Background and Upload to import the footage that is to be edited.
Step 2: Choosing the Perfect Sound
The music note icon present in the timeline needs to be selected to add audio to a video online. The music can be uploaded from the library or the device's directory.
Step 3: Downloading the Video
With the premium plan in hand, users can easily export their video onto their device or preview it. Biteable comes with three different monthly plans, according to the niche and intensity of the user's usage. It has a Starter plan with $15 per month, a Plus Plan with $29 per month, and an Unlimited Plan with $49 per month.
Part 2. Top 6 Alternatives to Biteable
Apart from Biteable, there is a range of platforms that allow us to add audio to a video free with no restrictions. These platforms, however, have a different approach to this feature, making every one of them a different platform to operate on. The article shall discuss six major alternatives to video editing tools such as Biteable, which vary majorly for their ability to add audio to a video free online.
https://biteable.com/tools/add-music/
FileConverto is an online Software-as-a-Service platform that initially generated as a media file converter. It was followed by a range of updates and inclusive features that are very easy-to-use and would provide a much-generalized result, as per the requirement of the user. FileConverto keeps the files for a few hours, which would then be removed to ensure the users' data safety.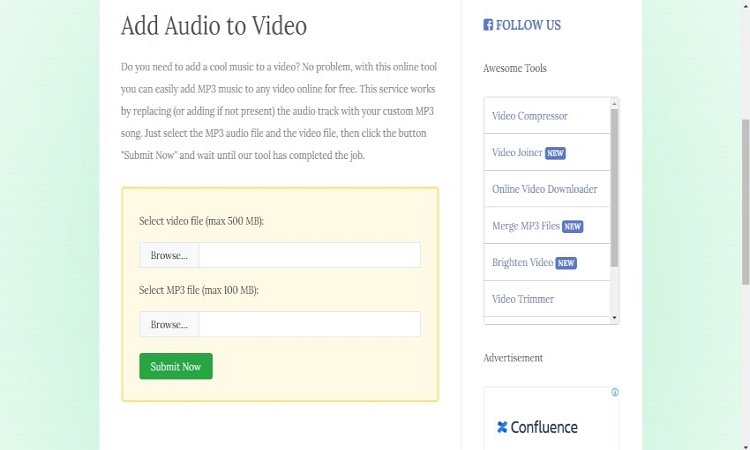 https://voice2v.com/add-audio-to-video/
A more diverse platform to add audio to a video a free online with ease and accessibility has been designed at Voice2V where it provides a much more improved compound video editing features in comparison to many online video editing tools available in the market. It provides a very user-friendly approach to add audio to a video free.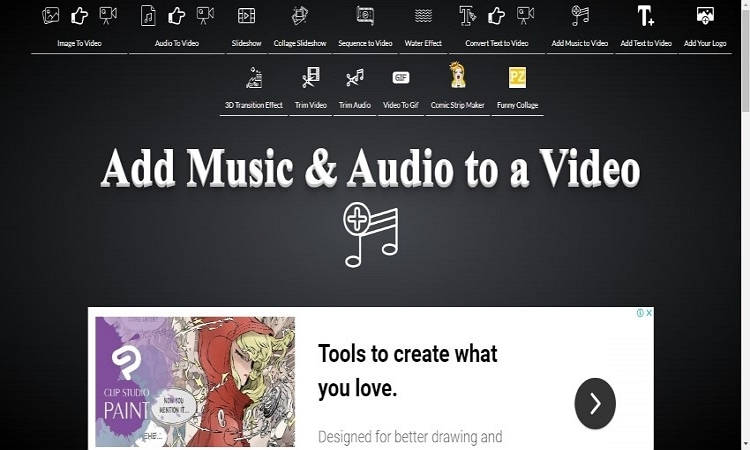 https://pixiko.com/tools/add-music
This is another option to add audio to video free for developing exciting content. Pixiko provides a straightforward structure of editing the video quickly and integrating music into it by trimming and adjusting it according to the required video content. Along with that, this platform is interconnected with many different social platforms, which helps to share content easier to execute.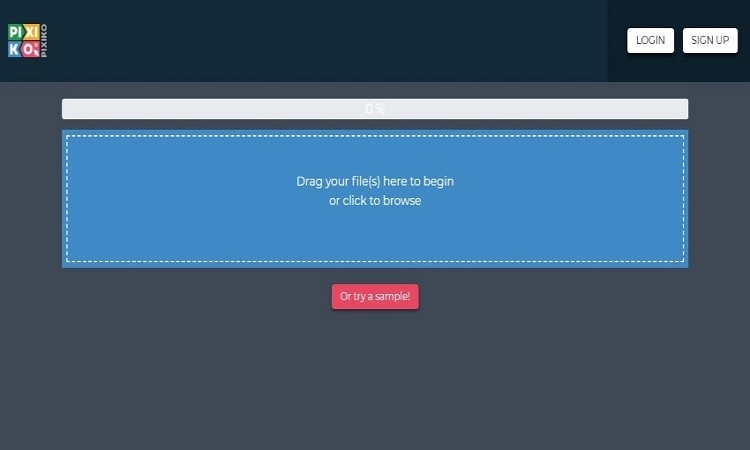 https://www.addaudiotovideo.com/
These free tools are very easy to add audio to a video free with no specific steps. For users who have a very simple task to perform, they can cut to the chase with such tools. This platform accepts audio files up to 100 MB and automatically removes the uploaded files after a few hours of its upload.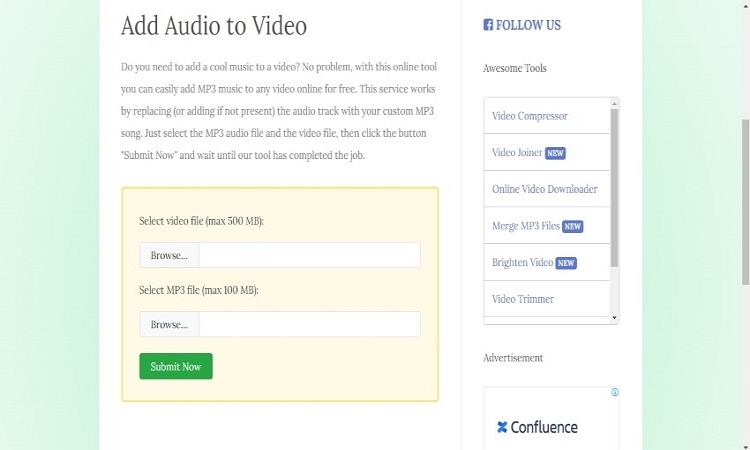 https://www.onlineconverter.com/add-audio-to-video
Online Converter is another simplistic platform to operate on. Users can easily add audio to a video or vice versa by following a few easy steps, including inputting information such as volume and position of the audio. This helps users easily execute their tasks without indulging themselves in difficult situations.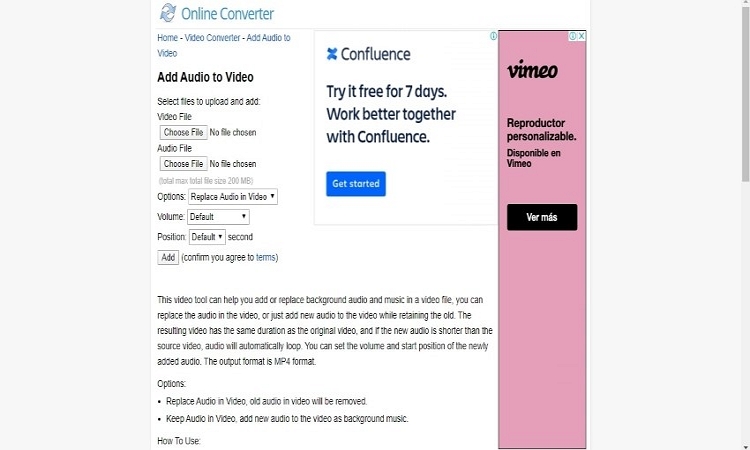 https://www.media.io/
A platform that outperforms every other online available platform in terms of features and accessibility is Online UniConverter. This platform diminishes the need to download excessive video editing tools, providing a complete all-purpose editor to add audio to a video free online. This platform accepts every video format and executes the file in any respective format supplied by the user. Online UniConverter is a secure platform that understands user privacy; thus, it removes all uploaded and edited video content within 24 hours. It is a must-try in online video editing tools, and it surely makes a difference in the general market of online video editing with its interactive user-interface. Three easy steps are to be followed for successfully adding audio into a video.
Importing the Video:The raw video should be imported from the device, or a URL of the video should be shared.
Music Integration:The required music soundtrack is to be first uploaded and then easily trimmed and looped into the video with the help of its easy tools.
Downloading the Video: The video can then be downloaded or previewed easily.
Conclusion
This article provides users with the best available alternatives to add audio to a video free. It keeps in mind that we categorize and draw a fine line between the features of the different online platforms that show how to add audio to video free online.