How to add music to Windows using a video editor. I am aiming to learn video editing to produce content for viewers on social media. Looking at other videos, I became curious how people add music to video using Windows 10 PC? What is the best platform that will allow me to fulfill the said task quickly?
People perform extra activities to groom themselves before they go out into public. This sheer effort is necessary to conduct the daily routine. The same is the case with creating videos for the viewers. If you do not add specific dimensions to it, such as effects, filters, and, most importantly, music, no one would care for the content.
Soothing background music keeps the watcher attached to your presentation, whether on a social media service or any other platform. Similarly, a potent yet simple video editor is essential to ensure the successful completion of an amazing video. This article will share the top 8 editing software names and how to add music to video windows 10.
Part1: Top 8 editors to add music to video in Windows 10
Check out the list stated below to understand the 8 best video editors on Windows 10 that also offer the simplest grounds to add music to video.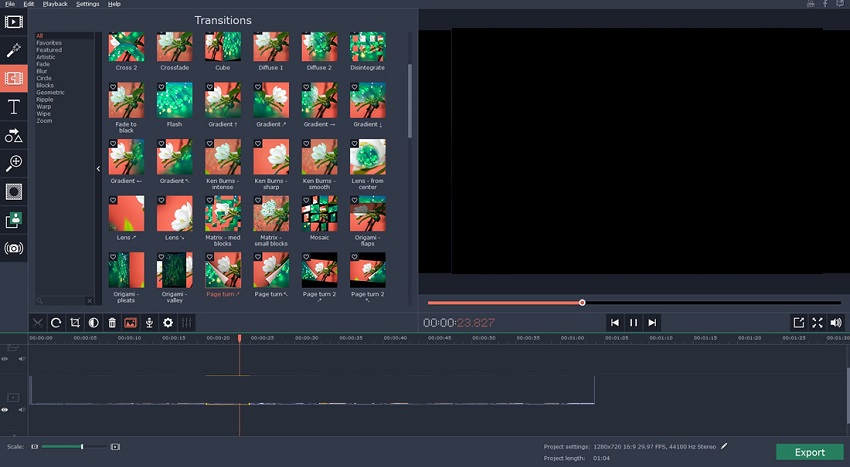 Movavi is a comprehensive solution for low-end PC users to edit videos professionally. You can not only add music to your video but also remove existing annoying background sounds from it.
Moreover, the tool offers several shortcuts that make the whole process faster and efficient. Additionally, you can apply transitions, filters and use built-in templates to make the video seem a whole lot better.
Pros:
All functions are easily accessible from the dashboard.
Cons:
Limited templates.
The free trial does not offer all features of the pro version.
Customer support is not very friendly.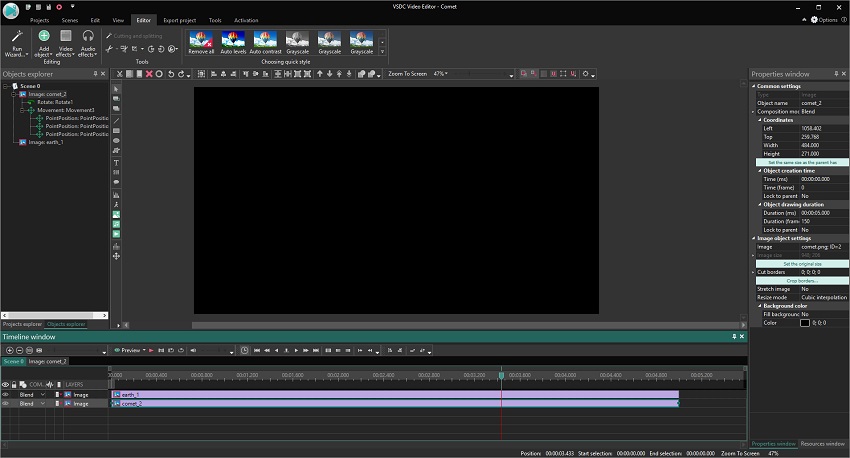 VSDC is another well-known video editor that offers its services for Windows users. You can not only add audio files to a video but also change their formats using the tool. Besides, it provides ample opportunity to import audio effects from the in-built library to improve your video.
Pros:
The visual effects library is breathtaking.
Cons:
No hardware acceleration facility is available.
It takes much time to download video files from the interface.
No voiceover tool!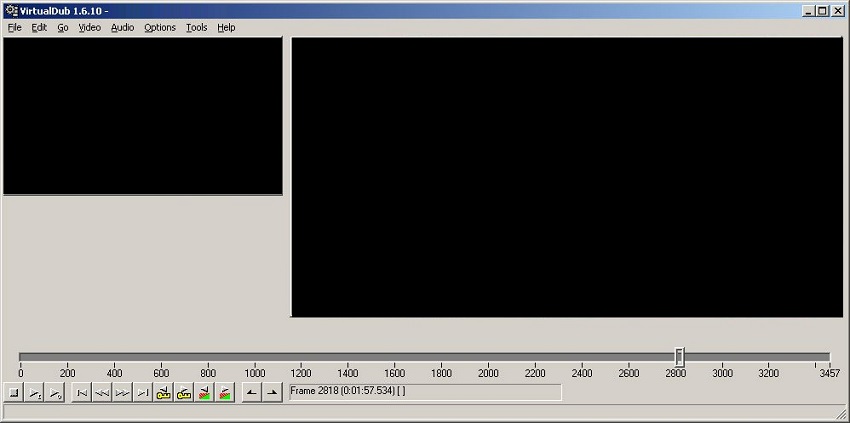 Video editors for Windows are not necessarily free-to-use. However, it isn't the case with VirtualDub. The program is open-source and offers all the much-needed facilities to beautify the video.
You can easily add audio to video, merge multiple clips, apply stunning effects, and trim/crop/rotate a video. Not only that, but you can also compress media files using the tool. It supports pretty much every popular file format as well.
Pros:
It offers noise reduction!
Cons:
The interface needs an overhaul.
It is not suggested for 4K editing.
The tool is not available across other prevalent platforms.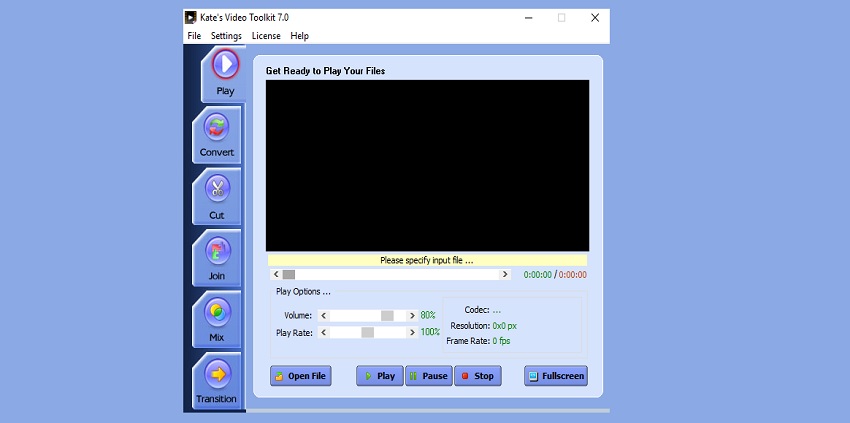 Pros:
Cons:
Not much creative room for editing is available.
No customer support.
The rendering speed is a bit on the slower side.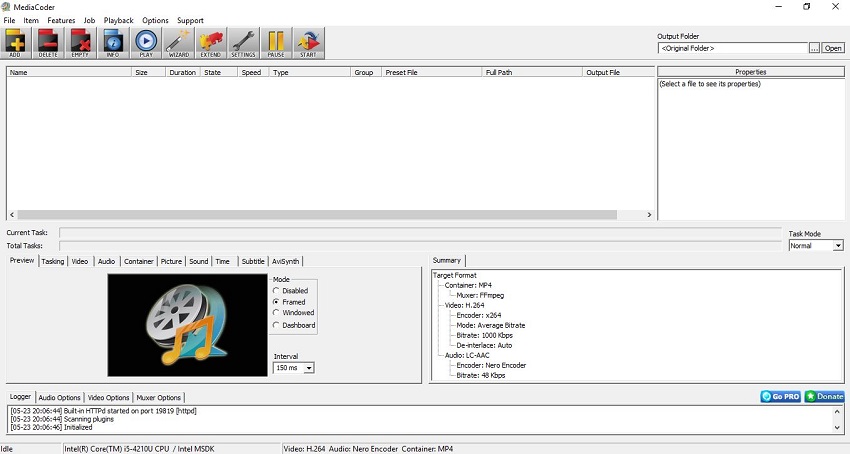 It is a useful transcoding software that can also add audio to a video from the Windows 10 PC. You can convert and compress both audio and video files without any quality loss. Utilities such as trim, crop, flip, cut, and color adjustment is available.
The variety of filters available on the platform enhances the video and makes it attractive for the larger public. Additionally, you can rip the edited video into a DVD. The tool also offers a built-in function to adjust corrupted media files, allowing you to play them again on your device.
Pros:
It is available on all versions of Windows and macOS.
Cons:
The interface could get intimidating for new users.
The processing speed is slow, which could get annoying.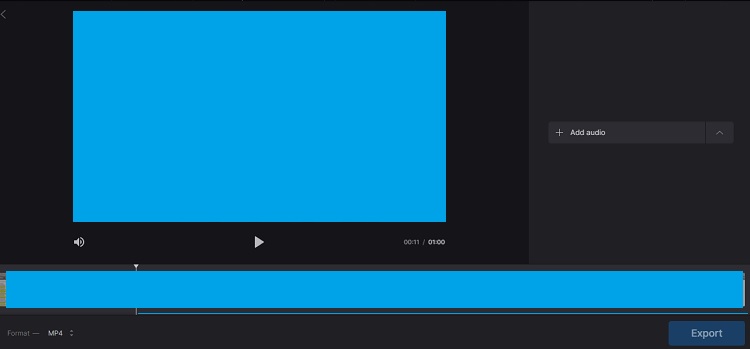 VLC is a household name when it comes to playing media files on various types of devices, including desktops, TVs, and smartphones. However, little do users know, it is a reliable platform to edit videos and audio on a smaller scale.
One of the most-used features is enabling you to instate audio into a video file. You can also perform file conversion and trim/cut files with the VLC media player.
Pros:
Cons:
Limited features are available as it is not a dedicated video editing tool.
The interface is not suitable for video editing.
Not compatible with most file formats.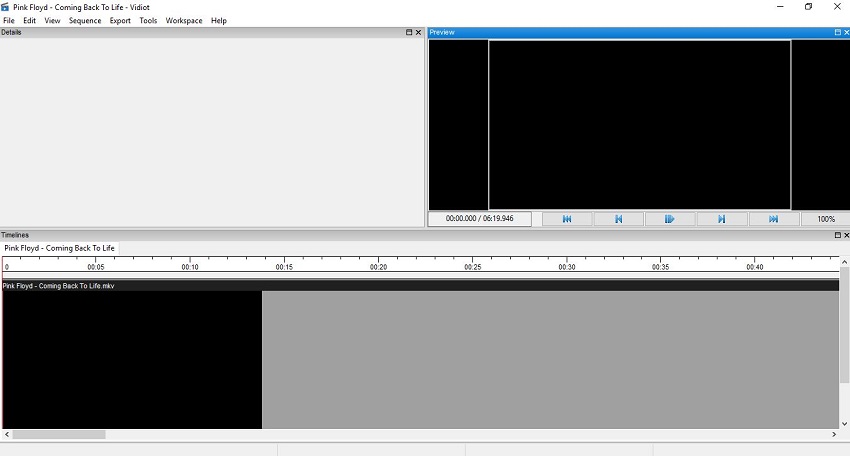 If you wish to do video editing for casual usage, then we suggest choosing this platform. It provides an instant solution to insert any audio song or note into a video. Additional tools include the fade-in/out effect, adding text and images to a media file.
Besides audio mixing, you can also adjust the volume of the existing video and manage its playback speed. Basic tools such as scaling, cropping, and rotation are easily accessible thanks to an intuitive UI.
Pros:
Cons:
It is not well-known.
No technical assistance is available.
It doesn't support macOS.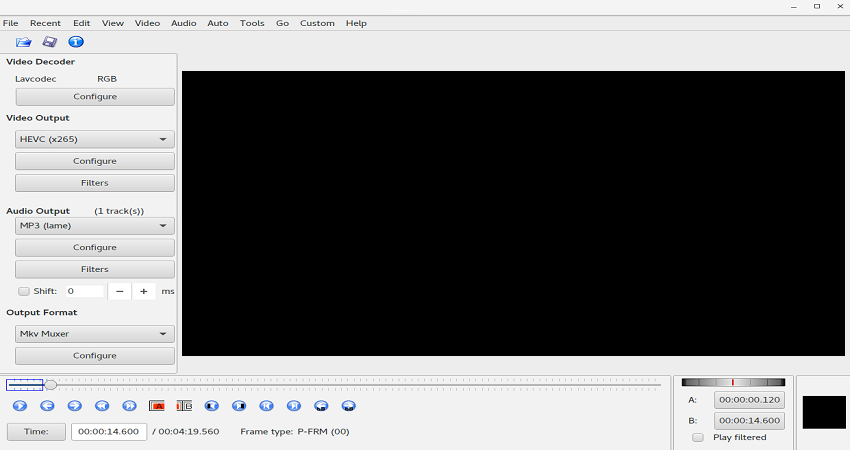 Avidemux is a free platform to manage video files, such as changing their format, adding effects to them, or trimming them down. The service supports every standard file format related to audio and video. Moreover, you can quickly split a video or merge two of them into one with Avidemux
Pros:
Cons:
The converting process can cause some issues or delays.
The interface should be changed.
New updates are not regularly available.
Part2. How to add music to video in Windows 10 using Online UniConverter?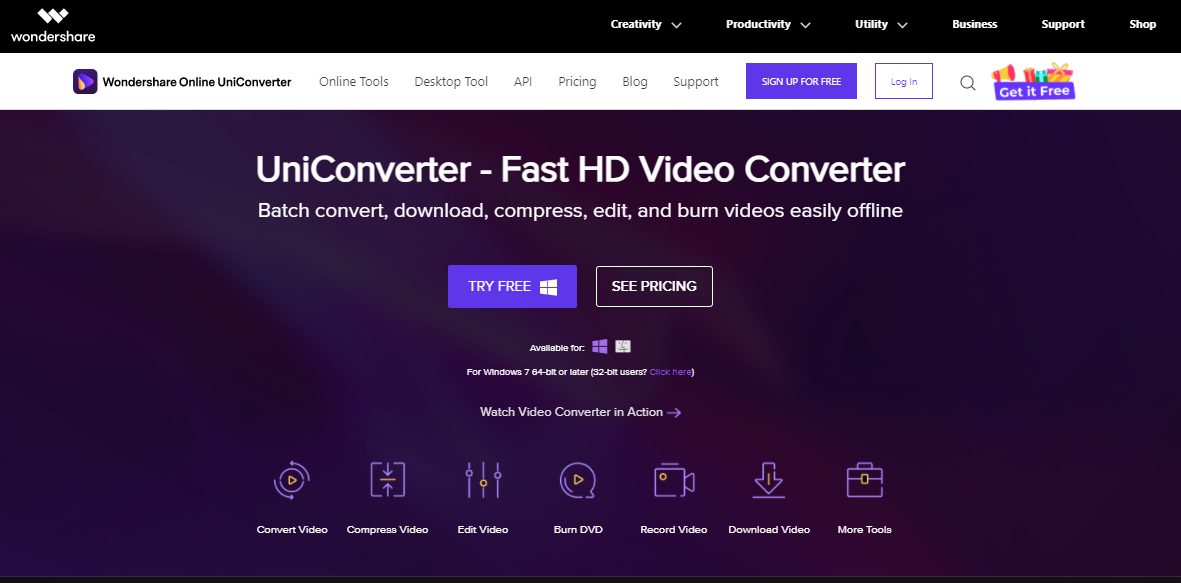 General Windows 10 systems are low-end, and they are not capable of supporting advanced video editing programs. It doesn't mean you can not perform video editing on such devices. The best option is not to install any software and handle the media files using an online platform such as the Wondershare UniConverter.
The reliable platform offers function and utility that you could hope for to make the video brilliant. It also included letting you add audio to an existing video clip. Another advantage of using the service is that you can upload files from the source URL(Youtube) or cloud storage facilities like Google Drive and Dropbox.
You can view a few handy features of the Online UniConverter here:
Cut and join multiple audio files using the tool.
Convert the format of the video and audio files.
You can also turn videos into GIFs.
It lets you increase the playback speed up to 2x.
The platform helps you create looped and reverse videos.
You can mute the audio of a video with the Online UniConverter.
Three really simple steps to add music to video in Windows 10 using Online UniConverter
Step 1: Add the video to Wondershare Online UniConverter
Open the Windows 10 default browser and access the Online UniConverter. From the Add Audio to Video section, hit the Choose Files tab and upload the concerned video to the web interface.
Step 2: Merge music with video
Once the video is uploaded, click on Add Audio and select the music file you wish to mix with the clip. Trim the song, and select an output format for the file. Now, hit Merge before proceeding to the next level.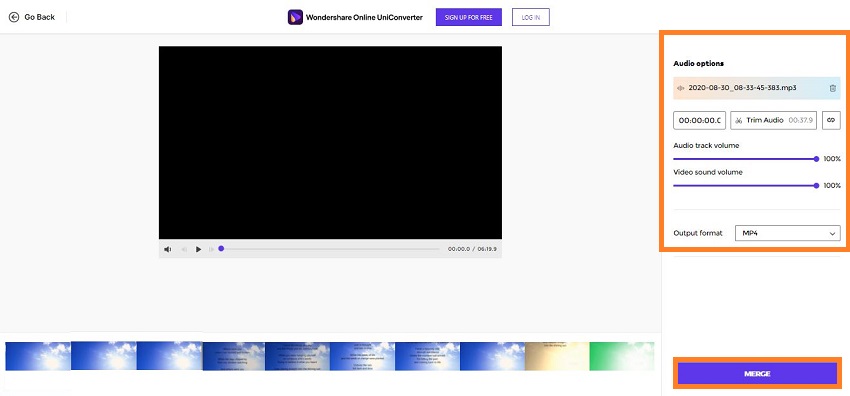 Step 3: Download the music clip
The last step is to save the edited file to your preferred platform. You can store it on your Windows 10 PC by hitting the Download button. However, if you wish to add the files on Google Drive or Dropbox, then hit the downward arrow, and select the respective options.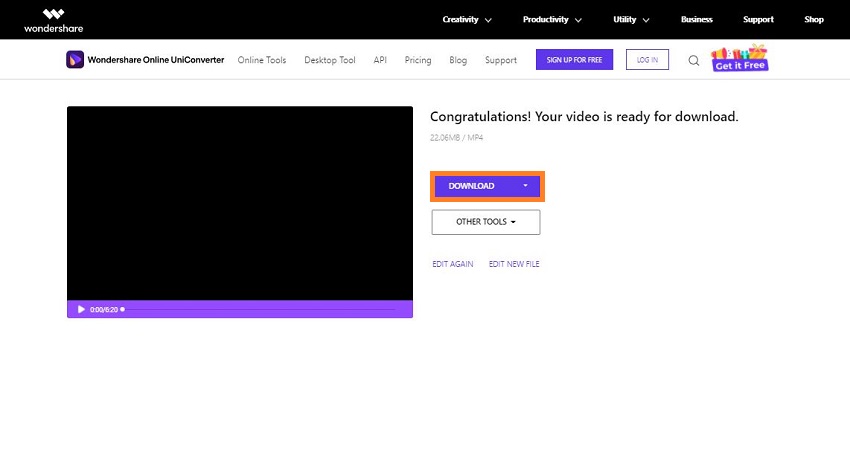 Now you know all about the Online UniConverter and understand how simple it is to add music on a video from Windows 10 system.
Part3. FAQs for adding music to video using Online UniConverter
If you still wish to know a bit more about the Online UniConverter and its workings, then follow the list of FAQs below. We have answered the commonly asked queries by the majority of users here!
Q1: What are video formats accepted by Online UniConverter?
Ans: Much like the desktop version, the Online Converter supports 1000+ file formats and lets you convert to any one of them at an amazing 30x processing speed. The formats include MP4, FLV, WEBM, AVI, MOV, 3GP, DIVX, XVID, MKV, etc.
Q2: Can I edit my music file after adding it to the video?
Ans: It is possible to edit music files once you add them to the online platform. Before you merge the audio with video, you can go to the audio section and trim the unwanted bits of the song, preventing them from adding them to the video.
Q3: What are audio formats accepted by Online UniConverter?
Ans:Every cross-platform audio file type is available and accepted by the Online UniConverter, including AAC, MP3, AMR, WAV, WMA, AIFF, OGG, APE, FLAC, and several others.
Part4. Conclusion
This article has shared the highs and lows of the top 8 most popular video editors for Windows 10. It is your choice to manage or integrate music into a video and which software you think can fulfill the task. However, in the end, the Online UniConverter is the safest choice that lets you add music to video in Windows 10 at a quick pace.
I was unable to work smoothly with high-end software on my 4thgeneration Windows 10 laptop. The system crashed most of the time, and storing video files caused a storage issue.
Introduction to the Online UniConverter put me at ease. I was able to access all features I needed without ever installing any application. Moreover, it allowed me to store my files online on my Google Drive account, which relieved the computer's storage capacity!