If you are in the corporate business world, a student, or working for the government, you can attest that passports are required in the several documents you often fill out. From certificates and forms to brochures and calendars, you'll be required to submit your passport for a variety of reasons. Now, you might also not fall into the category mentioned, but you will, at some point, need a passport for one official reason or another. Since you require these passports often and occasionally, it's easy to run out of them, regardless of how many you may have. Hence, the need for passports becomes essential.
However, you don't need to take a passport whenever you need one. You can always convert picture to passport size instead of going through the hassle of retaking another passport. This saves time and money because all you have to do is get an already existing picture, crop it into a passport, and use it whenever the occasion demands. With some handy online tools, you can easily do this in a matter of minutes.
In this article, you'll discover some of the best online applications that will help you change photo into passport size for free, even if you are a novice with computers.
Part 1: What are the Requirements of the US Passport Size
Before converting normal photo to passport size, there are requirements you must note. A US passport-size photo, according to the US embassy, must meet the following specifications:
The photo must be size 2 x 2" (5 x 5 cm).
The background of the photograph must be white.
Photographs must be recently taken or not older than six months.
The applicant must face the camera, and both ears must be visible.
The applicant's head in the photo must align between 2.5 and 3.5 cm in vertical measurements.
Shadows are not allowed in the picture; the photo must be taken during the day.
Smiling faces are not permitted - the face must be neutral.
Military, traditional, or professional attires are not allowed.
In addition, the passport has to be a full facial representation of the person, with the person's head occupying 50% of the area of the photo. The person must be facing the camera and not anywhere else, and the face should be clear with no sunglasses. However, there could be exceptions on the use of head coverings for religious purposes, provided they do not cover the face. Exceptions could also be made for medical reasons, like the use of eye patches or plasters.
The US passport size is often used as the standard for passports because its specifications meet international requirements. Hence, it can be used for any professional document, both locally and internationally.
Part 2: Best 5 Tools to Change Passport Size Photo Background
You can convert image to passport size for free with these online tools that get the job done and make it look so easy. Whether you're a newbie to online picture editing, these tools will help you create a passport out of your pictures in just minutes while meeting the right specifications.
Media.io is an easy-to-use online tool that helps you change pic to passport size without much stress. It features a seamless user interface that makes it easy to navigate and use. Provided you can read and understand simple English, you can find your way around the website to convert your image into a passport. Plus, you can change the background of your photo to white, which is the standard for US passports. So, you don't have to sweat it if your background isn't white or take another picture. The website is a one-stop online platform that offers easy-to-use functionalities to easily convert image into passport size free for use in various documents, including ID cards, visas, resumes, business cards, etc.

Key Features
Offers different passport size templates ranging from the official standard measurement of 2x2, 3x4, 4x4, 4x6, 5x6, etc.
Automatically changes the background color to white with an in-built background eraser feature.
Generates ID cards, business cards, and resumes beyond a converting image to passport.
It offers the ultimate picture tool for easy editing, cropping, adjusting, and aligning photos.
User-friendly interface to simplify the photo-to-passport conversion process and save time for users.
It also supports on-demand background color changes to meet various needs.
Pixelied is one of the best online tools to get the perfect passport for your documents, with guaranteed acceptance anywhere. With this online tool, you don't need a picture to upload. You can take one right there online and convert picture to passport size free. The process is so simple that you can get it done in less than a minute. You have nothing to do aside from taking the picture online or uploading your picture to the platform. The AI does the rest of the job, including sizing, processing, background removal, and replacing the said background with a white option. Also, Pixelied will deliver the final passport output in crisp-clear quality and the right jpg format.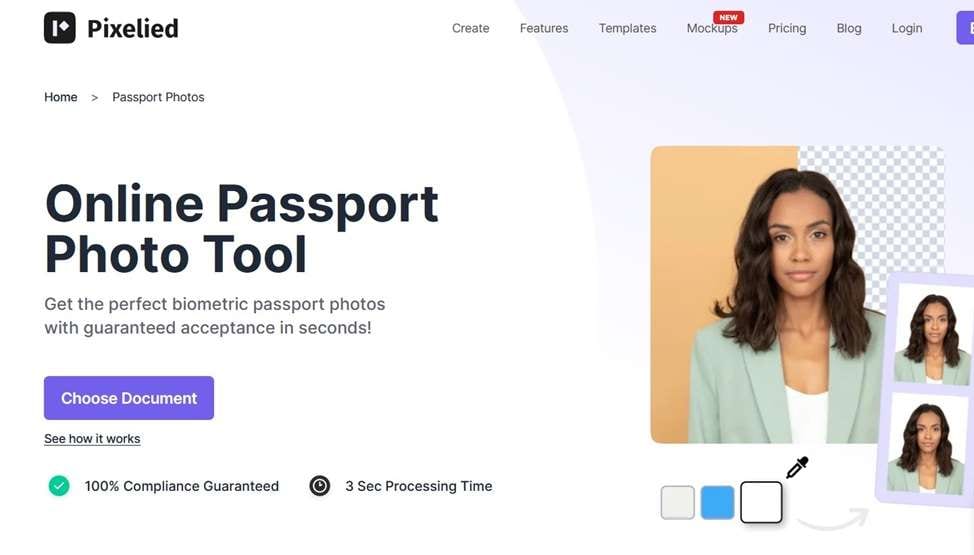 Key Features
The user interface is simple, allowing users to easily upload, take pictures, and change photo to passport size free.
Fast processing time - less than a minute.
Features a background changer that automatically replaces any other background with white.
It supports an in-built camera so users can take pictures online without uploading.
Completes a verification process to ensure the image corresponds to the US passport standards and specifications
This online photo editing tool enables users to easily upload and convert image to passport size photo in less than a minute. Beyond US passport sizes, you can also convert your existing photos to UK and Australian passport sizes. Plus, you can create passports out of pictures for different purposes and according to different requirements from the site. Also, downloaded passports arrive in premier, high-resolution formats, ensuring that printouts aren't blurred or looking defaced. Furthermore, users can get their photos in their preferred backgrounds, such as white.
Key Features
High-resolution (600 pixels) downloads for all converted passports
Automatic background changer on all photos, replacing them with white backgrounds
Features an easy-to-use user interface for seamless uploads, conversions, and downloads
Can convert passport size photo according to specifications of over 50 different countries
Passportphoto Online is a passport photo-size online editing tool that easily converts ordinary pictures to standard passports. Users can change photo into passport size in less than 3 minutes by taking a photo on the site or uploading their photos. The online tool takes it from there and presents a ready-to-use, standard, printable passport. This online photo editing tool boasts a 200% guarantee rate, implying that your passport will never be rejected for failing to meet the standards. This is because the AI for sizing and processing passports on the site ensures it meets all the requirements for a US standard passport with an inclusive white background. Plus, it's easy to use.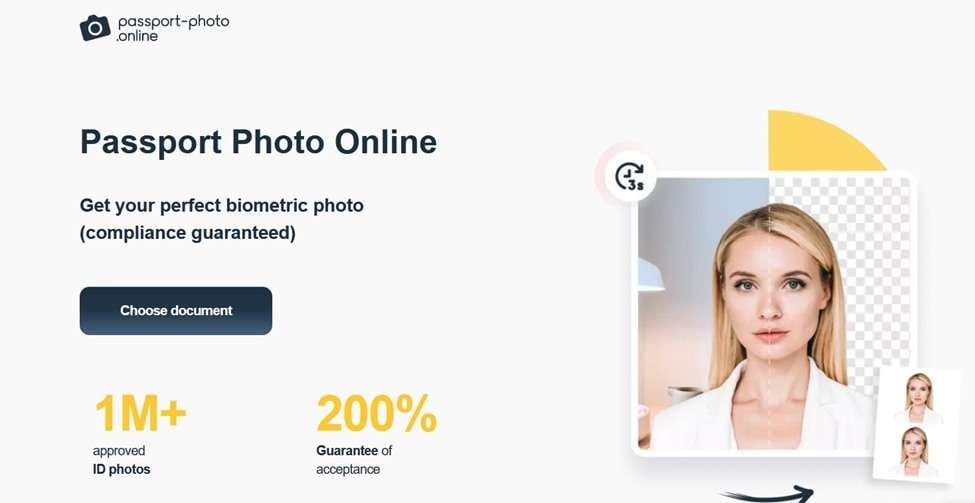 Key Features
Offers downloads of digital versions, and users can order the printouts.
Users can take or upload photos right on the site, making it easier to generate passports on the go.
Features a user-friendly interface for seamless navigations, uploads, and downloads.
Premium quality downloads of converted photos in the user's formats.
Automatic conversion of any background color to white.
Fotor's passport photo editor helps users to easily convert picture to passport size free and download in their desired formats. The process is without hassles as all one needs to do is upload the photo and follow a few understandable prompts. Users can also increase the brightness of the passports and choose from 3 different templates, including the standard 2 x 2" for US Passports. These templates eliminate the need to start cropping the picture and save time. After the conversion, you can download your premium digital passport for clear printouts. In addition, this online tool automatically removes any background in your uploaded picture and changes it to white, saving you time and effort.

Key Features
Automatic white background replacement for all uploaded pictures
Offers three different passport size templates, including the US standard 2 x 2".
Converted photos appear in sharp digital quality after downloading and printing them.
Beyond passports, Fotor helps users create perfect portrait pictures for ID cards, business cards, and resumes.
Part 3: How to Convert a Photo to US Passport Size Using Media.io
Converting a normal photo to passport size is a breeze using media.io. Simply follow the below steps to get it done.
Step 1: Upload a Photo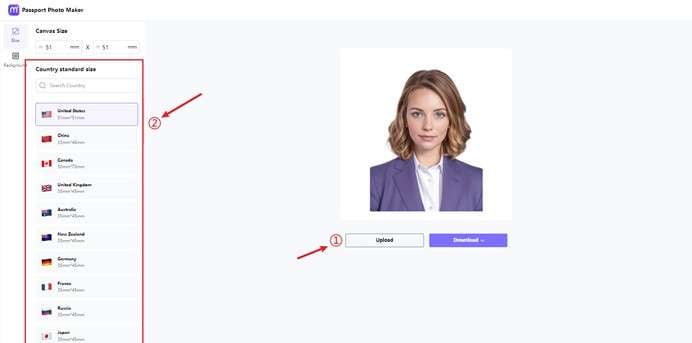 Go to Media.io Passport Photo Maker and upload the photo you want to convert to a passport. If you don't have one, you can take a photo with a digital camera or smartphone and upload it.
Step 2: Choose a Template Size
There are several templates of different sizes to choose from, which takes away the stress of cropping the image. Choose from the options you'll find after uploading. The standard for US passports is 2 x 2", but you can choose other countries if you don't want the US passport.
Step 3: Allow AI to Do the Magic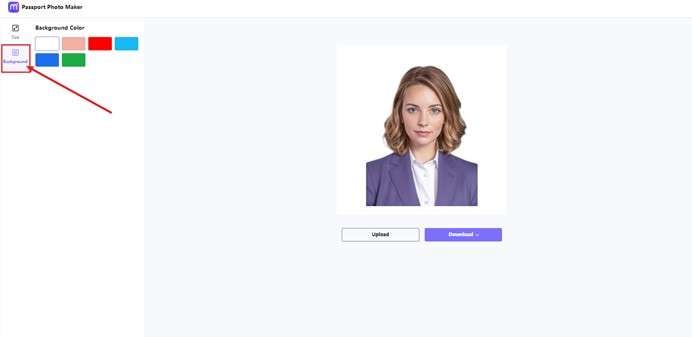 After choosing your preset size, allow the AI to work its magic on the photo. It will centralize your face in the frame and change the background to white if it isn't.
Step 4: Download and Print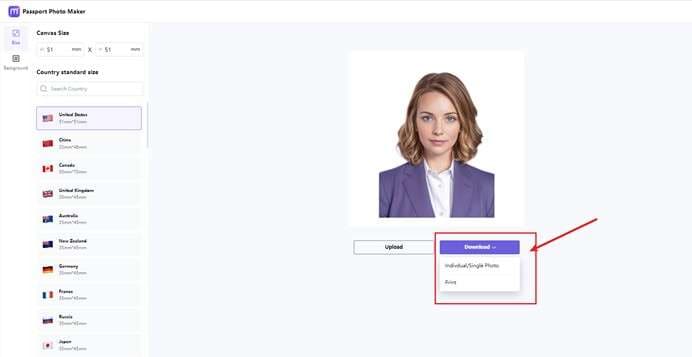 When the AI is done processing your photo based on your selection, you can click the download button to generate your passport photos. You can also download a single passport or multiple passports combined in a single sheet of printable passport format.
Conclusion
Mastering the art of converting a photo to US passport size is a crucial skill for many individuals, whether it's for official documents or personal use. In this post, we have explored the standard requirements for US passport size and offer five of the best tools to help you achieve this task seamlessly.
Firstly, we discussed the power, versatility, and convenience of Media.io, a professional-grade tool capable of fine-tuning your photos to meet US passport size requirements. Secondly, we emphasized the user-friendly interface and accessibility of online tools such as Pixelied and 123passportphoto, making them suitable options for those without extensive editing experience to change image to passport size.
Lastly, we delved into the unique features of Passportphoto Online and Fotor, allowing users to precisely adjust background removal for optimal results.
Whether you're a photography enthusiast or simply in need of compliant passport photos, these tools offer a range of options to convert image into passport size with ease. Experiment with these tools to determine which one aligns best with your requirements. And you will be prepared to effortlessly convert your photos to US passport size for any official or personal purpose.