Everyone enjoys digital art as it provides an opportunity to create stunning artwork. There are platforms where users can create such artwork and bring their creativity. While downloading the images, these platforms apply their watermarks which is annoying. It's important to delete the watermark online because it makes the picture clearer and more attractive.
In this article, you will find 10 popular remove watermarks from image online tools. Using these tools, take complete access to your visual content by removing watermarks.
Part 1. How to Select the Best Online Watermark Remover Tool
Removing watermarks from your images is necessary to drop underlying restrictions. This way, you can upload and share your images on social media channels without problems. To remove watermarks, you need to use a remove watermark online tool. But there are some factors to choose the best image watermark remover. Learn about these factors by reading the points mentioned below:
1. Output Quality
It's essential to check the quality of the image the tool produces. After all, the better image quality is, the more engaging your image will be. Thus, check that the selected tool doesn't degrade the resolution of the picture. With better quality, you can share the image without a watermark on social media.
2. Batch Processing
Check that the chosen online tool offers batch process functionality. Under this scheme, you can remove watermarks from different images at once. Hence, this will save you valuable time and resources. Meanwhile, your watermark removal process becomes efficient and quick.
3. File Size Limitations
An excellent online watermark remover must be free of any file size limitation. Thus, you can upload any image within any file size without worries. This will make you more productive while dealing with your watermark images. The image downloading process also simplifies.
4. Customer Support
You need to check if an online image remover has customer support. After all, customer support can offer solutions and answers to your queries. So, if you face a problem within your image removal process, support staff will help. Meanwhile, also find if support staff offer timely responses.
Part 2. Author-Recommended Best Tools to Remover Watermark from Pictures Online
You'll find several remove watermarks from photos online free tools on the internet. Thus, it becomes difficult to choose the right option. Making things easier for you, find the best delete watermark online here:
Meet AniEraser, a trusted solution to remove watermarks from images. Using this best remove watermark from pictures online tool, watermark removal becomes simplified. The platform comes with AI-powered technology that removes image watermarks with accuracy. You must select the area that needs removal, and AniEraser will begin the object removal process. Meanwhile, the platform is simple and easy to use.
In the watermark removal process, the quality of your image won't get affected. Thus, your photos won't get blurry or noisy with reduced resolutions.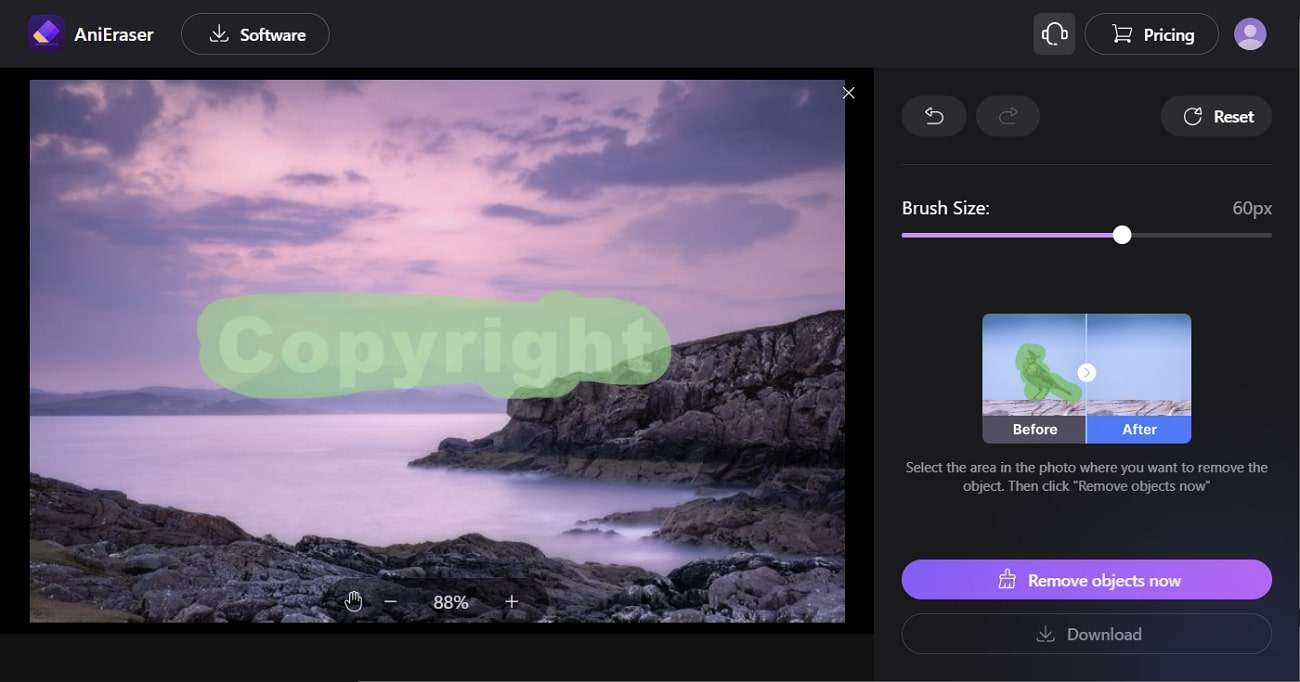 Key Features of AniEraser
The available cross-platform support makes AniEraser a superior choice. Thus, use this platform on iOS, Web, Windows, and Mac with one premium account.
With the available brush tool, you can adjust the size of object removal. This way, customize your object removal as needed.
There is a batch processing facility in AniEraser. So you can remove watermarks from 5 images at once.
Remove watermarks from images in a magical way using Apowersoft Watermark Remover. This online delete watermark application makes watermark removal easy and efficient. Meanwhile, there are three watermark removal tools that you can use for customization. It's possible to remove watermarks from any part of the image. The entire process of removing the watermark takes a few minutes.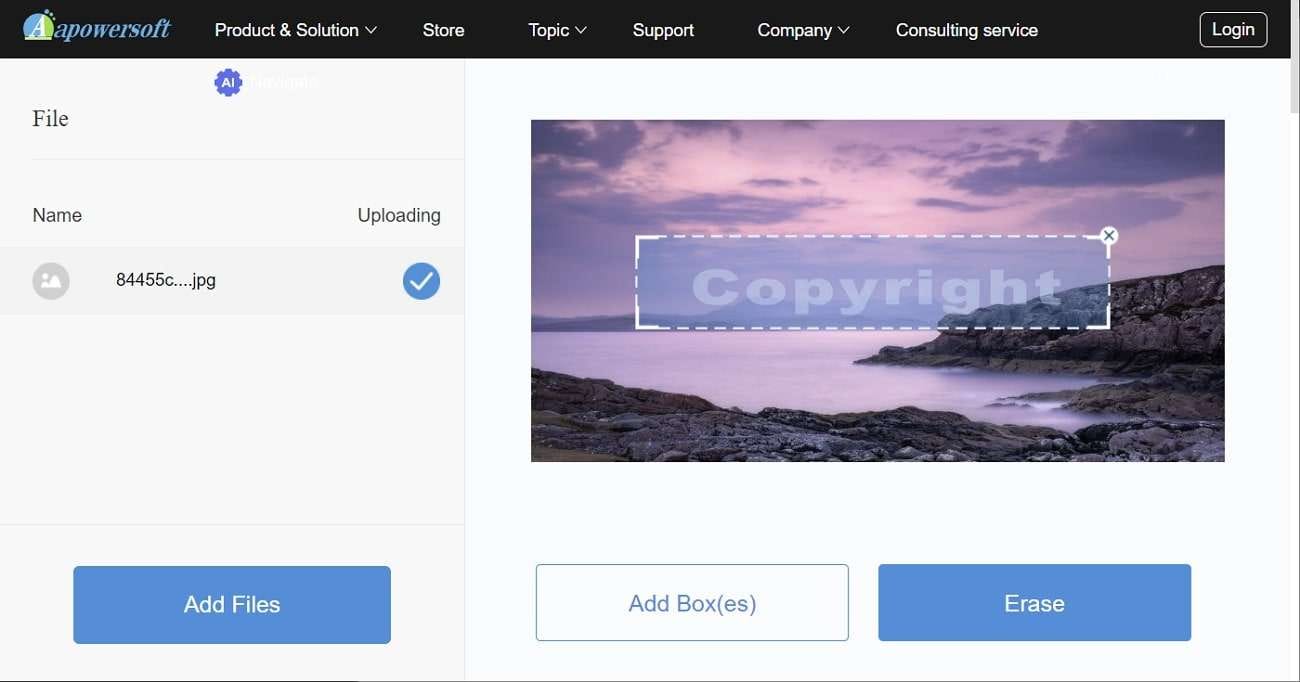 Key Features of Apowersoft Watermark Remover
You cannot only remove watermarks. You can also add text or images as watermarks into images.
The original quality of the image gets preserved after watermark removal. Thus, continue to share with friends or upload on social media.
It supports different image file formats to get started with. Hence, there isn't any restriction to use specific images.
Free your new artwork from annoying watermarks using Inpaint. This removes watermarks from images online tool can smartly deliver watermark-free pictures. You can use this tool on mobile and desktop devices to remove watermarks. After uploading the image, highlight the removal area and press erase to remove the watermark. You will not face any problems using this online watermark remover.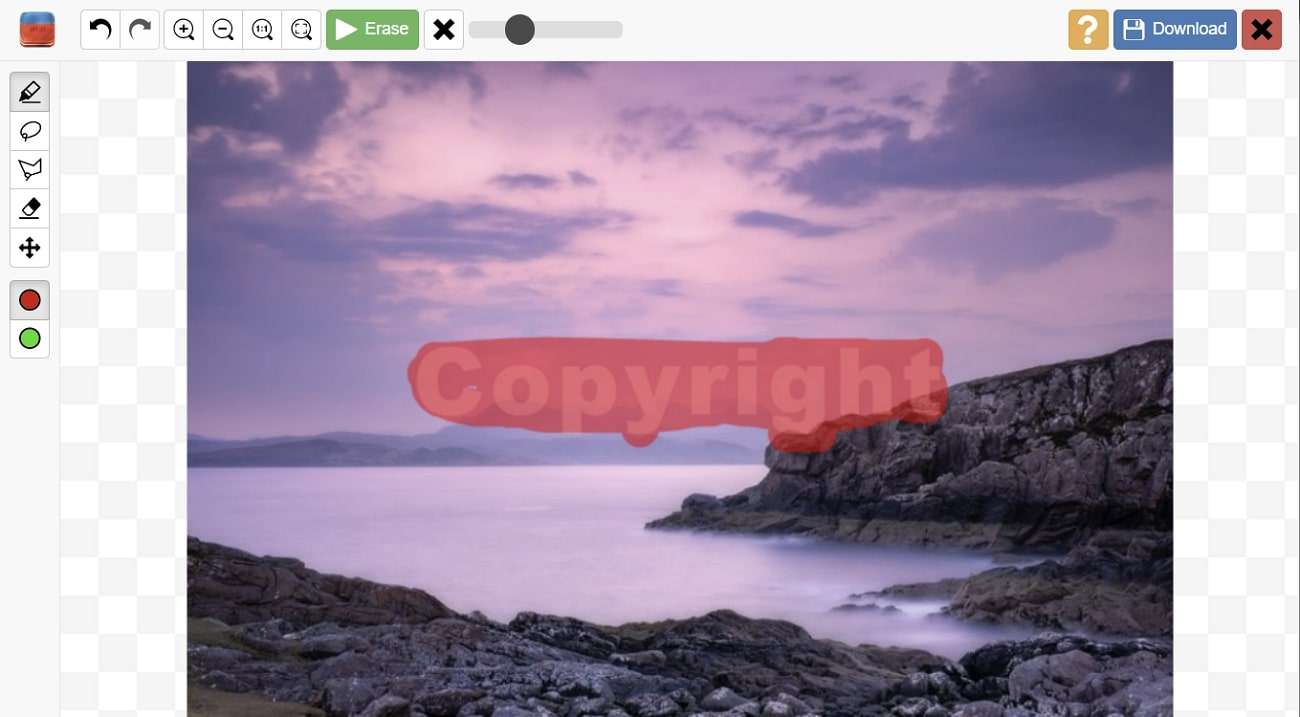 Key Features of Inpaint
The platform supports 10MB maximum file size, which is great. Hence, you don't need to compress the picture first.
Supported image formats include PNG, JPG, and WEBP. All these image formats are popular because of lossless quality.
The maximum supported image resolution is 4.2 megapixels. Thus, experience high-quality image watermark removal.
Free your created artwork or Picasso from the watermark. After all, Aiseesoft Watermark Remover is an ideal choice to erase watermarks within seconds. The platform uses AI technology to remove watermarks or unwanted objects. You just have to upload the picture and highlight the removal area to remove the watermark. This delete watermark online tool is also free to use for the first two images.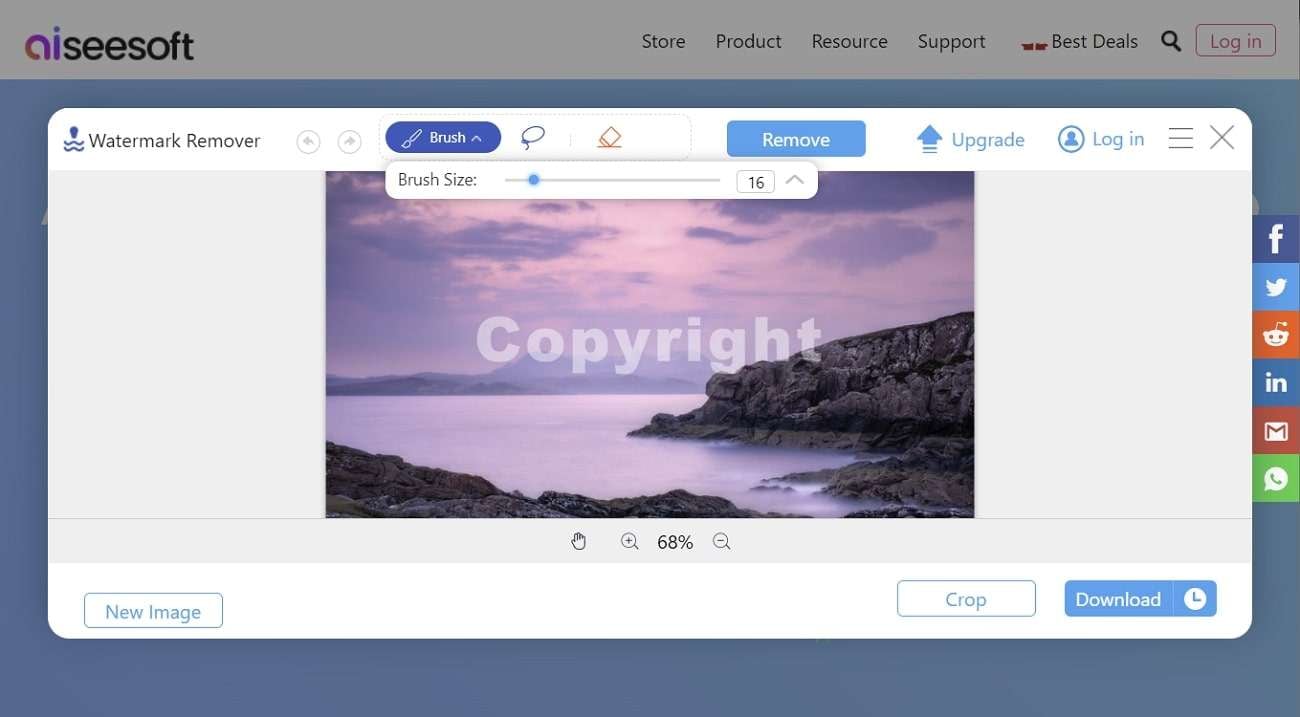 Key Features of Aiseesoft Watermark Remover
Don't worry about your data privacy since your images get deleted after the watermark removal. This enhances data protection as well.
The original quality of the photo remains preserved during the watermark removal. Thus, you don't need to upscale or enhance the image again.
The supported file formats include PNG, JPG, BMP, JPEG, TIFF, and others. Hence, there isn't any restriction on selected images.
HitPaw is a specialist tool that can help you to remove watermarks from pictures online. By using this watermark remover, delete all types of watermarks from images. Thus, annoying logos, text, and stamps on your photos are no longer there. Within HitPaw, embedded AI technology detects and removes watermarks with accuracy. As a result, watermarks get removed without causing blur.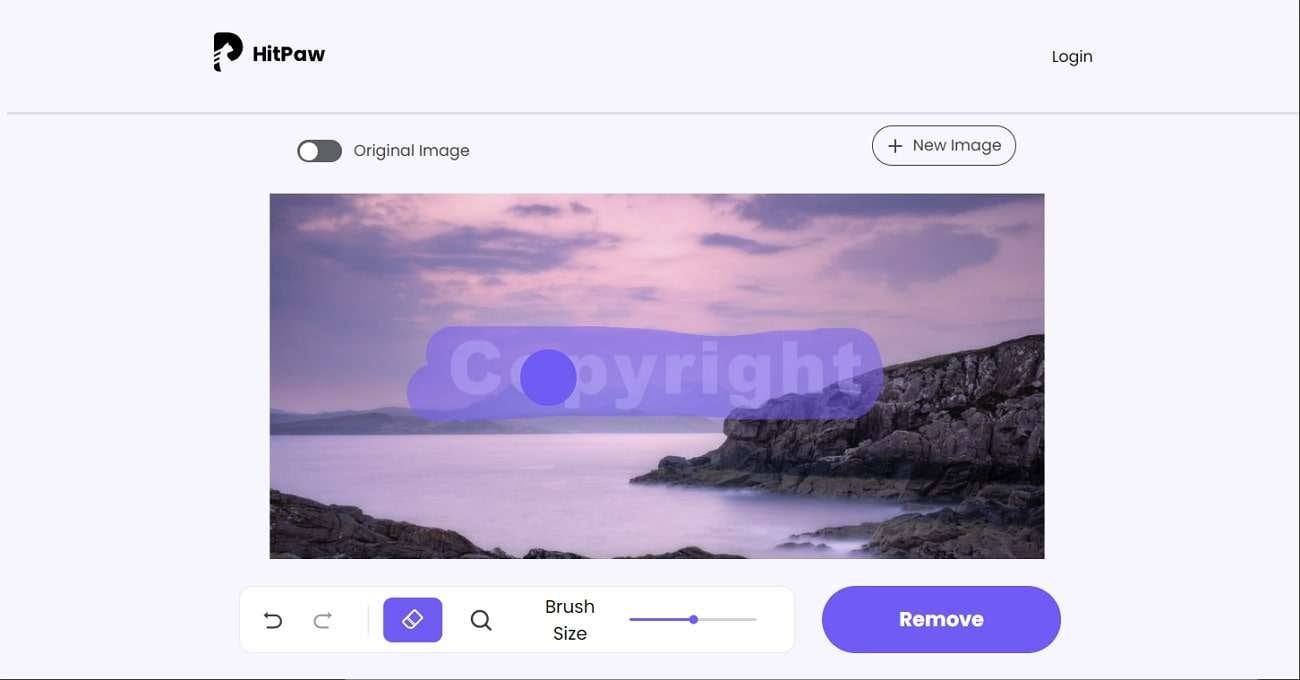 Key Features of  HitPaw Image Watermark Remover
Experience fast and quick watermark removal that takes less time to execute. Thus, you'll get your watermark deleted image in a quick time.
Customize your object removal by adjusting the thickness of your brush size. Hence remove desired watermark area in a convincing way.
There is also an option to try available stock images for testing object removal. This restores your interest in watermark removal service.
Removing watermarks from images in different ways is no longer a problem. It's possible with Tipard Picture Watermark Remover because of its AI technology. By using this remove watermark from image online tool, watermark removal becomes simplified. Upload the image, select the tool and area, and remove the watermark. Moreover, you can also remove text, logo, or image watermarks without hassles.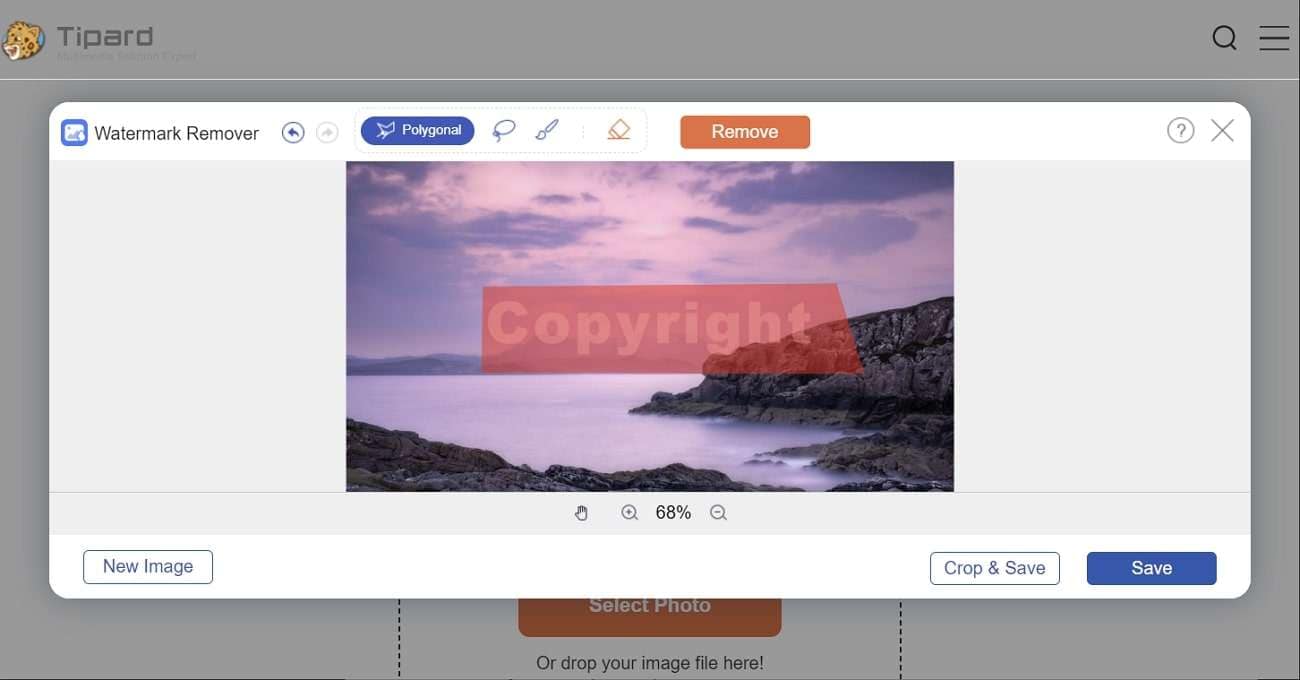 Key Features of Tipard Picture Watermark Remover
Three types of watermark-removing tools are available in this tool: Polygonal, Lasso, and Brush. This allows you to remove all types of watermarks.
You can also erase the selected area for object removal. This is ideal if you selected the wrong area for watermark removal.
The option to crop images also exists after removing the watermark. Thus, customize the size and layout of your image.
Vidmore Watermark Remover is also a web-based delete watermark online tool. Using this facility, process image watermark removal in a quick way. After all, the processing speed is very fast and efficient. Meanwhile, you can remove text, logos, images, and other watermarks. The supported file format includes PNG, JPG, JPEG, TIFF, and others.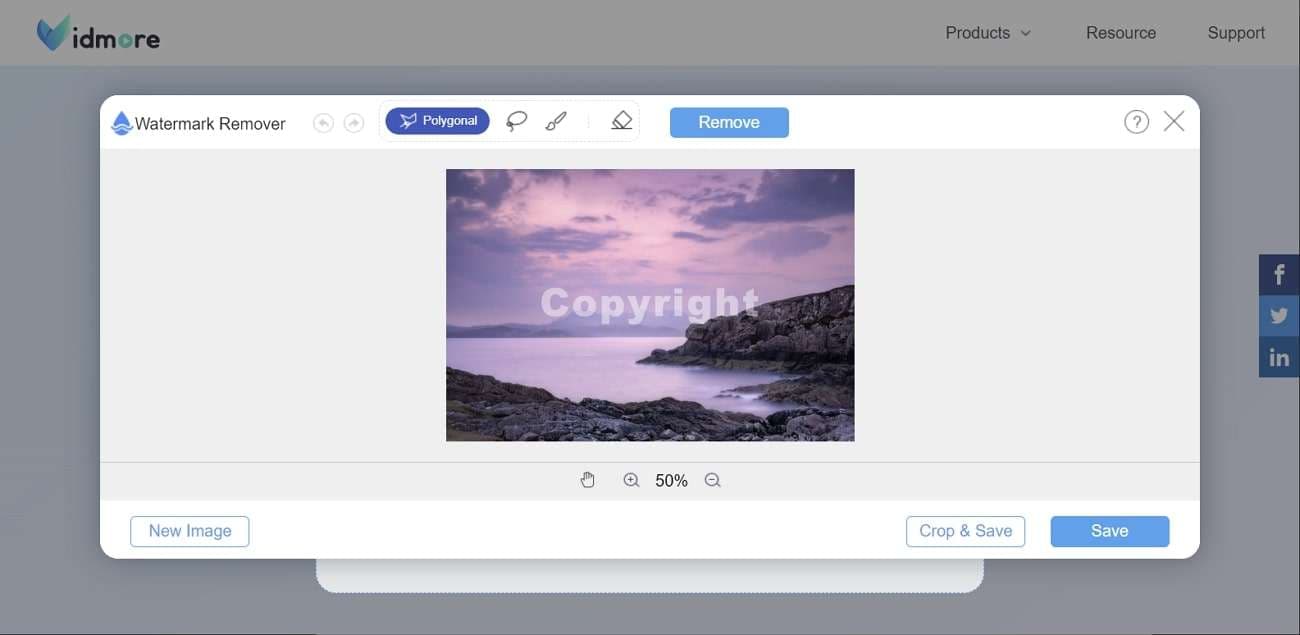 Key Features of Vidmore Watermark Remover
You can also remove TikTok, Vidmore, and SnackVideo watermarks from the screenshots you have taken for your cover photo.
If many watermarks exist on your image, remove them all in one batch. This batch watermark remover feature can save you time as well as effort.
With the simple interface, using this online watermark remover is very easy and convenient. Even a beginner can operate this platform.
No more problems with watermarks in photos when you use Fotor Watermark Remover. This removes watermarks from photos online free tool is fast and efficient. Meanwhile, there exists innovative AI technology that detects and removes watermarks automatically. Hence, by brushing the desired area, your watermark will get erased. Afterward, you can enjoy uploading and sharing your artwork with friends.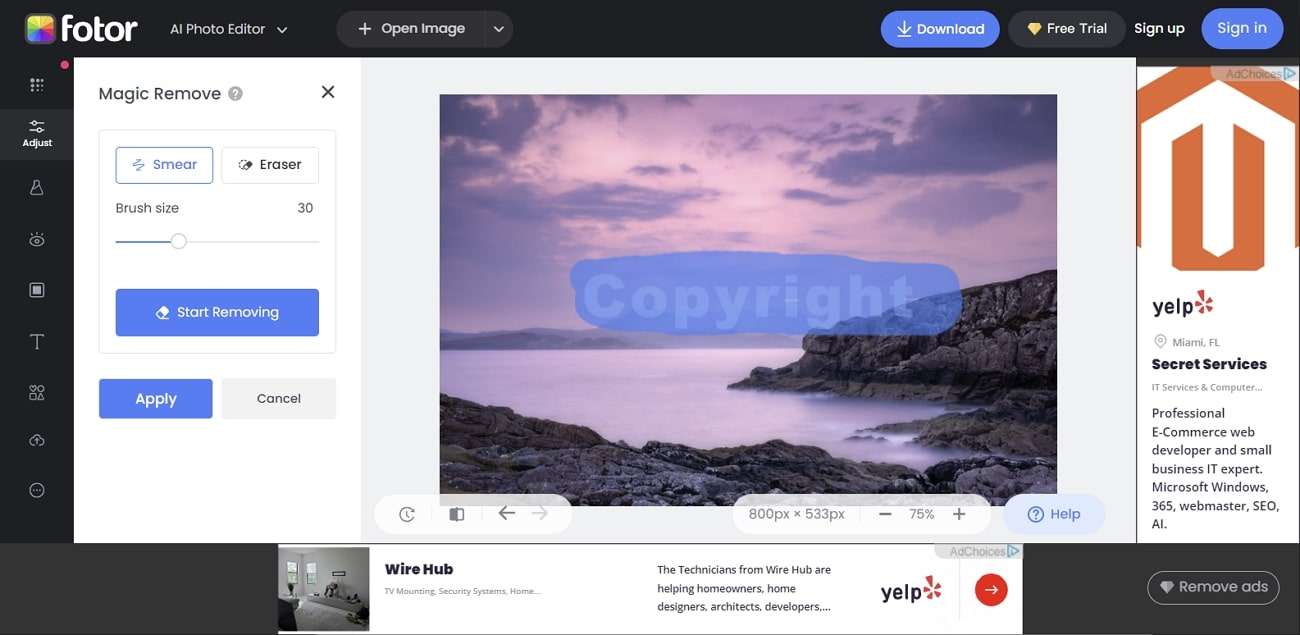 Key Features of Fotor Watermark Remover
The quality of your photo or image is not compromised in the watermark removal process. Thus, you'll get well-detailed visual content.
Not only watermarks, but you can also even remove background people in your photo. This ensures wider possibilities to enhance visualization.
There is an option to crop the photo or even apply effects to it. Hence you can customize your watermark photos with more adjustments.
WatermarkRemover.io is an ideal way to erase annoying watermarks from images. This watermark remover online facility erases translucent watermarks. The available AI-powered algorithms will scan, detect and remove watermarks. In fact, the watermarks get detected through automatic area detection. The process gets executed with accuracy, so image quality isn't ruined.
Key Features of WatermarkRemover.io
The color of your watermark gets segregated front image's background. This is essential for maintaining high-quality image resolutions.
You can both upload images and paste the URL of your artwork. The goal to remove the watermark remains consistent and persistent.
All popular image file formats get supported on this online watermark remover. This includes PNG, JPG, WEBP, and JPEG.
AnyMP4 is a trusted remove watermark from image online application. Thus, you can remove text, logos, stickers, and other watermark objects. With a simple set of instructions, the AI will begin erasing watermarks in an efficient way. The supported image file formats include JPEG, BMP, PNG, and JPG. By using a brush or lasso, select the removal area to erase objects.
Key Features of AnyMP4 Watermark Remover
You can crop your watermark image to set the desired layout and dimensions. The aspect ratio can get adjusted as well.
The uploaded images get automatically deleted after 24 hours. Thus, your data privacy remains intact throughout.
To maintain picture quality, the removed watermark area gets repaired. This helps maintain original graphics and resolutions.
Conclusion
To sum up, there are various image artwork creators on the internet. Hence, users can make stunning portraits, Picasso, or any art. Meanwhile, downloading these images could get problematic because of the watermark presence. In this regard, using a watermark remover can get helpful. This article discussed 10 popular remove watermarks from photo online free tools. Amongst all, AniEraser is a perfect yet reliable solution to move further.