What the person is saying in the video, when displayed in the form of text on screen, is termed subtitles. Subtitles help you to watch dramas and movies in other languages with a better understanding. However, sometimes, when you watch a movie in your mother language, subtitles begin to bother you. That is why you may need to remove subtitles from the video.
You can do this by using well-grounded subtitles removal. There are two ways to do this, including removing subtitles from the video by using VLC and AniEraser. The discussion below will guide you to a further extent regarding these scenarios.
Part 1: Reasons To Add and Remove Subtitles From Videos
Subtitles are a common part of every video. Yet sometimes, users need to remove subtitles from MP4 video files. Other than this, some users cannot watch videos without subtitles, so they need to add subtitles. Still, knowing the reasons before adding or removing subtitles from the videos is essential. The understated points will help you regarding this issue:
Reasons to Add Subtitles to a Video
Following are some of the reasons that will help you understand why subtitles are important and why you should use them in a video:
If you are watching a K-drama and speak English, you obviously need subtitles in English for better understanding. Thus, subtitles can enhance the accessibility of a video.
With subtitles, viewers can understand information more swiftly. Moreover, they are also prone to remember information better with subtitles instead with no subtitles.
Subtitles not only enhance the aesthetics of video, but it also helps improve the SEO of any type of video file. Furthermore, search engines can also access and index videos flawlessly with it.
Nowadays, watching dramas and movies in other languages is very easy, thanks to subtitles. Now, you can not only earn views in your country but can also get views from other countries with subtitles.
Reasons to Remove Subtitles From Videos
Want to know why people remove subtitles from MKV videos? Check out these reasons to learn why you should remove subtitles from videos:
An untidy displaying of text over the screen can lead to irritable clutter. It frequently happens if the text comprehends multiple lines. Thus, it can be a significant reason to remove subtitles from video.
When added with third-party applications, subtitles can be equipped with errors and mistakes. It can lead to confusion and interpretation of wrong information.
If you are English spoken, will you need subtitles to watch movies in the English language? Obviously not. So, you can watch movies in familiar languages without using subtitles.
Adding layers of subtitles in a video can lead to tech issues. Sometimes, the text does not synchronize with the audio or display correctly because of formatting issues. So, you may need to remove subtitles on these occasions.
Part 2: Major Differences Between Hardsub vs. Softsub
No doubt that subtitles are a very crucial component for the success of movies and videos. The point to note here is that subtitles comprise two significant types. These types are hardsub and softsub. You can use these types of subtitles as per your requirements. To know more about the usability of hard and soft subs, have a look below:
What is Hardsub?
If a subtitle is burnt in the video permanently, it will be termed hardsub. You cannot cut out the hardsub from the video. Hiding hardsub from the video is also not possible. This type of subtitle is mostly professional and contains higher accuracy values. However, you cannot edit and replace the hardsub of a video.
What is Softsub?
If the subtitles are overlayered over the video and mostly give the look of captions, it will be termed softsub. You can add and remove softsub in any video without facing any complications. It is widely used in movies and international TV shows to attract viewers globally. It can be added by adding subtitles files in a raw video file.
Part 3: How To Remove Softsub From Videos Using VLC
VLC is a popular and open-sourced media player that is widely used to play all types of video files. This exceptional media player supports audio and video compression methods, so you can watch a video with it. Moreover, it does not require internet access, so you can watch videos without worrying about long buffering.
If you can relate to any reasons to remove subtitles from the video, you must be looking for ways to actually do it. Many users don't know that with VLC, you cannot just watch videos but can also make changes in subtitles. If you want to know how to remove subtitles from a video by using VLC, the below-given instructions will help you:
Step 1
Access VLC on your device and click on the "Media" tab from the above panel. After this, select "Open File" and import the video of your choice.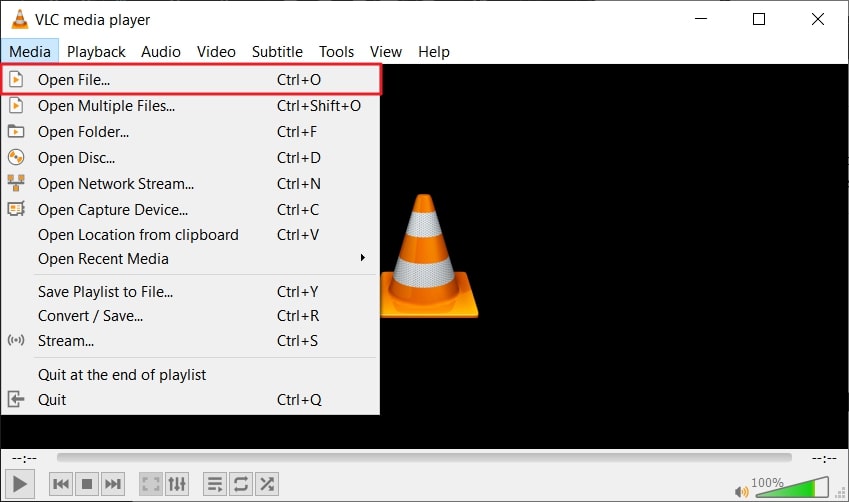 Step 2
Once the video is imported to VLC, right-click on it and click "Subtitle." Access the "Sub Track" option from the "Subtitle" sub-menu and choose "Disable" to turn off subtitles.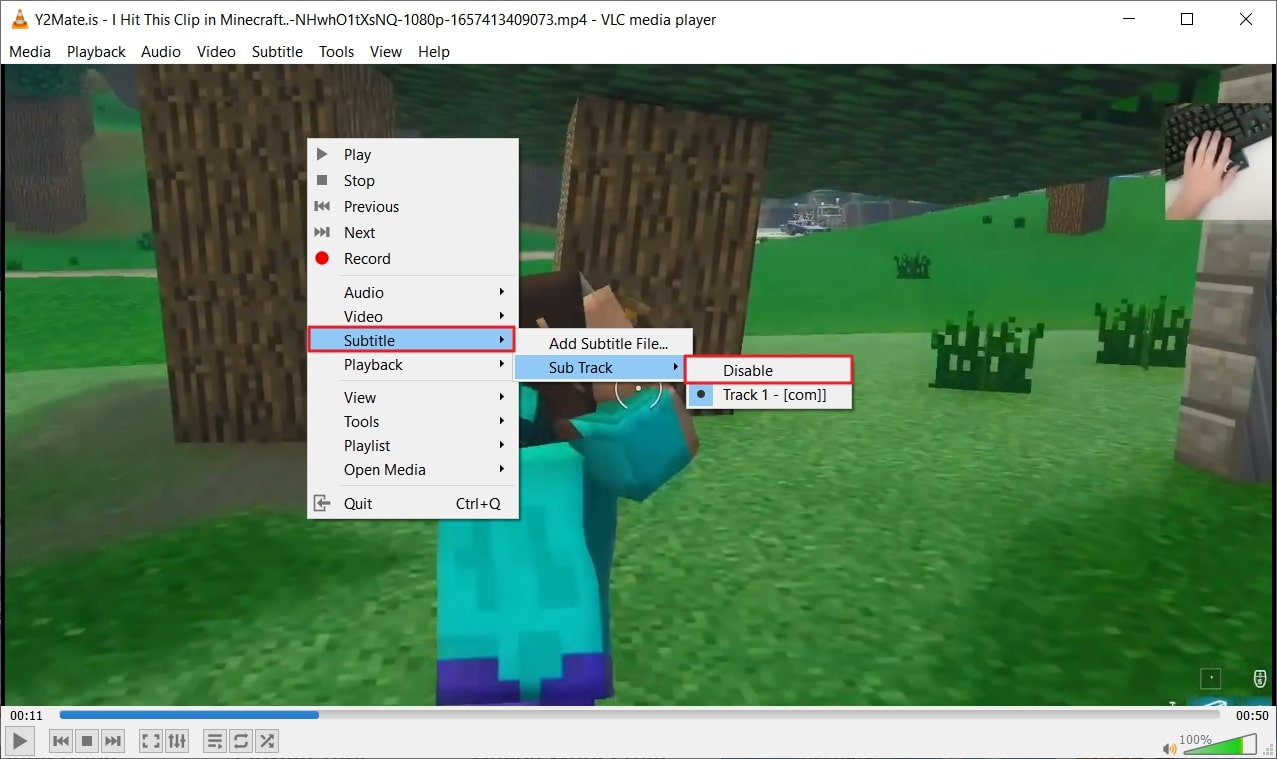 Part 4: How To Remove Hardsub Subtitles From Videos Using AniEraser?
Hardsub subtitles cannot be removed from videos with VLC. Yet, you can do this challenging task with a prevalent tool that holds specialties in text removal. A tool that can help you in situations like this is AniEraser. With this higher functionality object removal, you can remove hardcoded subtitles from videos without a problem.
Moreover, you will be surprised by the interactive interface of AniEraser, which makes all types of work more straightforward than ever. As for the processing speed, you can accomplish all the video tasks with this tool at ultra-fast speed. In short, it is a perfect solution to remove subtitles from a video, whether hardsub or softsub.
Prominent Key Features of AniEraser
One of the remarkable things about this subtitle remover is its cost-efficiency. When you buy one license of AniEraser, you can use it on all platforms without any limitations.
Not only videos, but you can also remove distracting objects from images from this AI-powered object remover tool.
It has higher compatibility with major operating systems, including iOS, Windows, and Mac. You can also use its online version with any browser.
How to Remove Hardsub From Video with AniEraser
Are you looking for the instructions required to remove the hardcoded subtitles? The steps listed here will help you in removing subtitles from videos:
Step 1

Launch AniEraser and Import Video with Hardsub

To start, open AniEraser on your desktop and click on the "Video Object Remover" tool from the main interface. From the pop-up window, locate the video with hardsub and double-click on it to load it into the tool.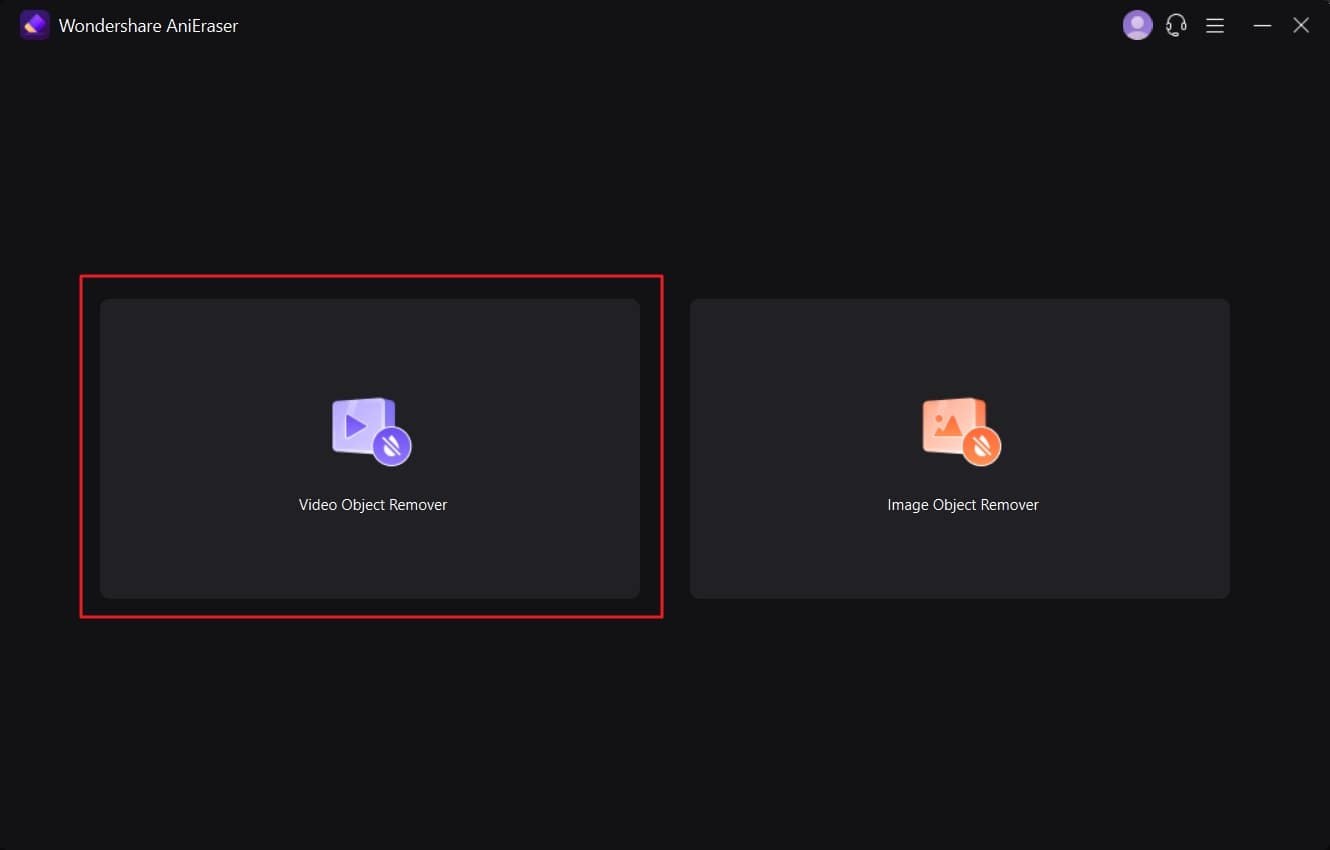 Step 2

Remove Hardsub from Video

Once the video file is imported, mark the hardcoded subtitles with the "Select Area" option and enable the "Preview" option. After this, analyze the quality of the video. Once satisfied with the results, disable this option.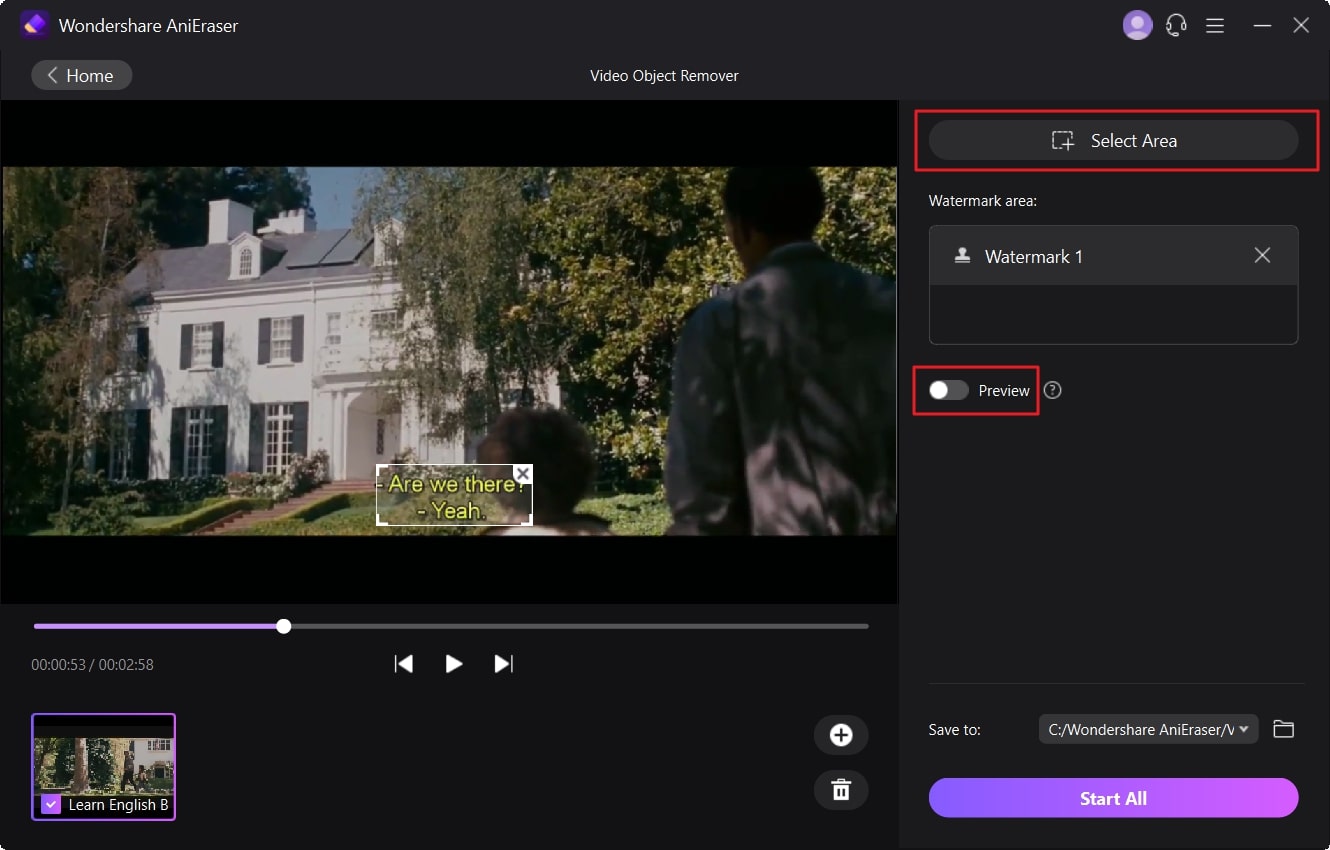 Step 3

Save the Video without Hardsub

Afterward, click on the dropdown menu of "Save To" and select the folder of your choice for saving your processed video. Now, hit the "Start All" button to initiate the process of removing hardcoded subtitles.