Images are a major part of everyone's life. From weddings to yummy pancakes, people love to post images of what is important to them on social media platforms. Some of you also love photography and chose it as a career. Now, the best thing about photos is they can be edited as desired to derive vulnerable outcomes.
To make these edits more engaging, you need to use the best online photo editors. Worry no more because this article is specifically dedicated to online photo editors. Here, you can learn about the top 6 online photo editors to get the work done.
Part 1: Things to Keep in Mind While Selecting the Best Online Photo Editor
Before choosing an online photo editor web, you need to notice some things that make this choice procedure easier. Don't panic if you don't know about the things that you should keep in mind before choosing a photo editor. Here, you can learn all about the elements that are needed to be noticed before selection:
Reputable Tool:

Firstly, make sure the tool you are about to choose holds some recognizable reputation. To analyze the reputation, you can read its reviews and ratings. Moreover, assess the number of good and bad reviews. Also, look at the subscription plan and see what complimentary things you will get with this tool.

Customer Support:

This factor is very important because digital tools are prone to make mistakes. With 24/7 customer support, you can solve any issue that you might face with an online photo editor. Not only this, but this can also include tutorials, help lines, and more.

Budget Friendly:

If you have to spend lots of dollars just to add colors to the photo, it is obviously not a good tool. This is why it is important to notice all the subscription plans before using the tool. Moreover, see what the freemium version has.

Supported Formats:

In case you have to work on TIFF files, but the tool you are using doesn't support this format, it'll be tiring right? For this reason, learn about the formats that the tool supports before getting into it. This can save you lots of time and effort.
Part 2: The Best Online Photos Editors of 2023
Here is the best part that all of you were waiting for. Luckily, on account of the points mentioned above, we have evaluated many tools. As a result, here are a few that actually fit the criterion of good photo editing services online. You can find the top 6 online photo editors of 2023 listed below:
Initially, we got Picsart for you. With this tool, you can get the best experience in online photo editing online. It also helps in creating unique and engaging fictional fan art. Thus, it's a perfect tool to implement your creativity in images. You can also work on multiple images with this top-notch photo editor. It also allows you to remove unaesthetic backgrounds from photos.
You can also remove unwanted objects or old price tags with it. Other than this, Picsart lets you convert raw photos into cartoons. Adding multiple types of interactive photo effects is also a straightforward and entertaining thing with this tool.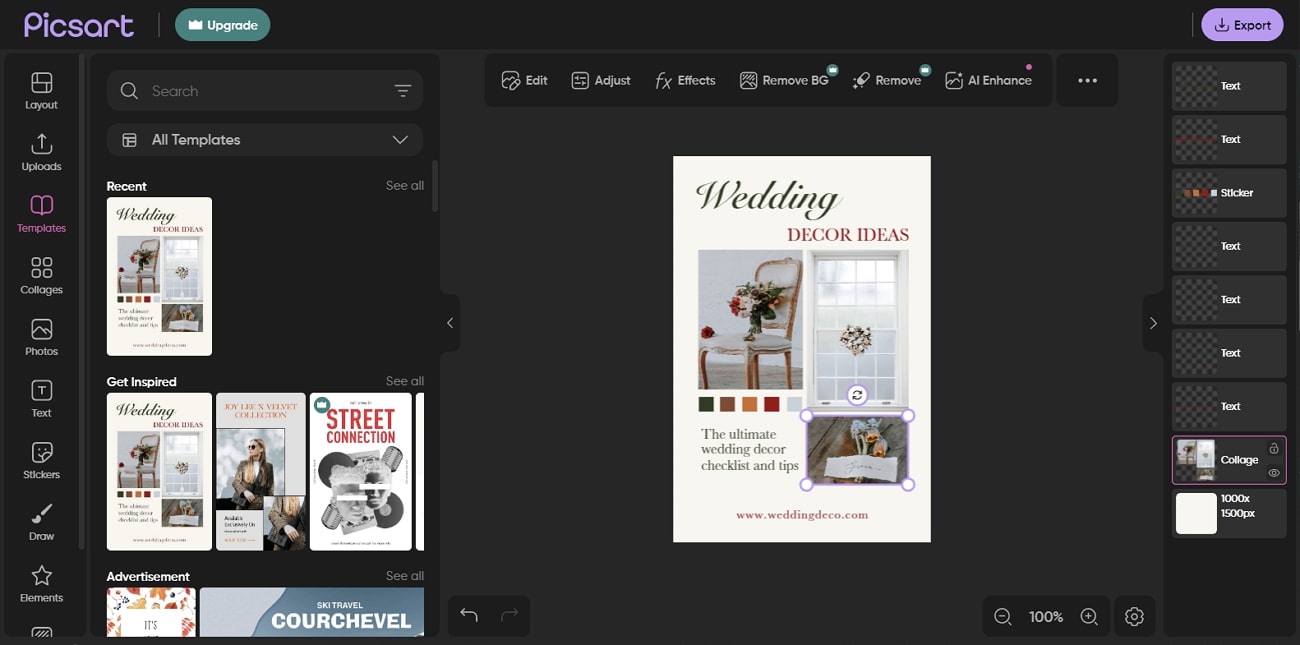 Pros
You can create logos, YouTube banners, wallpapers, and brochures with it. It also has a wide array of built-in designs for many other things, like invitation cards and Pinterest Pins.
Finding a wide array of effective hashtags is also possible with it. You can now reach a more organic audience with the help of its hashtags.
Not only images but also allows you to work on videos. You can add text and audio to a video with it.
Con
The photos edited with Picsart can take up lots of space on your device. It is not a good thing for the user who doesn't want to compromise their device's space.
Pricing Plans of Picsart
| | |
| --- | --- |
| Package | Price |
| Picsart Gold | $13/month |
| Picsart Team | $15/month |
It is one of the most known AI-Powered photo editor apps. It can lead you to professional photo editing online experience in a limited time. With it, you can remove any photo's unrequired and boring backgrounds. Moreover, it also allows you to crop and resize the image into the required aspect ratios.
Its photo enhancer can help you beautify the image to a further extent. You can also showcase multiple photos together by using its built-in collage maker. It has versatile astonishing photo effects that can make your raw images more cinematic. If there is any unwanted item in your image of yours, it also allows you to remove it.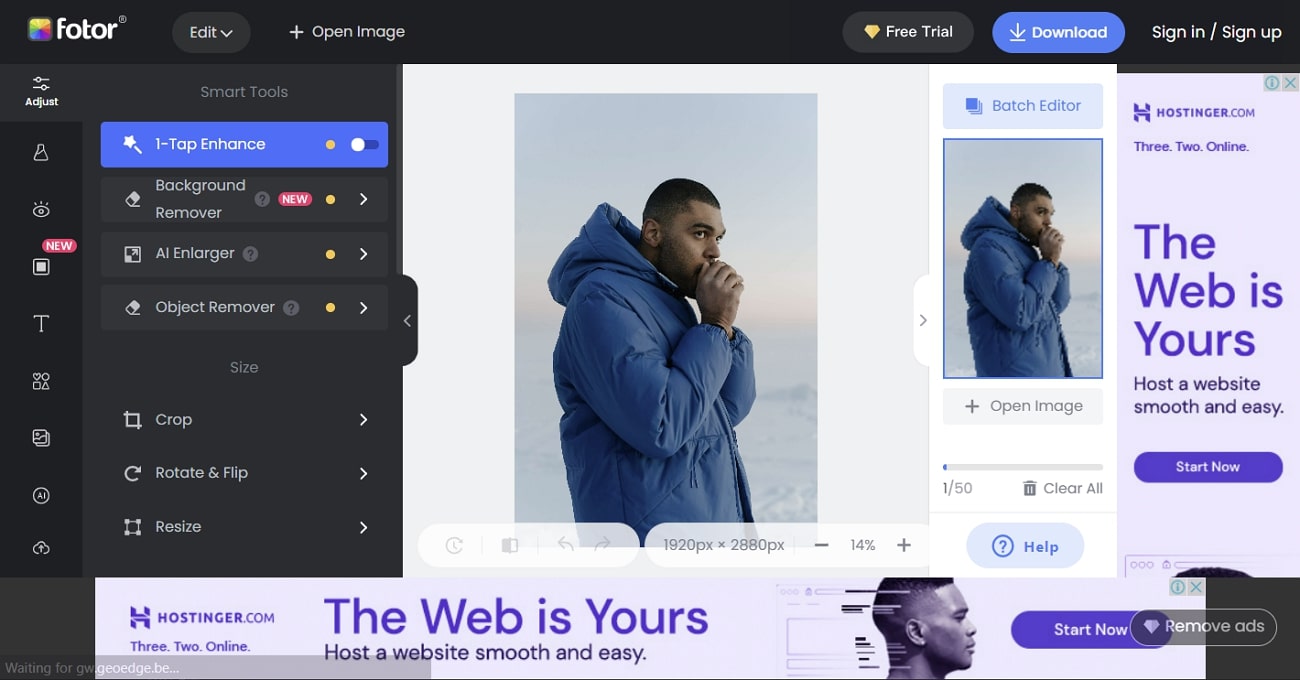 Pros
With its AI Retouch, you can have smooth and flawless skin in images with just a few clicks. You can also remove wrinkles, get your teeth whiter, and retouch photos easily with it.
It can make blurry images sharper without any quality loss. Whether you are working on a blurry portrait or panorama, this tool can help you with everything.
All the photo effects in it are advanced and professional. Thus, you can now make the images more professional with it.
Con
Some of its features are only limited to the paid version. You cannot use these features without buying a subscription.
Pricing Plans of Fotor
| | |
| --- | --- |
| Package | Price |
| Fotor Pro | $8.99/month |
| Fotor Pro + | $19.99/month |
With BeFunky in action, you can make your photo workflow more seamless. It offers you a wide array of editing tools to implement more precise modifications in a photo. It is so exquisite that even professional designers can use it. BeFunky also has some decent colors which can help you in online photo color correction.
You can also crop and resize the images with accurate pixel accuracy. Turning photos into sketches, paintings, and cartoons is very entertaining when done with BeFunky. Editing multiple pictures simultaneously to save time and effort is also a very easy process with this tool. You can also retouch portraits by using the highly optimized features of this photo editor.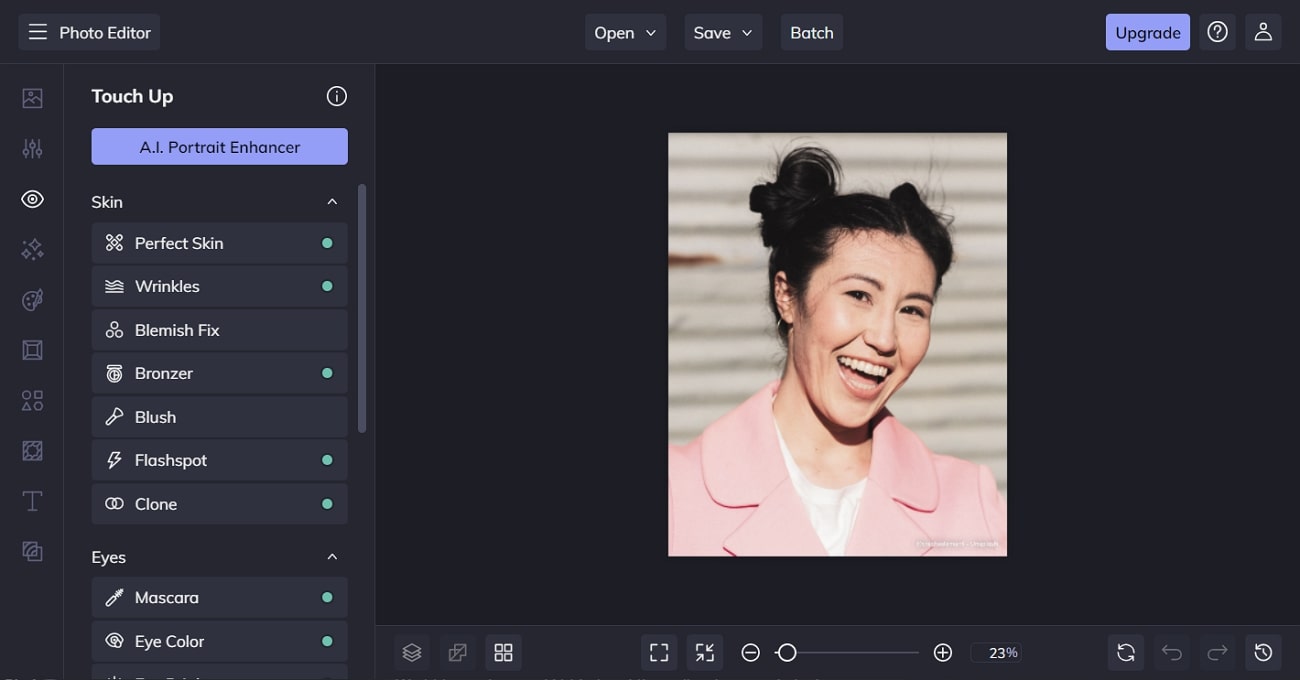 Pros
With just a few clicks, you can make a collage of multiple photos in a desirable layout.
There are diversified built-in templates for every post in it. You can also customize these templates as per your need.
With hundreds of fonts, you can write customized text on photos to deliver your message in a better way.
Con
It only offers limited free templates in the free plan, which can restrict your creativity.
Pricing Plans of BeFunky
| | |
| --- | --- |
| Package | Price |
| Billed Annually | $59.88 |
| Billed Monthly | $9.99 |
From creating Instagram posts to invitation cards, people prefer to use Canva. This online tool is top-rated among all types of photographers and designers. With just a few clicks, you can create perfect posts for any occasion with Canva. It also has versatile templates and elements which you can use to get the work done in a limited time.
This photo editing site is very reliable for showing and sharing your creativity with the world. Moreover, it is a very easy-to-use tool, so you can use it by following online instructions. Other than this, you can also use it for professional purposes like social media marketing. It also lets you create high-class presentations.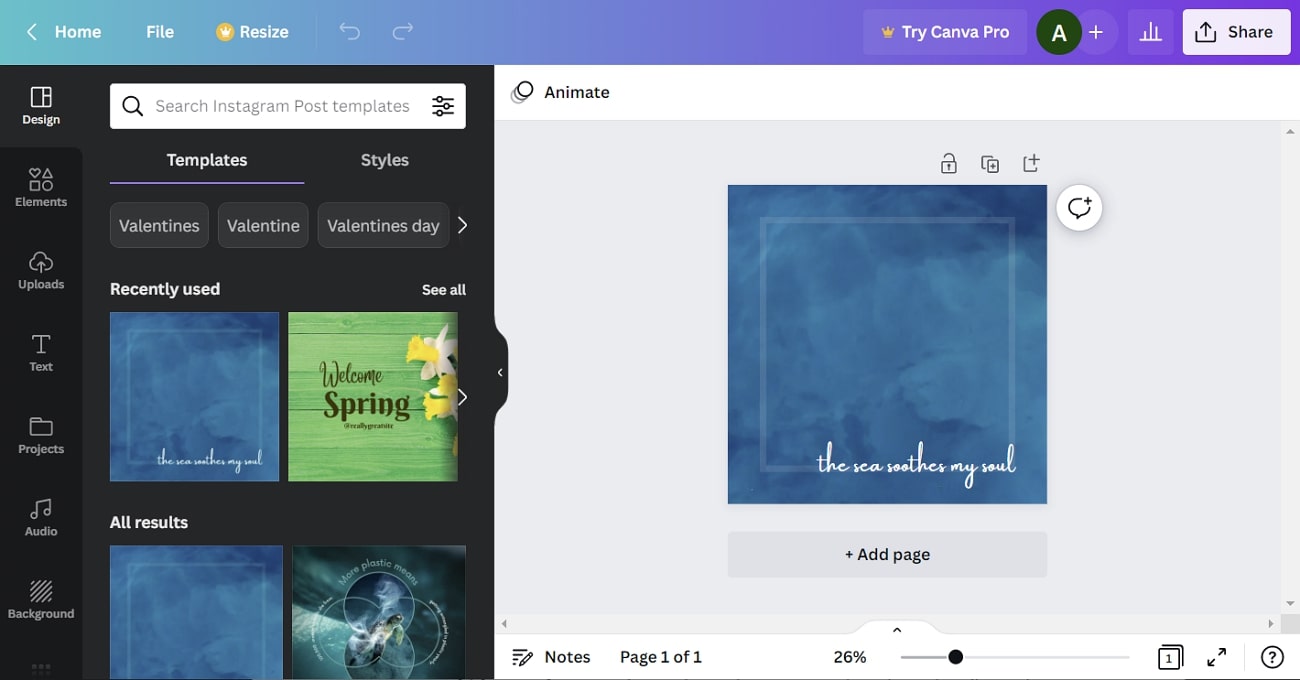 Pros
You can also use the Canva app on Apple and Android devices. Thus, it is a perfect tool if you need to edit photos for a long time.
The interface of Canva is aesthetically pleasing. You can enjoy your time while working with this tool.
It allows you to create content planners so you can work while minding your deadlines.
Con
Many useful features of Canva, such as Background Remover, Magic Resize, and Media Tagging, are limited to the paid version.
Pricing Plans of Canva
| | |
| --- | --- |
| Package | Pricing |
| Canva Pro | $6.49/month |
| Canva for Teams | $8.49/month |
This online photo editor web is widely used to edit pictures with perfection. You can use a variety of effects and filters to alter the layout of any image. Using this top-notch tool, you can create anything just by following your imagination. Above all, there are 1.6 million stock images that you can use for professional or personal purposes.
All the filters in it are very colorful and vibrant that have capacities to attract more viewers. You can also take assistance from collage layouts and other illustrative shapes. The sticker library of PiZap is insanely large. You can find all types of stickers in it.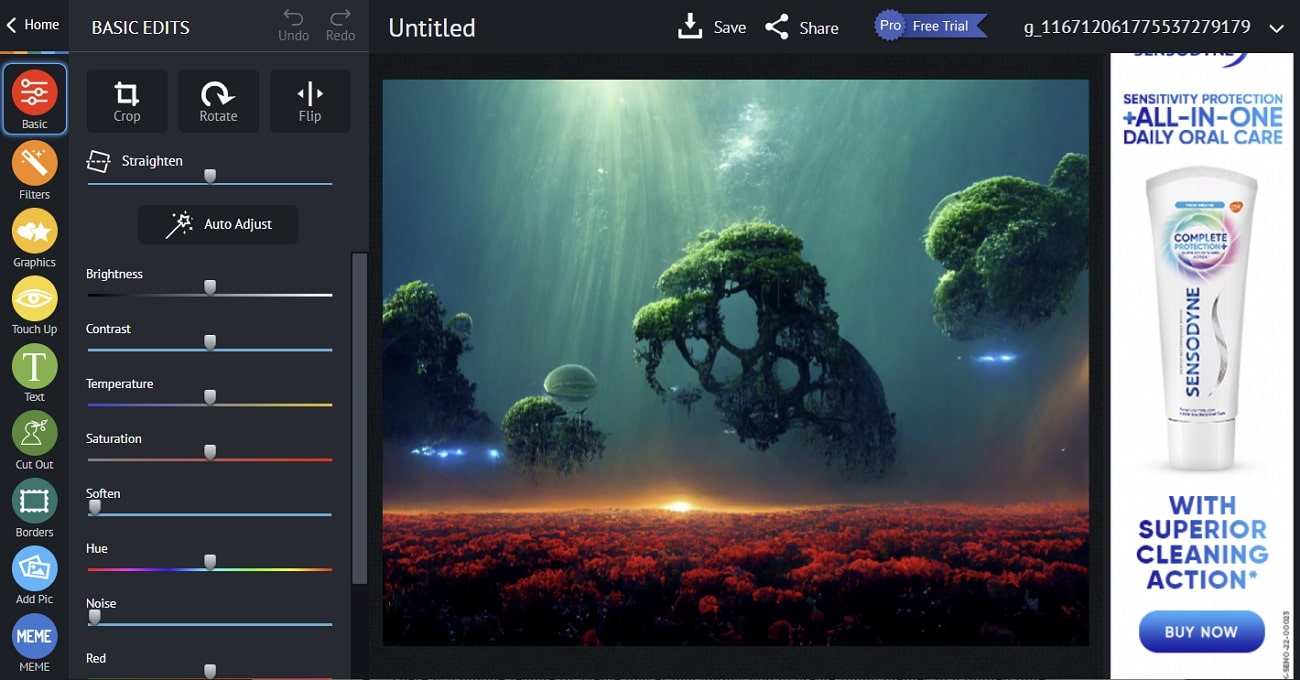 Pros
It allows you to remove the background from images. You can also add transparent backgrounds in images with it.
There is a unique feature of "Meme Maker" that allows you to create funny memes in a limited time.
You can also create app icons with PiZap in an interactive way.
Con
The option for customization is very limited in PiZap. You can face difficulty while customizing the collage or templates with it.
Pricing Plans of PiZap
| | |
| --- | --- |
| Package | Price |
| Monthly | $9.99 |
| Annual | $54.99 |
From smoothening photos to removing backgrounds, PhotoKit can help you with all. With this AI-based photo editor, you can create high-quality images for posting on social media platforms. Not only backgrounds but also helps in removing unwanted objects from photos. You can also repair old photos with a few clicks with PhotoKit.
It also boosts the quality of the image and fully refines it. The interpretations of images can also be strengthened with this tool. In short, it is the perfect tool for professional photo editing online.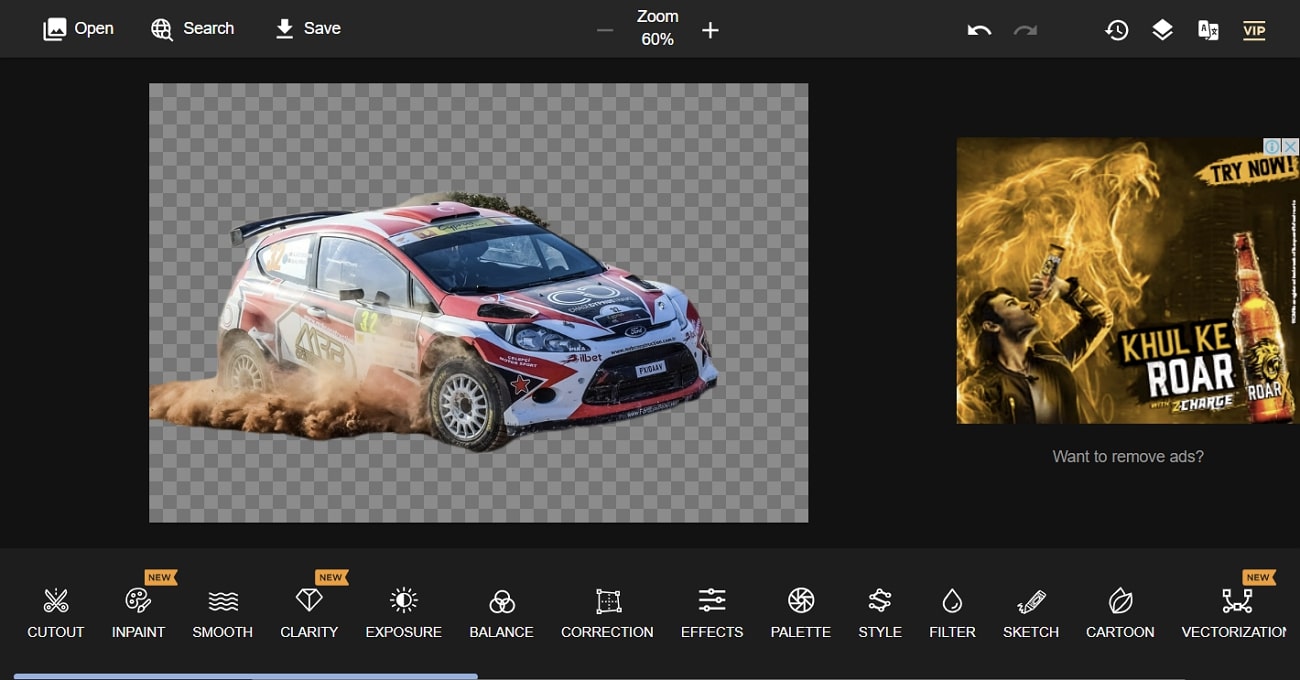 Pros
You can customize the color balance and exposure of photos with it.
It has many different styles and effects, which can make the image more advanced and up-to-date.
You can also convert raw images into sketches and cartoons with this innovative tool.
Con
The interface of the editor of PiZap is quite outdated and consists of ads if you are a free user, which can be problematic for trendy interface lovers.
Pricing Plans of PhotoKit
| | |
| --- | --- |
| Package | Pricing |
| Monthly | $9.99 |
| Yearly | $29.99 |
| Lifetime | $99.99 |
Bonus Tip: Best AI Tool for Removing Unwanted Objects from Images
From the above discussion, you now know the best 6 online photo editors. However, there is one supreme photo editor that you can find in this part. Here we will talk about AniEraser, which never fails to surprise users with its higher functionality. With it, you can work on both photos and videos. This tool is also beneficial in removing unwanted objects from photos.
It is known to be the best in the domain of online photo editing online. Moreover, it also helps in photo retouching. You can now smoothen your face in photos by removing spots and blemishes by using AniEraser. The interface of this tool is also very well designed, and it is compatible with all major operating systems.
How to Remove Unwanted Objects in Photos with AniEraser
Follow the steps listed below to remove all the unwanted objects in photos from AniEraser:
Step 1

Access AniEraser and Import Image

Initially, launch AniEraser on your browser, and from the homepage, click on "Upload Video or Photo." After this, click on the "Upload" button and add the photo of your choice.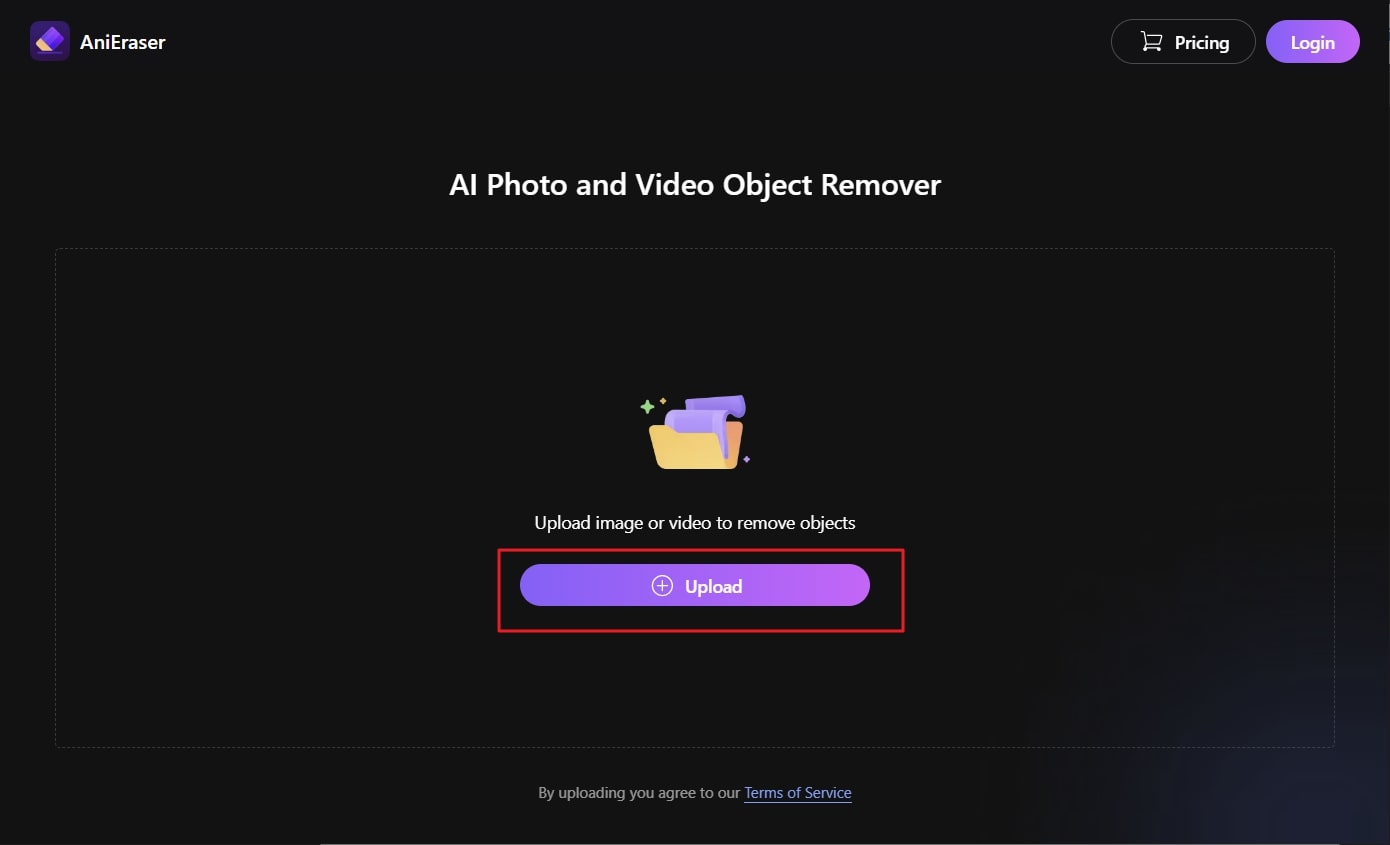 Step 2

Remove Unwanted Objects from the Photo

After this, manage the "Brush Size" with the slider and highlight the unwanted object. Following this, click on the "Remove Object Now" button. Wait a few seconds and then click on the "Download" button.